Are you planning on backpacking Colombia?  Looking to spend three weeks in Colombia and want to see the best the country has to offer without coming home exhausted?  Our 3 week Colombia itinerary will take you to the best places to visit in Colombia.
Researching, it becomes very clear that there are so many things to see in Colombia and choices need to be made.  With just three weeks, we needed a plan.
Therefore, I created a very detailed itinerary to make the most of each day and make sure we hit the most interesting places in Colombia (although there is also plenty of choice built in).  There are so many amazing places in Colombia to visit that it would be easy to become overwhelmed with planning – we're here to help!
Want to know the best time to visit Colombia?  Hoping to see the very best of Colombia?  Curious about the ideal time in Colombia?  
Read our Colombia Travel Tips
This seemed the best Colombia itinerary possible and I think it has a good balance of city and beach, activity and relaxation.  Let us know what do you think!
Don't have time to read it right now?  Save it for later!

---
---
So, here it is.  Our 3 week itinerary for Colombia, in detail, with information on how we traveled between cities.  If you are wondering where to visit in Colombia, or how to get there, look no further!
Colombia Itinerary: 3 Weeks for The Best Places to Visit in Colombia
More than likely you will be flying into Bogotá so our Colombia itinerary begins there.  To maximize your time in Colombia we planned this itinerary to fly out of Cartagena, although you could easily fly back to Bogotá before connecting to your home destination on the final day.
Day One – Arrive in Bogota
Arrive in Bogotá and make your way to your hotel.  We strongly recommend staying in the historic district, la candelaria.  As the capital, Bogota is arguably the best city to visit in Colombia but they are all so different it's a hard pick.
Discover our budget for 3 weeks in Colombia!
While it's not the cheapest option, the bus system is rather confusing so if you're arriving in Bogotá for your first time it's a lot easier just to pay for a taxi.  Depending on your arrival time you may have time to explore, perhaps even check out a museum or two, before nightfall.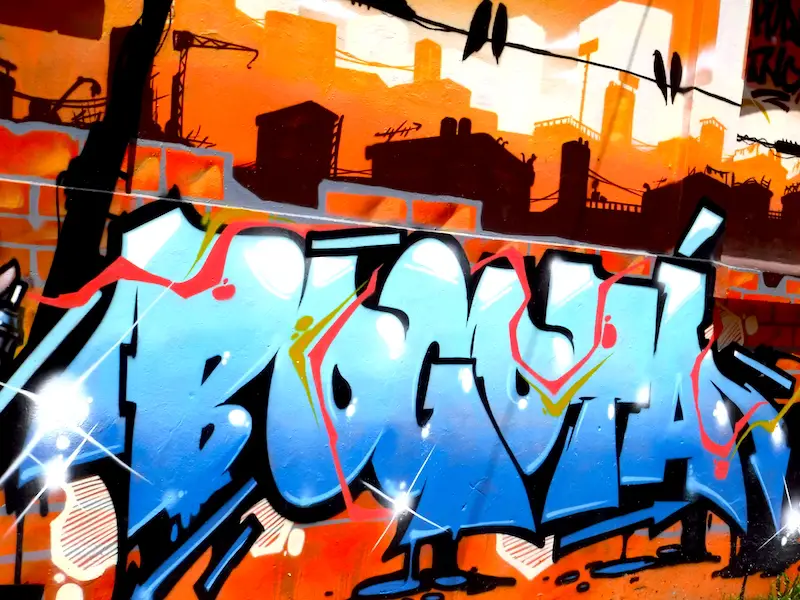 Where to stay in Bogota
We stayed in Hotel Muisca and would totally recommend this amazing hotel.  It was located right in the Candelaria district in a really interesting old building with each room surrounding a courtyard.  A delicious breakfast was included as well.  Check prices and availability now.
This Bogota: Full-Day Grand City Tour will take you to all the highlights without the hassle of navigating the city alone!   
~ Book your tour now! ~
Day Two – Bogota
Get oriented by signing up for the Bogotá Graffiti Tour starting at 10am.  This is a unique way to get to know the historic centre, la candelaria, while learning a lot about the local street art culture.  One of the things to do in Bogota on everyone's list was to go up Montserrate.  In the afternoon walk, take the cable car or train (assuming all options are available) to the summit.  The view from the top is spectacular!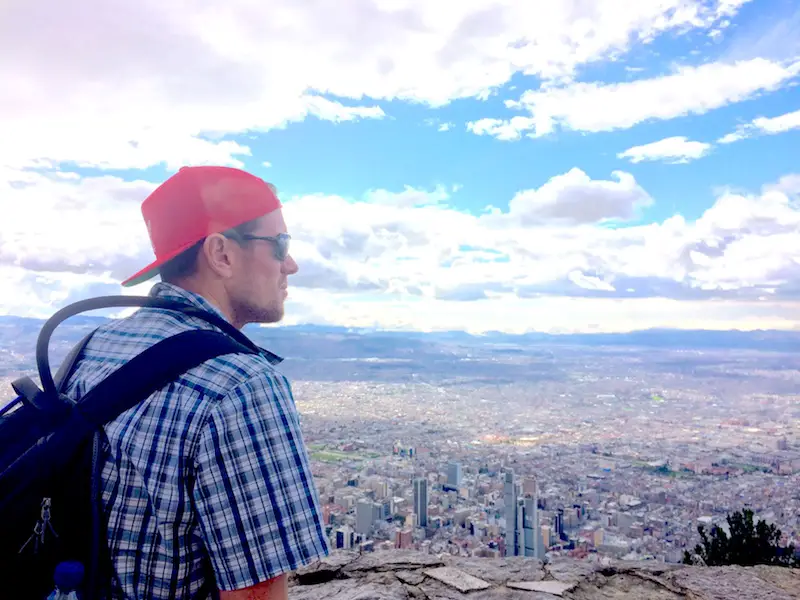 Day Three – Bogota to Salento
Take the morning to wander the streets of la candelaria.  Visit a few museums or just take in the sights and sounds of the streets.  This should be high on anyone's list of what to see in Colombia!
In the afternoon head to Usaquén, a cute neighbourhood that has a huge street market every Sunday.  Even if your schedule doesn't fall on a Sunday, the central plaza is still a lovely place to spend some time and have an artisan beer at the Bogotá Beer Company across the street.
Our next stop on our 3 week itinerary will be Salento.  To get from Bogota to Salento without loses an entire day, take the overnight bus to Armenia.  There is a Bolivariano bus that leaves at 10pm and is the most comfortable option.  While no one ever is happy about sleeping on a bus, this will keep your entire day free to enjoy more of Colombia.  If an overnight bus isn't for you, find more options for how to get to Salento here.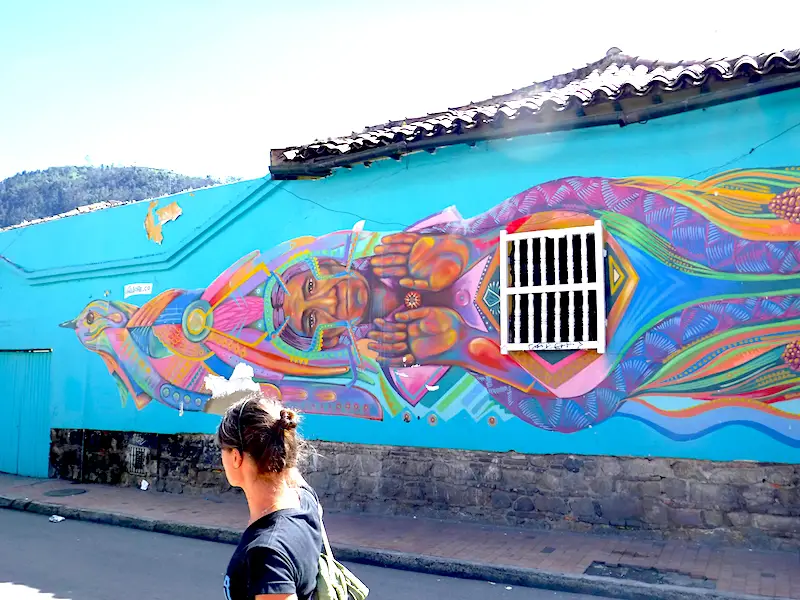 Day Four – Salento
The overnight Bogota – Armenia bus arrives in Armenia early – like 5am early.  From here, it's a 45 minute bus to Salento.  If you're wondering if this is a place you can skip, stop right there.  Salento is most definitely among the best places to go in Colombia.
Drop your bags at your hotel.  Head off to the Plantation House in time for their 9am coffee tour.  Salento is in the coffee region of Colombia so this is a great place to take a coffee tour.  Colombia is world-renowned for their coffee so even if you are not a coffee drinker (like us), you cannot visit Colombia and not taste some of their famous Colombian coffee.
After a delicious lunch in town (we recommend the local dish of trucha), perhaps take a nap in your hotel room before walking up to the mirador, one of the more popular things to do in Salento.  End your walk in town for an evening drink as the streets come alive.  Perhaps even join the locals for a game in the local pool hall.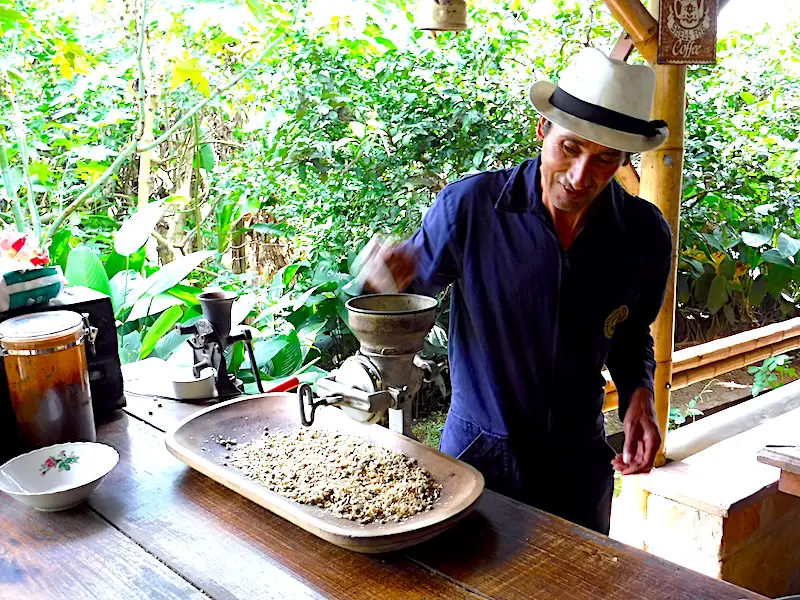 Where to stay in Salento
We stayed in the Hotel Salento Real Eje Cafetero and loved it.  Not only did they let us actually check in at 6am (6am!!!), we had a cute room overlooking a central courtyard and the best shower we had experienced in over a year at least!  Check prices and availability here.
Day Five – Cocora Valley (Valle de Cocora)
Get up early and head to the main square to catch a Willy.  These Jeeps leave when full and will take you to the Cocora Valley and the Valle de Cocora hike.  If you are trying to decide what to do in Colombia make sure this is on the list – this is one of the absolute best places in Colombia!
Put in the extra effort to hike up to the finca de las montañas before descending through the valley and you will be rewarded with stunning views.  We set a pretty good pace and were back in town shortly after lunchtime.
If the weather cooperates hike down to the river.  There are trails from the mirador.
Something that needs to be on your Colombia travel itinerary is to learn how to play Tejos, a traditional Colombian game kind of like horseshoes with gunpowder!  There is a bar in Salento that welcomes foreigners and happily teaches you the basics.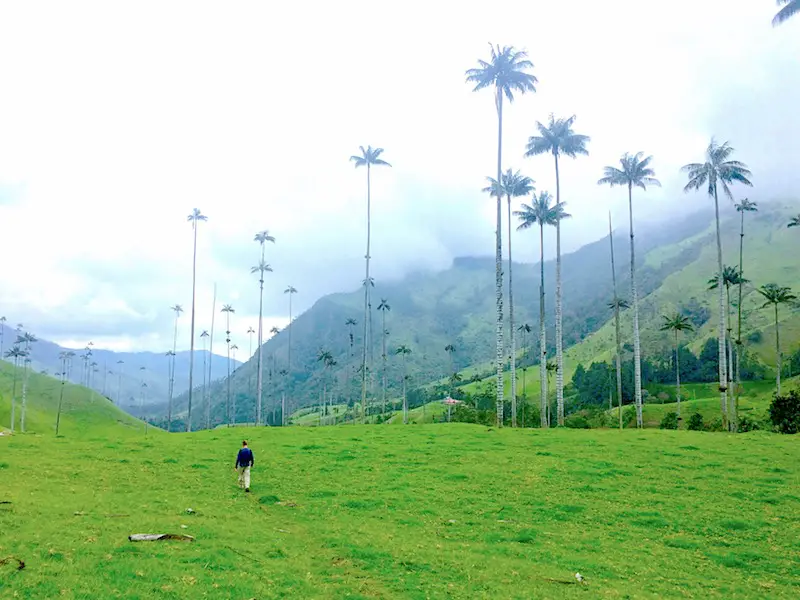 Find more information on Salento, Colombia
Day Six – Salento to Medellin
Travel day to Medellín. One overnight bus is enough for any trip plus the views on this are well worth losing a day.  Medellin has become one of the most popular cities to visit in Colombia – discover what the fuss is all about.
We took the direct Salento – Medellín service offered by Flota Occidental.  If you're a glutton for punishment and want to gain an extra day, you could go for an indirect overnight bus.  An extra day would be amazing for Medellín but probably not worth it if you just end up napping it away!
Find more ideas for your time in Medellin here!
Tip: have detailed instructions and/or a map for a taxi driver to take you to your destination in Medellín. We found out the hard way that roads are confusing and drivers don´t know where they are going half the time.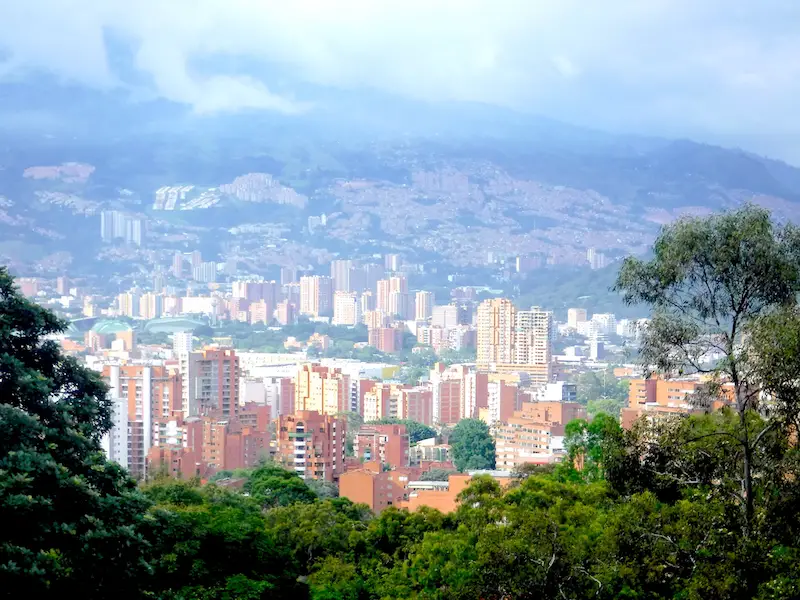 Where to stay in Medellin
We stayed at Paisa City Party Hostel (before they added the party to their name)!  It is in a fantastic location with awesome social areas – just don't expect a good night's sleep.  Click here for more information.  If you're looking for a better sleep, check out the many other hotels in the same area.
Day Seven – Guatape day trip
Take a day trip to Guatapé. There are organized trips available which include transportation, lunch and a boat trip.  Check out this Full Day Tour to Guatape – it has an amazing introductory special price right now!
However, it is very easy to do on your own. Take the metro to the terminal norte bus station and then a two hour bus ride.  Make sure you buy a ticket to El Peńon, not Guatapé.  It'll save you a little money.
After climbing the rock and marvelling at the stunning views, either walk or take a tuk-tuk into town for lunch and stroll around the colourful streets. If you feel like it, there are plenty of water sports on offer as well as boat tours.  Without question one of the best day trips from Medellin!
If you're in Medellín around Christmas time, spend the evening taking in the famous Christmas light display.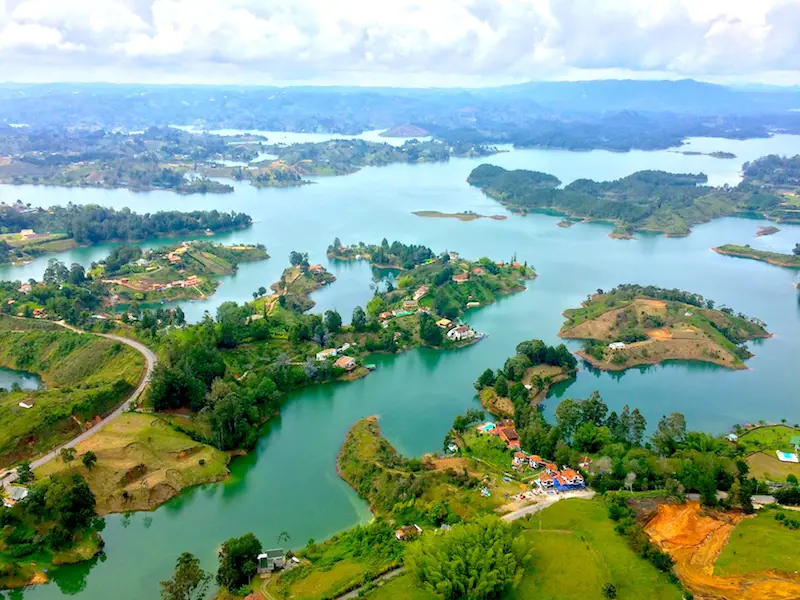 Day Eight – Medellin
Sign up with Real City Tours for their fantastic morning free walking tour.  Medellin doesn't have a huge amount of 'sights' but what sets it apart is its interesting social history.  This tour takes you through a number of significant locations and explains a lot about the city's history that made it one of the most famous places in Colombia.  All from the perspective of a local.
There are a wide variety of tours available in Medellin.  If the walking tour doesn't tickle your fancy, maybe one of these will:
In the afternoon, hop on the metro to Comuna 13 and take the outdoor escalators.  Alternatively, walk up Cerro Nutibarra to Pueblito Paisa.  This is a replica historical village with a great view of the city.  The surrounding hill is also a nature park so take some time to walk the trails.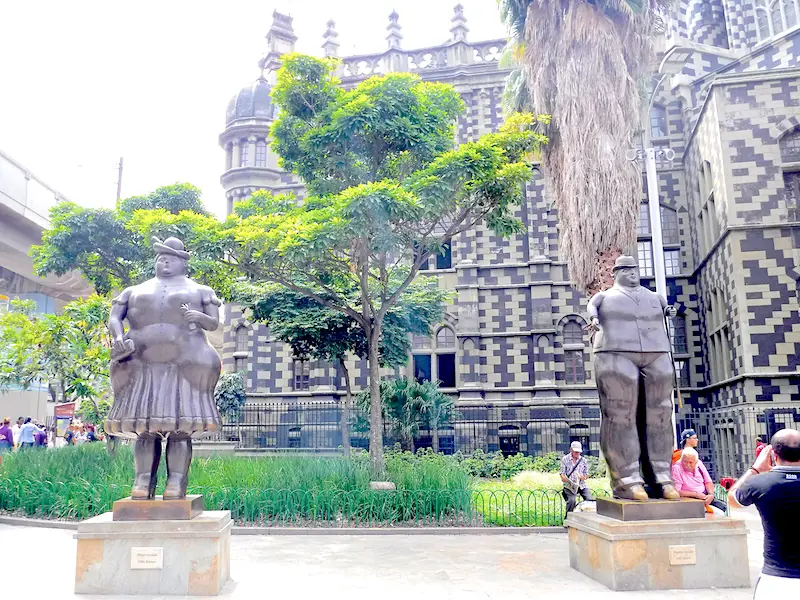 Day Nine – Medellin
Take the cable car to Parque Arví.  These cable cars are an example of the excellent social architecture that has taken place in Medellín over the past few years.  They were designed to connect the poorer neighbourhoods of the city and give them easier access to the central business districts.  Aside from getting a glimpse at these neighbourhoods, you will also be rewarded with views across the city.
Take the metrocable to Santo Domingo, one of Medellín's poorest neighbourhoods.  After discovering the area and its famous library, change onto the second cable car up to Parque Arví and explore the area and its trails.
Day Ten – Medellin to Santa Marta
If you're wondering where to go in Colombia that's away from the crowds and gives you beach, mountains and culture, look no further than Santa Marta.
Fly to Santa Marta and arrive by midmorning.  We found the best prices using VivaColombia but be sure to shop around.
Spend the day walking around the downtown, complete payment for Ciudad Perdida trip if you take that option, and find time for a quick dip in the Caribbean!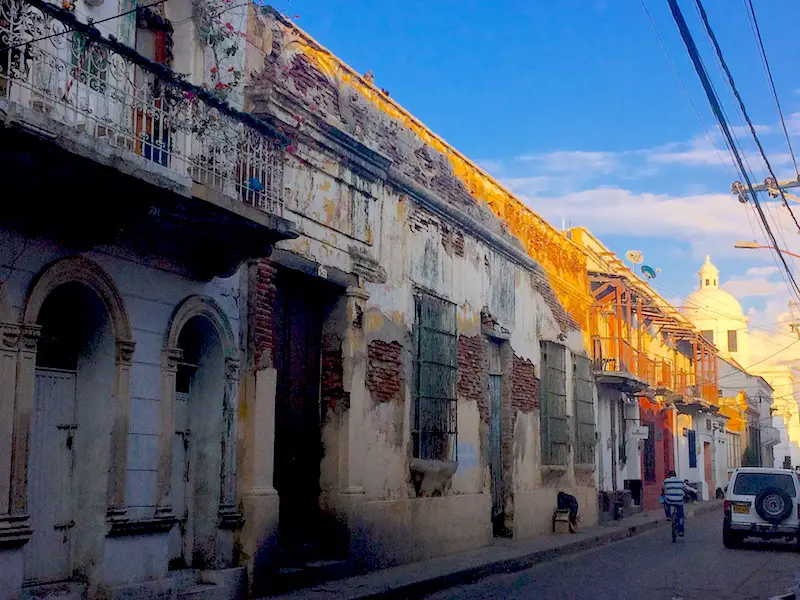 Where to stay in Santa Marta
As we had one night to get some rest before four days hiking through the jungle and sleeping in rough camps, we figured we'd splurge a little on a nice place.  Hotel Tayromar was comfortable, friendly and the beds were comfortable.  What more could we ask for?Well, perhaps the free breakfast on an ocean view rooftop patio.  Check prices and availability now.
After returning from the Lost City, we had a few more nights in Santa Marta.  We reigned in the budget slightly and moved to Hostal Parque Real.  In reality, despite not being as 'pretty' on the outside this was just as comfortable a stay.  The only noticeable difference was the lack of free breakfast on a rooftop patio.  Find prices and availability here.
Days Eleven to Fourteen – Lost City Trek (or alternative)
Top of our list of things to do during our 3 weeks in Colombia was the Ciudad Perdida trip.  In fact, this was a major factor in choosing Colombia!  We used Expotur and were picked up from our hotel around 8am and were returned to their offices around 5:30pm four days later. It was tough but awesome!
This is definitely one of the best things to do in Colombia if you're looking for culture, history and adventure all rolled into one – and you don't mind working for it.  It's getting more and more popular so be sure to check this off your list before it becomes one of the busiest Colombia tourist attractions!
If you choose not to include this trek in your Colombia 3 week itinerary, now is the time to get out of town for a few days.  If you want to mix some nature with the beach go straight to Parque Tayrona.  Go a little further and really escape the crowds in favour of the beach life and head to Palomino or Cabo de Vela.  Another option is to head to Taganga and get your SCUBA dive certificate, or just enjoy the party scene.  Any one of these are among the most fun places to visit in Colombia, you can't go wrong!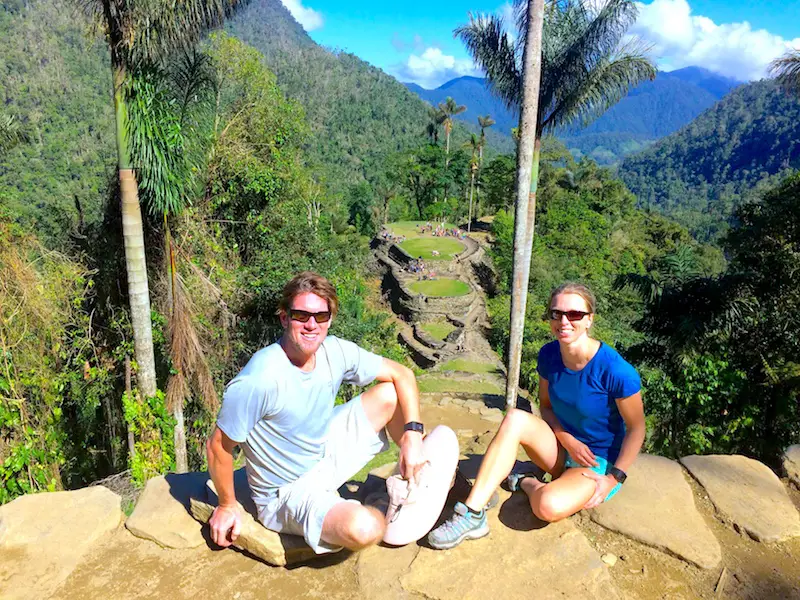 Days Fifteen to Sixteen – Santa Marta
Spend a couple of days enjoying Santa Marta.  By now, you may be in need of some clean clothes so take the time to get some laundry done while you enjoy the colonial centre and Caribbean beaches of this underrated city.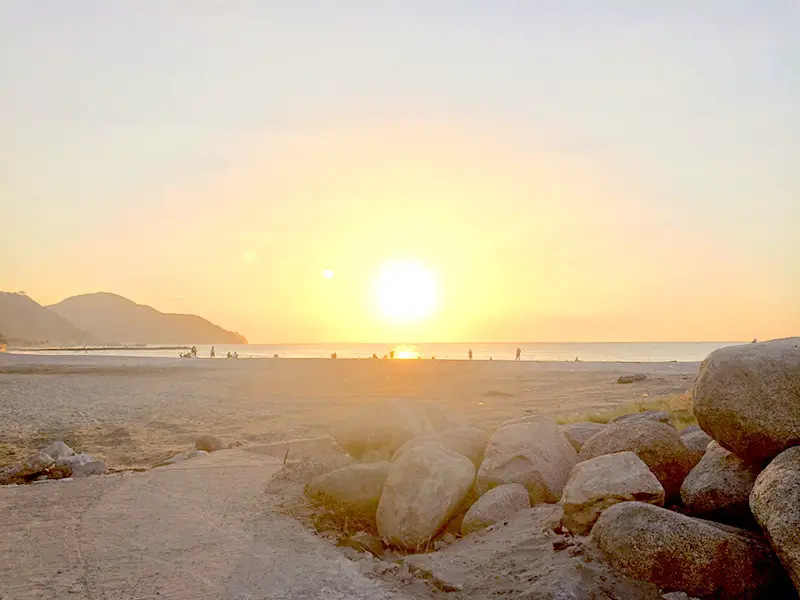 Day Seventeen – Santa Marta to Cartagena
Cartagena is without a doubt one of the more interesting places in Colombia.  Mirasol offers a door to door bus service to Cartagena.  Around 10am you will be picked up from your hotel in Santa Marta and dropped at or near your hotel in Cartagena.  This trip will take around 5 hours.
Check in and head out for a walk along the waterfront then along the top of the old city wall in time for sunset.  There are a few cafes along the wall that make a great place to stop for a break.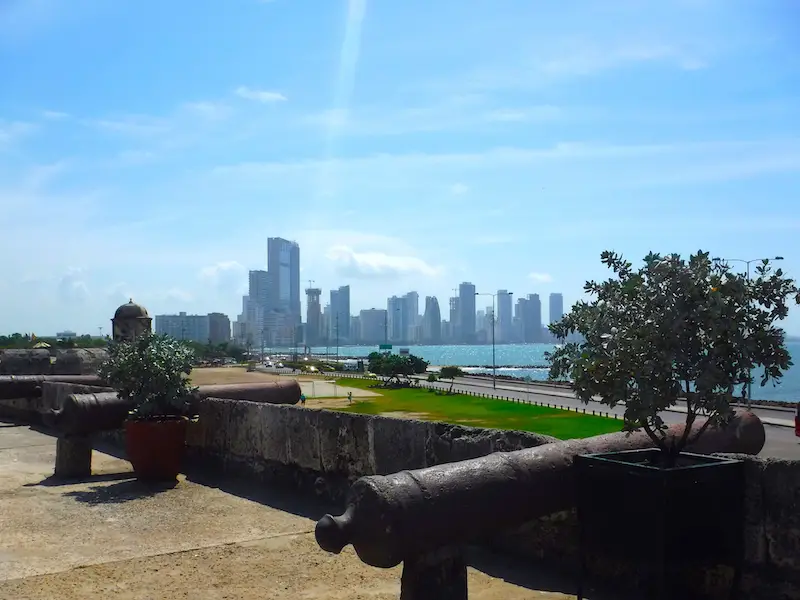 Where to stay in Cartagena
Our home in Cartagena was in Getsemani, just outside the walled city but still very much in the historical district.  We actually much preferred this area to the overly touristy and 'polished' walled city.  Hotel Leyendas del Mar was brand new and we had the place to ourselves.  The location was perfect and the staff were fabulous.  I can only image how fantastic it will be once the rooftop with bar and hot tub is finished.  Sound good?  Check prices and availability here now.
Day Eighteen – Cartagena
Explore the walled city of Cartagena.  There are free walking tours available but it is also very easy to navigate independently.  Around every corner is another photo opportunity and cafe to take a break.  Take some time out of your day to figure out travel plans for tomorrow.
The walled city is beautiful but we actually preferred Getsemaní.  Equally historical, it's a little rougher around the edges and comes alive at night.  There are numerous eating options, from really nice restaurants to delicious street food.  Plaza de la Trinidad is ground zero for all the action.  Every evening it would fill with locals and travellers enjoying food and drink.  We enjoyed spending time around here each night.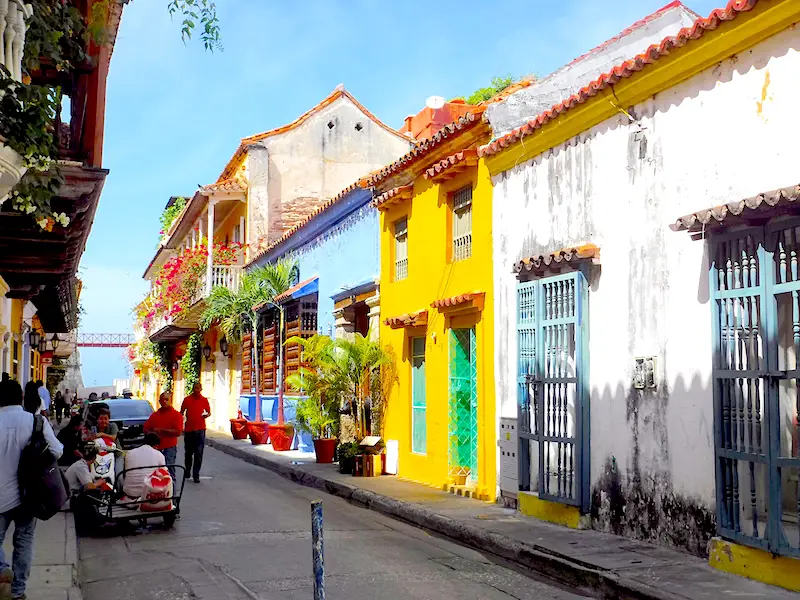 Day Nineteen – day trip from Cartagena
Take a day trip to either the mud volcano, Playa Blanca or the Rosario Islands.  Tours are easy to book, just walk along the harbour outside of the city wall.  If you don't get stopped ten times first there are booths at the end to book tours.  Be prepared for tourist overload though!  Alternatively, skip the circus and pre-book your tour here.
Day Twenty – Cartagena
Beach day!  There are many beaches around Cartagena depending on what you are looking for.  Some are more swimmable than others however.  Don't expect picture perfect beaches but the atmosphere makes up for it and the weather is perfect.  We visited Bocagrande.  While not the prettiest, it is walking distance from town but the contrast is striking.  Within minutes of leaving the colonial streets you are on a strip of high-rises akin to Miami.  There are less developed beaches the other side of town for a more tranquil experience.
If you are not a beach person, or went to Playa Blanca yesterday, there are plenty of interesting museums around town, or other places of interest, to keep you entertained.
In the afternoon, walk up to Castillo San Felipe de Barajas for a view over all of Cartagena.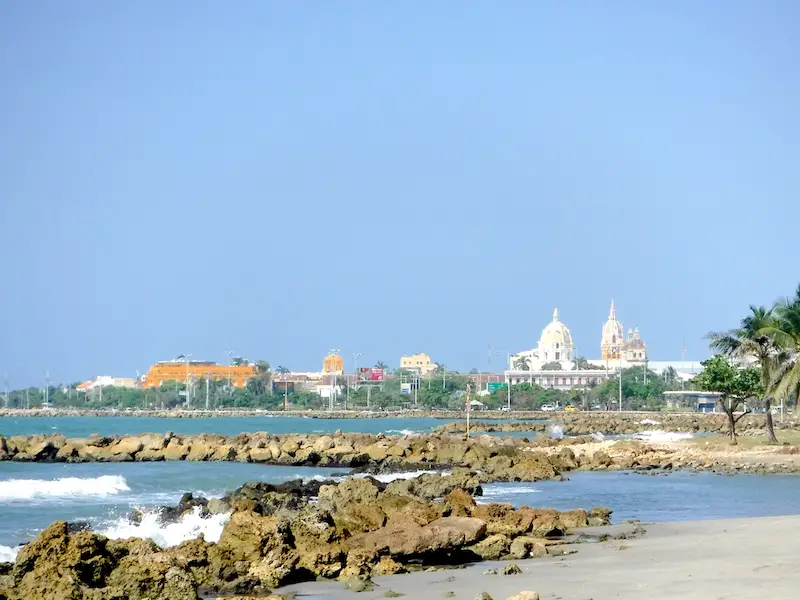 Day Twenty-one – Depart from Cartagena
You have now seen some of Colombia's best places to visit.  You've had some adventures and some time to relax, some city explorations and beach.  This 3 weeks Colombia itinerary took you to big cities, small mountain towns, coastal cities and into the jungle.  Now take a taxi to the airport and head home!
Map of the Best Places to Visit in Colombia
Things to Note
We had to make some tough decisions about what was and wasn't going to be included in our Colombia itinerary – 3  weeks just isn't enough time in such an incredible country.  These decisions were based on research and, in part, our personal preferences.  You may have different priorities.
Places we would love to see but just didn't have the time:
Villas de Leyva
San Gil for adventure sports
Calí
Caño Cristales
San Andres islands
Salt Cathedral at Zipaquira
Lake Guatavita
You could easily trade a destination for one of the above.
If you opted not to do the Ciudad Perdida trek, you will have a little more flexibility over your time.  You also won't need two days in Santa Marta to 'recover'.  If you'd rather spend less time there shift one or more of those days somewhere else.
How Successful was our 3 Week Colombia Itinerary?
We followed this itinerary almost exactly (we only had 19 days) and had a fantastic time!  Overall, we were happy with the pace of this itinerary and we felt we got to do some of the best things Colombia has to offer without going home exhausted.
Colombia is full of incredible adventures just waiting for you to discover!
---
Click here for all our Colombia posts in one place.
Click here to find posts on different destinations.
---
Like this post?  Pin it for later!!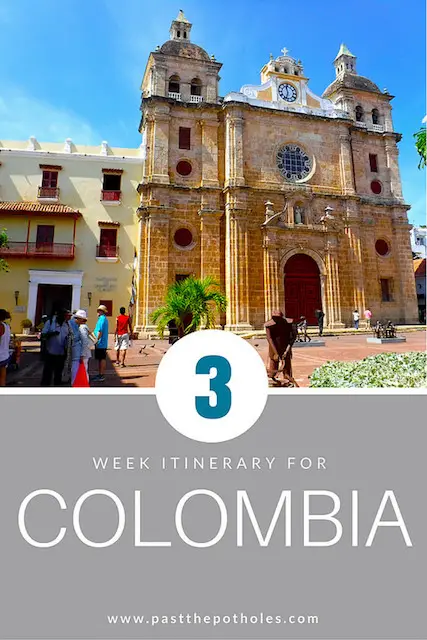 What do you think?  Have you already been?  What do you think are the best places to visit in Colombia?  How would you spend 3 weeks in Colombia?
Note: this post was originally published in September 2017 but was updated in April 2018.
---
Some links in this post are affiliate links.  That means if you click on them and make a purchase we make a small commission at absolutely no cost to you. Win-win right?  Thanks for your support!
---