The Ultimate List of the Best Places to visit in Colombia!
Some links in this post may be affiliate links. If you click on them we may make a commission from qualifying purchases at absolutely no cost to you.  Read our full Disclosure Policy here.
Are you planning a trip to Colombia in the near future?  Trying to decide where to go and what to skip is a daunting task for this country that really does have it all.  We've asked some of our well-traveled blogger friends to help us create a guide for some of the best places to visit in Colombia.  Not only will you get to hear their favourite cities and towns in Colombia but they have also given some ideas of the best things to do in those places and where to stay.
In recent years, Colombia has shaken off its dangerous reputation and is fast becoming one of the most popular destinations in Latin America.  This popularity is in part due to the fact that it is a stunningly beautiful country with such diverse landscapes and interesting cultures that visitors are wowed day after day.
Of course, this makes it difficult to decide on a plan.  Luckily, no matter which places you ultimately choose to visit, you won't be disappointed!  There is no wrong answer for where to go in Colombia.
Best Cities to Visit: Colombia Map
Itinerary planning is not only a matter of finding places that look interesting but also making a route that works.  I've added this Colombia map with the cities mentioned below to help you figure out which combination of towns makes the most sense for your time frame.
[mappress mapid="20″]
Best Places to Visit in Colombia
So, are you wondering what to do in Colombia?  Keep reading to find our collection of places that fellow travellers loved and would highly recommend for you to include in your plans.  If you already have a town in mind, you can use the Table of Contents to skip ahead.
This list is by no means exhaustive as there is an endless amount of amazing locations in Colombia.  However, it will certainly help you make some important decision as you plan your trip.  This three week Colombia itinerary can definitely help you too.
Entries have been loosely organized north to south, grouped by the nearest major city.  The hope is that this will help your planning (i.e., places that are easy to visit together are together in this post).
Cartagena, Bolívar
Cartagena de Indias is a piece of Caribbean paradise in Colombia. With a tropical climate, colourful buildings, and holding a UNESCO World Heritage Site title with the beautiful Walled City, it's one of my favourite places in this incredible country.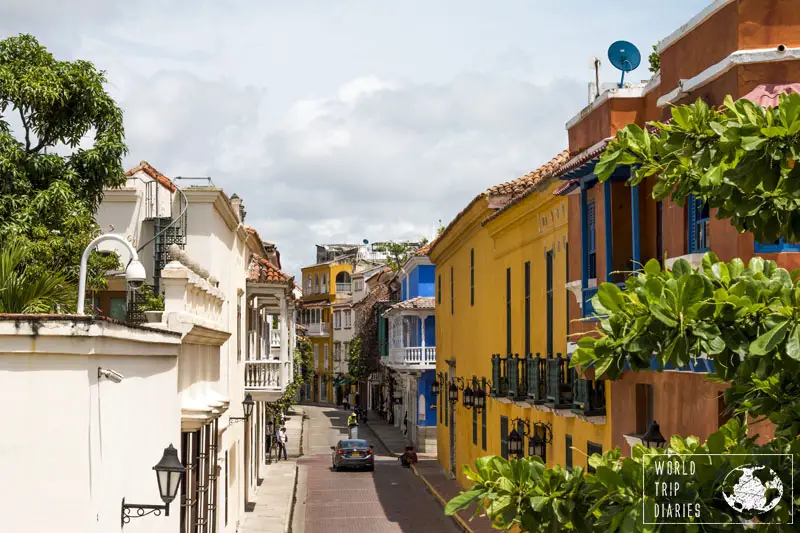 When you visit Cartagena, you can't miss wandering around the Walled City. Take the time to walk through the colourful and flowered streets, have coconut water or a delicious fresh fruit juice for very cheap. You can also walk around parts of the walls and have awesome views of the whole city.
Another thing not to miss is a visit to one of the private islands of the city.  They are stunning and the boat ride is also very, very worth it.  We visited Bendita Beach and it was deserted, except for us.  It was the best day we've had there!
Where to stay in Cartagena
Hotel Caribe is an expensive but lovely option there. We saw deers, and sloths, and the food was amazing. It's also right across a beach, at the modern part of Cartagena.  Check out reviews and availability now.
Within the Walled City, we recommend Hotel Marie Real, in the heart of it all, a lot simpler, but with lovely views of the city.  Check their prices and availability now.

Minca, Magdalena
Minca is a small village set in the foothills of the mountains of Northern Colombia just 45 minutes away from Santa Marta.  With cooler temperatures, waterfall hikes, and some fantastic hostels, Minca is a great place to go if you want an escape into nature from the city.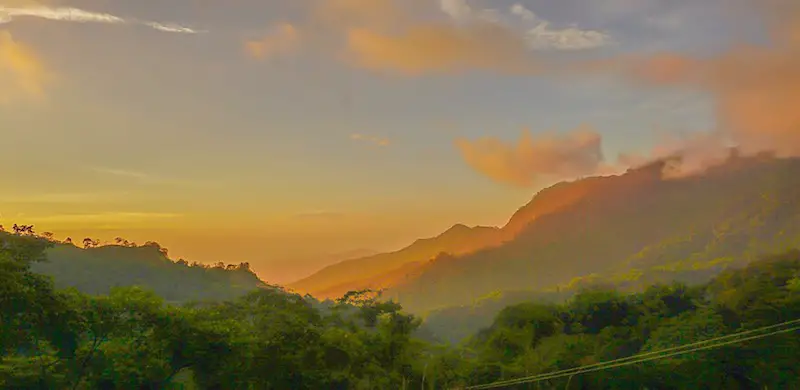 One of the best things to do in Minca is go hiking.  Try Los Pinos, a three-hour challenging hike where you will be rewarded with panoramic views of the Caribbean Sea and green mountains below.  After the hike, cool off in the Marinka Waterfalls, a gorgeous waterfall just a short hike from the forest of Minca.
The next day visit La Victoria, one of the oldest coffee farms in Colombia where you get a chance to see the coffee harvesting process.  There is also a delicious restaurant on-site at the coffee farm.
Where to stay in Minca
What makes a trip to Minca special is to stay in one of the incredible accommodations in the mountains.  I recommend Casas Viejas Hostel Lodge.  Getting there requires an additional 20-minute drive in a jeep up the mountain, but it's worth it.  The hostel overlooks the surrounding landscape and offers several lounging areas to relax and take it all in.  Check reviews and availability now.

Santa Marta, Magdalena
Santa Marta is a small city on the Caribbean coast and is mostly used as a jumping off point for visitors to Tayrona National Park or people embarking on the Lost City Trek.  However, we spent a few extra days in the city and really quite enjoyed it.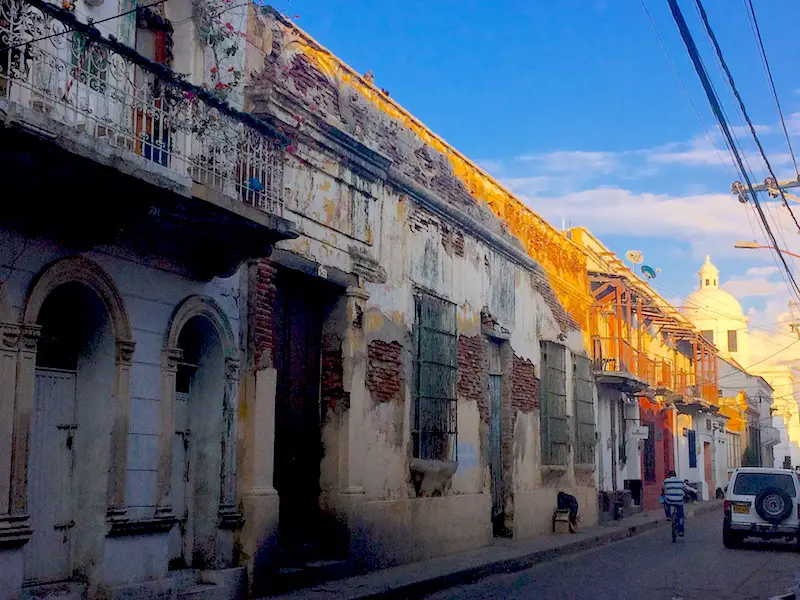 The colonial centre of town is small but filled with a mix of beautifully restored buildings and crumbling gems.  Personally, I prefer the less polished, more 'lived in' feel to some of the more touristy colonial cities in Latin America.
Parque de los Novios is the perfect spot to watch the local culture in the evenings while enjoying dinner and drinks at one of the restaurants surrounding it.  Carrera 3 is a narrow alleyway filled with restaurants and cafes.  The atmosphere makes it the perfect place to go for dinner.
Being a port city, the beach in Santa Marta certainly isn't the best beach in Colombia but it is certainly adequate for spending a relaxing afternoon in the sun.  We can't think of a better way to recharge when you return from nearby Tayrona National Park or hiking to the Ciudad Perdida.
Where to stay in Santa Marta
When we first arrived in Santa Marta, we stayed at Hotel Tayromar.  In a beautiful building, it has a nice rooftop patio and a great breakfast was included.  We only stayed one night but the staff seemed great and we had no complaints.  Check their prices and availability now.
We returned from the Lost City trek into the Sierra Nevada and stayed in Santa Marta for four more days at Hotel Parque Real.  It's basic but clean and comfortable, very close to the Parque de los Novios and the staff was really friendly and helpful.  They even booked our bus to Cartagena for us.  Check their reviews and availability now.

Taganga, Magdalena
In the small fishing village of Taganga, on the Carribean coast of Colombia, you can relax at a different pace.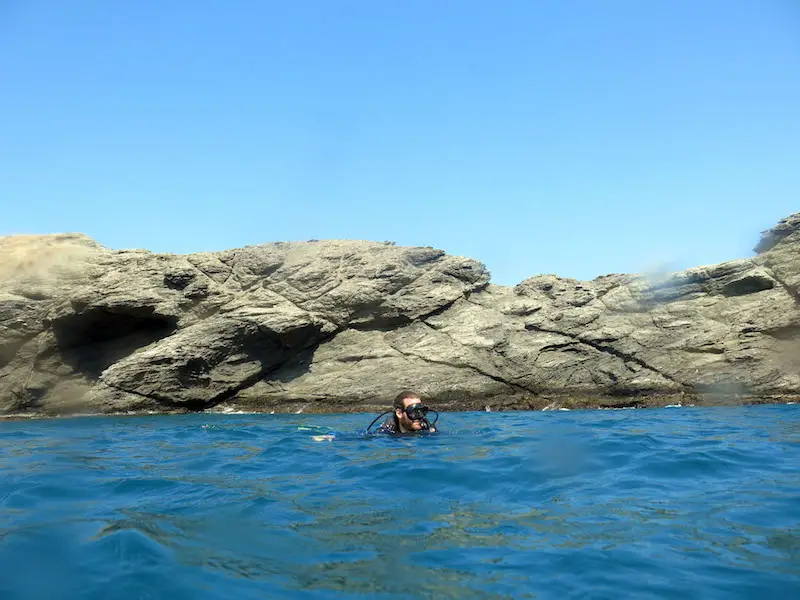 Life here is tranquilo, with days easily passed lounging on the beach and eating freshly caught fish. Taganga sits right on the western edge of Tayrona Park, and so is a great place to base yourself.  After a relaxed day on the beach be sure to check out Taganga's infamous nightlife.
The main activity for tourists in Taganga is diving!  It is one of the cheapest places in the world to learn to dive, and as it is the Carribean there is plenty of fish and coral to see.  I went diving with Ocean Lovers when I was in Taganga, and they were super professional.  Every day they make trips to dive in Tayrona Park where you will see some of the best beaches in Colombia!
For food in Taganga, every tourist visits Bamboo Cafe!  French owned, they bake fresh, dar wholemeal bread every day, something many Europeans miss when they come to Colombia!
Where to stay in Taganga
When I first arrived I stayed at Nirvana hostel, which was very social and had a nice pool.  Check out their prices and availability now.
I later returned, and stayed in Cielo Hostel, which was a little out of town and quieter, and offered some amazing views of the bay.  Check out those views and availability now.

Tayrona National Park, Magdalena
Tucked away in the northern corner of Colombia is the not so hidden secret, Tayrona National Park.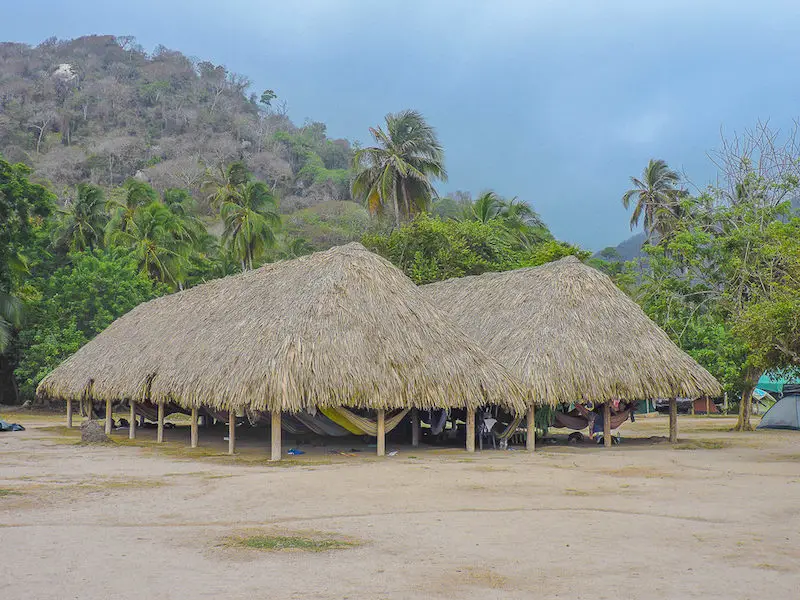 The lush rainforest with its Caribbean coastal lagoons set against the Sierra Nevada de Santa Marta mountain range is a vacation playground for locals and tourists alike.
There are so many things to do in Tayrona including hiking, sunbathing, bird watching, monkey spotting and fighting the fierce waves.
There are lots of beaches dotted around the park with the most popular being Cabo San Juan.
Here, there is a restaurant serving food and cold beers.  Be sure to take enough cash to cover your costs and a torch (flashlight) for midnight toilet visits.  For breakfast, head to Panadería and eat bread filled chocolate the size of your head.
Pro tip: don't forget your passport. No passport, no entry!
Where to stay in Tayrona National Park
Cabo San Juan is the most popular spot to stay.  Colombians and backpackers bag a hammock bed in the communal roofed sleeping areas or hire tents just off the beach.  They're all first come, first served so get there early if you're picky!
Not into the authentic beach accommodation? There are lots of hotel options throughout the park.  Playa Brava Teyumakke is a great choice if you are looking for something peaceful on a secluded beach.  The sea view bungalows and included breakfast make the lengthy hike well worth it.  Check out their prices and reviews now.

Medellín, Antioquia
Medellín isn't the prettiest city in Colombia but it is the most incredible example of social change I've ever heard of.  Not too long ago it was known as the 'murder capital of the world' and a place to be avoided at all costs.  Now it regularly tops lists for the best cities to visit in Colombia and even more so as a place to live.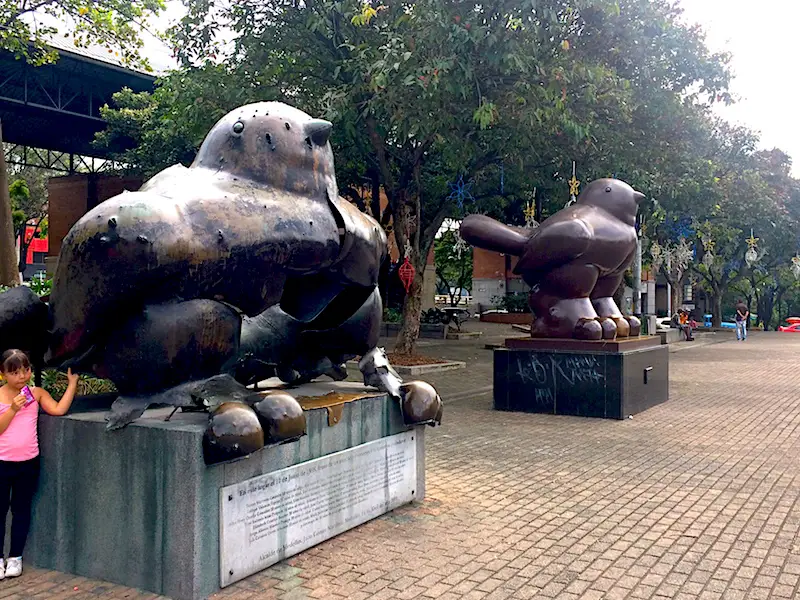 Do not leave Medellín without taking the Real City free walking tour.  It was one of the most interesting we have done.  Your guide will take you through the downtown area pointing out interesting sights but, more importantly, discussing events that took place in those areas.
Medellín needs to be studied for its efforts in social architecture.  They have taken the darkest, most dangerous places in the city and created something that has completely transformed life and attitudes in that area.  Two prime examples of these are the cable cars that connect Santo Domingo to the downtown core and the outdoor escalators leading up into San Javier, or Comuna 13.  Be sure to visit at least one of these places while you are in Medellín to witness the transformations firsthand.  These were once two of the poorest and most dangerous neighbourhoods in the city.
If you're taking the cable car up to Santo Domingo, there's no reason not to hop on one more line to take you all the way up to Parque Arví.  This oasis in the hills surrounding Medellín is a great place to wander through nature, escape from the bustling city and enjoy a peaceful afternoon.
Where to stay in Medellín
Unfortunately, we can't really recommend the hostel we stayed in.  However, it was in the Laureles district just a short walk away from Avenida 70, a great place to check out at night, and we can recommend the area.  Hostal Cattleya Medellin is a highly rated option that is consistently complimented for its cleanliness, friendly staff and great location with good metro access.  Check out their reviews and availability now.
If you'd rather stay in the popular El Poblado district, Amazonia Hostel is a great option. Guests love the included breakfast and the location – close to all the nightlife but far enough for a peaceful sleep.  Check out the prices and availability now.

Guatapé, Antioquia
Situated just a couple hours drive from Medellin, the colourful town of Guatapé is not somewhere you want to miss out from your Colombia itinerary!  Buildings are covered in brightly coloured images and small plazas make great stops.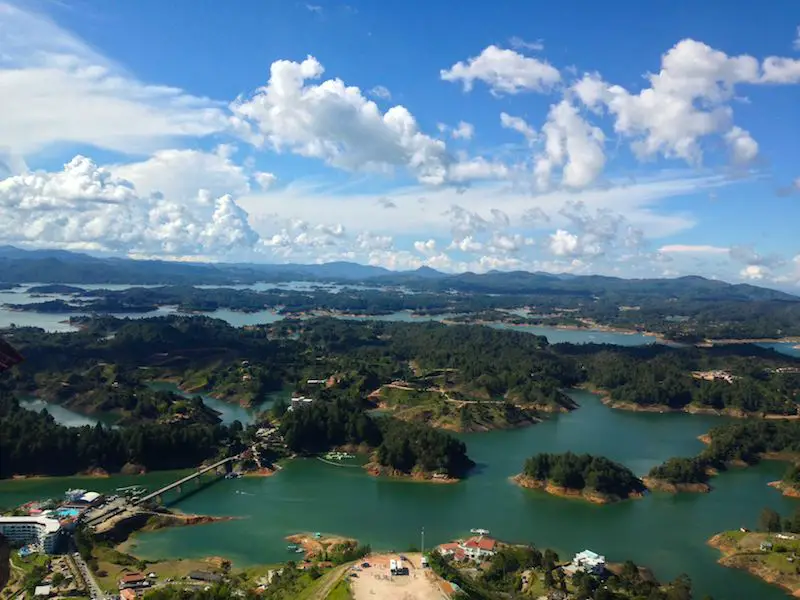 The most popular (and tiring) thing to do in Guatapé is climbing all 700-odd steps to the top of  El Peñol. With an almost vertical climb, it's hella tiring but the view from the top is SO worth it! There's also a pretty creepy looking statue of Mother Mary about halfway up if you're into that sort of thing.
If you find yourself pining for a closer look at the dazzling lake you see from the top of El Peñol, you can enjoy a boat trip or, better yet, a kayaking excursion around this uniquely shaped lake.
Aside from El Peñol, Guatapé is a great place to sample some of Colombia's finest empanadas and other street foods.  If you manage to visit during the week you'll avoid the majority of tourists and be able to follow the locals to see where the best street food is!
Where to stay in Guatapé
Many people visit Guatapé as a day trip from Medellín but it's a great place for an overnight stay if your schedule allows.
Om Sweets has comfortable rooms with shared bathrooms right in the town.  They also have a 10/10 score for reviews!  Check out their availability and prices now.
If you're more interested in spending time on the gorgeous lake and relaxing, you won't be disappointed with Serendipity Hospedaje Boutique.  Right on the lake a short distance from town, this place has incredible views from every room, hot tub and sauna, direct access to the lake and watersports and a delicious included breakfast.  One look at the pictures and you'll be sold!  Check reviews and availability now.

Jardín, Antioquia
Widely considered the most beautiful town in the Antioquia region, Jardín is a must-visit small town in Colombia. While you could happily spend a day wandering Jardín's colourful streets and admiring the painted houses set around its vibrant town square, there are lots of activities worth checking out, too.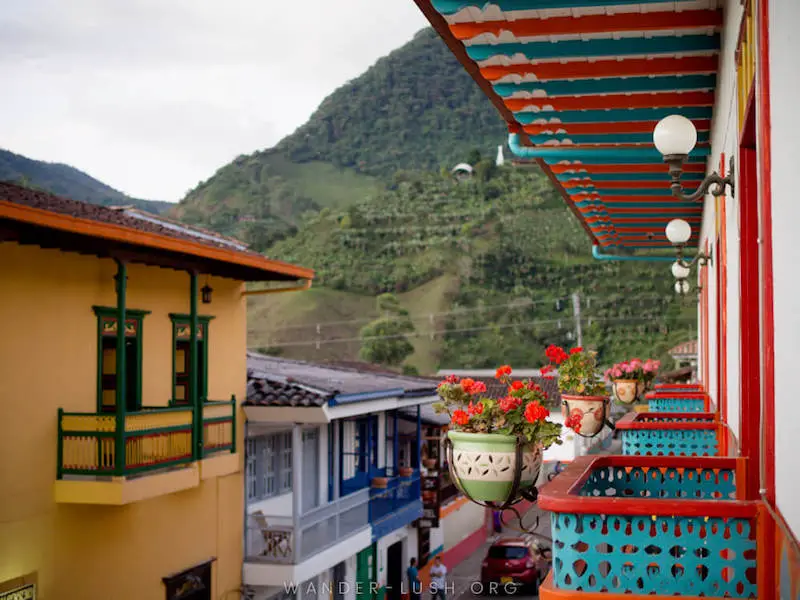 The Basilica of the Immaculate Conception is Jardin's main Catholic cathedral and commands a prime position at the top of the square. Constructed in a Neo-Gothic style from local stone, the interior arches and blue-ombre ceiling are stunning.
Jardín is situated in coffee country, so you must visit a least a couple of the coffee shops in town. Cafe Macanas has a handsome courtyard, while De Los Andes Cafe serves up coffee made from the local co-op's beans.
The Andes mountains lie right in Jardin's backyard. You don't have to go far from town to find wonderful outdoor activities, including bird watching trails, zip-lining and horseback riding.
Where to stay in Jardín
Hotel Jardín is my accommodation of choice in Jardín. Set in a classic home, it has rooms that open onto a central courtyard and private balconies that overhang the bustling town square.  Check out their reviews and prices now.

San Gil, Santander
The small Andean city of San Gil, located in northern Colombia is commonly called the country's adventure capital for good reason.  Not the most picturesque town in Latin America but being surrounded by stunning natural beauty and filled with friendly, welcoming residents results in a wonderful city and one of our highlights in Colombia.  The surrounding canyons and rivers create a perfect playground for adventure lovers spending their time with popular pastimes such as white-water rafting, paragliding, caving, rappelling, climbing and trekking.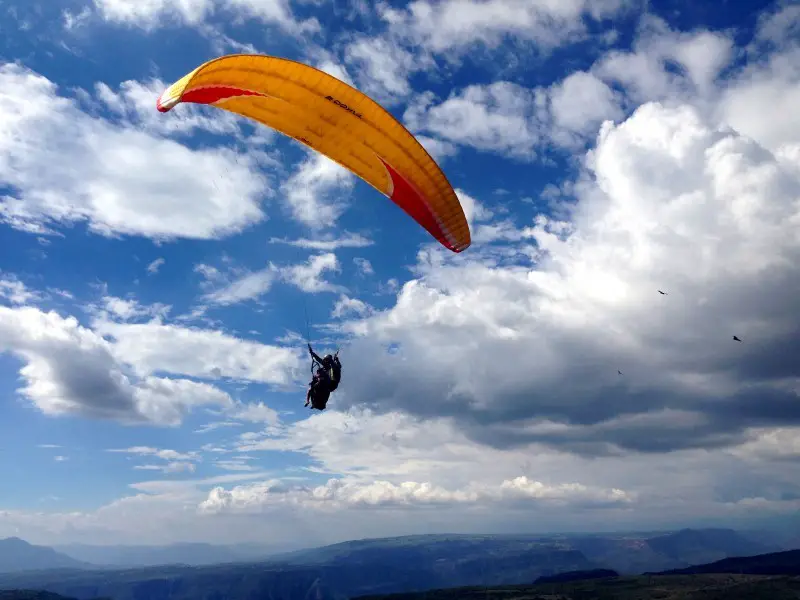 A tandem flight paragliding in the Chocomoca canyon was great fun with spectacular views and really good value for money.  Rising hot air currents lift the parachute and we ascended to 2000m, launching from the top of the canyon. The flight with a maximum height of 3000m lasts for about 20 minutes.  Our pilots did some crazy helicopter maneuvers that were awesome!
Our one-day rafting trip down the Rio Suarez had us bashing through several class 4 and class 5 rapids. There was plenty of action and fun going through some big waves.  We never flipped our raft, but did get thoroughly wet and went for a couple of swims.
Hiking for 2 days from the beautiful colonial town Barichara, through Canyon del Chicamocha we passed through some stunning little 'off the beaten track' towns.  If you're looking for adventurous things to do in Colombia, San Gil needs to be on your itinerary!
Where to stay in San Gil
We really enjoyed our stay at Sam's VIP Hostel.  It is a great budget place to stay with an excellent location, good facilities and friendly hosts to help you organize a great time around San Gil.  Check prices and availability now.
For a beautiful, calm option try Meraki Boutique Hostel.  It is centrally located and guests love the friendly hosts, included breakfast and style of the building.  Check out the pictures and reviews now.

Barichara, Santander
Considered to be one of the prettiest towns in Colombia, Barichara is also part of the country's Network of Heritage Towns.  Between the cobblestone streets and sleepy atmosphere, time in this charming colonial town seems to stand still.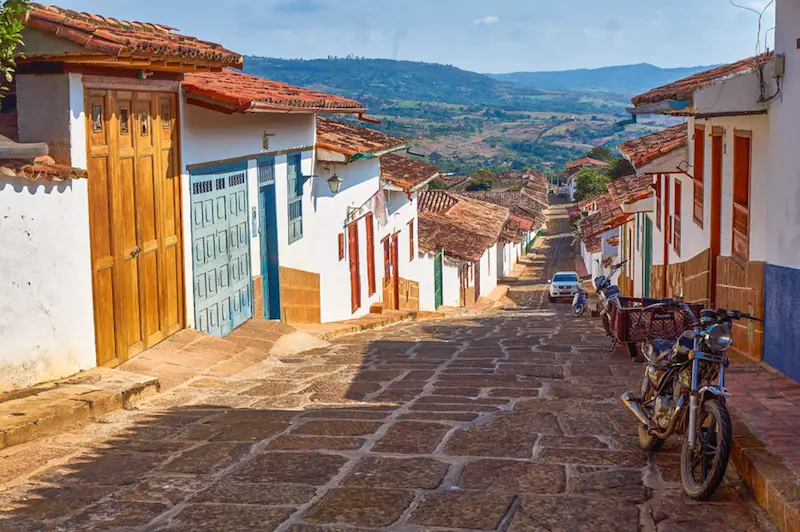 Located just 22 km away from San Gil, Barichara is an easy day trip option.  The town features its own particular architecture of white-washed houses with red-tiled roofs, creating a beautiful contrast with the bright blue sky.
The most popular thing to do in Barichara is the walk on the old camino real to Guane, a small neighbouring town which looks like a smaller version of Barichara. This mellow downhill walk is about 6 km long. To get back to Barichara, you can then take a bus if you don't feel like hiking uphill under the scorching heat.
Another interesting thing to do in Barichara is tasting the hormigas culonas or "big-bottomed ants", a type of large leaf-cutter ant that is considered a regional delicacy in the Santander department.  The ants are first fried or roasted and then salted. The best time to try them is in April and May.
Where to stay in Barichara
Some of the best places are outside of town like Finca San Pedro.  The nicely decorated rooms have private bathrooms, included delicious breakfasts and the outdoor areas have some incredible views.  Check their reviews and availability now.
Artepolis also has some amazing views and is peaceful while being just a short walk to town.  The rooms are basic but clean and the open air private bathrooms are certainly unique!  Check out the prices and reviews now.

Guadalupe, Santander
If you want to get off the beaten track while backpacking in Colombia, then Guadalupe in Santander is a dream come true.  It is a tiny little town, near Oiba, south of San Gil and still relatively unknown among foreign visitors, although it is a popular place on the weekends for Colombians from Bogota and Bucaramanga.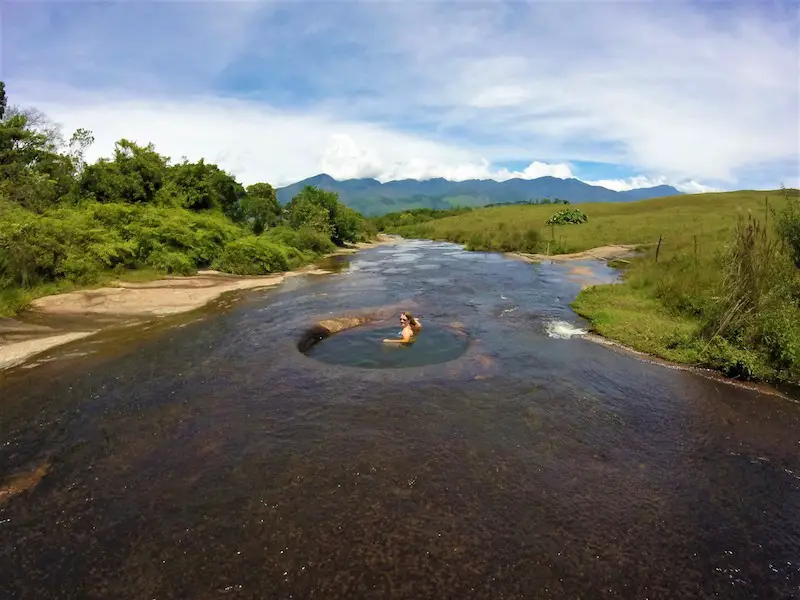 The natural plunge pools and "jacuzzis" of Quebrada Las Gachas are what first put Guadalupe on the map.  Dubbed the Caño Cristales of Santander, the river is coloured red from the rocks beneath the shallow water, and its great fun to take a dip – or slide and splash into one of the pools.
There are two more swimming holes walking distance from Guadalupe. El Salitre has similar pools like Las Gachas, but the rock is a paler colour. La Gloria is a large natural swimming pool, with a restaurant and barbecue area, popular with families.
There are several waterfalls around Guadalupe, and some are easier to find than others. Cascada La Llanera, for example, is best visited with a guide, so you can also go to a cavern nearby and a viewpoint with beautiful views of the valley.
Where to stay in Guadalupe
For accommodation in Guadalupe, most options are clean and comfortable but don't expect 5* hotels.  Hostal Donde José is owned by the best tour guide in town and is right on the main square next to the transport stop.  Check them out on Facebook.
Just around the corner, Casa Hostal La Quinta Porra offers a bit of extra comfort in the bedrooms with en-suite bathroom, and space for camping out the back.  Contact them through their website now.

Villa de Leyva, Boyacá
My favourite place to visit in Colombia was Villa de Leyva, it is located about 3 hours from Bogotá by bus and is a beautiful colonial town.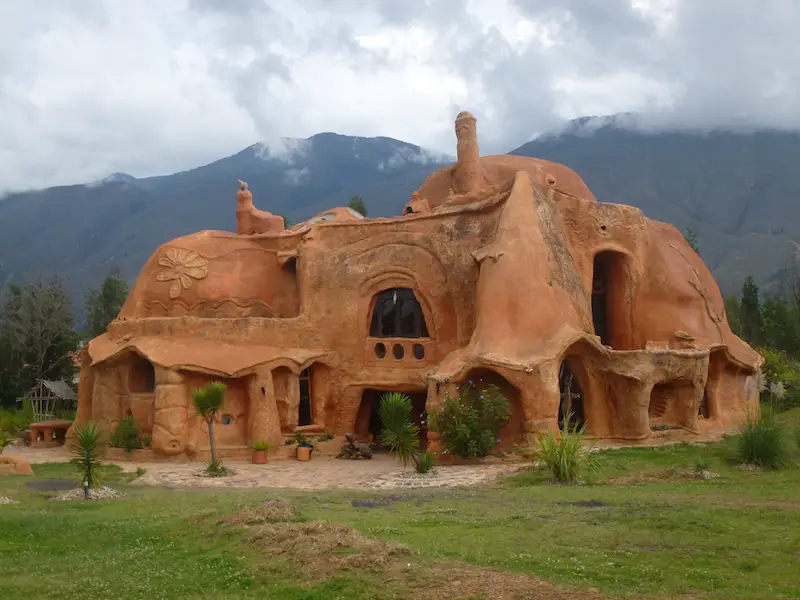 While there you need to spend a few hours exploring the town, visiting the huge Plaza de Armas and walking the streets looking at all the colonial buildings. Then I recommend hiring a bike and exploring the countryside. There is a circuit that you can do which includes:
Pozo Azules – There are 3 artificial pools that you can walk around.  They are a bright blue colour due to the minerals in the ground, the countryside is beautiful here and the pools vary in size.  There is no swimming allowed so that the PH levels in the water are not affected and the colours don't change. They are an impressive sight, especially on a sunny day.
Museo El Fosil – This is a small museum that was built around a fossil of a Kronosaurus (looks like a huge crocodile) which is 7 metres long and believed to be around 110 million years old. There are also lots of smaller fossils in the museum that were discovered in the area too.
Terracotta House – It is a 2 storey house that has been sculptured from clay only and is decorated in places with beautiful mosaics. It is so elaborate and an amazing place to visit and explore and was a highlight of my time in Villa de Leyva.
Where to stay in Villa de Leyva
Apartahotel La Gran Familia is a perfect choice of accommodation with just a short walk to the historic town and excellent reviews about the cleanliness, comfort and friendliness of the owners.  Check out reviews and availability now.
Hotel Casa Terra is a little more expensive (though still a great price compared to other places) but just one look at the pictures will show you exactly why it is worth every penny.  The excellent reviews are just further proof.  Check out the images and prices now.

Bogotá, Distrito Capital
The capital and one of the largest cities of Colombia is a vibrant, bustling metropolis with a few personalities.  It's busy, it's loud but it has an energy that can be contagious.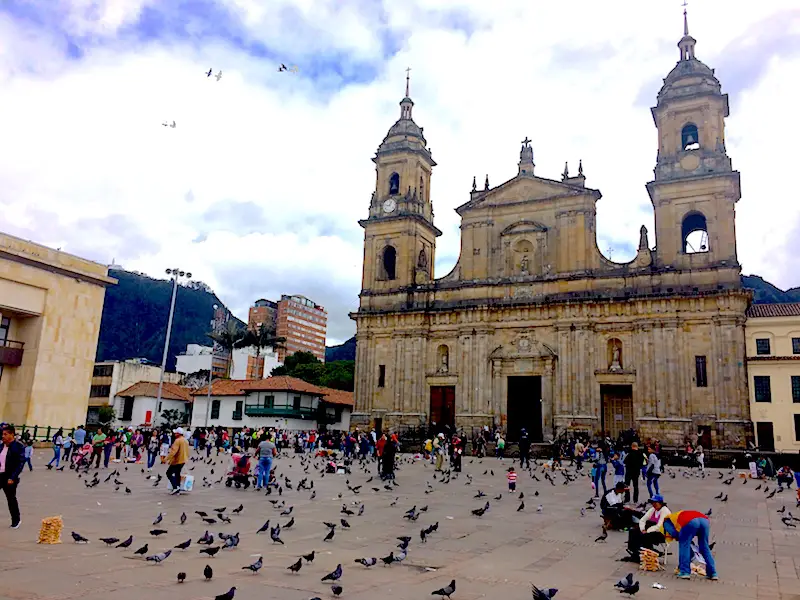 One of our top things to do in Bogotá, Colombia is to wander the narrow streets of the historic centre, known as la candelaria.  There are so many hidden gems to discover and a great perspective from which to see it is by signing up for the Bogota Graffiti Tour.
Spend a few hours hiking up Montserrate for amazing views over the city and the surrounding mountains.  If you're not up for the hike, there is also a cable car and tram that will take you to the top.
If your visit falls on a Sunday, make sure you visit the flea market in Usaquén.  The stalls take over the plaza and surrounding streets selling anything and everything.  It's also a lovely area for a stroll with a number of decent bars, restaurants and coffee shops when your feet need a rest.
Where to stay in Bogotá
We stayed at Hotel Muisca and really enjoyed it.  It is set in an adorable old building with rooms around a courtyard and a little loft area for the included breakfast.  Set just a couple blocks from the main plaza in la Candelaria, the location is ideal too.  Check prices and availability now.
Magdalena Guest House has insanely good reviews.  It is a beautiful bed and breakfast with queen rooms and private bathrooms.  For the budget price, it is a phenomenal deal.  Check reviews and pictures now.

Salento, Quindío
Salento is a colourful little town right in the heart of Colombia's coffee region.  If you're still wondering where to go in Colombia, seriously consider adding Salento, there are so many fantastic activities available in this town!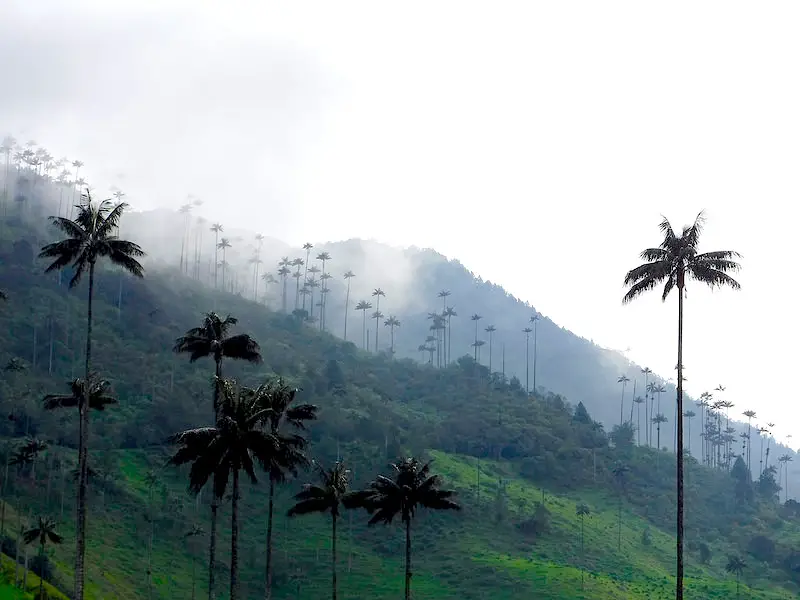 Being in the heart of the coffee region means you can't leave Salento without taking a coffee plantation tour.  There are numerous options but we thoroughly enjoyed our tour with the Plantation House.  We learned all about, and participated in, the coffee making process all the while enjoying the incredible views from their property.
The town is surrounded by some of the most picturesque landscapes I've seen with ample opportunities for hiking, horse riding, ATVing among other activities.  If you only have time for one thing, take a Willy from the main plaza in Salento to the Valle de Cocora and hike through the wax palms, the tallest palm trees in the world.
Be sure to save some time to wander the town of Salento.  From colourful buildings to a vibrant main plaza filled with food options, there's a lot happening in this small town.  Take a walk up to the mirador before sunset then find a place for a beer and perhaps a game of tejos or pool.
Where to stay in Salento
We stayed at Hotel Salento Real Eje Cafetero and loved it.  The staff was great, the building is beautiful and the included breakfast was wonderful – we actually had a menu to choose from!  Check out their prices and availability now.
Hotel Salento Plaza is a perennial favourite garnering outstanding reviews for their comfort, location, outdoor areas and included breakfast.  Check their reviews and images now.

Filandia, Quindio
Imagine Salento, but without the tourists, or with far fewer of them. That's Filandia, easily accessible by bus from Pereira.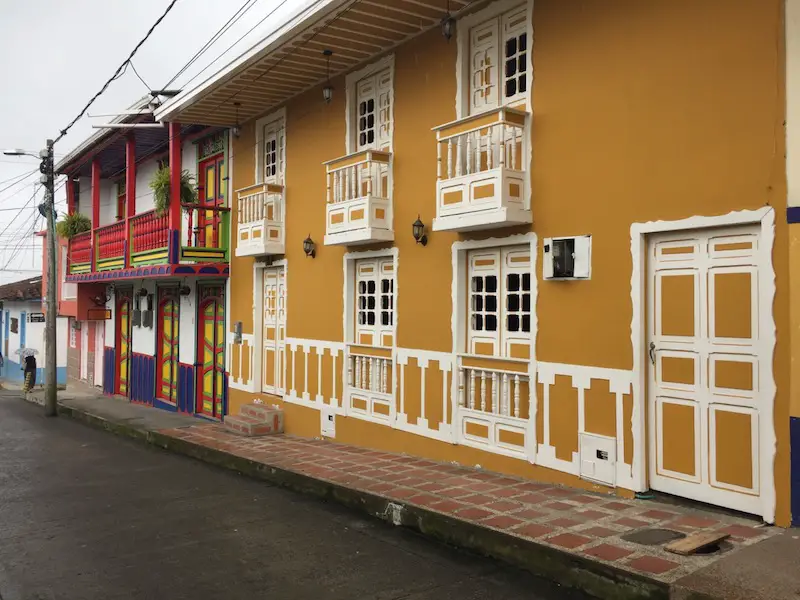 Of course, you're in the midst of Colombia's coffee region so going on a coffee tour would be an obvious activity. Most of the farms are small and not designed for sightseeing.
In town, you'll find an unusual restaurant: Helena Adentro. People come from all over to eat fresh fusion dishes in the eclectic patio – perfect if you want a break from the more traditional Colombian fare.
If the colourful houses of the region are irresistible, just sit on Filandia's main square and watch all the vibrancy.  Instead of souvenir shops and hostels, you'll find a plumbing store and a basket shop housed within the brightly painted façades. If you'd like a longer view, there's a wooden lookout tower which will give you an extraordinary view of the rolling countryside.
It is every bit as pretty as Salento but retains its local flavour, with a feeling that people live here and go about their daily business.
Where to stay in Filandia
Casa Muy ChaCho has some of the best ratings I've seen.  People rave about the location, outdoor areas and atmosphere at this small hostel.  While it is a colectivo ride from town, it is within walking distance of a river and waterfall that make for a great hike.  The consensus is that this place is worth the colectivo ride from town!  Check reviews and availability now.
If you'd prefer the convenience of being in town, and who could blame you, Bidea Backpackers Hostel looks incredible.  Don't let the name fool you; the rooms are nicely decorated, there are great communal areas and a delicious included breakfast.  The reviews really sell this place!  Check availability and prices now.

Calí, Valle del Cauca
Cali is easily one of Colombia's most famous and notorious cities.  It's also one of the largest cities in Colombia.  We first discovered Cali when watching Narcos, as it was once the headquarters of the infamous Calí cartel.  However, you don't have to worry as Cali is no longer the sort of city it once was. Instead of being a base for one of the world's largest ever cocaine empires, it is now a city growing in popularity amongst tourists.
We stayed in Calí for a few nights on our South America trip back in 2016.  Some of the best things to do in Cali include stopping off at the scenic Cristo Rey, taking a day trip to the zoo and discovering the numerous churches located all across the city.  In my honest opinion, Cali does have a few drawbacks, most notably the heavy traffic throughout the whole city.
But this isn't an excuse not to visit!  Instead, you will find plenty to see and do.  Just take time to try and learn about the city's rich and vivid history over the last few decades. For me, this was the most interesting thing about Cali.
Where to stay in Calí
Look no further than Magic Garden House.  The location, views, decorations and staff are repeatedly mentioned as standouts.  You HAVE to check out the pictures of this place!  Click here for images and reviews.
Hostal La Terraza de San Antonio boasts the highest ratings I've seen.  Guests can't say enough positive things about the location, the comfortable guest house and the kind owners.  Check out their reviews now!

Buga, Valle del Cauca
So, you're planning a trip and looking to visit some of the best towns in Colombia? Founded in 1555 Buga, located in the Valle del Cauca, is one of the oldest towns you can visit in Colombia. If you're in Cali you can easily catch a bus which takes around one hour.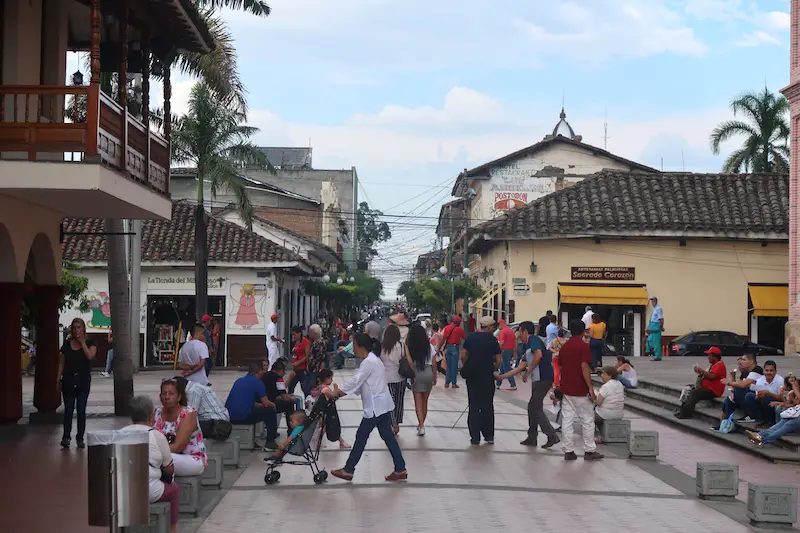 As soon as you arrive you'll notice statues of Christ on sale in almost every shop as you walk around the historic centre.  I recommend you visit the Rayo Museum which is open to the public and great little experience to have in Buga. Over the years I have done a lot of backpacking through Colombia and here in Buga, there are many 17th and 18th century buildings to see that really make this cute town worth the visit.
It's worth noting that it gets very hot during the day so you may want to carry sun protection to avoid getting sunburn.
Where to stay in Buga
Hotel El Faro Buga is an excellent option for accommodation.  Rooms are modern, large and comfortable, and each comes with a private bathroom.  There is also an included delicious breakfast.  Check out their reviews and prices now.
If you are looking for a more private space, Bello Apartamento 2 Alcobas offers a full two-bedroom apartment with a comfortable living area and small kitchen.  Check out reviews and availability now.

 San Agustín, Huila
San Agustín is a small town in southern Colombia that is home to arguably the best archaeological site in the country.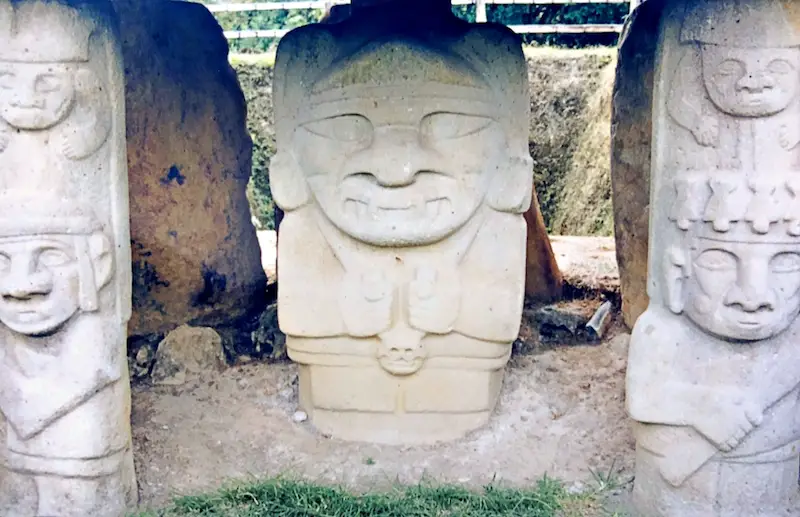 The town itself is cute, but the main attractions are on the edge of town.  There are ancient statues scattered in the nearby hills, most notably in the San Agustín Archaeological Park. There are multiple stone statues of human figures carved hundreds of years ago by a lost civilization.  Other statues are also scattered in the hills around the town, including four statues at El Tablon, two coloured statues at la Pelota and several more at the nearby La Chaquira.
While the archaeological sites are the main reason to visit San Agustín, there are also two colonial churches in town that are worth checking out.  Parroquia Nuestra Senora de Lourdes is a cute green church with gold trim and Iglesia de San Agustin is a white and gold church with a pretty interior.  If you visit around Christmas, a large nativity scene is set up in the garden.
The main plaza in the center of town is a pleasant place to hang out and watch the world go by. Activities like horse-riding and jeep tours into the countryside are easy to arrange in town. This is a sleepy town with friendly local people that gives you a great sense of Colombian life.
Where to stay in San Agustín
Hotel San-Agustín Huitaca is the best-rated option in town.  Guests rave about the outdoor space, views and the breakfast.  Just a short walk to town yet in a peaceful setting, it's easy to see why.  Check out the pictures and reviews now.

Ipiales, Nariño
Ipiales is a typical border town, lying just 7 kilometres from the border between Colombia and Ecuador.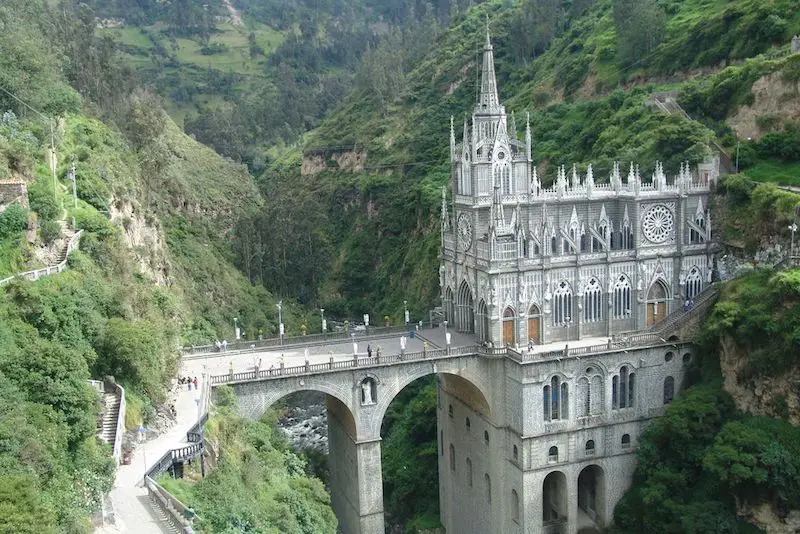 While the city itself might be unremarkable, a short bus or taxi ride outside of town is the spectacular neo-gothic Las Lajas Sanctuary. The church is situated inside a gorge and can only be reached by crossing a 130-feet tall bridge over the Guaitara river. It's an awe-inspiring sight and a place of pilgrimage for the faithful, who come to see the place where the Virgin Mary appeared to a local woman and her deaf-mute daughter in 1754.
If you're in Ipiales on a Saturday, take a stroll through the colourful market that takes place at the Plaza Los Mártires, just a 10-minute walk from the centre of town.
And if you have time for a longer day trip, the hike to Laguna Verde, a beautiful green lake located in the crater of the Azufral volcano, is definitely worth it.
Where to stay in Ipiales
There aren't too many options for accommodations but Hotel Florida Apartasuites comes out on top.  It's modern, comfortable and has great reviews.  Check prices and availability here.

 We would be oh so grateful if you shared this post with others!
[columns] [span6]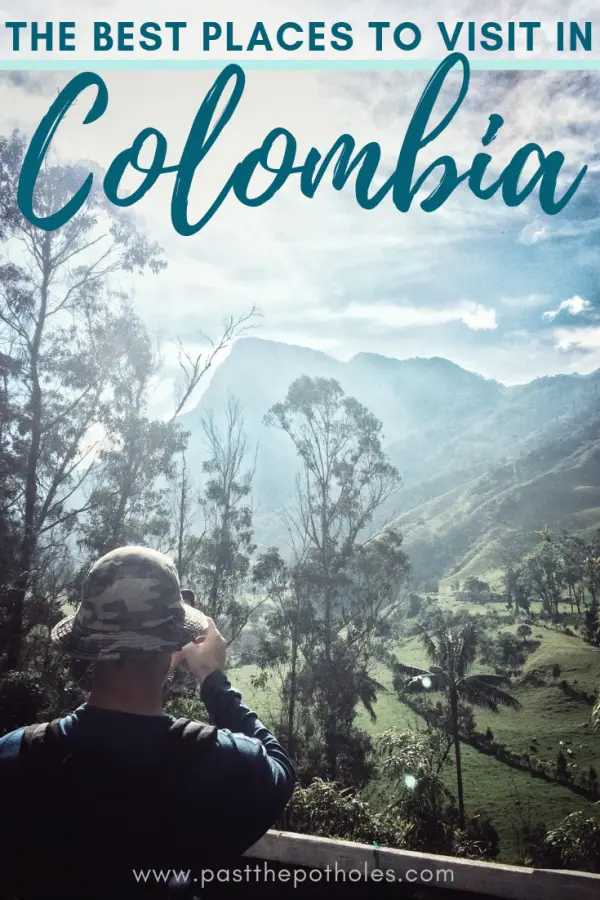 [/span6][span6]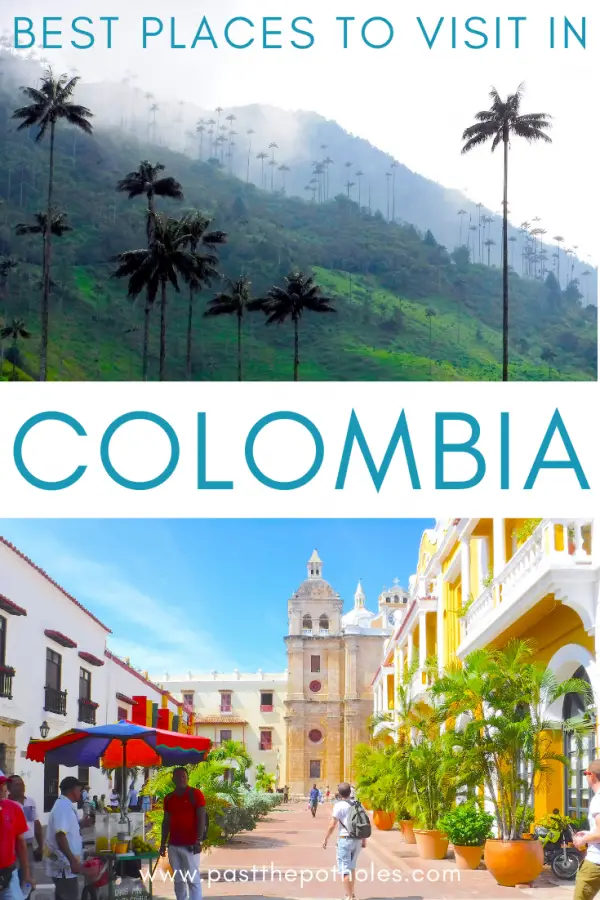 [/span6][/columns]
Find inspiration at our Destinations page here.
---
Some links in this post are affiliate links.  That means if you click on them and make a purchase we will make a small commission at absolutely no cost to you. Win-win, right?  Thanks for your support!
---