How to Enjoy an Awesome Two Days in Bogotá, Colombia
Some links in this post may be affiliate links. If you click on them we may make a commission from qualifying purchases at absolutely no cost to you.  Read our full Disclosure Policy here.
On our recent trip to Colombia, we began in Bogotá.  My original plan included three days there but, in an attempt to fit in the four day Ciudad Perdida trek, I dropped a day.  There are so many things to do in Bogotá that even with a month we would only be scratching the surface.  This city is huge!  However, with two days we feel we saw some of its highlights and were happy with our time.
---
Ready to plan your trip?  Find lots of useful Colombia Travel Tips here! 
---
We travelled from Bogota to Salento during our trip and found the overnight bus a great way to move on from this city without wasting a whole day to travel.  Read more in this post about Salento, Colombia.
Things to do in Bogotá
With just two days in Bogotá, it is important to hit the ground running!  You will be busy but you will be able to see some beautiful areas and make the most of your time in this amazing city.
Monserrate
This was on everyone´s must-see list of Bogotá so right after dropping our bags and eating lunch we headed in the direction of the landmark.  There are no signs for it and you have to walk up a road with what barely qualifies as a sidewalk so it´s easy to second guess yourself here.  Surely such a tourist hotspot would have a sign and a walking path?  Nope!  Keep going and you´ll see an interestingly decorated building where you buy a ticket.
You technically have three choices.  There is a train, a cable car or a hiking/walking trail.  Our plan was to hike up but the trail was closed as was the train.  So cablecar it was!  This cost us $18000COP each.  However, it is almost half price on Sundays.  Once at the top there is a church, a restaurant, and a walkway that serves as a market selling all kinds of tourist crap souvenirs.
---
---
The view is excellent but, unless you are religious or hungry (the restaurant looked to have great views but we had just eaten, unfortunately), there's not much to do up there.  Making it a couple hour long hike would have made the trip up much more worthwhile of an activity.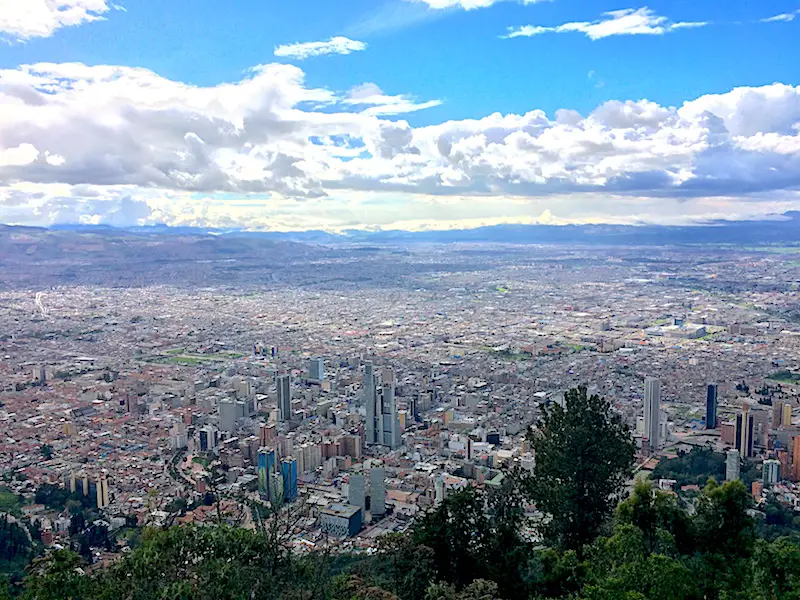 Graffiti Tour Bogotá
The graffiti tour was well worth the time!  We're not exactly art buffs, street or otherwise, but figured that it would be a cool opportunity to see some interesting spots around La Candelaria, the historic centre of Bogotá.  We were right!
We wandered the area with our guide for about two and a half hours and it was actually very interesting.  Most of the street art has a political or social meaning that you wouldn't necessarily pick up on yourself, not to mention the amount of smaller pieces of art that we would never have even noticed.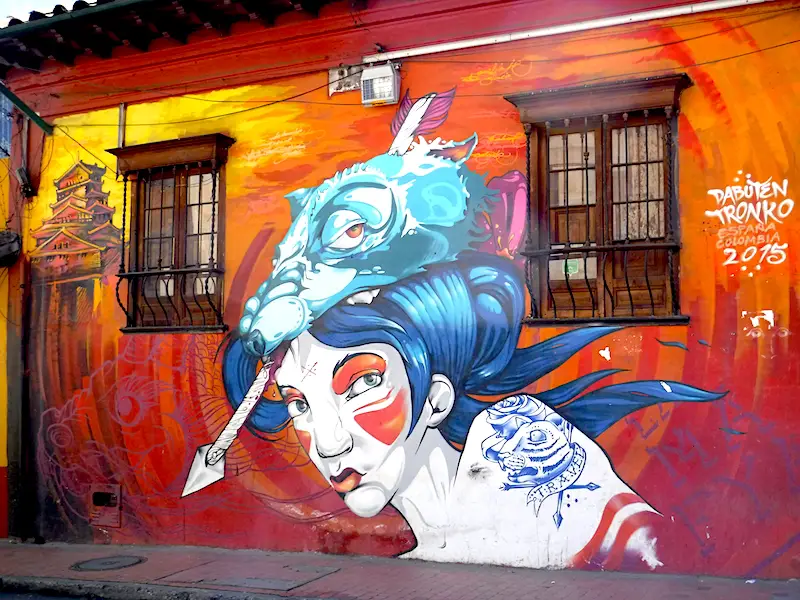 We actually found ourselves looking a lot more closely and appreciatively at street art in all cities throughout the rest of our trip after the graffiti tour.  It's free but runs on donations and they suggest around $20,000COP per person.  You can, of course, give what you have or feel it is worth.   It is necessary to register in advance through their website.  Sign up here!
If you are not staying in the Candelaria district, this graffiti tour may be a better option for you.  While it is not free, round trip hotel transportation is included.
Usaquén
This is a neighbourhood within Bogotá that seems like its own little village.  There is a central plaza and lots of activity all around it.  On Sundays, they have a big street market where you can find all kinds of souvenirs, gifts and crafts.  There is also a large, upscale mall and a number of restaurants and bars.  The Usaquén market is great to wander even if you're not buying.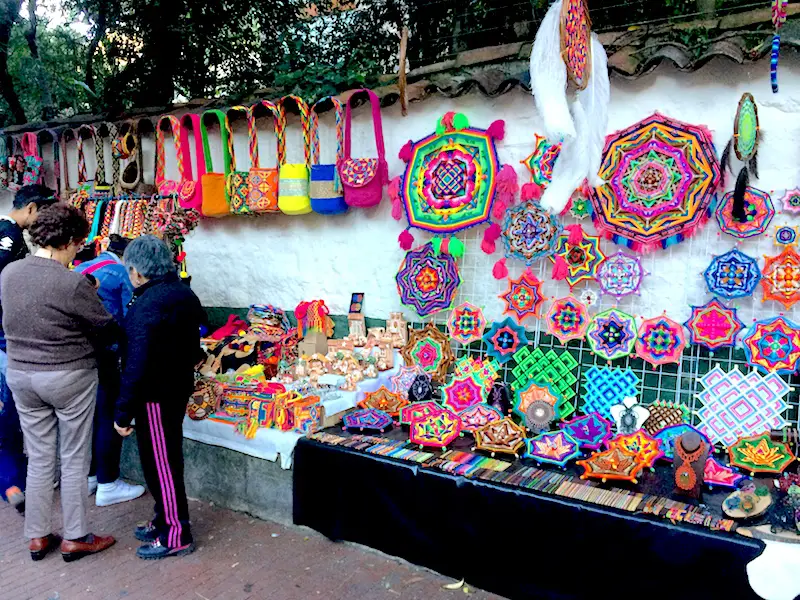 Basically beside the church, just off the main plaza is the Bogotá Beer Company.  This microbrewery has a great selection of beers and an awesome patio to enjoy them on.  We didn't eat here but the food all around us looked delicious!
It´s a little tricky to get to Usaquén by public transport so a taxi is your best bet.  At around $18,000COP ($7CDN) for two of us it still wasn´t a bad price!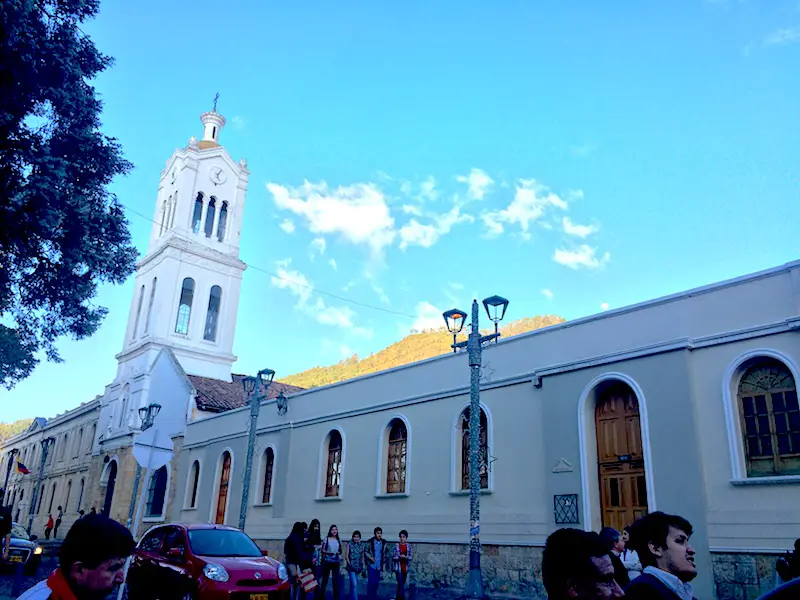 La Candelaria
Probably our favourite thing to do in Bogotá was to wander the streets of the colonial district, la Candelaria.  The plazas, architecture and people are all worth checking out.  We noticed a military museum with free entry and, of course, everyone talks about the gold museum.  Keep in mind many of the museums are closed on Sundays.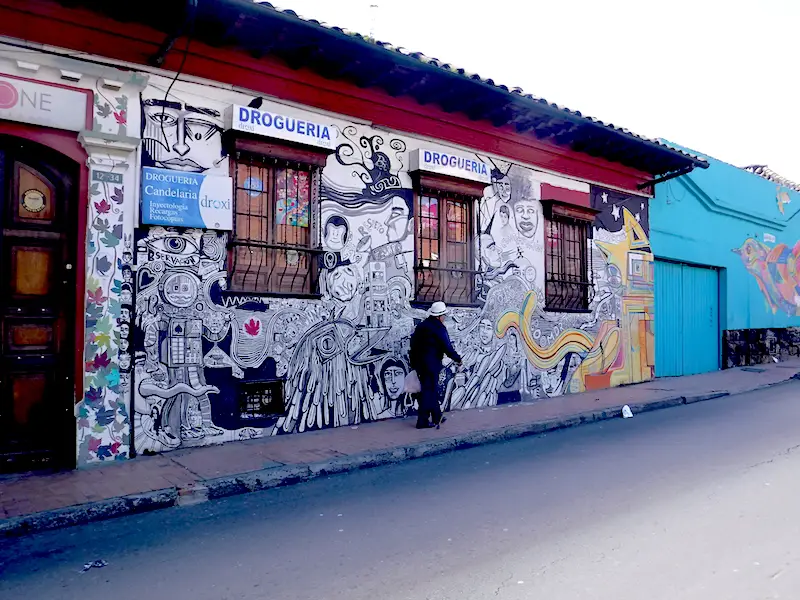 Plaza de Bolívar
The Plaza de Bolívar was a short walk from our hotel and an interesting study in local culture.  There was a quinceañera photo shoot, a family celebrating a birthday in the plaza with cake, people and vendors all over, especially in the evening.  Each side of this plaza has important buildings including the National Cathedral, Palace of Justice, Capitol building and Palacio Liévano – now city hall.  The president´s residence is just around the corner too!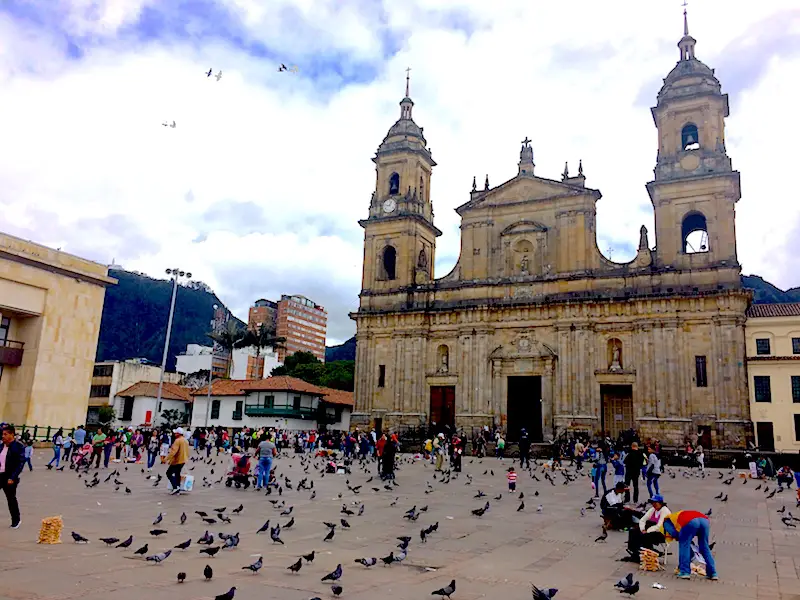 Callejon del Embudo
We found an alleyway called Callejon del Embudo and made it part of our route whenever possible.  This is full of hostels, bars that sell a local moonshine called chicha and street art.  It is an area filled with travellers and activity.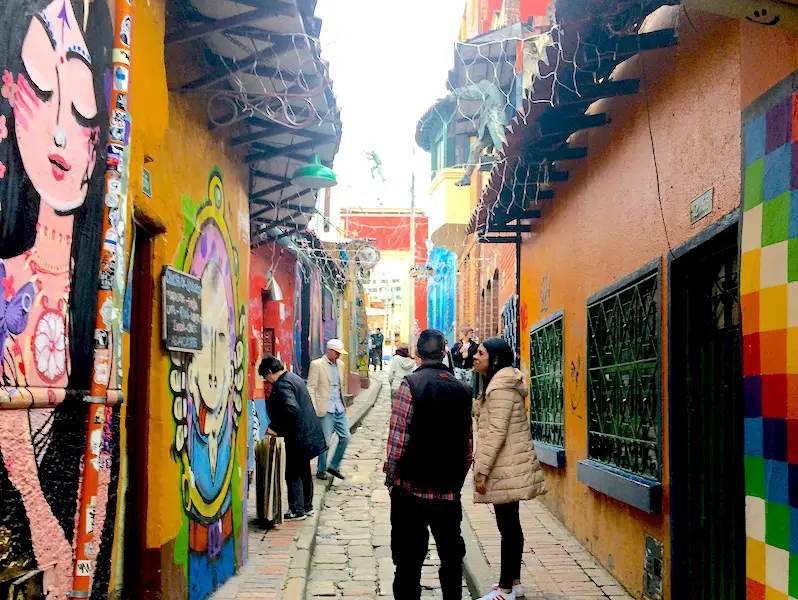 Plaza del Chorro de Quevedo
At the end of Callejon del Embudo you will find Plaza del Chorro de Quevedo.  Given its location it was also full of cafes, travellers, a cute little lending library and, in the evenings, it became a centre for street performers and socializing.  One of the best things to do in Bogotá in the evening is to grab a beer and join everyone else on the steps watching the evening's performances!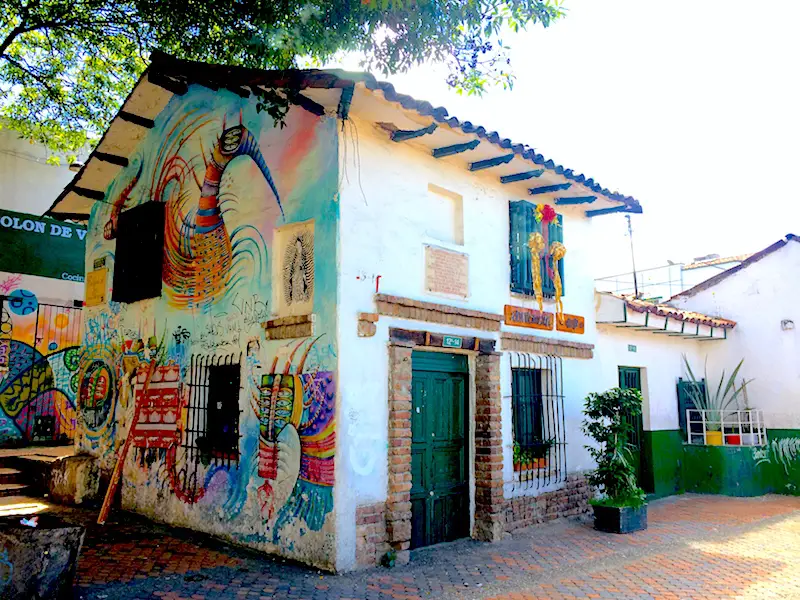 City Bike Tour
Bogotá is an excellent city for two wheels.  Every Sunday a huge section of streets is closed to traffic and to create the ciclovía.  Bikers, runners, rollerbladers and walkers can enjoy a few hours on this 'track' before it opens to vehicles again.
Joining Bogotá Bike Tours is a fun thing to do in Bogotá and a great way to see the city.  Tours leave every day at 10:30 am and 1:30 pm everyday and there is no need to book.  They also run free walking tours on certain days.  If tours aren't your thing you can just hire a bike and go solo! Book your bike tour now.
---
---
Where to stay in Bogotá
If you only have one or two days in Bogotá, we would highly recommend staying in the colonial centre, La Candelaria.  We stayed in this area and loved it.  It's a beautiful area with lots of activity, plenty of restaurants (though not fancy) and we always felt safe, even at night.
Low Budget – Hostel Casa Quevedo.  Dorm rooms come in at around $10 a bed and double rooms will cost less than $25 per night.  This hostel includes free breakfast and is very highly rated. Read the reviews now.
Mid-range – For our one night in Bogotá we stayed in la Candelaria district at Hotel Muisca.  It is a very cool historical building and breakfast was included and tasty – juice, coffee/tea, fruit, eggs and toast.  Rooms cost around $50 a night but I was able to use Orbitz Orbucks for a hefty discount!  Check price and reviews here.
High end – If you're looking to splurge, Hotel Bh Bicentenario is your spot!  Rooms start at $150 a night and include buffet breakfast.  The reviews are excellent for this hotel with guests particularly loving the location, service and cleanliness. Check out prices and reviews now.
---
Find out more about these tours here!
---
Have you ever been to this city?  What are your favourite things to do in Bogotá?  What should we add to the list?  Comment below!
Like this post? Help others find it by pinning this image!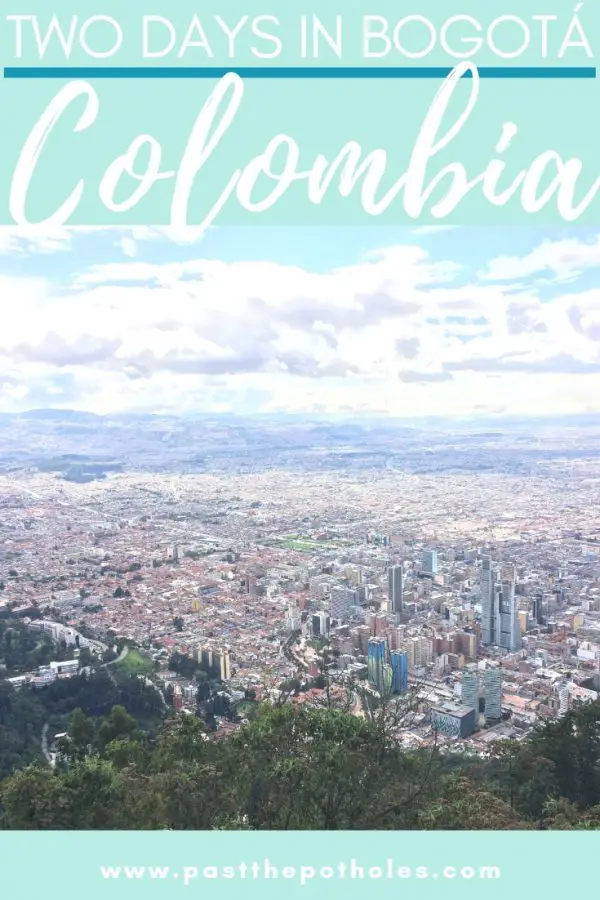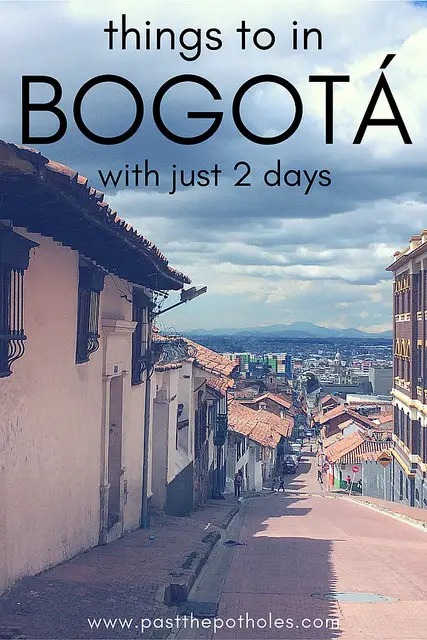 ---
---
Some links in this post are affiliate links.  That means if you click on them and make a purchase we will make a small commission at no cost to you. Thanks for your support!