Making the most of our time in Progreso, Mexico house sitting!
Some links in this post may be affiliate links. If you click on them we may make a commission from qualifying purchases at absolutely no cost to you.  Read our full Disclosure Policy here.
We had no intention of returning to Mexico this year.  We know we love it, we've seen a lot of it and spent a lot of time there.  However, when a Mexico house sit came up in the Yucatan Peninsula we couldn't say no.
Progreso is a town on the southern gulf coast that is great for kitesurfing and has a fairly large expat population.  Research showed people kitesurfing on the miles of golden sand and we decided it was a perfect match.  We applied, had a Skype interview and gave some references.  Very quickly the homeowners agreed that we were the right people for the job.
Our Experience in Mexico House Sitting
This house sit consisted of two weeks looking after the house, two and a half weeks to travel, followed by about 10 more days at the house.  While there were no pets this time around there was a pool and plenty of potted plants to water.  It was probably more work and more stress than if we'd had a couple of cats to feed!  The fact that it was just a few buildings away from the beach took the sting out a little though 😉 [icon icon=icon-smile size=14px color=#000 ].
We arrived two nights before the husband was leaving (the wife had left a week earlier to work).  He picked us up from Mérida airport and the next day took us into town for a few groceries as well as showed us around a little.  We went over the requirements of the house sit with a stop for lunch at a beachside restaurant.
That's one of the great things about house sitting – you feel like you make new friends each time!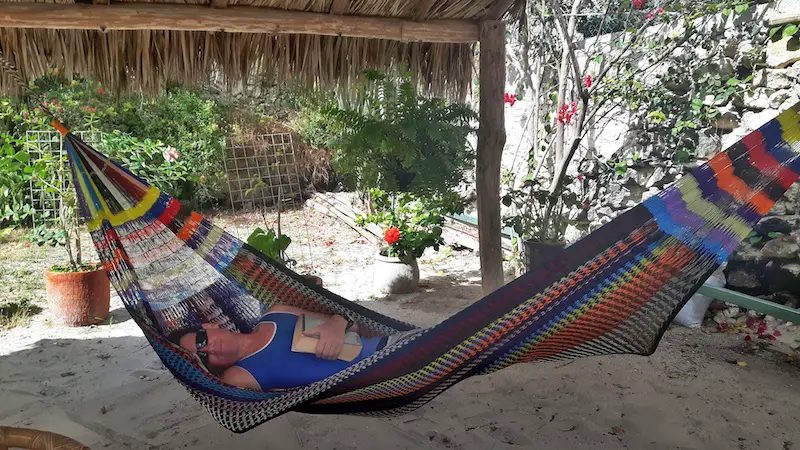 When the homeowners returned two weeks later, everyone sat around some snacks and drinks chatting about their respective adventures.  The next morning they drove us to the bus station with farewell hugs as we embarked on our two week road trip in the Yucatan Peninsula.
Our second stint at their house was just as positive.  Due to it being an area popular with expats and snowbirds, there are many events happening.  We went out for some live music and made friends with another couple of house sitters just a few doors down.  What are the odds?  We spent a few evenings sharing snacks and drinks with them and even rented a car together for a day trip!  It always enriches the experience when you can meet locals and/or likeminded people.
Things to do in Progreso, Mexico
Home of the longest pier in the world, Progreso has become a cruise ship destination and receives cruises two or three times a week.  While many of these people hop straight on tour buses and leave town, there are many things to do in Progreso, Mexico and the surrounding area.
We had a great time and kept ourselves pretty busy, but we also took advantage of a comfortable house to get lots of work done.  The timing worked out that we managed to be in Mexico for three or four nortes, strong northern winds that bring in cooler, stormy weather.  Besides the weather change, it also meant that waters were churned up and some activities were unavailable.
This list includes the things we did personally as well as the activities that friends recommended to us and are on our list for next time.
Kitesurfing in Progreso
One of the main reasons we decided to apply for this house sit in Mexico was that Progreso is a great area for kitesurfing.  Terry connected with Angel at Yuckite and booked himself in for the cheapest priced lessons we've seen.  The winds were good almost every day and he got himself to the point where he can ride independently with rentals only.  On Christmas Day I decided to join him but a lack of instructors meant that I'll have to put my kiteboarding career on hold until we return…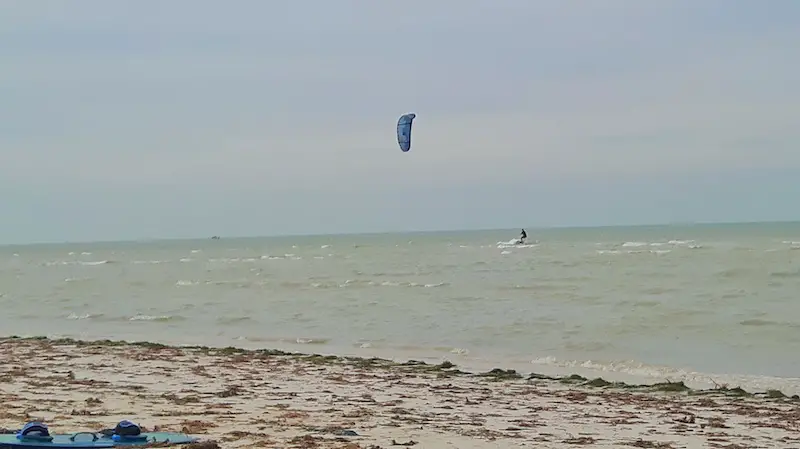 Walk the Malecón
Progreso has a great malecón, or boardwalk, that is the perfect place for a stroll or run. We each took advantage of it for a few runs as well as made it our usual walking route into town.  Even grocery shopping is better with a sea view!  Through the main stretch of town, it is paved and often lined with stalls of food and souvenirs.  To the west of the pier, it extends for a couple of kilometres with barely a soul on it and not at all built up.
Wander the town and market
The town of Progreso is a bustling, truly Mexican place.  Stores compete for the loudest music speakers, buses rumble down the streets and just walking down the sidewalk is akin to an obstacle course.  The local market is a great place to buy just about anything cheap or even just to wander and soak it all in.  On cruise ship days the Main Street is closed to vehicle traffic.  A street market pops up and a number of restaurants put tables and chairs on the street advertising $1 beers and free tequila shots.
Relax at the beach
Progreso is actually built on a sand bar between the saltwater lagoons and the Gulf of Mexico so there is no shortage of beach.  If you'd rather have a little more service than just laying down a towel, Silcer Beach Club is a fun spot to spend a day.  They have tables, chairs and loungers for guests to use as well as stand up paddle boards for rent.  There are also a number of malecon restaurants that have tables under palapas on the beach.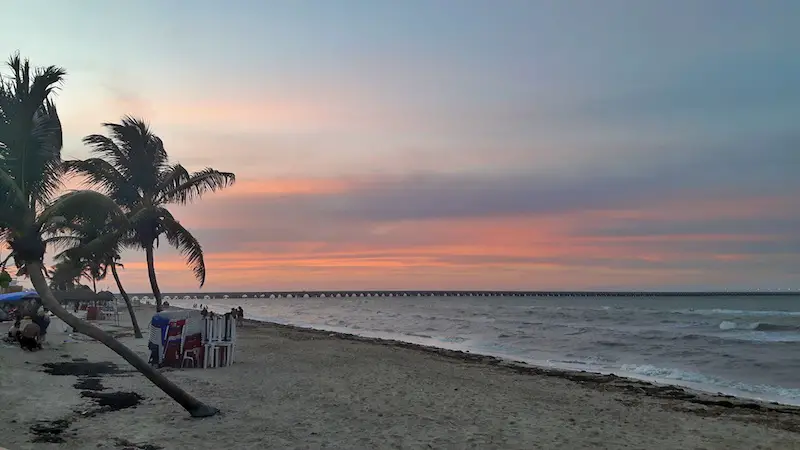 Izamal
The 'yellow city' is a good option for a day trip.  The town centre is painted yellow – every building – and is just begging to be photographed.  There is a large convent that is free to wander and a number of ancient Mayan pyramids spread throughout the town.  The largest three can be climbed for great views.
We rented a car together with our new house sitting friends from the Czech Republic.  We climbed the largest pyramid, wandered the convent and town then had lunch in the little market beside the plaza.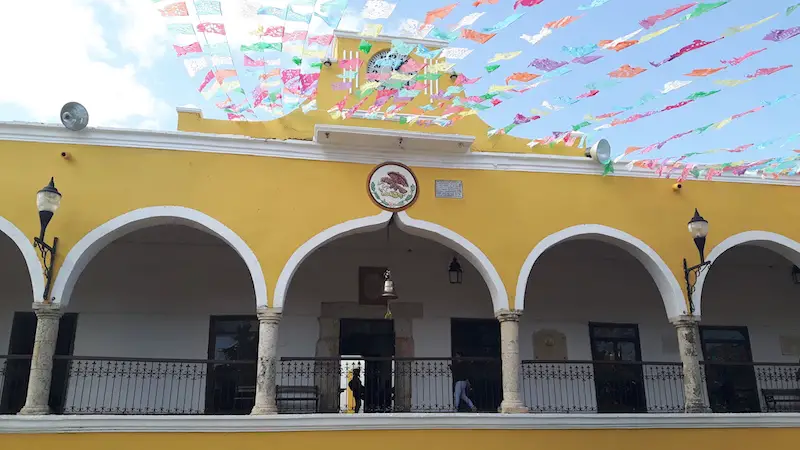 Merida
Merida is considered the cultural capital of the entire Yucatan Peninsula.  It is a beautiful colonial city and well worth a wander.  Buses run between Progreso and downtown Merida for just over $1 and take about an hour.  If you are considering buying a hammock while in Mexico this is a great place to do so.  Hammock making is deeply ingrained in the history of the Mayan people and local families still make them by hand to sell.
We were recommended to go to Artesanías TITA on Calle 59.  This cooperative is run exclusively by Mayan families so you know you are getting authentic items at a good price and helping local families at the same time.  even if you don't plan to buy anything, the building is lovely and they have a climate controlled room filled with Mayan art.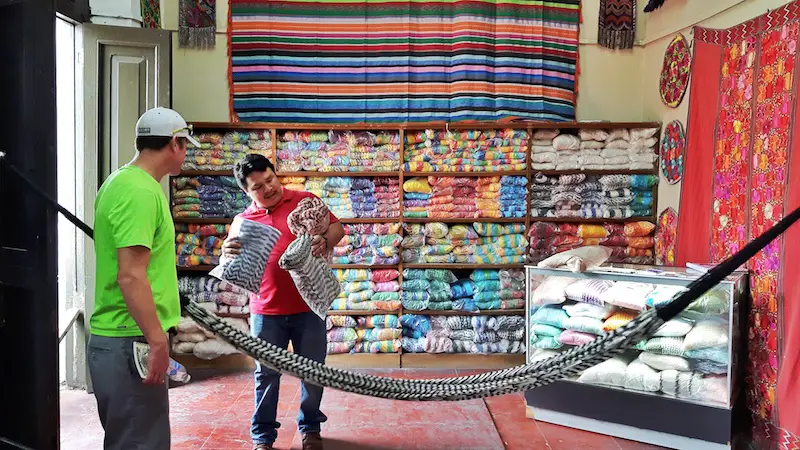 El Corchito
Within walking distance of town along the lagoon is the ecological park, El Corchito.  Take a boat taxi across the lagoon to explore the walking trails, picnic spots and small cenote.  Somehow we ran out of time before we made it here but it's a highly recommended spot and the pictures look lovely.
San Crisanto and La Rosada
When we rented the car with friends, we planned on Izamal followed by San Crisanto.  Our plan had been to leave Izamal in time to visit San Crisanto and take their mangrove and cenote boat tour.  The pictures we saw online looked amazing.  Unfortunately, when we arrived the lady told us that due to the recent norte (it had been a big one) the water was all churned up and red from fallen mangrove leaves.  She said we wouldn't be able to see anything so the boat tours weren't running.  While we appreciated their honesty we were disappointed that we couldn't do this tour.
Instead, we took a little wander back to the lagoon and mangroves, sneaking up on a flock of flamingoes in the shallow waters.  The flamingo sighting almost made up for the cancelled boat tour, almost.  The road between San Crisanto and Progreso is sandwiched between beach and lagoon the entire way so this is a great spot for bird watching, particularly flamingoes.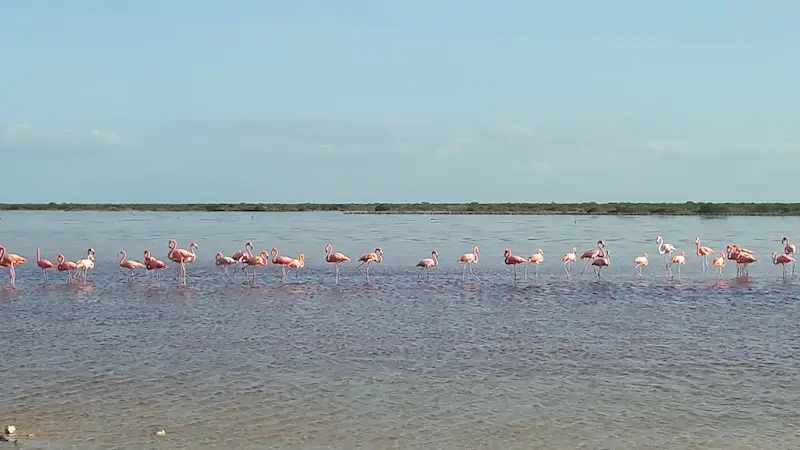 Very popular tours in the Yucatan Peninsula are to Celestun Biosphere Reserve or to Rio Lagartos.  Both are known to have large flamingo populations and Rio Lagartos has been made famous recently thanks to Instagram and its bright pink lakes.  Laguna Rosada is on the road between Telchac Puerto and Progreso.  You will see flamingos and pink lakes (perhaps not quite as pink…) with hours less driving.  If you're feeling energetic you could rent a bike from La Antigua in Progreso and ride there.  It's a solid 2 hour bike ride (35km) each way but it is completely flat on a mostly well-paved road.
Where to stay in Progreso, Mexico
If you're not lucky enough to get a house sit in Progreso, you'll need somewhere to stay. There are a number of hotels and bed and breakfasts in town varying in level of luxury.  A basic hotel with a pool starts at just $25!  Check out accommodations in Progreso now.
We love to rent an apartment if we are staying for longer or have family with us.  There are some amazing beachfront options on AirBnB for a steal of a price!  If you don't already have an AirBnB account, use our link to sign up and save $45 off your first booking.

We really enjoyed our time house sitting in Progreso, Mexico.  It was the perfect mix of relaxed and busy and there are still so many options for activities to do when we return. I'm pretty sure I'll be planning a Christmas vacation here sometime so I can continue learning to kiteboard and Terry can take off on his own.  We'll be sure to schedule some 'dry' days though to reach those places we missed this time around.
 Want to make our day? Share this post!
[columns] [span6]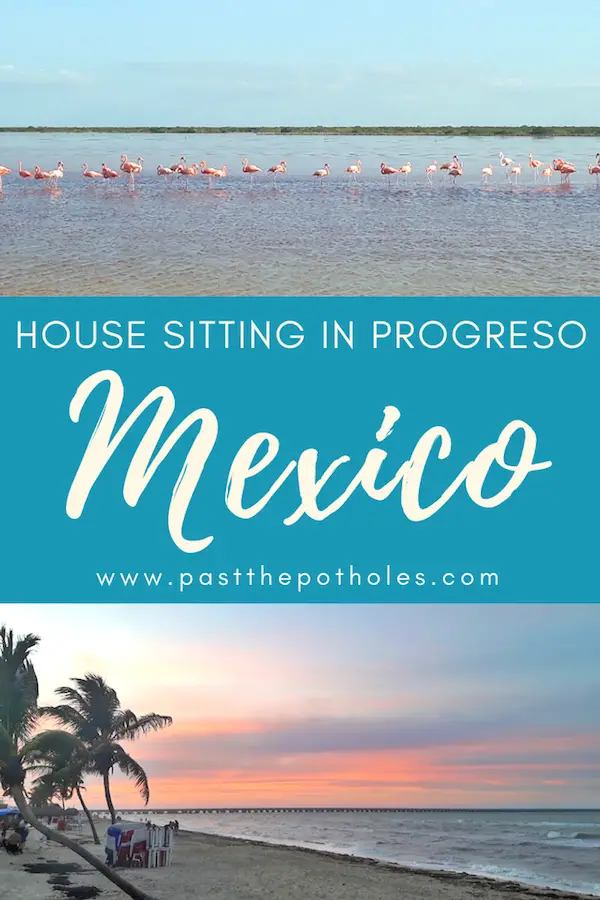 [/span6][span6]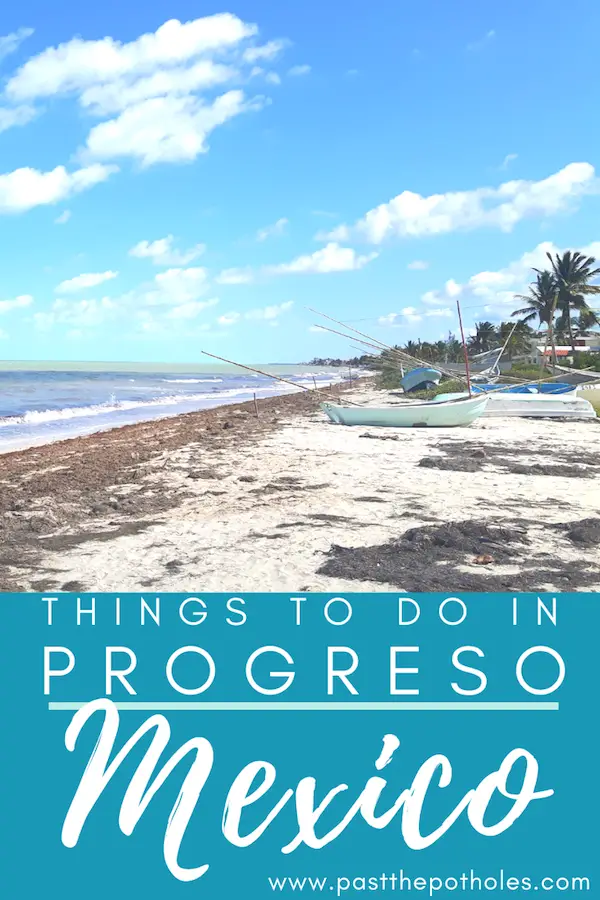 [/span6][/columns]
---
Find all our travel journal posts in one place now.
Find information on other destinations here.
---
Some links in this post are affiliate links.  That means if you click on them and make a purchase we will make a small commission at absolutely no cost to you. Win-win, right?  Thanks for your support!
---