Why you Should Visit Cenote Oxman in Valladolid
Some links in this post may be affiliate links. If you click on them we may make a commission from qualifying purchases at absolutely no cost to you.  Read our full Disclosure Policy here.
If you've ever looked into visiting Mexico, I'm sure you've heard of the cenotes littering the Yucatán Peninsula.  There are over 6000 cenotes all over Yucatán and Quintana Roo but most tourists visit the same few.  
While spending time in Valladolid, Mexico we discovered Cenote Oxman, a little known cenote that quickly became our favourite cenote in Mexico.
This is a fantastic alternative to the popular cenotes that get crowded with tour groups every day.  While we love cenotes, we are not fans of crowds.  Nothing sucks the magic out of a stunning piece of nature quicker than fighting through hordes of people!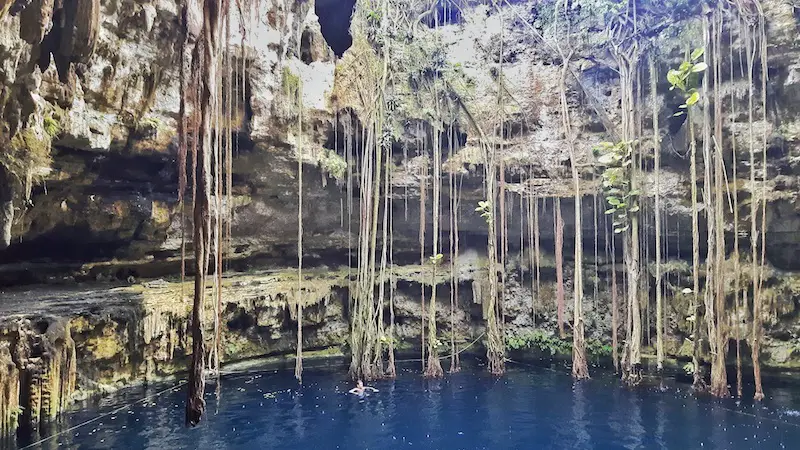 Prior to arriving, I had read about this being a completely deserted spot.  Unfortunately, tour groups are starting to come here.  I suspect they're advertising taking their groups to 'secret cenotes without the crowds'.  
Of course, a tour group IS a crowd by itself so this is going to change the atmosphere.  I highly recommend getting here as quickly as you can before it becomes as busy as some other cenotes!
For a completely different type of cenote experience, we highly recommend
Cenote Sac Actun
.
How to get to Cenote Oxman
Located within the grounds of Hacienda San Lorenzo Oxmán, the cenote is just 5km from the centre of Valladolid.  It is easy to visit by renting a bike or taking a short taxi ride for just a couple of dollars.  We opted to walk, taking just under an hour at an easy pace.
From the town centre, walk southwest along Calzada de Los Frailes (one of the prettiest streets in Valladolid) and past the Convento de San Bernardino.  The route takes you down a couple of residential streets before becoming a narrow road surrounded by trees.  There were even a few iguanas joining us along the road!
When the road splits, stay right (it's the local dump to the left so you really don't want to go that way).  Unfortunately, due to the dump, there is a lot of garbage along a section of the road so it's not always the most pleasant journey.
Hacienda San Lorenzo Oxman
The hacienda is a beautiful building dating from 1746 surrounded by well-kept grounds.  There is an outdoor pool with a bar and restaurant that makes for a great place to relax for the afternoon.  
Due to a lack of information about the place, we didn't realize this and arrived later in the day, having eaten on the way.  Plan to visit the hacienda for a few hours at least and come hungry!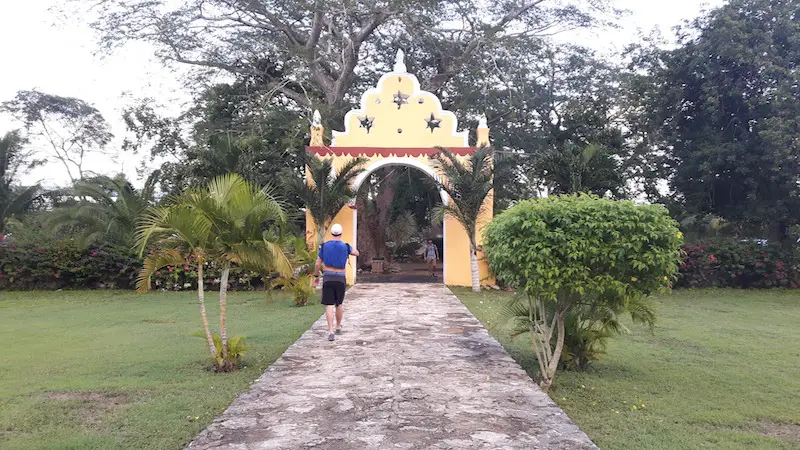 What is the Hacienda San Lorenzo Oxman entrance fee?
There are three options.  We took the middle option as we had just eaten but would definitely suggest coming hungry and choosing the top option.
Option 1 – $70 pesos.  This includes access to the Oxman cenote only.  Visitors can use the pool for free but can only use the palapas and loungers if they purchase drinks or food at the bar.
Option 2 – $100 pesos.  This includes access to the cenote and pool area with a $50 pesos food/drink credit.
Option 3 – $150 pesos.  This option includes access to the cenote with a $150 peso food and drink credit for the bar and restaurant with full use of the pool area.
We found the prices to be very reasonable and the food looked great from what we saw.  We really regretted buying food on the way!
Having fun in Cenote San Lorenzo Oxman
We visited Cenote Oxman during our two week Yucatan road trip and loved it!  This is an open cenote that is deep in the ground.  From above you can look down and marvel at the deep blue water far below.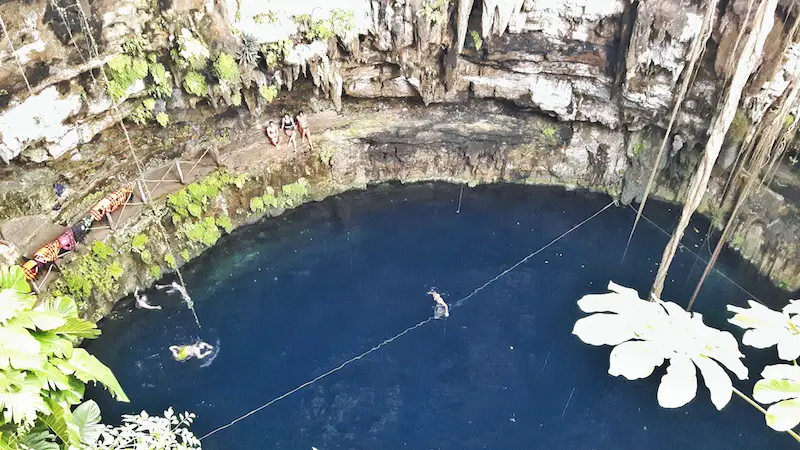 The entrance is through a small hut off to one side concealing a staircase that winds its way underground until it comes out at the natural platform a few metres above the water level.  It is a picture-perfect cenote with roots hanging down from above, trying to reach the water's edge.  
We arrived just as the heavens opened and it began to pour.  While blue sky would have been nice, it was really lovely being in the cool water with rain falling on us.
The ledge extends a short way in each direction with plenty of places to put your belongings.  Most surfaces were wet and water dripped from the rocks so I would recommend bringing a dry bag.  
The water is definitely cool but warmer than other cenotes we visited and not shocking.  As a cold water wimp, that's saying something.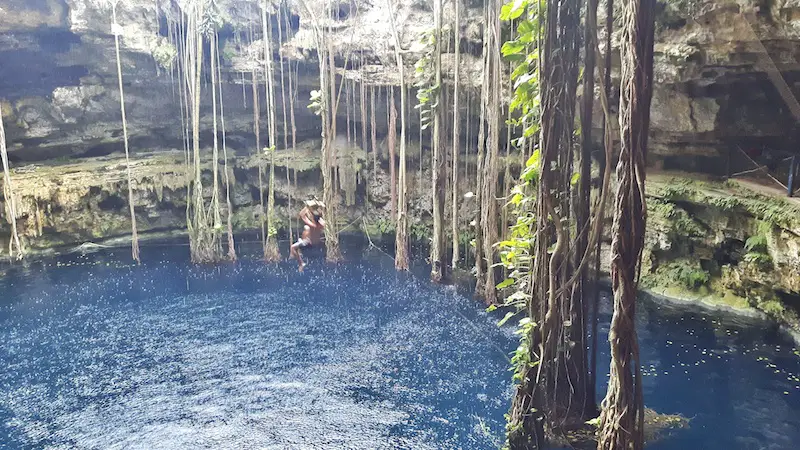 There is a wooden deck that provides two options to enter the water.  An uneven and slippery staircase will take you to water level for a gentle entry.  Just be sure to hold onto the railing.  
Alternatively, the quick and fun way is to use the rope swing.  A member of staff is on hand for safety at all times, collecting the rope between jumpers.  This rope swing singlehandedly made Cenote Oxman Terry's favourite cenote!
The deep blue water is crystal clear and filled with small black catfish that like to check out anything still.  No matter how much I wanted to take a break on the ropes strung across the water I kept treading water to keep them away.  Few things freak me out more than fish nibbling at my feet.  Keep moving and they'll leave you alone.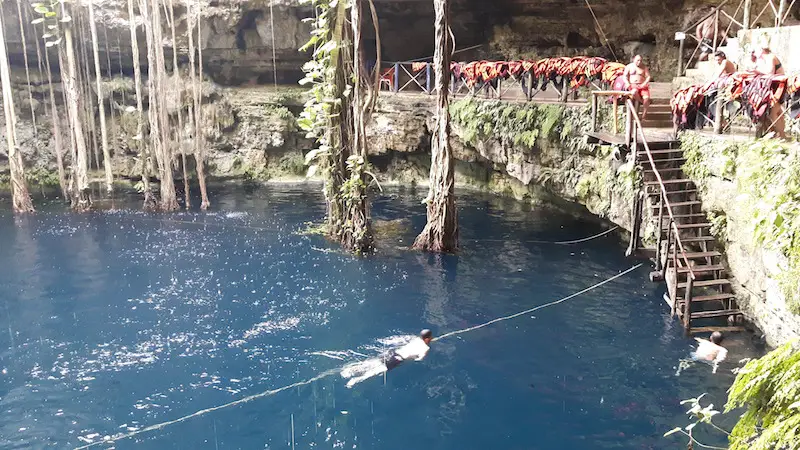 After countless jumps and plenty of time exploring the cenote, we decided to dry off and head up to the pool area.  Our $100 pesos bar credit was enough for a large caguama of beer (1.2 litre bottle) and a local juice (about $5).
When is the best time to visit Cenote Oxman?
Hacienda San Lorenzo Oxman is open from 10 am to 5 pm although the restaurant kitchen closes at 4:30 pm.
We didn't arrive until early afternoon so there was a handful of people already at the cenote but not too many to feel crowded.  Around 3 pm two tour buses arrived and the place quickly became a lot busier.  Having said that, very few people from the buses actually entered the water.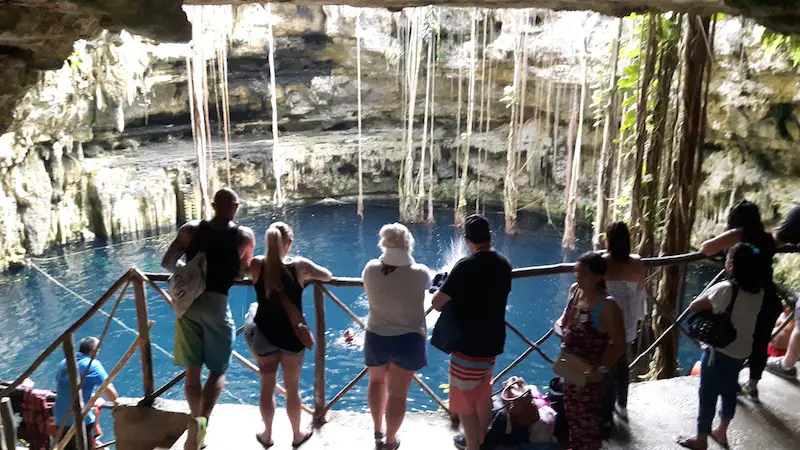 The presence of tour buses also means that everyone has to wear the provided life jackets.  We were really glad we were finished in the cenote when the buses arrived.  After an hour, at 4 pm, the buses left as quickly as they had appeared and the peaceful atmosphere returned.
If you're visiting Valladolid, Mexico, be sure to plan a few hours at Hacienda San Lorenzo Oxman.  The Oxman cenote was not only one of the most beautiful, but it was also one of the quietest we visited.  The rope swing and pool bar are just the icing on the cake!
Learn about 7 more cenotes near Valladolid to make some excellent day trips.
Where to stay in Valladolid
Originally we booked Casa Ka'an.  They have a pool, included breakfast, free bike rentals and excellent reviews.  Unfortunately, a booking error made it impossible to stay here but it looked clean and friendly.  Check their prices and reviews now.
Ultimately, we stayed in Casa Valladolid Boutique Hotel and really enjoyed it.  The pool area was great, the included breakfast delicious and the beds were comfortable.  Check their prices and availability now.
We would really appreciate you sharing this article to help others find it!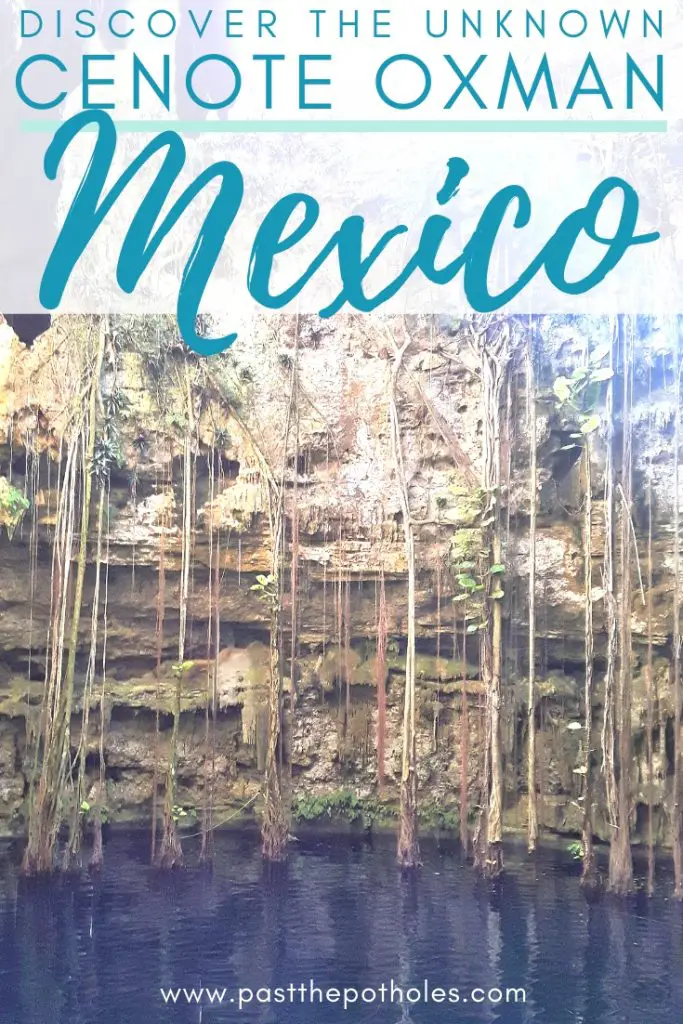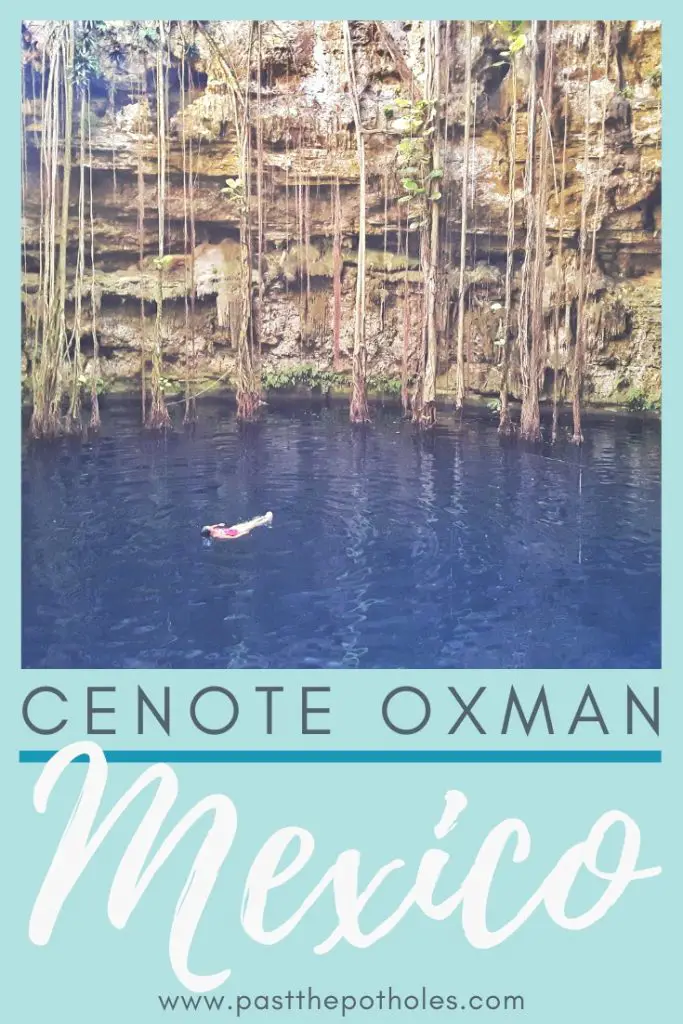 Return to our Destinations page for more travel inspiration!