The Best Day Trip from Tulum to Coba Ruins, Mexico
Some links in this post may be affiliate links. If you click on them we may make a commission from qualifying purchases at absolutely no cost to you.  Read our full Disclosure Policy here.
You can't visit Mexico's Yucatan Peninsula and not visit Mayan ruins.  Well, you could, but that would be a big mistake!  Not only are they an incredible slice of history, they are also a great adventure.  We took a day trip from Tulum to Coba ruins.  
Mexico has so many cheap and convenient transportation options that there is really no excuse for not taking a morning to explore these ancient Mayan ruins buried deep in the jungle!
We've now visited a number of ruins throughout the states of Quintana Roo, Yucatan and Chiapas, and found Cobá to be among the best Mayan ruins in Mexico. Whether you are staying in Tulum, Valladolid, Playa del Carmen or anywhere in between, the Mayan ruins of Cobá are easy to get to and a great experience for the whole family.
They were a great addition to our Two Week Yucatan Itinerary!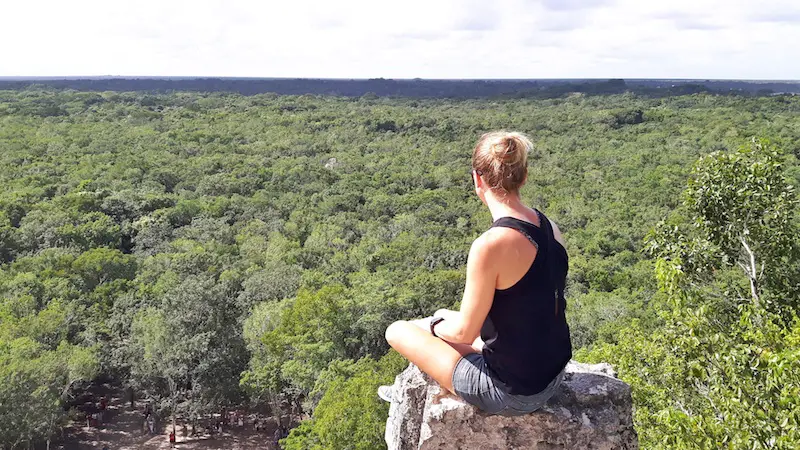 Where are the Cobá ruins, Mexico?
The town of Coba, Quintana Roo is found about 45km north of Tulum, just off the main highway to Valladolid which is 60km further.  The Coba ruins are on the left just after passing the lake.  In a car, the drive should take approximately 45 minutes but expect closer to an hour when taking public transportation.
How to get from Tulum to Cobá?
There are a number of organized tours that will get you to Coba ruins from Tulum however, for most people, it is cheap and easy to explore the mayan ruins independently.
Bus – ADO buses run from the main bus station in Tulum town and depart at 10:06am for Cobá.  The return bus leaves Cobá at 3:10pm.  Both journeys cost $94 pesos (less than $5USD).  However, this means you won't be arriving at Coba ruins until almost midday meaning you will very likely find the ruins extremely hot and busy.  We recommend instead the Mayab second class bus service.  The first departure is at 7:20 am so you will arrive before the crowds and it costs $50 pesos.
Colectivo – Colectivos, or shared taxis, are another option to visit Coba ruins and leave from the corner of Calle Osiris Norte and Avenida Tulum, the main highway.  They are usually a little cheaper than buses but will take longer and they don't leave until they have enough people, and stop frequently.  Also, if full can be rather uncomfortable.  All in all, we would recommend the bus over the colectivos for this trip.
Taxi – You could, of course, hire a taxi.  I've read there is a set fee of $450 pesos each way.  If you are a group of four this could be a good option if you don't want to drive.
Rental Car or Scooter – Our intention had been to take the bus for our day trip to Coba archaeological site but our host in Tulum suggested we rent his scooter and combine our visit with Cenote Sac Actun.  For $500 pesos (about $25 USD) this seemed like a pretty good deal!  It wasn't the most comfortable hour of my life so if you factor comfort over cost, there are many car rental agencies in town too.  Most are near Chedraui on the road to the beach.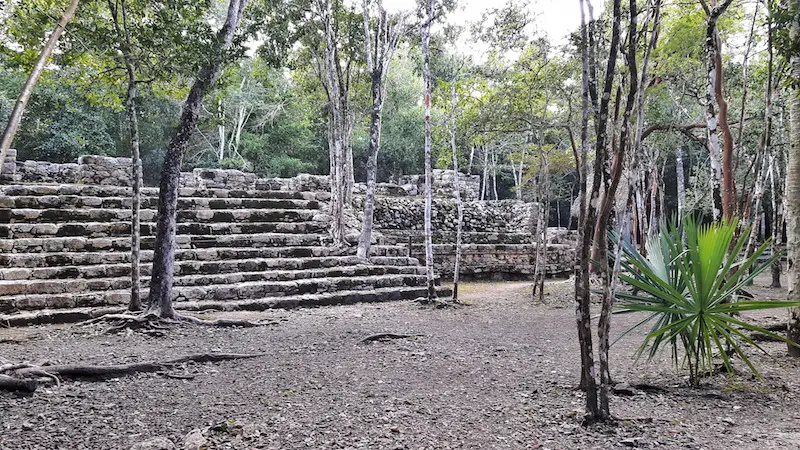 Should I take a Cobá ruins tour?
If you are staying further afield, such as Playa del Carmen, Cancun, Bacalar or any of the resorts along the Riviera Maya, having a car is your best way to visit Coba ruins independently.
If you are not renting a car then an organized tour may be your best option.  Not only will it save you having to spend hours transferring between buses and colectivos but it will almost certainly combine your visit to the ancient ruins with either a cenote, snorkelling and/or the Tulum ruins.  This would be a great way to maximize your time exploring Quintana Roo!
These tours have excellent reviews and all pick up around Tulum (and other Riviera Maya locations):
What is the Cobá ruins admission price?
The entry fee for the Cobá ruins is $70 pesos per person ($3.50 USD).
Parking costs $30 pesos ($1.50).
Optional costs could include renting a bike, bici-taxi and/or a guide.
Of all the Mayan ruins in Mexico, why should I visit Cobá?
When it comes to ancient Mayan ruins, Mexico has plenty of choices!  Cobá isn't the most impressive Maya ruins we've seen in Mexico.  Much of the site isn't excavated yet and the buildings are neither as large nor as elaborately designed as at other sites.  However, there are a few things to note about Coba ruins that make it more than worth a few hours of your vacation:
Cobá is considered to have been a very important site for the ancient Maya people.
The Coba Mayan ruins are buried in the middle of the jungle.  Much of the site is not yet excavated, the buildings are spread out amidst dense forest and the setting feels so natural.  We even saw monkeys playing in the trees above us as we wandered!
Coba is home to one of the few remaining Mayan pyramids in Mexico that you are still allowed to climb (as of December 2018).
At only $70 pesos, Coba is the cheapest Mayan ruins site we have visited.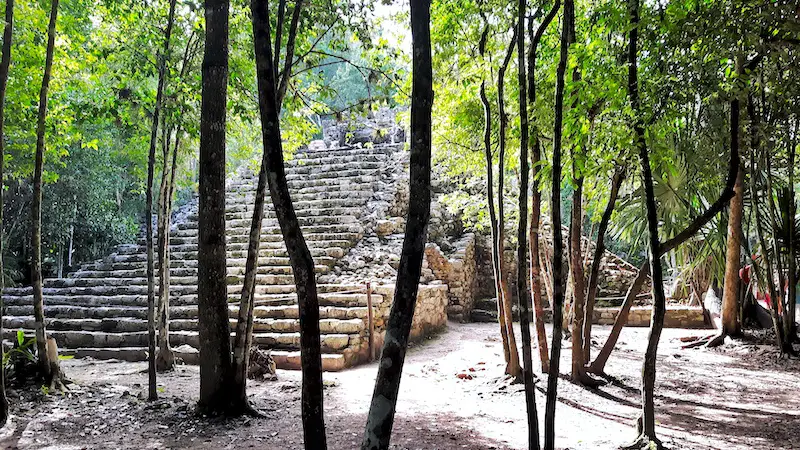 Cobá vs. Tulum
You might be wondering if it makes sense to trek an hour inland from Tulum when there are gorgeous Maya ruins right at the local Tulum beach.  In reality, they are so different you should consider visiting both sites to truly discover ancient ruins in Mexico.
However, if time is limited (or you're really not that interested) then which should you add to your itinerary?
Tulum Mayan ruins are the best option for people more interested in beautiful scenery and stunning photographs.  If turquoise waters and powdery white sand is your idea of perfection, Tulum ruins should be on your list!
Cobá ruins are best for those that want to climb a Mayan pyramid and really learn more about the history and people of Mesoamerica.  If dense jungle and possible monkey sightings are your kinds of nature, the ruins of Coba are for you!
Discover more Mayan ruins in Mexico:
Exploring the Cobá Ruins in Mexico
Driving to Cobá you will pass a few small communities on the highway as well as cenotes.  If you are driving yourself any of these would be good options to make a stop on the way back to Tulum.  
These communities are great places for buying some souvenirs as they are traditional, hand-made and well-priced.  Crocheted dreamcatchers and wicker definitely stole the show but there are more trinkets to be found.
If you are getting from Tulum to Cobá by bus or colectivo there are three cenotes close to Cobá that can be visited before taking the return bus.  Hire a bike or taxi to visit Choo-Ha, Multum-Ha and Tankach-Ha.  Each costs $55 pesos to enter.  If you had to choose just one, I'd pick Cenote Choo-Ha.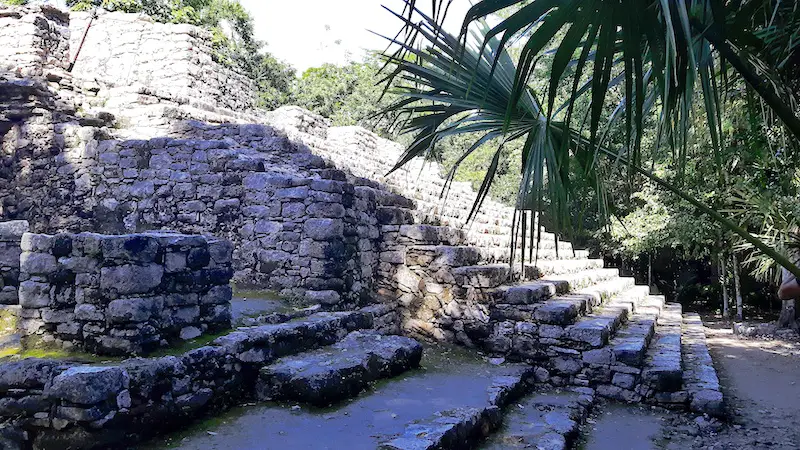 Getting around Cobá Mayan Ruins
Once you arrive at the Cobá ruins, pass through the turnstile into the archaeological site.  Note, the only washrooms available are before you pass into the restricted area so be sure you go first if needed.
The Cobá ruins are quite spread out so there is an option to rent a bike for $50 pesos ($2.50) or hire a bici-taxi and driver.  We had considered renting bicycles but after sitting on a scooter for the hour ride there, had no interest in sitting on anything for a while!  It turns out the ruins are much more walkable than online reviews will lead you to believe.
Being in the middle of the jungle, the walkways between areas are well shaded.  All in all, you will likely have covered a few kilometres by the time you return to the entrance on relatively flat, albeit rocky, terrain.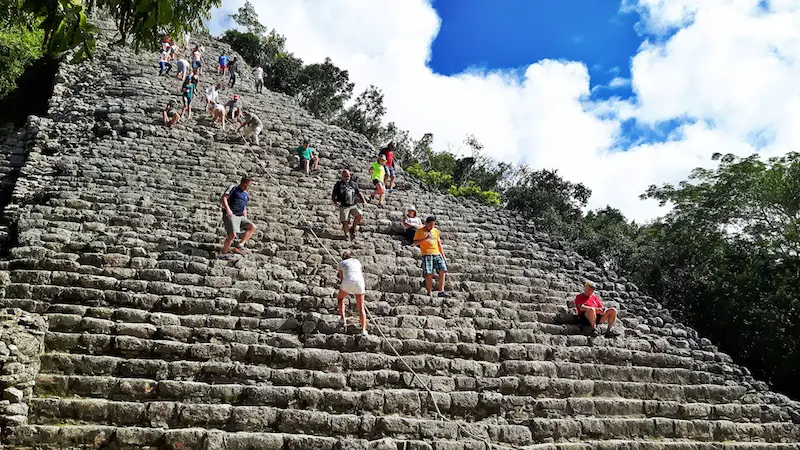 The Structures
There are three main areas of structures.  The furthest, reached by keeping left on the paths, contains a tall pyramid, a ball court and a few other structures.  The biggest attraction in Cobá is the main pyramid, called Nohoch Mul.  
Of the larger Mayan pyramids in Mexico, this is the only one visitors are still allowed to climb (as of December 2018). NOTE: Apparently, as of 2020, visitors are no longer allowed to climb the pyramid.
We recommend heading straight here when you arrive and climbing for an amazing view of the surrounding jungle.  With a bit of luck, you will beat the crowds of climbers and the intense heat of the sun against the stone.  
After a relatively cool hike through the trees, we were dripping in sweat by the time we reached to the top of the pyramid!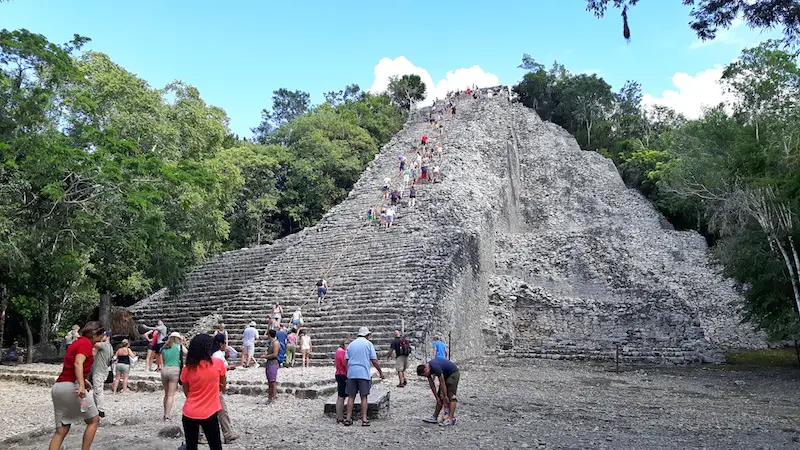 Returning from there, take a left turn to walk amid unexcavated pyramids and buildings to a section filled with smaller structures and many stelae.  Stelae are tall stones that have been carved with various designs and can be found in most Mayan ruins in Mexico.  This section of the ruins is more peaceful and where we saw monkeys playing in the trees overhead.  Keep your eyes and ears open!
To the right of the main entrance is a collection of buildings including another ball game court and a smaller pyramid.  Skip past this as you enter and then visit before you leave.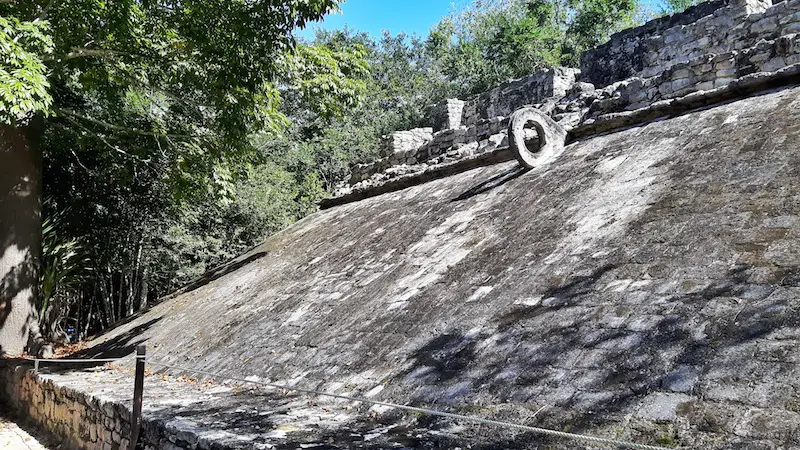 How long does it take to visit the Mayan ruins in Cobá?
The Cobá ruins can be comfortably explored in 2-3 hours.  This means Cobá can be combined with another activity for a great day of adventure in the Riviera Maya.  
We chose to combine our visit to the Cobá ruins with a snorkel tour of Cenote Sac Actun.  If you only have time to visit one cenote, and you have your own vehicle, we highly recommend this one.
Even without your own wheels, these fun tours will get you to the same places!
If you are using buses, you should be able to take the early bus to Cobá from Tulum and the 3:10 pm bus back and have enough time to visit the ruins and one or two nearby cenotes.
No matter how you travel to the Mayan ruins of Cobá, the beach is never a wrong choice to spend the rest of your day!
If you found this post useful, we would love for you to share it for others to find!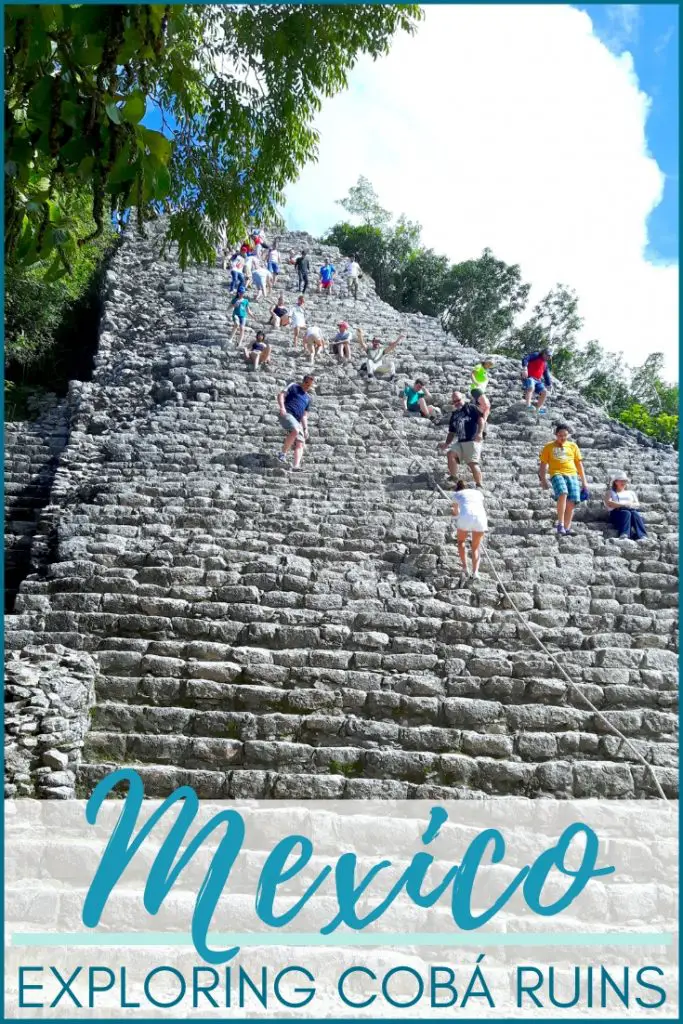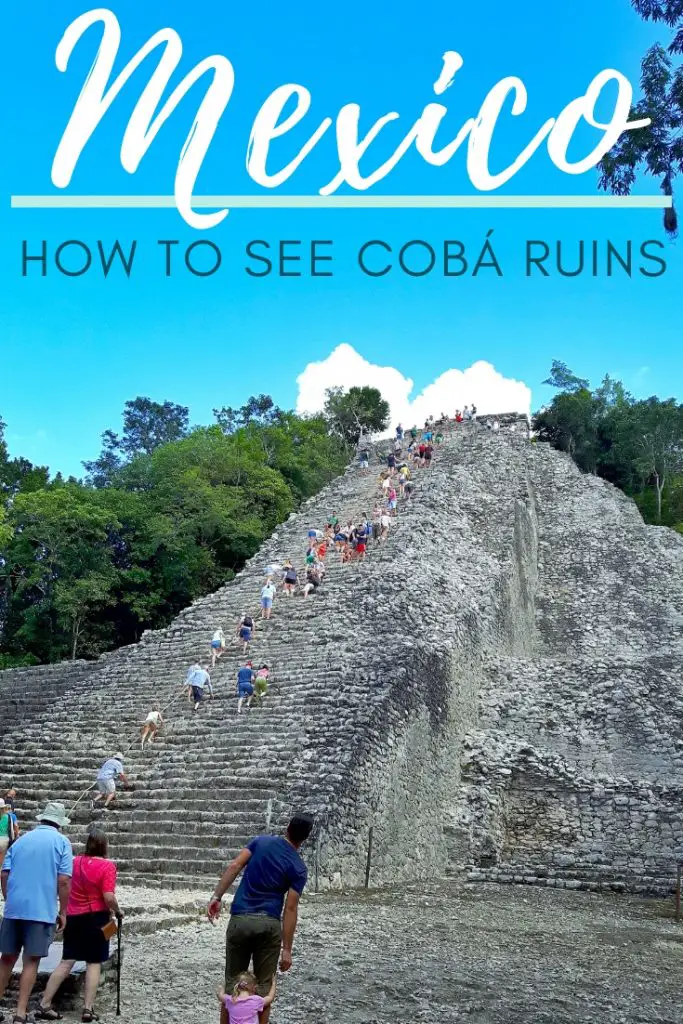 Return to our destinations page for more trip inspiration!
---