Tips for Visiting Chichén Itzá without the Crowds
Some links in this post may be affiliate links. If you click on them we may make a commission from qualifying purchases at absolutely no cost to you.  Read our full Disclosure Policy here.
So, is it possible to see Chichén Itzá without the crowds?  Today, no matter what you may read elsewhere, it's not really possible, unfortunately.  If the gates are open, you will have company!  
However, this post will give you some excellent tips for visiting Chichén Itzá to avoid the largest of the crowds.
Mexico's Yucatán Peninsula is literally covered in Mayan ruins and none are more impressive than those found at Chichén Itzá.  Designated a UNESCO World Heritage Site, in 2007 El Castillo was also voted as one of the Seven Wonders of the Modern World.  
With these recognitions, however, comes fame and with fame come tourists.  The site now receives more than 2 million visitors a year!
We visited Chichén Itzá on our two week Yucatán Peninsula road trip.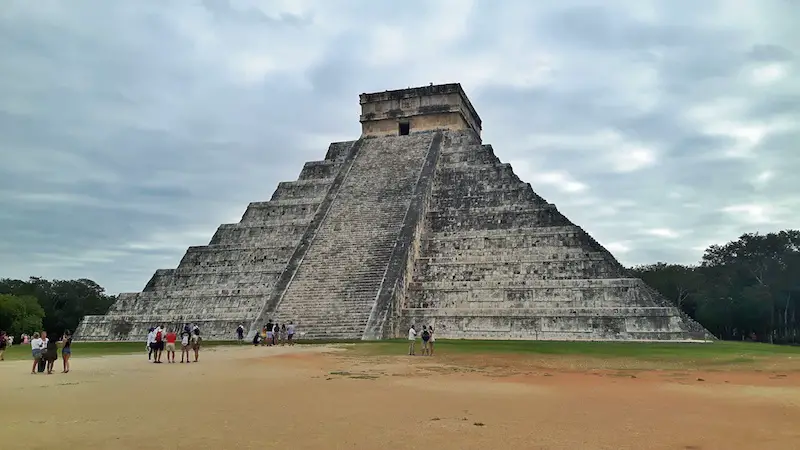 What are Chichén Itzá opening hours?
Seven days a week, Chichén Itzá is open from 8 am to 4:30 pm.  Allow at least 2 hours to explore the ruins, probably closer to three, so we wouldn't recommend arriving after 2-3pm.
Escape the Crowds Tip 1
From 5-6pm there is a slightly discounted after hours ticket that will allow you to explore with far fewer people (although with less time to wander).
In the evening, there is the famous light show.  Chichén Itzá opens for one hour. This includes 45 minutes to explore just the main monuments and 15 minutes for the light show.  These hours are either 7 pm or 8 pm depending on the season.
Note: If you are visiting from Quintana Roo state (Cancun, Playa del Carmen, Tulum, Mayan Riviera…) there is a time difference.  The state of Yucatán and therefore Chichen Itza is one hour behind Quintana Roo so consider this in your travel plans.
What are the Chichén Itzá entrance fees?
There are actually two separate fees to enter Chichén Itzá and while I read numerous recounts of having to line up at two separate windows to pay each fee, this seems to have now been streamlined as we paid just once.
The total entrance fee for the site in December 2018 was $242 pesos (about $12 USD).  However, I have read that as of January 2019, the Mexican government has doubled the Chichen Itza ticket price.  If anyone has up-to-date information on this we would love to hear from you!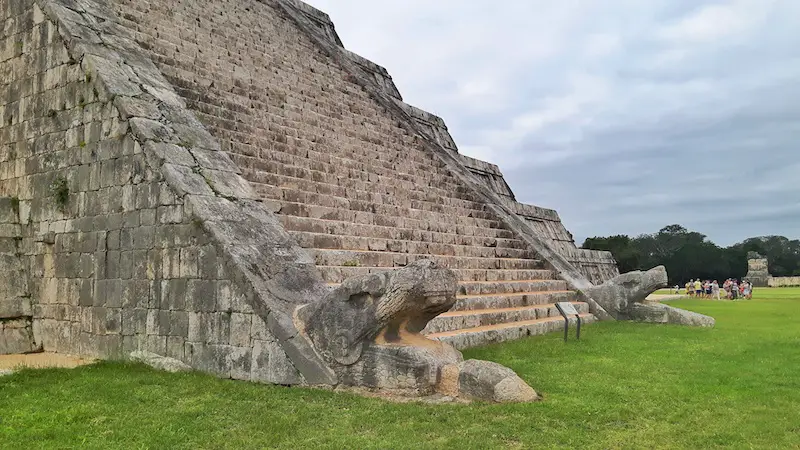 How to get to Chichén Itzá
For independent travellers, we would recommend staying in Valladolid at least the night before visiting Chichén Itzá.  Having said that, Valladolid is a lovely colonial city and we think you should stay for a few days!  
From here, you can take a cheap colectivo, or shared taxi, to the ruins.  We were charged $40 pesos (about $2USD per person) on the way and just $35 on the return so expect either price but no more!  The journey takes around 45 minutes to an hour and the minibuses are found just down the street from the main bus station.
For visitors staying in a resort anywhere along the Caribbean coast (Cancun to Tulum), a day trip is certainly possible.  If you rent a car, Cancun to Chichen Itza is about a 2 – 2.5 hour drive.  Tulum to Chichen Itza is just under two hours by car.
Without a car, booking a Chichén Itzá tour will certainly be the easiest option to get here.  However, ADO buses do run to the Mayan ruins from Cancun, Playa del Carmen, Tulum and Mérida.  Check the ADO website for times and prices.  Bus schedules will limit your options for when to visit the ruins though.
Our Attempt to visit Chichén Itzá without the Crowds
Like you, I tried to research how to visit Chichén Itzá and avoid the crowds before we visited.  I read multiple sources that told of arriving right as the gate open and having a couple of hours before the tour buses arrive.  This may have been the case a few years ago but not so much now.
We got up early and hopped on one of the first colectivos (shared taxis) leaving Valladolid to Chichén Itzá ruins.  The ride takes around 45 minutes and we arrived at the archaeological site just 10 minutes after the gates opened.
There were already four large tour buses emptying their occupants as well as numerous mini-buses.  To make matters worse, the tour groups have pre-purchased tickets so they walk right in while we had to stand in the fairly long line to pay our entrance fee.  So no, you can't get there early enough to avoid the crowds entirely!
I was a little disappointed by this 'failed' attempt to beat the tour groups until we were ready to leave a couple of hours later.  We returned to the parking lot to find at least 30 full-size tour buses and countless minibuses filling every space available.
Escape the Crowds Tip 3
While you won't have the place to yourselves, arriving as early as possible will still allow you to see Chichén Itzá before the majority of visitors arrived.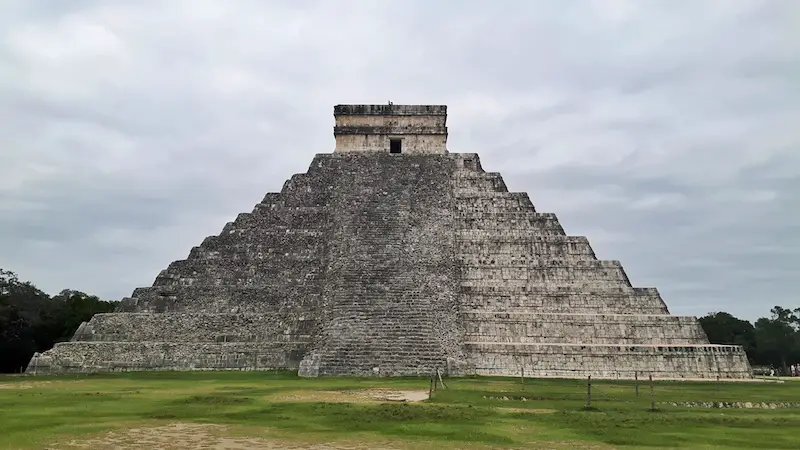 Exploring Chichén Itzá
Upon paying our entrance fee, we rushed straight over to El Castillo (Templo de Kukulkán), hoping to see it without too many people milling about.  While tours were already beginning and people were spread around, it was still possible to get a view (and picture) of the main pyramid in Chichén Itzá without people in front.  It's an impressive sight!  
Despite not hiring a tour guide, we were able to hear the incredible acoustic effect made my clapping in front of the stairs thanks to other tour guides nearby!  Apparently clapping your hands echoes back with the sound of a bird – by all accounts the quetzal.
Escape the Crowds tip 4
Go straight to El Castillo when you arrive as this area gets the busiest.  Chichén Itzá covers a huge area so the other spaces never really feel crowded.
From here we wandered to the grouping of buildings directly behind the pyramid.  There you will find a few large temple structures and the Plaza of a Thousand Columns.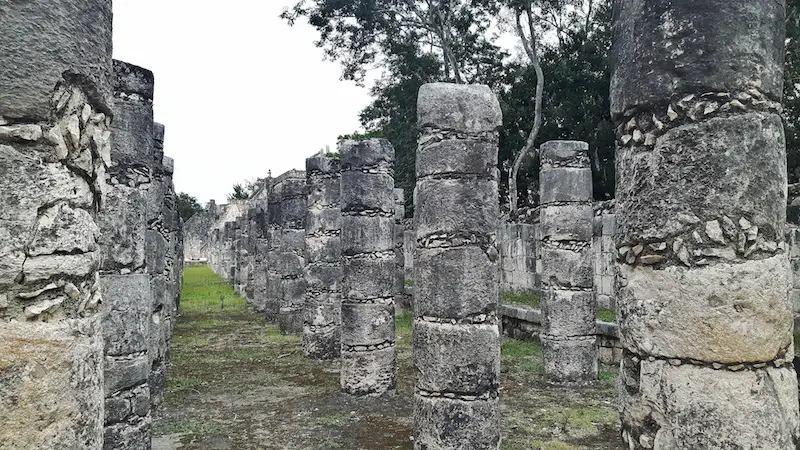 Next, we explored the area to the south (turning right from the main entrance).  There are many smaller offshoots from this direction with a lot to see.  There are a few smaller pyramids, an observatory, more temples, the Red House and a small cenote.
Side note: it is from this direction you would enter if staying at Mayaland Hotel.
My favourite collection of buildings are in this direction also.  The convent, or Nun's House, along with the Templo de Los Tableros are incredible works of art.  The buildings are covered in detailed sculptures.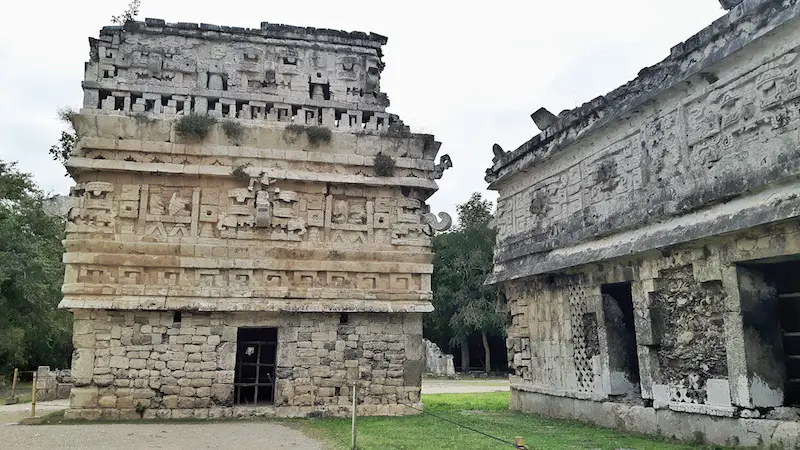 Next, we crossed back through a much busier central area, passed around El Castillo, and followed the path to the Cenote Sagrado, or sacred cenote.  This was by far the least appealing cenote we saw in our time in the Yucatan Peninsula but it held great meaning for the Maya people.  Offerings such as gold, jade, pottery and human remains have been found in this cenote.
The final area to discover is home to the largest ancient ball game court and Templo del Jaguar.  There are a few smaller but interesting structures in this area including a wall covered in carvings of heads.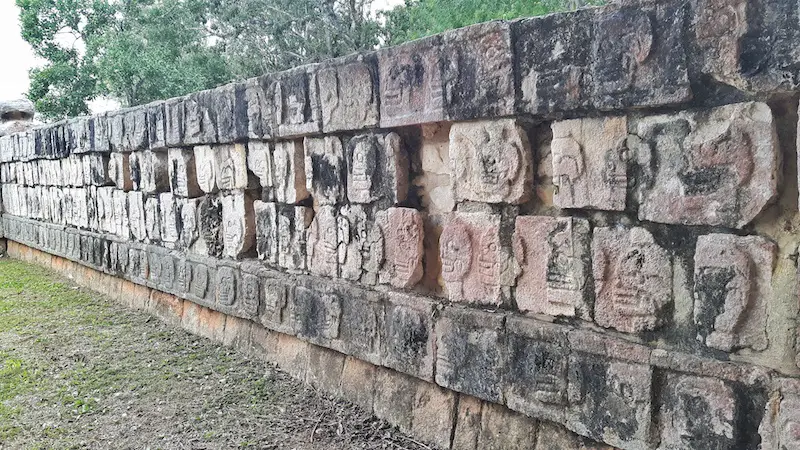 Throughout Chichén Itzá, vendors set up tables and sell various souvenirs.  While I understand the need for locals to make money, it is disappointing that they've been allowed in all areas of the archaeological zone rather than creating a marketplace.  
It definitely took away some from the feel of the place.  Walkways between each area of ancient structures are lined with stalls so be prepared to buy or speedwalk!
Escape the Crowds tip 5
Arriving early also means that most vendors have not yet set up.  This means far fewer attempts at convincing you to purchase something for 'almost free'.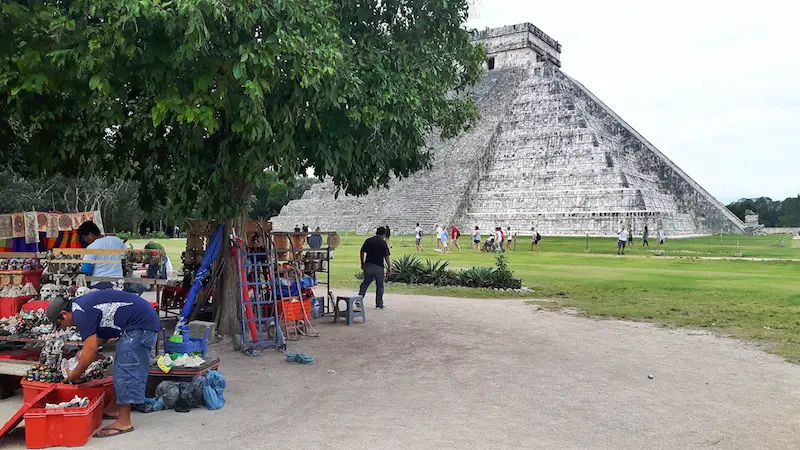 By the time we were ready to leave around 10:30 am dark clouds rolled in along with the piles of tour buses.  We were pretty happy with our timing all in all!
This post has some detailed descriptions of the major structures in Chichen Itza.
Is Chichén Itzá worth it?
The first time we visited the Yucatan Peninsula with friends, we all agreed that we weren't interested enough to spend a day to see something that would be crowded and overrated.
Ten years later, we figured it was something that should be seen once in a lifetime and, staying much closer in Valladolid, decided to check it out.  Is it worth it?  Yes.
It is crowded.  It is touristy.  It is fairly expensive.  But I wouldn't say it is overrated.  We've now visited 8 different ancient ruins in Mexico (not all Mayan) and, while probably not my favourite, are definitely the most impressive structures.
Cobá vs. Chichén Itzá vs. Tulum
Having said that, if you're not interested in the history and just want to see, and maybe even climb, a pyramid then you could probably skip Chichén Itzá in favour of the Tulum or Cobá ruins.  If you're trying to decide between Tulum, Cobá or Chichén Itzá, consider these differences:
Cobá ruins are much cheaper and, while the structures are less impressive (though still impressive), they provide you with the opportunity to climb the highest pyramid.  The jungle location is far superior to Chichén Itzá and offers the chance to see monkeys swinging in the trees.
Tulum ruins are also cheaper and smaller but come with the incredible location on a cliff overlooking the Caribbean Sea.  If the small beach at the foot of the cliffs was good enough for Pirates of the Caribbean we can be fairly certain it's good enough for the rest of us.  
In addition to the ruins, snorkelling trips from the beach and large resident iguanas make Tulum a perfectly tropical adventure.
Ek' Balam ruins are another option very close to Chichén Itzá.  These ruins are smaller and, surprisingly, not that much cheaper but they have some incredibly unique features that make it stand out from all other Mayan ruins.  At Ek' Balam visitors are able to climb on all the structures.  In addition, they receive a fraction of the tourists.
If you found this article useful, please share so others can find it too!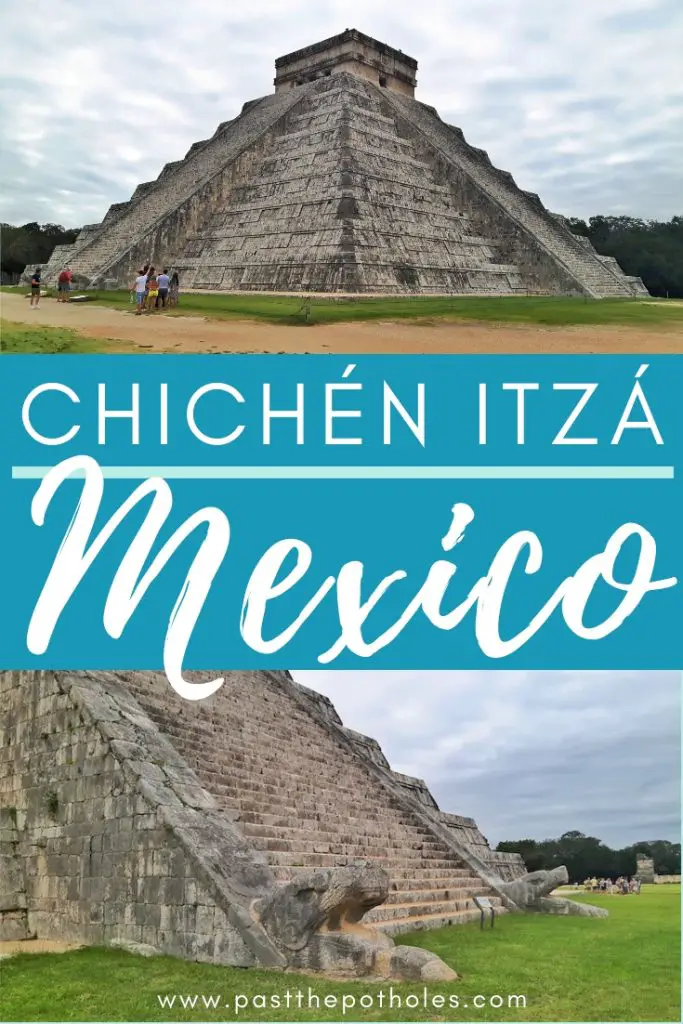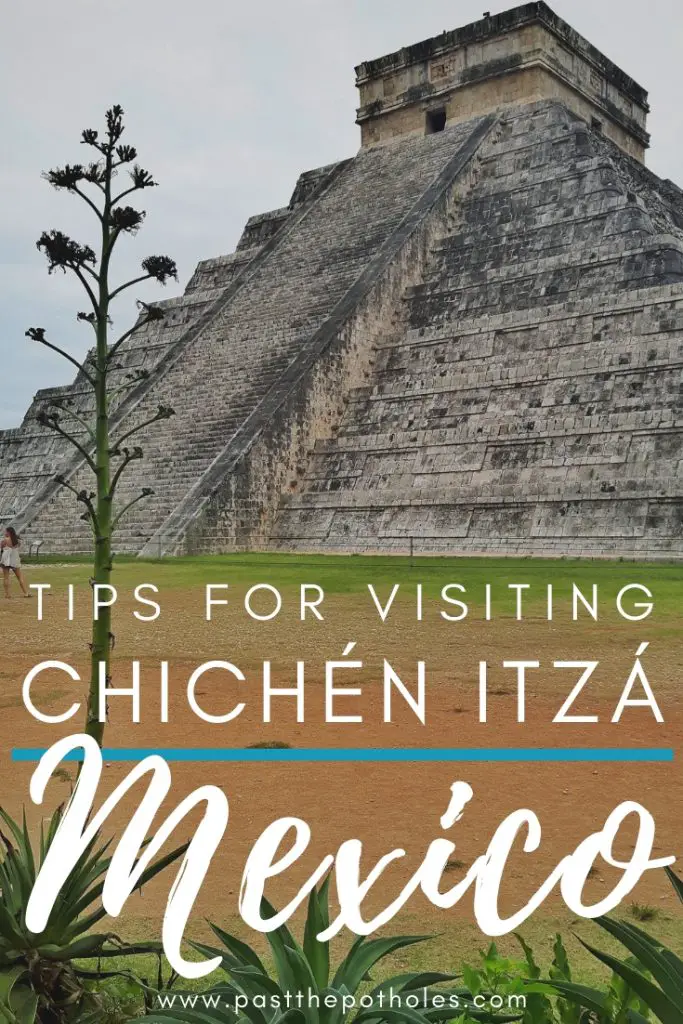 Return to our Destinations page for fresh travel inspiration!
---