Some links in this post may be affiliate links. If you click on them we may make a commission from qualifying purchases at absolutely no cost to you.  Read our full Disclosure Policy here.
Thanks to the incredibly slow internet on the islands, we were unable to post our usual travel journal last week.  So we decided to lump the two weeks together and write one big post for our entire 10-night, 11-day adventure!  Put the kettle on, kick off your shoes and get comfy, you could be here a while.https://pastthepotholes.com/two-weeks-in-the-galapagos-islands-budget-itinerary/
[btn text="Two Week Galapagos Itinerary" tcolor=#FFF bcolor=#1998b5 thovercolor=#444 bhovercolor=#bbede7 link="https://pastthepotholes.com/two-weeks-in-the-galapagos-islands-budget-itinerary/" target="_blank"]
Santa Cruz Island
We Made It!
After a very bumpy 2 hour flight from Guayaquil we landed on Baltra Island.  This island was used as a US Military base during World War II so there is nothing much left of interest.  From the airport there is a free shuttle to the Itabaca Channel, a $1 ferry across for the VERY short ride, then a 45 minute bus ride to Puerto Ayora, the main town on the island, costing $2.  Just enough of a pain to remind you how remote these islands really are!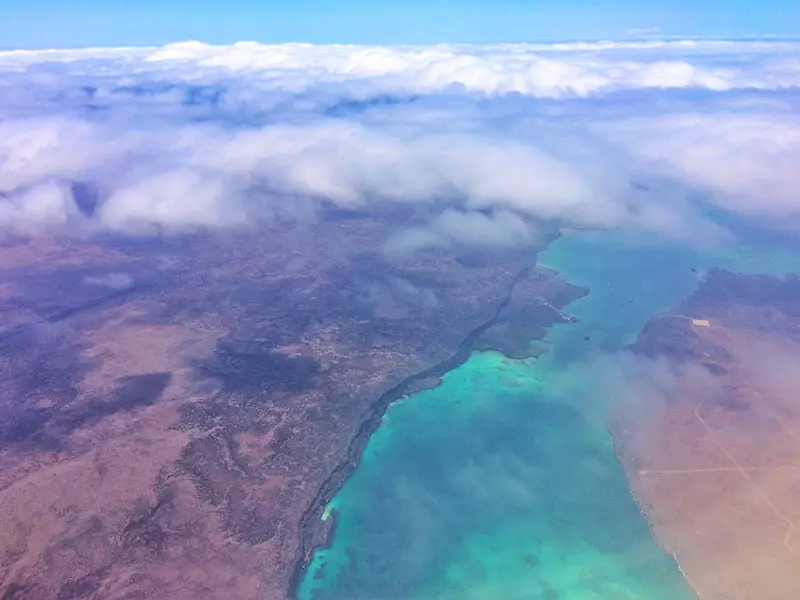 We stayed in Puerto Ayora for 6 nights as this is supposed to be a great base for day trips, independent exploration and has the most amenities/people.  It's also a great place to meet other travellers.
Tripping over Wildlife – literally
Within minutes of dropping our bags we headed out in search of the Charles Darwin Research Station.  The road passes along the waterfront and we hadn't gone far before we saw the fish market surrounded with pelicans and frigate birds, with a sea lion and marine iguana hanging out on the bench!
The Charles Darwin Station has some information and preserved skeletons but is mostly of interest as a tortoise breeding station.  There were so many babies from each of the islands as well as some larger ones roaming in big enclosures.  This was also our only chance to see the rarer land iguanas.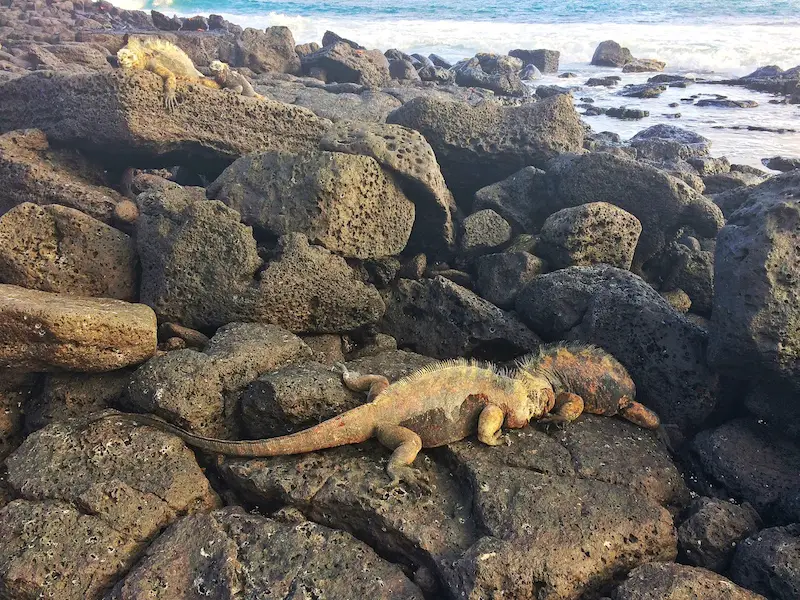 There are two little beaches within the grounds.  Immediately we spotted a couple of marine iguanas on the lava rocks.  As we headed over to get a closer look, our eyes on the target ahead, we were repeatedly stopped in our tracks as we realized we were almost stepping on another group right in front of us.  Talk about camouflaged!  Iguanas here aren't the usual bright colours and blend perfectly with the dark grey lava rock.  Evolution.
Tortuga Bay
I read multiple sources touting Tortuga Bay as the most beautiful beach in the Galápagos and we weren't disappointed.  A walk through a lava and cactus field brings you to a stunning bay of turquoise waters, black rocks and white powdery sand.  Add a healthy dose of iguanas strutting up and down the beach and what more could you ask for?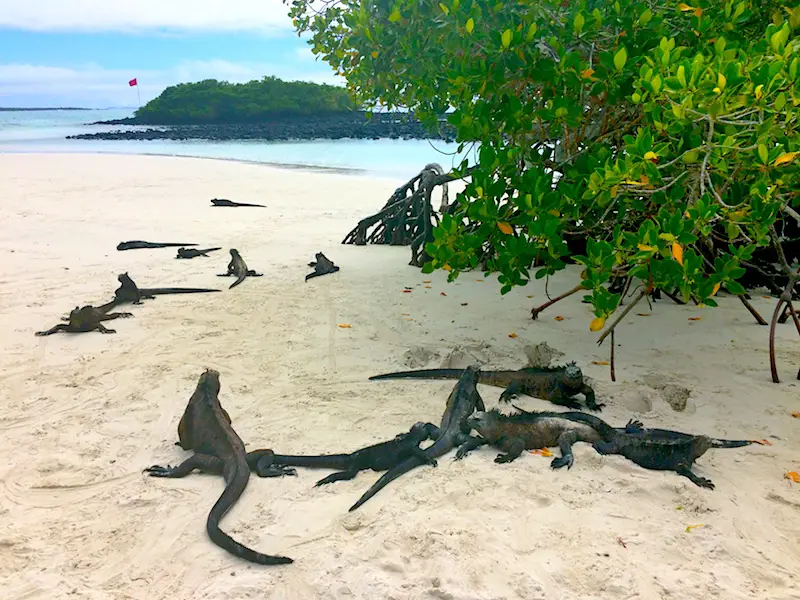 This beach is rougher, known for surfing, but walking to the far end there is a lagoon area with perfectly calm waters and great swimming and snorkeling.
It didn't take Terry long to get in, and even less time to get back out after discovering some 6-7 foot sharks within a few feet of him!
[kad_youtube url="https://youtu.be/HaaSNrl9vrU" width=660 ]
Rancho Las Primicias
We hired a taxi to see the giant tortoises for which the islands are named in their natural habitat.  El Chato is the best known reserve so we decided to head to their neighbour, Rancho Las Primicias.  I think we made the right decision as we were the only people there when we arrived and tortoises could be spotted everywhere!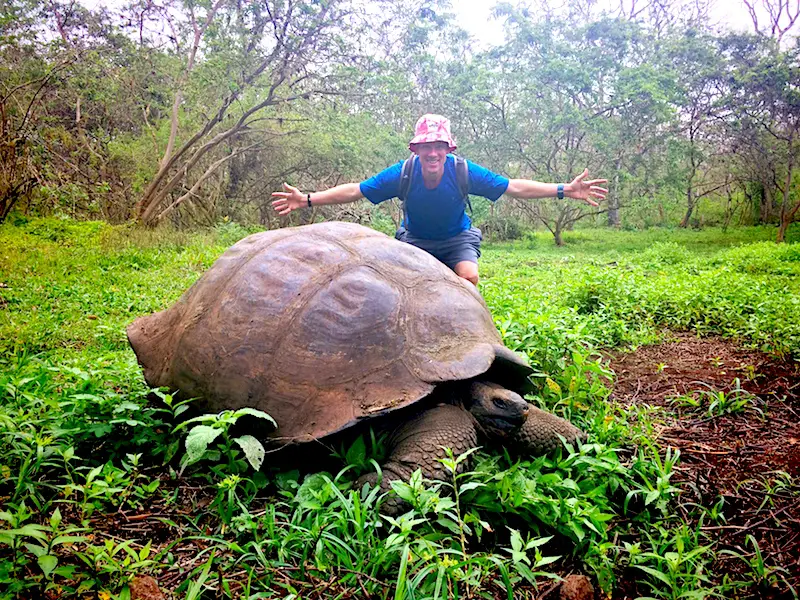 The fences around these ranches start a foot or two from the ground.  While the ranches may have horses or cattle to keep in/out of their land, the tortoises are actually allowed to roam free.  We saw a few on the side of the road, in a parking lot and in the middle of a driveway!
From here, our driver dropped us at the entrance to a lava tunnel and met us at the other end.  There are a number of these tunnels around the island and are quite impressive.  At some points the ground is smooth and at others we clambered over fallen lava rocks.  At one section we had to crawl through an opening just a foot or two high!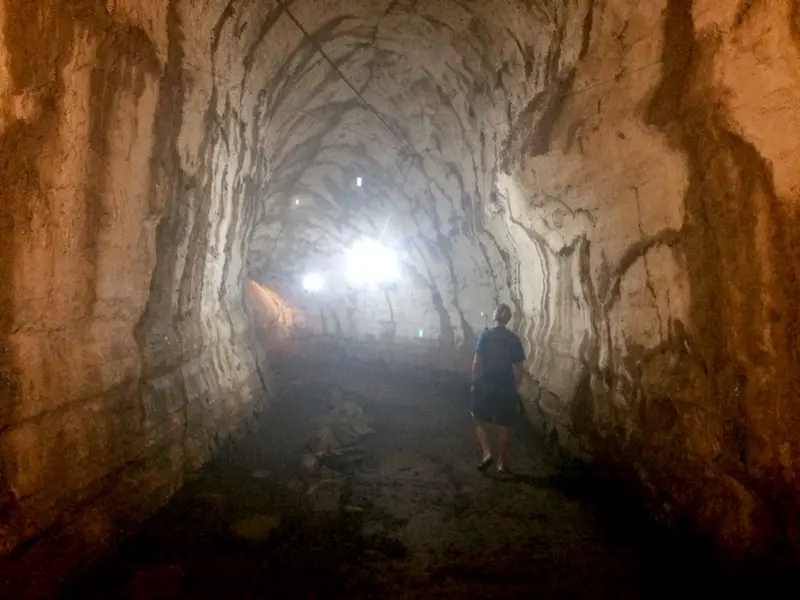 Laguna de las Ninfas
This secluded little spot is just around the corner from our hotel so we checked it out during a few free hours one afternoon.  There isn't much there but it has a boardwalk to walk around and a few spots to sit and relax.  Surrounded by mangroves and full of fish, it's a nice place to get away for a little while.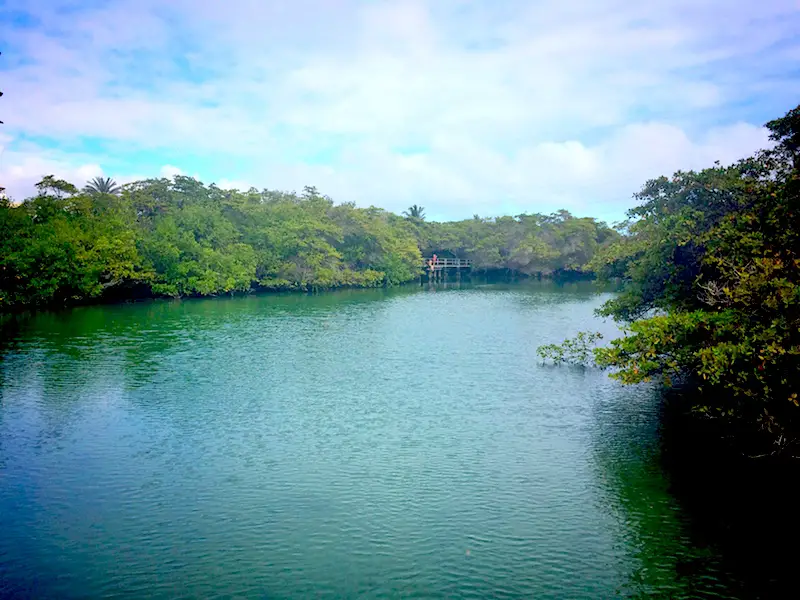 Bartolomé Day Tour
We decided this would be the one day tour we signed up for from Santa Cruz.  It is a nice mix of hiking and snorkelling as well as would give us our only chance of seeing penguins.  The bus picked us up around 7am to go back to the Itabaca Channel before boarding the boat.  After a quick tour of the island Daphne Mayor known for birds nesting, we continued to Sullivan Bay on Santiago Island.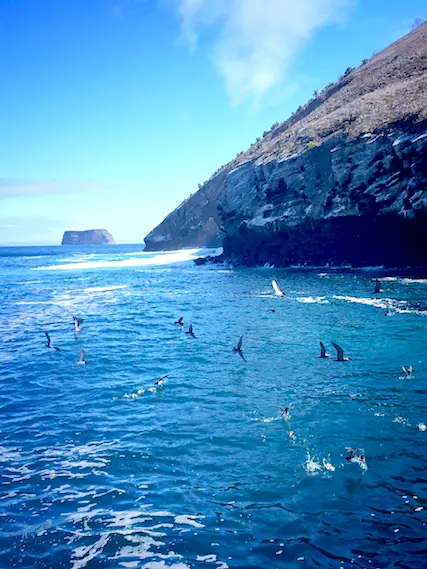 Sullivan Bay
Despite the FREEZING waters, we couldn't pass up the chance to snorkel with penguins so in we went.  Almost immediately we found a turtle.  More swimming and plenty more fish, we were starting to lose feeling in extremities.  Eventually we had to give up the hunt for the penguins and started back towards the group.  As I turned around I came face to face with another turtle (or perhaps the same one?).  After quickly trying to back peddle, I snapped a few pictures.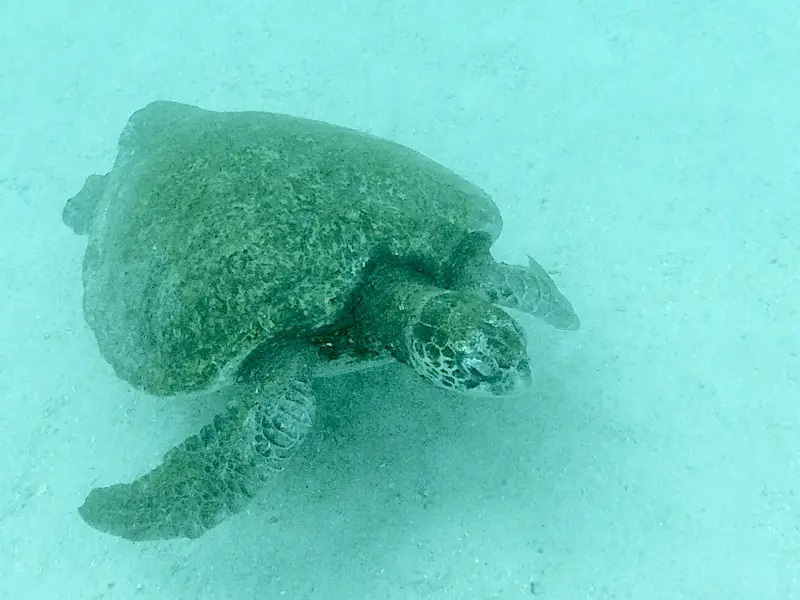 I had almost reached the warmth of the shore when I noticed someone frantically signalling to look behind.  I turned my head to be startled by a sea lion swimming toward me before quickly turning and disappearing!
There went my chance to warm up!  I turned around in the hopes of a better look.  Sure enough, two pups were swimming around us playfully for a long time.  So cool, and almost made up for the elusive penguins!  Eventually I was just too cold to continue watching and headed back to shore.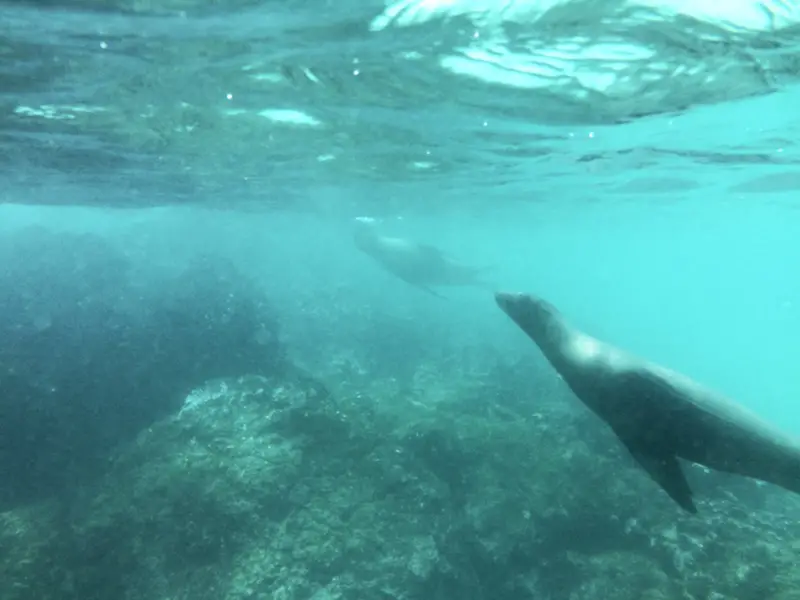 Bartolomé Island
After lunch on the boat, we were taken to Bartolomé Island for a hike to the summit and the iconic Galápagos view.  In order to protect the landscape, they have constructed a wooden walkway.  With a few stopping points on the way up, we reached the top and were rewarded with a magnificent view of Pinnacle Rock and the bay.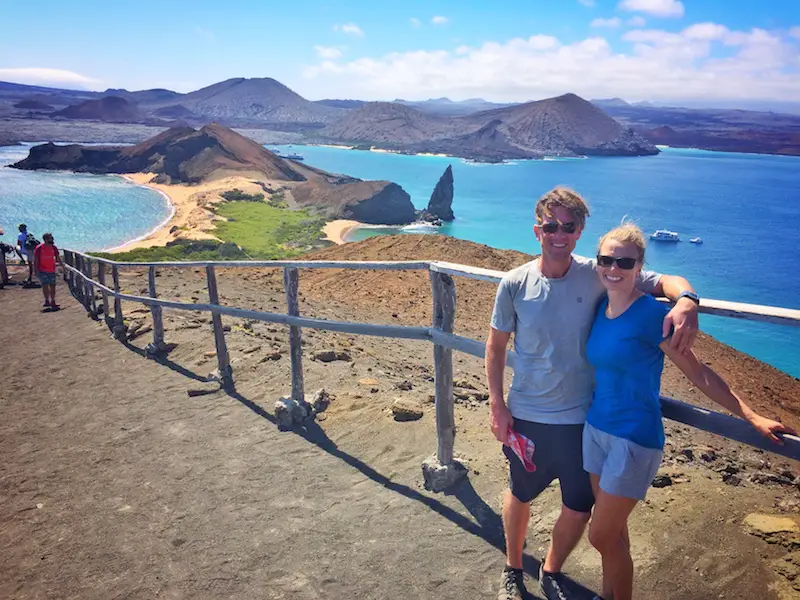 The two hour boat ride back was possibly the roughest I've experienced (at least in such a small boat) and had Terry and I making faces at each other a few times.  Somehow no one was seasick on our boat and seven of us happily celebrated our successful day with a few too many happy hour drinks back in town.  Luckily we hadn't planned anything strenuous for the next morning!
Las Grietas
We had to catch a water taxi from the main dock in town to reach this snorkelling spot.  From there it is an easy walk through lava fields and past a salt flat to reach the giant crevice in the lava rock formations.  Because of a rainy morning we didn't get there as early as I would have liked so it was pretty busy.  However, once you brave the cold waters and swim away from the dock it wasn't too bad.  This deep crevice in the lava rock is filled with very blue, clear water and is pretty cool to see despite the only wildlife being some large fish.  Still worth a visit though, especially as it's free!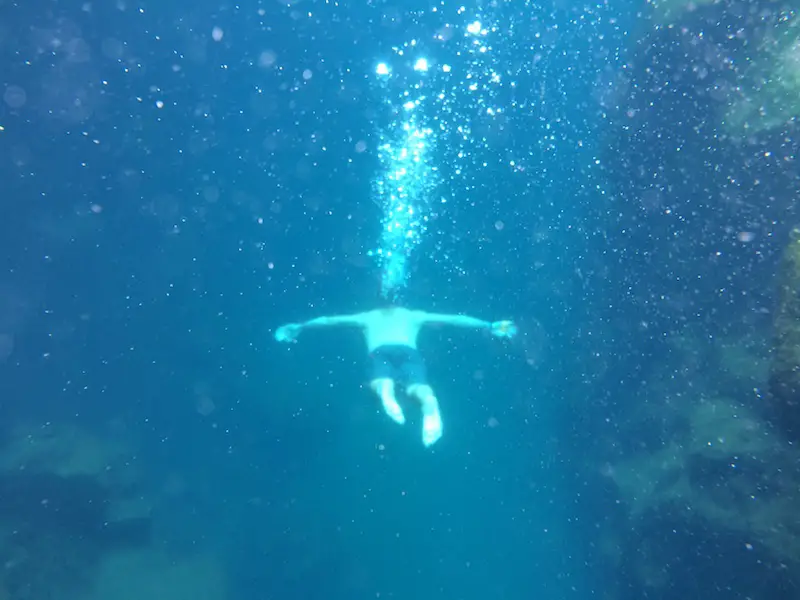 Puerto Ayora Fish Market
Walk along the waterfront to the fish market during mid morning and you are guaranteed a show!  When the boats come in and the preparations start the wildlife appear.  The workers are cleaning, filleting, cutting and weighing the morning's catch all the while stopping sea lions, pelicans, cranes and frigate birds from stealing it all!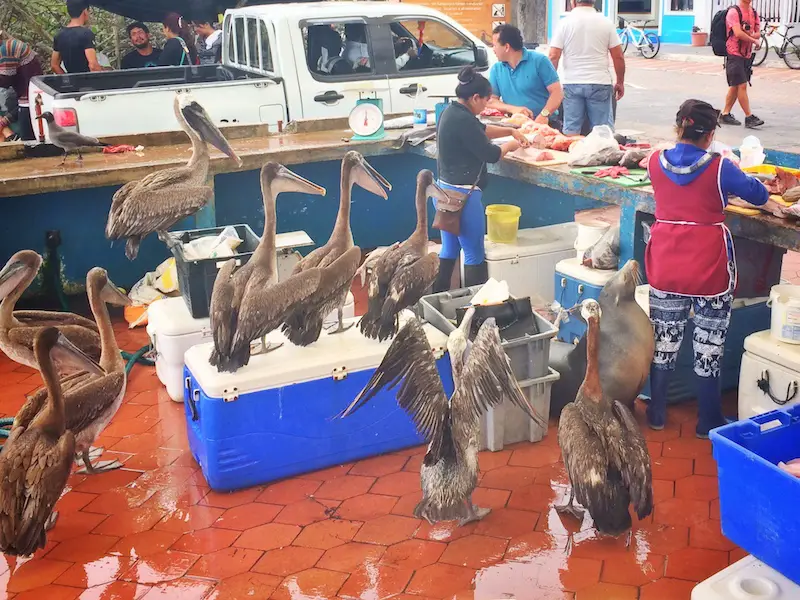 San Cristóbal Island
Moving On
After five days on Santa Cruz it was time to move on to the next island.  We had pre-booked our tickets for the afternoon ferry sailing and arrived in plenty of time as instructed.  There are a number of ferries that all leave at the same time so we were given a necklace with the name of our speedboat and bags were checked once again.  The authorities monitor cross-contamination between islands carefully, the same as coming from the mainland.
The two hour ferry ride is known to be rough.  We noticed sick bags hanging from the ceiling – not a good sign!  However, myself and a South African man were the only two of our group to stay awake for the journey so sickness was once again avoided.
Sea Lions Galore!
We hadn't even docked yet and the sounds of sea lions filled the air.  From the boat we counted plenty on the small beach, the rocks and even on the stairs leading from the water.  Luckily we were disembarking on the ramp instead.  If sea lions are your number one goal in the Galápagos – this is the island for you!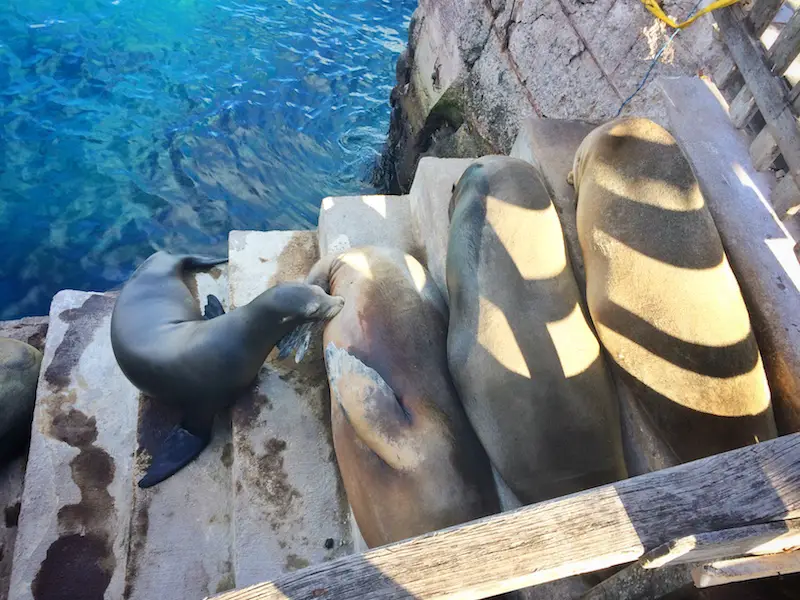 We checked in to the Hostal Suiza and then headed for the Interpretation Centre before closing time.  This spot is a wealth of information on the geography, human history, natural history and modern day challenges of the island chain.
We left here to catch sunset at Playa Mann.  As we reached the beach entrance we saw an adorable sea lion pup relaxing on a bench.  We found ourselves repeatedly exclaiming over the piles and piles of sea lions strewn across the beach.  I'm pretty sure they outnumbered the humans who had gathered to enjoy a sunset beer.
Interesting fact: sea lions stink!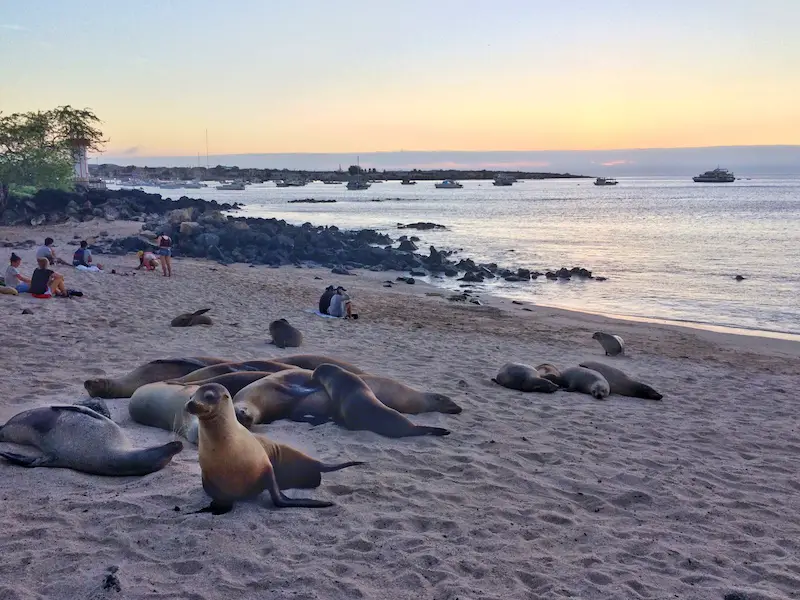 360º Tour
Originally I had planned for us to do a day tour to Kicker Rock, or Leon Dormido, and Isla Lobos.  Everything I read suggested that Kicker Rock was THE tour to do from San Cristóbal and Isla Lobos sounded awesome – a small island that is a popular sea lion breeding ground.  However, everyone we met gushed over this tour.  Realizing the sheer quantity of sea lions that could be seen right in town, and finding out that the 360º tour also visits Kicker Rock, it was kind of a no-brainer.
Rosa Blanca
As the name suggests, the tour does a complete loop of the island and makes about 5 stops on its way.  Our boat went in an anti-clockwise direction so we began our day at Rosa Blanca.  First up was snorkelling in a lagoon filled with sharks!  Aside from plenty of sharks we also saw a couple of huge manta rays.  Unfortunately the water wasn't the clearest for photos but very cool nonetheless.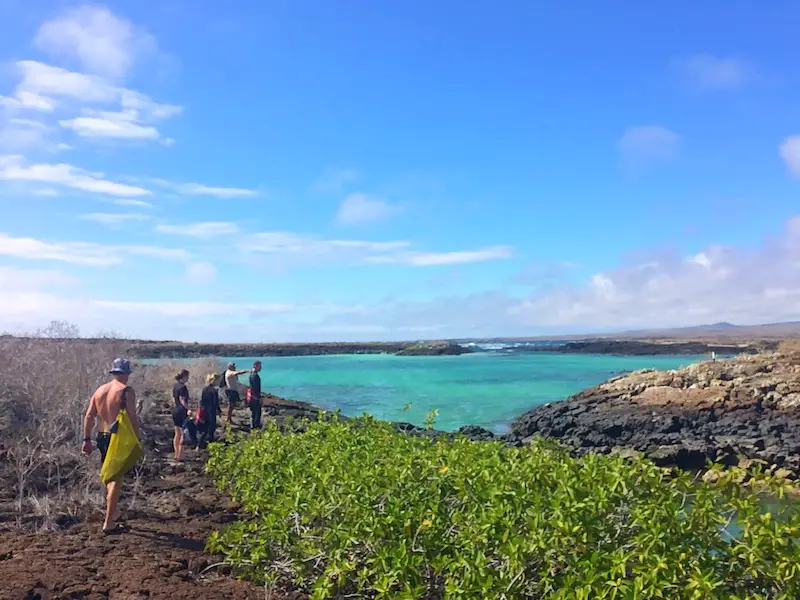 After this we had some free time to either snorkel in the bay where we had spotted a tonne of turtles or spend some time on the beach.  Of course, as soon as the humans entered the water the sea life disappeared.  We gave up and decided to check out the gorgeous beach.  Within a couple of minutes Terry was cursing at the multiple turtles and sea lion he could see frolicking in the waves!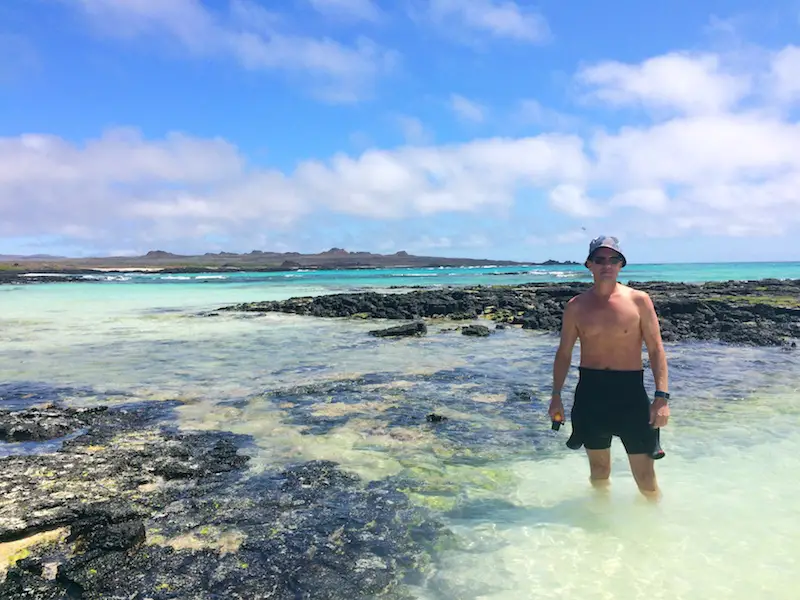 Punta Pitt
The next stop was Punta Pitt, a rocky outcropping teeming with various birds.  We had no trouble spotting tropibirds, red and blue footed boobies, nazca boobies, frigates and countless other birds.
Bahía Sardina
Bahía Sardina is another beautiful beach that cannot be accessed from the land.  Everyone, including our guide, was amazed at the number of rays we could see and a shark about a metre off the shore!  First we ate lunch before having time to enjoy the beach or snorkel.  As we couldn't see much in the water by the time lunch was done we decided to relax on the beach.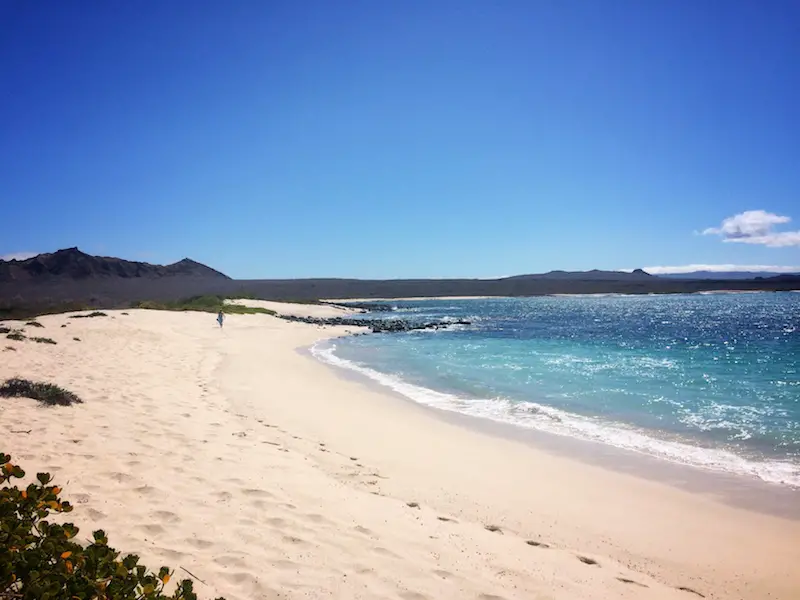 Kicker Rock (León Dormido)
After a quick look at Witch's Rock, we headed for León Dormido, Kicker Rock.  This is one of the best dive sites in the Galápagos Islands but it is also excellent for snorkelling.  The water was incredibly cold but it took mere minutes for us to spot our first shark.  This was quickly followed by a turtle, a sea lion then more sharks.  Due to the currents we weren't able to swim all the way through the channel between the rock formations but we were pretty happy with our success.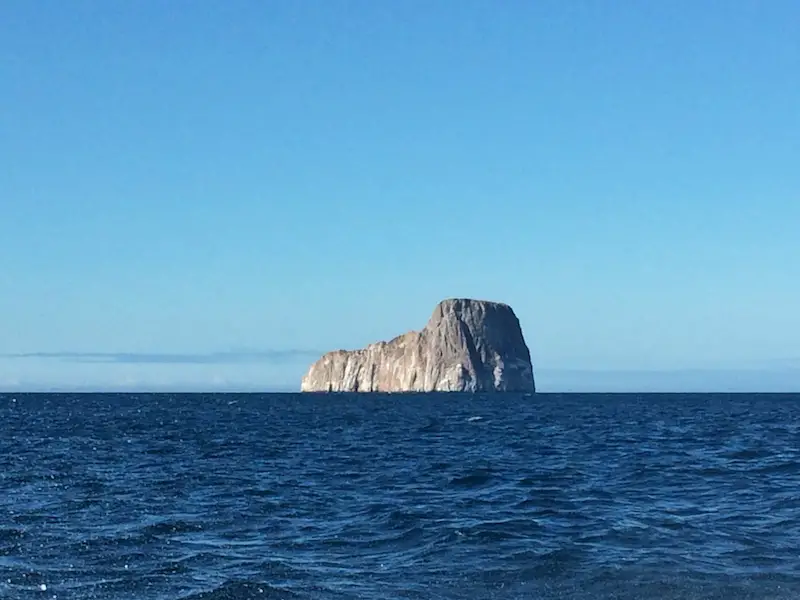 La Lobería
About a 40 minute walk out of town, La Lobería is a beach known for the many sea lions that hang out here.  As we got close, the smell told us that we were in luck!  La Lobería is a beautiful beach in its own right and well worth bringing a towel, swimsuit and snorkel gear.  Continue walking to the end of the beach and follow the trail to a clifftop lookout.  The frigate bird that was dive bombing us had me not wanting to spend too much time here but the view is lovely and definitely a close up look at the birds!  Of course, we saw plenty of marine iguanas along the rocks.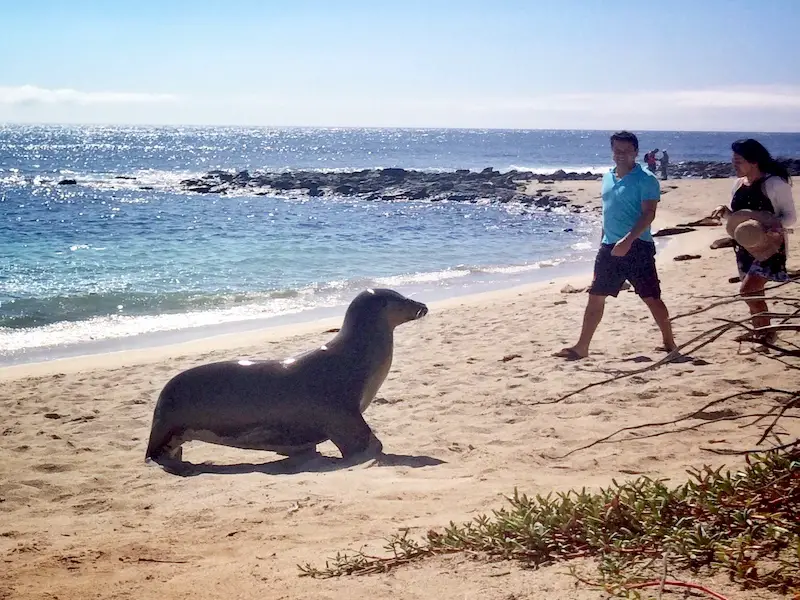 Punta Tijeretas and Darwin's Cove
On our final full day we headed to this lookout spot named after the frigate birds that frequent it.  The easy walk up took us to a couple of lookouts and a Darwin statue before descending down to the cove.
Darwin's Cove is known as an excellent snorkelling spot so we once again braved the frigid waters.  Who knew the water ON the equator would be so freaking cold!  From above we had just watched a group of Australians snorkel with a turtle and a swimming marine iguana so our hopes were high.  It didn't take us long to bail after seeing not much of anything.  Typically, as we swam back to the entry point, a turtle swam right in front of me.  Then a couple of sea lions raced by.  We were happy with our snorkelling luck on this trip so it wasn't a big deal.  Honestly, we were happy to be wrapped in our towels and watch from dry land!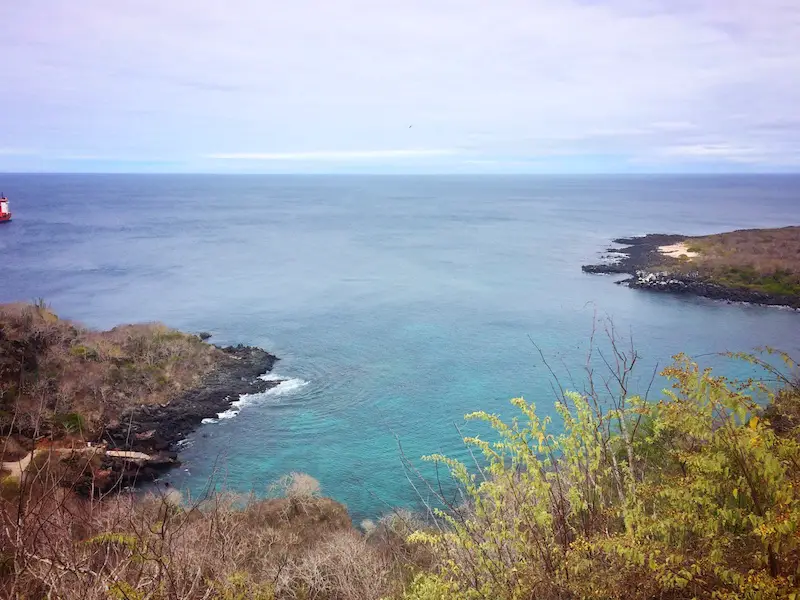 Punta Carola
On our way back from snorkelling we detoured to Playa Carola. Once again, the smell of sea lions alerted us to their presence before we could see them.  This beach is less visited and they were everywhere!  I was really hoping to see some blue footed boobies up close.  I am possibly the only person not to bring a camera with a zoom to the Galápagos – seriously, not my best move.
We walked out to the rocky point and ta-da!  Four blue-footed boobies just hanging out.  These birds are actually much bigger than we thought.  If we crept up slowly and quietly they didn't seem to spook at all.  From one spot we could see boobies, a pelican, a marine iguana and a sea lion – now that's the Galápagos! As we left the point and returned to the beach, we came across a sea turtle that had come up onto the beach.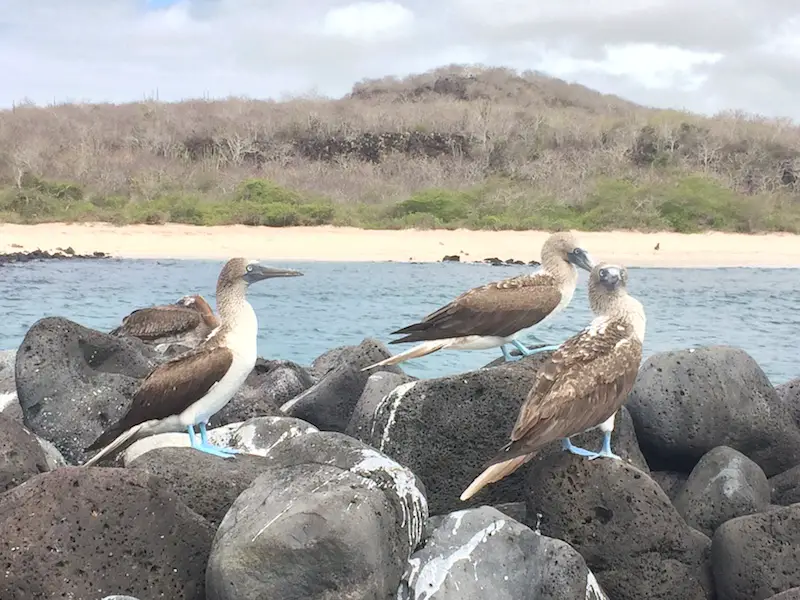 Unexpected Action!
When I think of the Galápagos, I think of uninhabited islands teeming with weird and wonderful wildlife.  I do not think of construction, honking horns or loud music.
We had some bonus 'human' experiences during our time in the islands that added to the fun and conversations.  Returning from Playa Tortuga on Santa Cruz, our hotel's street was flooded with police, flashing lights and people yelling.  Our investigations led us to an undeveloped piece of land that now had a bulldozer and workers quickly erecting a fence around a little concrete 'house'.  The best we could figure the family in the small building didn't own the land and were being evicted.  Although, the fence seemed to be getting put up around them so perhaps they were being spared having to leave…
On our last night we were having dinner with a large Australian family we had repeatedly crossed paths with.  As we were getting the bill a loud explosion right across the street got everyone's attention.  People outside the small building, now with black smoke billowing out its windows, ran across the road and one man immediately started yelling into his walkie talkie.  A second explosion followed and soon sirens could be heard getting closer.  A flurry of activity ended shortly after when it was deemed to be safe.  We're still not sure what happened in the dentist's office but they were in the midst of a big clean up job the next morning!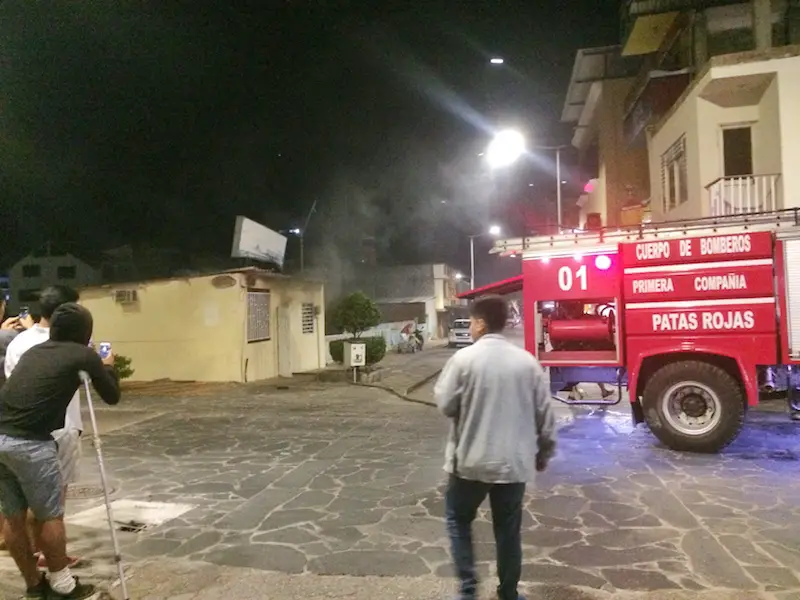 What an amazing experience!  It is rare for a place with such high expectations to actually meet them but we can both honestly say that the Galápagos Islands did not disappoint.
Have you ever been?  What was your favourite part?  What's on your 'must see' list for the Galápagos?
Find more amazing travel destinations here.
Find all our Travel Journal posts in one place.