How to visit a Galapagos Giant Tortoise Reserve in Santa Cruz
Some links in this post may be affiliate links. If you click on them we may make a commission from qualifying purchases at absolutely no cost to you.  Read our full Disclosure Policy here.
Did you know the Galapagos Islands were actually named after the giant tortoises that roam their highlands?  So it's pretty much mandatory to see them while here.
It also just so happens, they're pretty awesome to watch!  Their huge, creaking shells must weigh a ton and yet they move surprisingly fast.  I mean, not actually fast, but faster than I expected.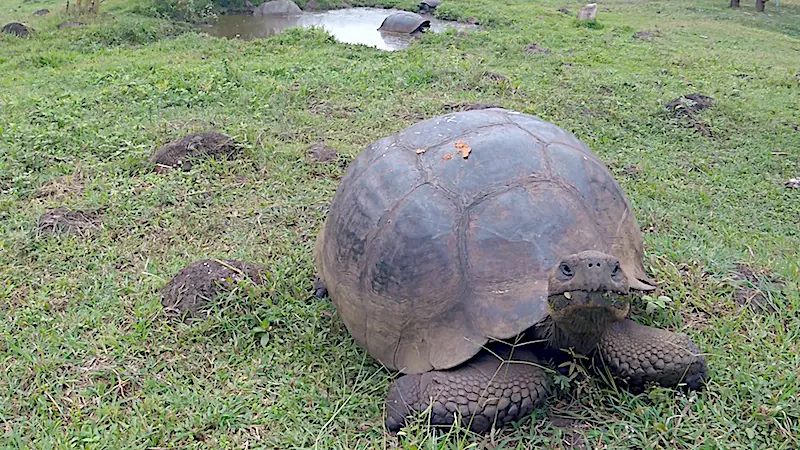 There are no fences, no barriers.  Instead, you are free to wander around the ranch and discover tortoises in ponds, under trees and just about anywhere.  With this freedom, it's really easy to get over-excited and forget about the rules of the Galapagos National Park.  Please remember to stay two metres away from the animals at all times.  It's their home.
There are a few options to see the Galapagos giant tortoises while in Santa Cruz and none of them requires a naturalist guide, although a tour is a great option if you are interested in learning as much as possible about these amazing creatures.  Check out this tour now.
Where can I see the Galapagos giant tortoises?
Giant Galapagos tortoises prefer the cooler temperatures in the highlands.  The best way to see these giants is by visiting a tortoise ranch however, all the fences are built in such a way as to allow the tortoises to ranch free.  We actually saw a few tortoises just on the side of the road while on the bus from the airport.

Probably the most popular ranch is called El Chato.  We chose to go to Rancho Primicias instead hoping for it to be a little more natural and have fewer tourists.  We had the place to ourselves for most of our visit before just one other family showed up.  There were loads of tortoises everywhere and some were huge!  It felt completely natural and the animals were free to roam wherever they chose.
Both of these tortoise ranches also have lava tunnels to explore after you have finished marvelling at the massive prehistoric creatures.
The two ranches are basically side-by-side so you'll be getting a similar experience whichever you choose.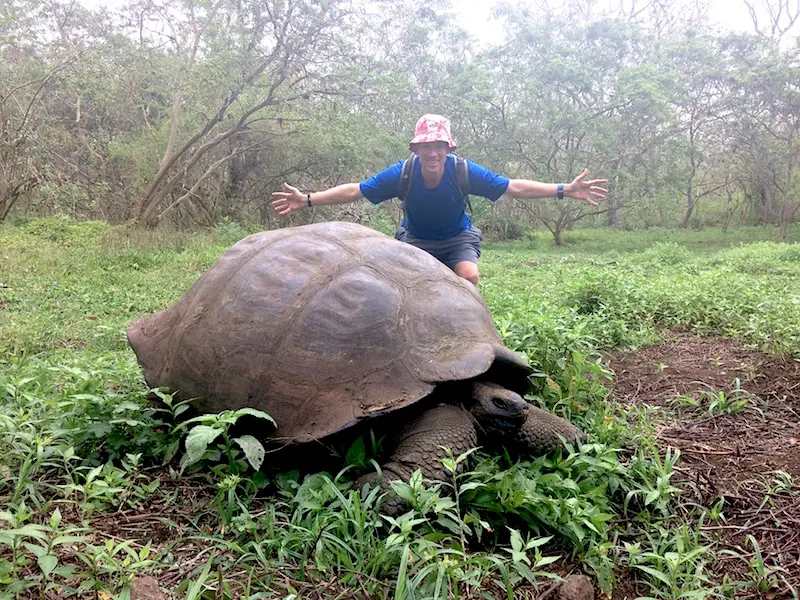 How can I get to a tortoise ranch?
Seeing as the tortoises are found in the highlands, you will need to take either a tour or hire a taxi to get there.  If you're up for the challenge there is a great bike path all the way from Puerto Ayora up to the highlands and plenty of places to rent bikes.  Keep in mind, they're called the highlands for a reason – you will have an uphill climb the whole way there!
We hired a taxi for $40 to take us to the ranch and lava tunnel.  He would have also taken us to los Gemelos for $5 more but we weren't really interested, to be honest.  Finding more people to go with would be a great way to cut this cost and you could also barter $5 or so off the price.  We weren't in a bargaining headspace that day for some reason and just accepted the offered price.
The taxi driver waited for us, took us to the lava tunnel then met us at the exit of the tunnel before taking us back to Puerto Ayora.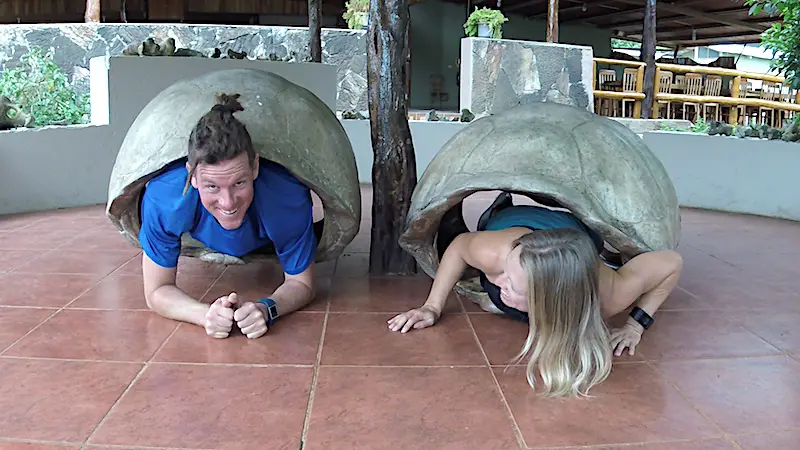 How much will it cost to visit a Giant tortoise ranch?
The price will vary slightly depending on which ranch you visit but should be $3-5 in addition to the cost of the taxi, tour or bike hire to get there.  We paid $5 at Rancho Primicias while El Chato has a $3 entry fee.
There is an option for buying drinks and a few souvenirs such as ground highland coffee so bring extra cash if that is of interest to you.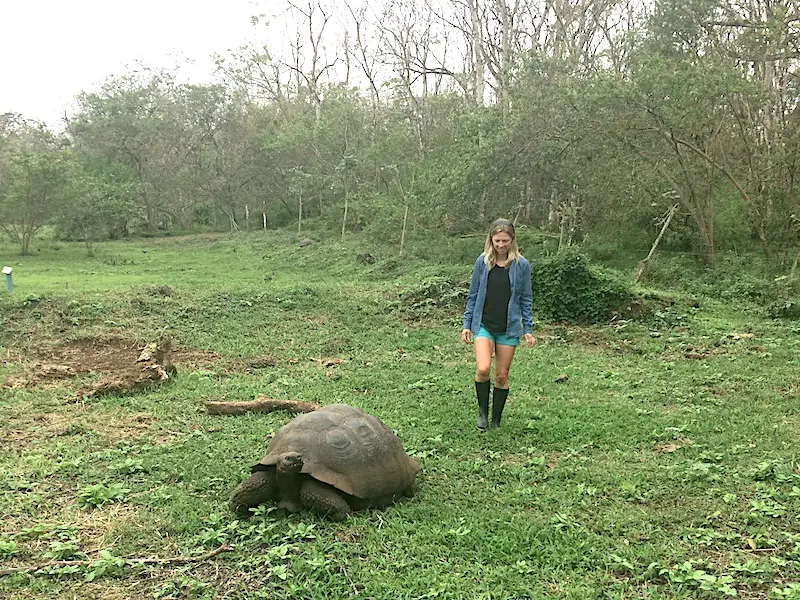 What should I wear to a tortoise ranch in the Santa Cruz highlands?
The climate in the Galapagos highlands is cooler than in town and you are much more likely to get rain and clouds.  We were still perfectly fine in shorts but I did put a long-sleeved shirt over my tank top.
While we got lucky and remained dry, we had our rain jackets in our bags and would highly recommend you do the same.
You are going to need rubber boots but the ranches provide those.  Pack a pair of long socks to put on with the boots.
[space_20]
We really enjoyed our visit to Rancho Primicias and saw the largest tortoises we encountered on any of Galapagos Islands.  The entire trip took around 3 hours and we were back in Puerto Ayora with enough time to head back to Tortuga Bay for a couple of hours.  We seriously love that beach!
Discover so many more things to do in Isla Santa Cruz, Galapagos Islands.  It's a perfect island for the independent traveller!
[space_20]
Found this information useful?  Pin it!
[columns] [span6]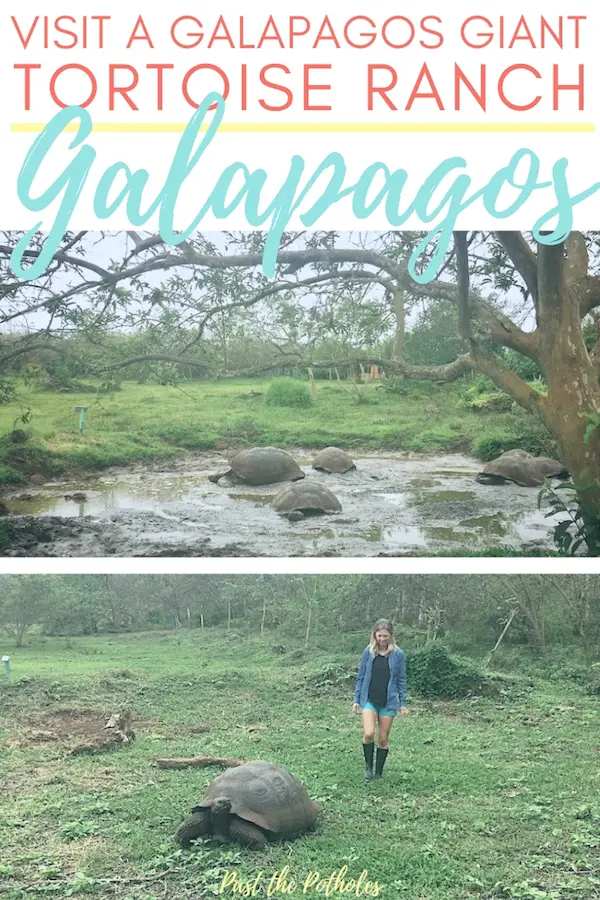 [/span6][span6]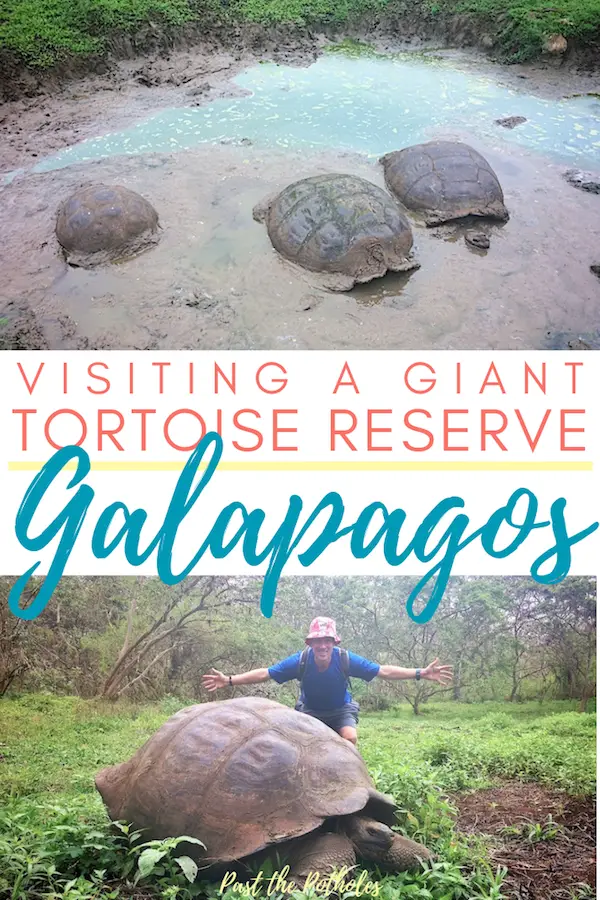 [/span6][/columns]
Get more great travel inspiration on our Destinations page.
Ready to start booking?  Get the best deals with our proven Travel Tools.