Laguna El Junco (San Cristobal Highlands Tour)
Some links in this post may be affiliate links. If you click on them we may make a commission from qualifying purchases at absolutely no cost to you.  Read our full Disclosure Policy here.
In the highlands of San Cristobal Island is El Junco Crater Lake.  Galapagos Islands are volcanic and San Cristobal is one of the oldest islands so its volcanoes have long since become extinct.  This volcanic crater is now filled with the largest source of fresh water in the Galapagos Island chain.
A great alternative to the water-based activities in the Galapagos is to take a San Cristobal highlands tour.  While there are organized tours for this, most people hire a taxi for the day.  Taxi drivers are well used to this and typically take you to Laguna El Junco, the Galapaguera tortoise breeding centre and Puerto Chino beach.  Of course, you can always ask for something a little different but some Spanish might be necessary.
We paid $60 for our entire group to do the three activities in one day and asked the driver to drop us off at La Loberia sea lion beach rather than our hostel at the end.  This saved us another taxi or a half hour walk.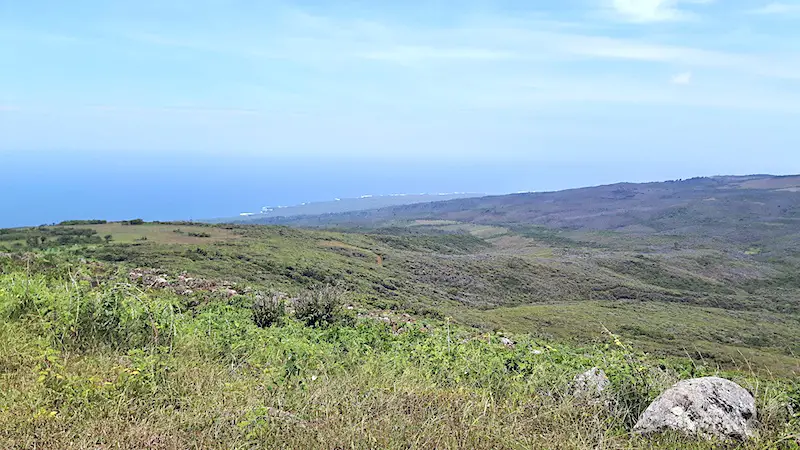 How to Get to Laguna El Junco
As mentioned, a taxi is the most common way to get to Laguna El Junco.  However, if you are not comfortable with this option (some Spanish is most likely going to help depending on the driver), there are some tours you can book.  Ask at any tour agency in town when you arrive.
Bikes can be rented in town and there is a well-maintained bike path most of the way to the lake.  However, as you can imagine, it is a tough uphill bike to get into the highlands.  I wouldn't recommend this option unless you are an experienced cyclist.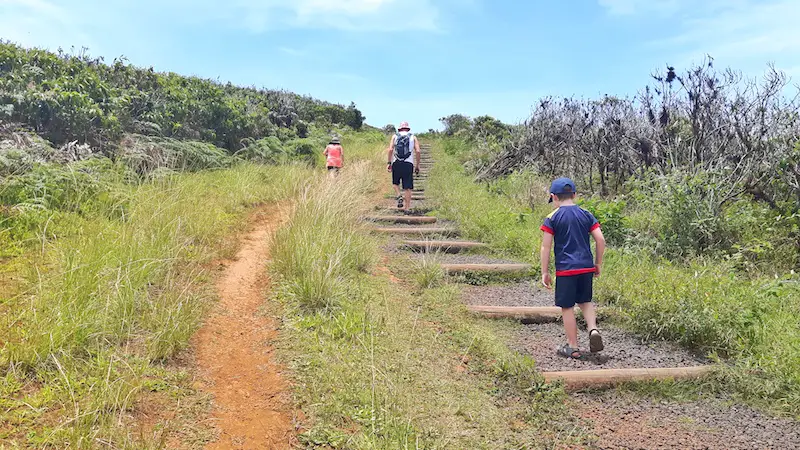 What to Expect at El Junco, Galapagos
The taxi will pull into a small parking area and your driver will point you in the right direction.  It's not complicated!
Leading from the parking lot is a trail, mostly consisting of wide, shallow steps, that winds its way up the hillside.  Given the age of this volcano, it is not the jagged, rocky peak you are probably picturing.  Rather it incredibly green and lush.
When you reach the top, about 10 minutes later, you will have a lovely 360º view around the island.  If it's clear, you'll be able to see as far as the Pacific Ocean.  Of course, being in the highlands, the weather is unpredictable.  If there is thick cloud cover when you arrive, consider instead asking your driver to stop on the return journey and hope the weather clears.
If you have the time and inclination, there is a trail that circles the entire lake.  It is only about 2km long so won't take too long although it could be muddy if it has rained recently.
Despite being in the middle of the Earth's largest ocean, potable water is a valuable and limited resource in the Galapagos Islands.  El Junco is the only significant natural source of freshwater.  Isabela and Santa Cruz both rely on desalination plants to provide their potable water and Floreana has no freshwater source of their own.  This is why it's so important to conserve water during your Galapagos visit.
El Junco is not only a popular spot for tourists, but seabirds love it as well.  Gulls and frigate birds can often be seen swooping down and dipping into the lake to wash the salt from their feathers.  The calm lake also makes for an easier hunting experience for frigate birds than the choppy ocean nearby.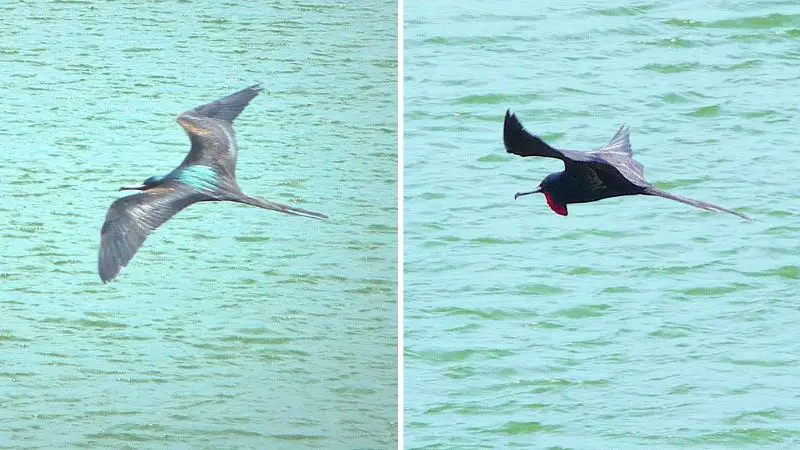 When is the Best Time to Visit El Junco, San Cristobal?
The main concern would be if the sky is clear.  It would be a disappointing hike to discover limited visibility.  Aside from that, bird watching is probably going to be more successful in either morning or late afternoon, not to mention avoiding the tourists.
---
Looking for more information about the Galapagos Islands?  Read these posts to help plan your dream vacation:
[btn text="Go Back: 17 Unforgettable Things to do in San Cristobal" tcolor=#FFF bcolor=#69d3d3 thovercolor=#fa7268 bhovercolor=#69d3d3 link="https://pastthepotholes.com/things-to-do-in-san-cristobal-galapagos/" target="_self"]
Was this post helpful?  Consider pinning it to find easily later!
[columns] [span6]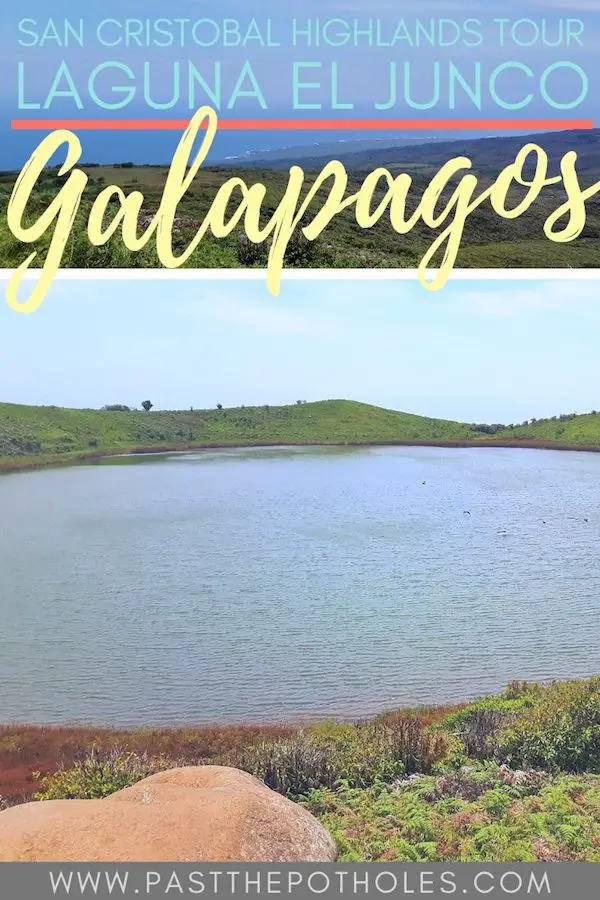 [/span6][span6]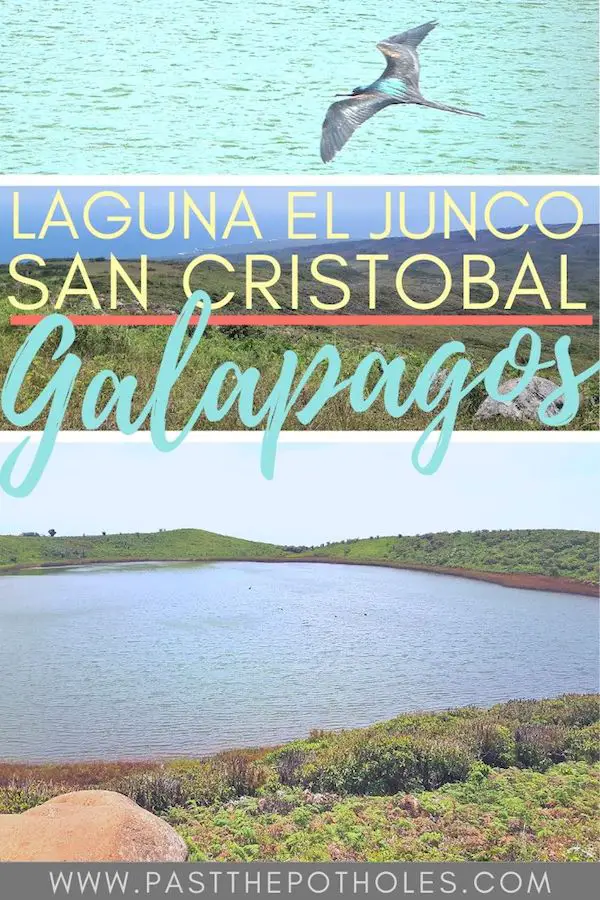 [/span6][/columns]