A Long Layover in Istanbul, Turkey!
Some links in this post may be affiliate links. If you click on them we may make a commission from qualifying purchases at absolutely no cost to you.  Read our full Disclosure Policy here.
We've had another jam-packed week and even threw in a bonus continent!
After returning from Montenegro Sunday evening (on the most 'exciting' drive ever) we had to get packed again for our early morning departure.
A Quick Break in Istanbul, Turkey
The best flight option for our trip to Albania included a layover in Istanbul both directions.  While I was none-too-pleased at having to fly over Albania and continuing for 2 more hours before turning around and flying back, I figured we should at least make the most of it.  The three hour layover on the return trip quickly became a 3 day stopover in Istanbul!  There is just too much to see in this city for three days to do it justice but we made a good start.  Find many more things to do in Istanbul here.
A Brand New Hotel in Sultanahmet
We booked a hotel in Sultanahmet, the central area where most of the main monuments are.  This makes it the most touristy also and probably not where we would have wanted to be if we had more time.
As it was, the hotel was brand new and very eager to do anything to make us happy.  On our last day, we were greeted by the manager at the door exclaiming 'happy birthday' to Terry.  He took it more as a joke than anything and so didn't correct the guy but rather played along.  Not 15 minutes later we answered a knock on the door only to find the bellboy presenting Terry with his birthday fruit platter!
Everything in Primero Hotel was newly renovated with high quality finishes and even included breakfast.  All that for just $40CDN a night!  If you're planning a trip to Istanbul we definitely recommend this place.  Check it out here.
Exploring Istanbul
During our time in the city, we explored much of the Sultanahmet area on foot, wandering around plazas, parks and streets.  While we didn't pay to enter any of the palaces or museums, the view from the outside and the surrounding green spaces were enough to make us happy.
The Grand Bazaar and Spice Bazaar were both well worth a visit too.  Vendors tried to entice us into their stalls and buy their wares but they were surprisingly non-aggressive.  Colours, lights and smells combine to make both bazaars awesome experiences.
True to our luck, we went inside the Blue Mosque only to find the vast majority of the ceiling and interior covered in scaffolding.  Clearly it is still a beautiful place but I would have loved to see the main dome!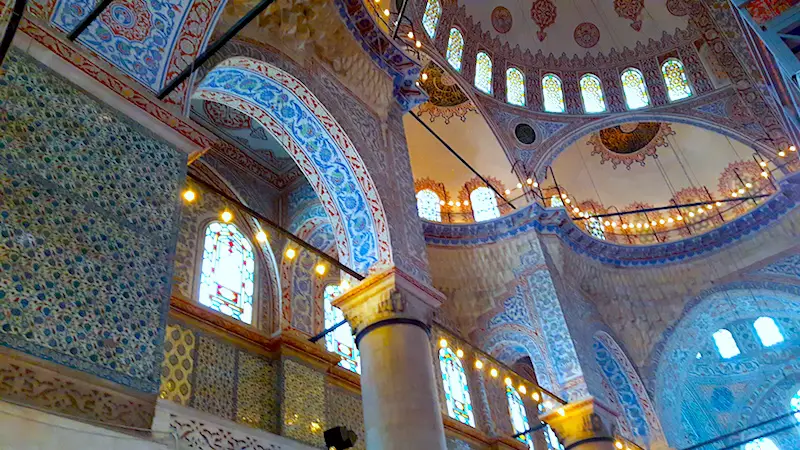 The only place we paid to enter was the Basilica Cistern.  It was recommended in numerous places as well as by our friends who lived in Istanbul for years.  In addition, this location featured in a Dan Brown book Terry had read in Mexico.  How could we not go?
And, of course, no sooner have we got our tickets we see a sign saying that the cistern has been drained and the fish moved due to restoration works!  Over half the place was hidden behind sheeting and scaffolding but it was still a cool thing to see.  Next time maybe we'll get to see the rest…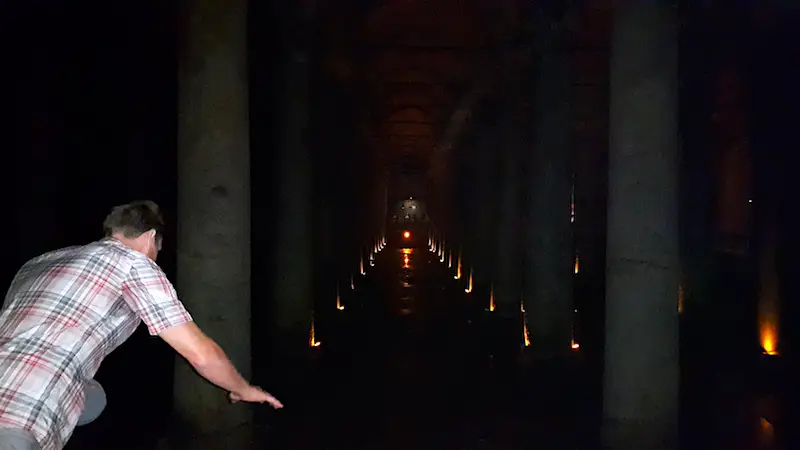 Bosphorus Cruise
We signed up for a cruise on the Bosphorus, another highly recommended activity.  Our included a buffet lunch, went all the way to the Black Sea and made a stopover in Asia!  While the stop on the Asian side was underwhelming to say the least, it turns out they have some seriously delicious ice cream!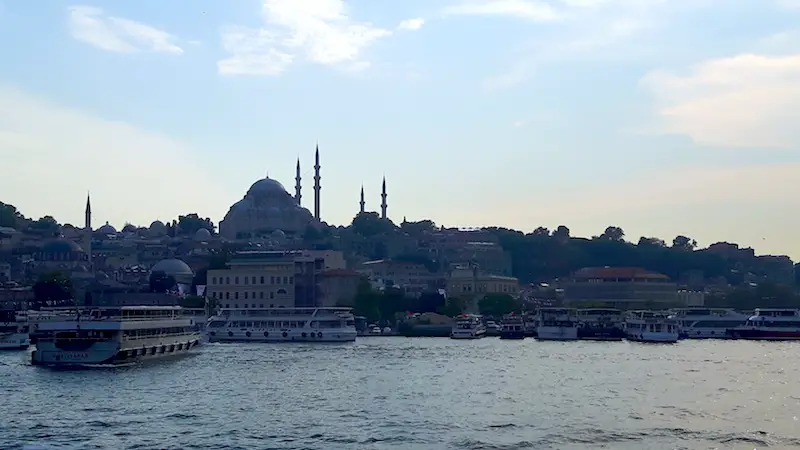 Lunch in Asia anyone?
The following day we decided we still needed to visit Asia as the boat stop just hadn't cut it for us.  We hopped on the ferry (after some serious puzzlement over the ticket machines) and set sail for Kadiköy.
This was a much more interesting stop – Asian Istanbul is redeemed!  We wandered along the promenade before heading into the narrow streets.  Eventually we found a small series of streets covered with umbrellas.  It seems every city has one of these streets now, but I can't help loving them.  We found a cute little 3-storey orange building to stop for a drink and snack.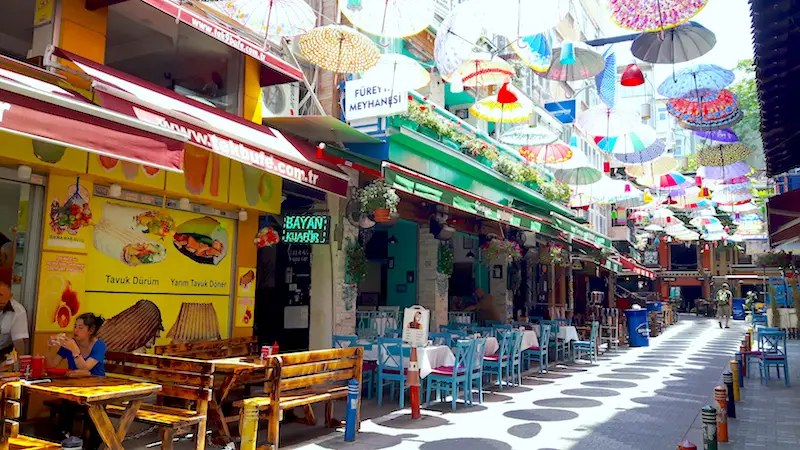 Eventually it was time to master the ticket machine on our return to Europe.  We decided to get the ferry to the other side of the Golden Horn this time and explore the Galata neighbourhood too.
The Most Expensive Ice Cream!
This side of the river appears more affluent.  There is one long, wide avenue filled with stores as well as smaller narrow side streets.  The main street was bustling with tourists, locals and even a wedding photo shoot, all having to move over when the tram came along.
A local ice cream seller was doing the same tricks we had seen before, only better.  We had planned on an ice cream anyway so when he beckoned Terry over to take the ice cream from him, we figured why not.  Without being asked what we wanted, we each had an ice cream in hand before being told the astronomical price.  I was inclined to give it back, with the idea that it wasn't even what I wanted, but Terry handed over the rest of our Turkish Lira…  Water for dinner then.
[kad_youtube url="https://youtu.be/YHoBCBkYZw8″ maxwidth=640 ]
Visiting During Ramadan
Being a muslim country, the vast majority of the population celebrate Ramadan.  For a month people fast during daylight.  We had lived in Trinidad during Ramadan last year so we had an idea of how it worked but Istanbul takes it to a new level.
Each night, every park and plaza fills with people setting up picnics.  The main plaza between the Blue Mosque and Agia Sofia has row upon row of picnic tables set up.  People bring table cloths, or picnic blankets, and piles of food and drink.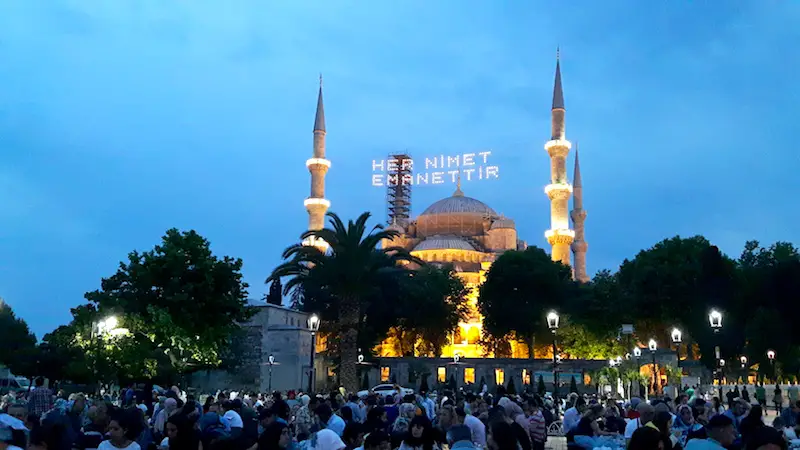 Some even bring camp stoves to cook fresh.  By sunset, there isn't a spare seat, bench or scrap of grass left.  As the evening Call to Prayer begins from the various minurets within earshot, everyone begins to eat.
Catsitting in Spain
On Thursday, we headed back to the airport and flew to Valencia, Spain.  We will be spending just under 2 weeks in Oliva looking after four cats.  The house is a few miles out of town but just a short walk to the beach.
Our first few days have been pretty lazy.  Other than groceries and some beach time, we haven't done much.  We are really excited to be in the same place for a while and catch up on trip planning and work.
We did find some excitement when Terry broke his tooth off (apparently my pizza was a little overcooked…).  I guess we'll be discovering the Spanish dental system this coming week!
Hopefully we'll muster up some energy to explore the area a little next week…
---
Read about our adventures on our Travel Journal page here.
Return to our Destinations page.