Exploring Cenote Sac Actun
Some links in this post may be affiliate links. If you click on them we may make a commission from qualifying purchases at absolutely no cost to you.  Read our full Disclosure Policy here.
There are so many cenotes throughout the Yucatan Peninsula that it can be really difficult to decide which one(s) to visit during your trip to Mexico. Each one is a little different and offers a unique experience so it comes down to personal preference – and recommendations.
We visited Cenote Sac Actun on the recommendation of our hosts in Tulum.  Our plan had been to visit a few others in the area, close to town and close to the Cobá ruins, as we didn't have a car but they both convinced us to change our plans with their description of Sac Actun.  
This was easily one of our favourite experiences of our two weeks in the Yucatan Peninsula.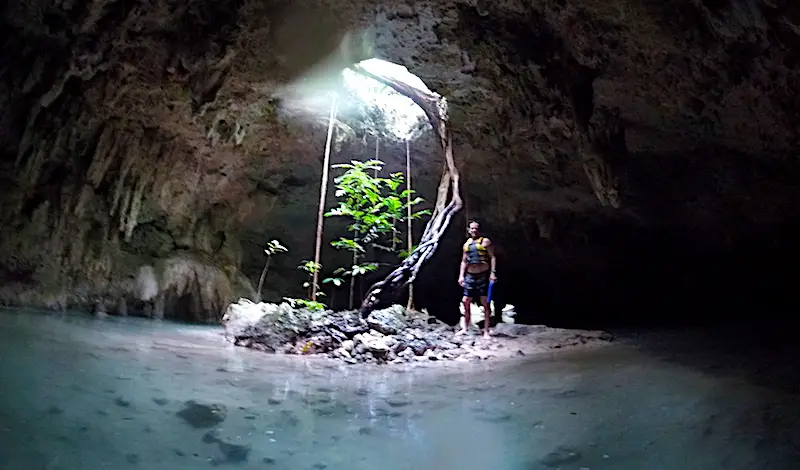 It's not the cheapest as it includes a guide and snorkel equipment but it is well worth it.  We're pretty sure it's one of the best cenotes in Mexico!  While you need a guide in the water, you don't need a tour to get there.  Keep reading to find out how to explore Cenote Sac Actun on your own.
What Type of Cenote is Sac Actun?
Sac Actún is actually an underground cave system measured at 347.7km long.  This makes it the longest underwater cave system in Mexico and the second longest in the world.  
However, as of January 2018, a connection between this and the Dos Ojos cave system was discovered making it now the largest known underwater cave system in the world.
While it is completely underground, the entrance is open and provides a small area where you can float in beautiful turquoise water.  There are actually multiple cenotes here that are connected by the cave system so you will be visiting a couple during your tour.
Hoping to float or play in an open-air cenote then relax for a while?  If you're near Valladolid, Cenote Oxman is amazing!
Where is Cenote Sac Actun?
Sac Actun can be found along the same exit road as Dos Ojos, off the main coastal highway 307.  It is approximately 22km north of Tulum but with a car, it could easily be accessed from Playa del Carmen and anywhere in between.
We visited Dos Ojos on our first trip to the Yucatan Peninsula some 8+ years ago when it was still unknown and just had a handwritten sign on the side of the highway.  Boy how things have changed!  
There is now a huge highway sign as well as a large graphic on the side of the road and a checkpoint to pay an entry fee.  Visiting Sac Actun allows you to see the same cave system as the much-hyped (and deservingly so) Dos Ojos but without the crowds.
How do I get to Cenotes Sac Actun?
If you are coming from Tulum, drive north towards Akumal and Playa del Carmen.  The road to the cenotes will be on your left.  When you see the sign for Cenote Dos Ojos continue to the next retorno and do a U-turn.  Then take the exit for Dos Ojos.  
At the booth just tell them you are heading to Sac Actun and they will let you through.  Follow the road all the way to the end and make the 90º turn left.  Continue along to the end and you'll see a small building with wetsuits hanging up.
Coming from the north, the instructions are the same but of course, you don't have to make the U-turn.  We made this trip on a scooter and had no issues with the road so even the smallest of cars will be fine.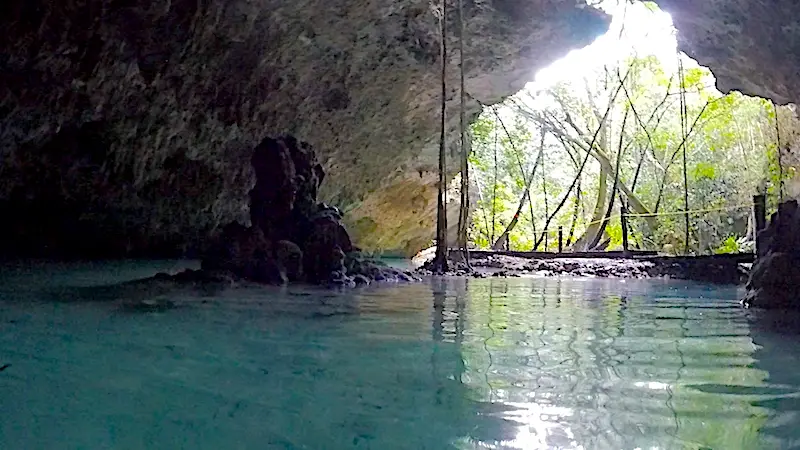 Without a car, take any colectivo heading north and ask to get out at the entrance to Dos Ojos.  From here you would have a 6km walk along a tree-lined dirt road.  A taxi will also do the same.  
You could ride a bike, the road is flat and smooth until the end, but it is over 20km each way with much of it on a busy highway so I wouldn't really recommend it.
Can I visit Sistema Sac Actun with a tour?
Yes!  If you are staying in the Mayan Riviera or beyond, this is a great option for tour that includes transportation and lunch.
This Mayan Jungle Adventure Tour includes a guided snorkel through Sac Actun followed by a jungle walk, ziplining, AND a chance to rappel into a natural underground pond. So. Much. Fun.
What to Expect when visiting Cenote Sac Actun
What should I bring?
A life jacket and snorkel equipment are included in your entry fee but there are still a few things you will want to consider bringing.
A swimsuit. 
Towel (consider a travel towel – super absorbent and takes up much less space)
Waterproof camera or GoPro.
Waterproof flashlight (they rent them but it costs $200 pesos)
Water shoes (not really needed in the cenote but there is some walking before and after)
Biodegradable or reef-safe sunscreen (all other kinds are harmful to the delicate ecosystem and not allowed, along with insect repellent)
How much does Sac Actun cost?
It seems the price has gone up!  We were charged $450 pesos (about $23USD or $31CDN) each to enter.  This may seem like a lot but it includes a guide, snorkelling equipment and a life jacket.
A wetsuit can be rented for $200 pesos (about $10USD or $14CDN).  I am the biggest wimp with cold water but I didn't have enough money left to rent one (on account of the price increase) and I was fine.  I shivered pretty much the whole time but I've been in much colder water.  Terry assures me the water temperature was fine!
They also rent waterproof flashlights for $200 pesos.  If you are planning on taking pictures or videos you will want a light in your group.  In our group, we had multiple people with lights so it wasn't too bad but I'm sure the video would have been better if we had one!  And the water lights up a beautiful turquoise in the light.
What will we see in Cenote Sac Actun?
Our tour guide first took us along a path and pointed out a few trees that are very important to the Maya people.  He also showed us a map of the cave system and where we were before descending a few wooden steps to enter the water.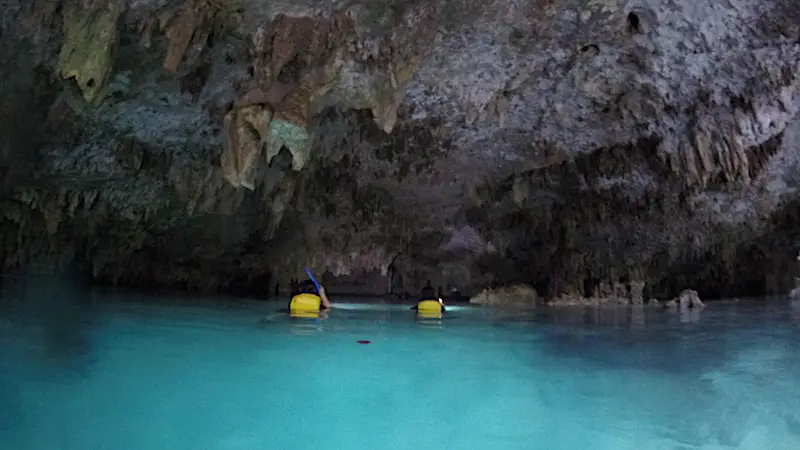 After a deep breath, I took the plunge and found it to be cold but not freezing.  He pointed in the direction we were to go first while he hung back waiting for a couple that had just arrived.  It put our group up to 6 and we were the only ones there.
We swam a through a short tunnel and found it opened up into a beautiful cavern type cenote.  A small section of the ground had fallen in creating a small island with roots and greenery creeping in.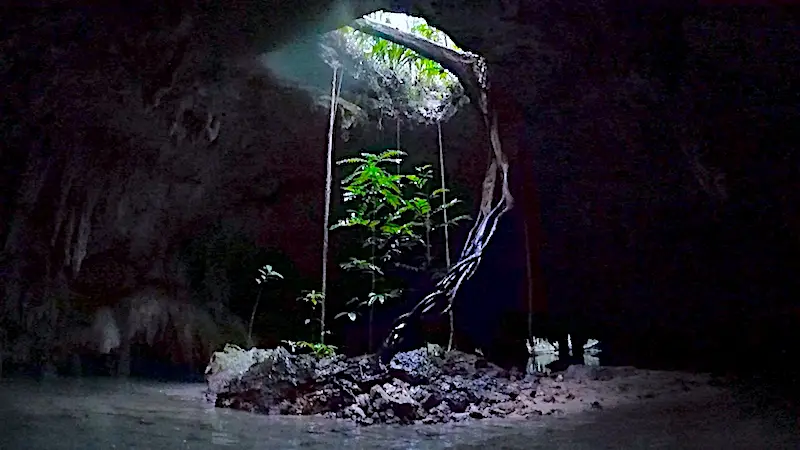 From here we swam back through to the entrance but continued along the rock edge where we could see the rock sharply drop away underwater and descend into nothingness.  
At the far end, we entered another section of the cave where the stalactites were reaching the water's edge and we had to watch our heads.  At regular intervals there would be a cluster of bats, huddling together above us and squealing loudly at the disturbance of the flashlights.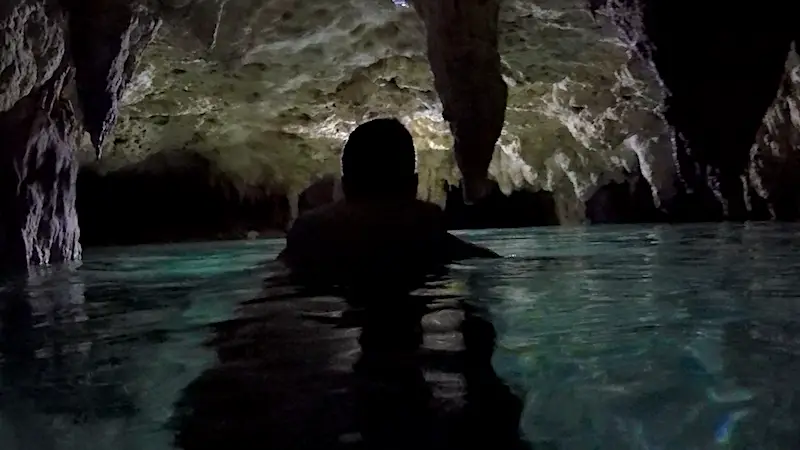 This narrow tunnel opens up into a large cave with a few lights installed to illuminate the crystal clear turquoise waters and interesting rock formations.  We slowly swam in a complete loop around this section.  It was definitely the most interesting part of the tour.
As we began our return to the exit (close to the entrance), we stopped in another shallow, well-lit area and found a type of crawfish that seemed to want a closer look at Terry's feet!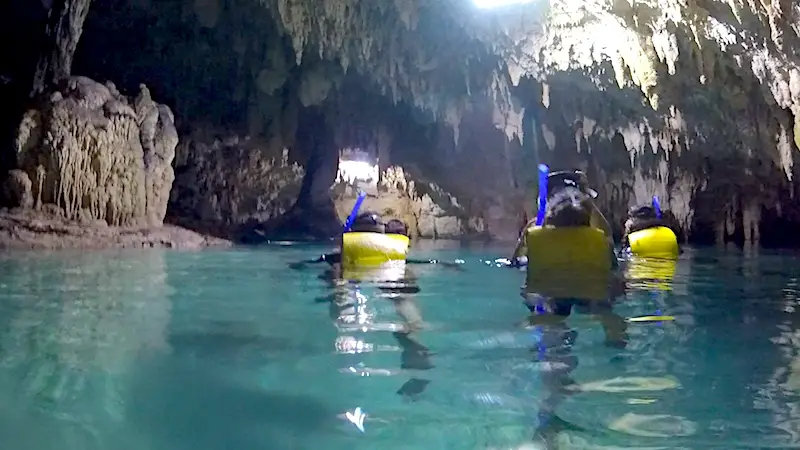 We also saw a tarantula and small snake on the stalactites above the water!  As we reached the end, our guide gave us the option of staying in the water and further exploring the open area but we were all ready to get out and warm up!
Should I visit Cenote Sac Actun?
Ummmm, yes!!  This isn't going to be the cheapest cenote you visit during your time in Mexico but it is a one-of-a-kind experience.  You will get the chance to see open areas with glistening blue waters as well as have an adventure through dark caves.  
We heard there is a section where you can see ancient Maya offerings and bones from animal sacrifices (one of the cenotes is called Cenote Pet Cemetery).  I'm not sure why but we missed this section but perhaps you will get to see it…
The guides speak English and are Maya people who own the land.  They are very knowledgeable and give you bits of information about the geography, flora and fauna, as well as their culture along the way.
Thanks to its relative anonymity and being a little further off the highway, it receives a fraction of the visitors that other cenotes get.  As we arrived, one group was just leaving.  As we were finishing, another group was just arriving.  
Our group had just 6 people and the other two groups were all travelling together.  It would be entirely possible to end up with a completely private tour here.
We combined Cenote Sac Actun with the Cobá ruins.  It made for an awesome day trip from Tulum!
Pin this post so you and others can find it easily!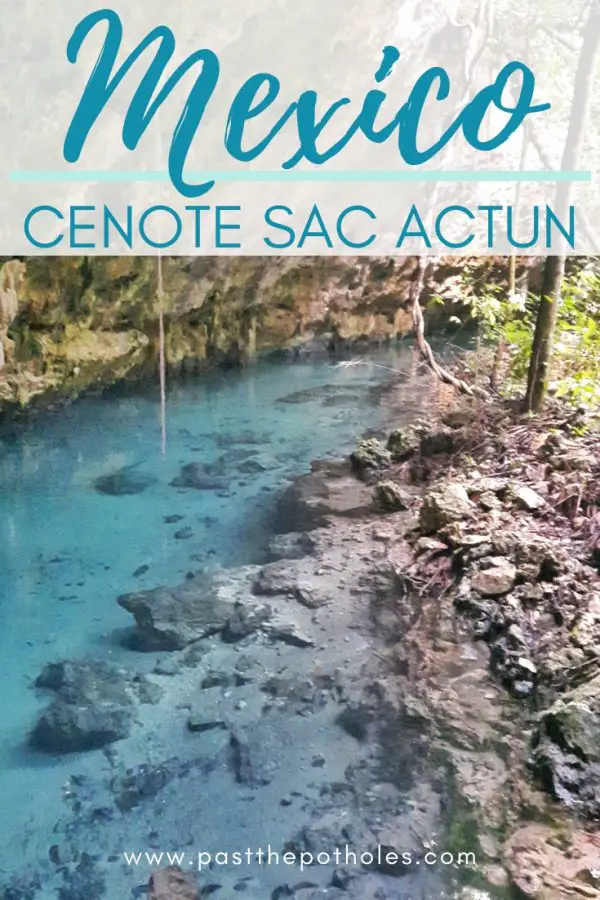 ← Return to our Destinations page.
---