How to Plan a Fun Day Trip to Tequila, Jalisco: Tours and tequila tasting!
Some links in this post may be affiliate links. If you click on them we may make a commission from qualifying purchases at absolutely no cost to you.  Read our full Disclosure Policy here.
Mexico is known for beautiful beaches and gorgeous weather. However, it may be most famous for tequila.  But did you know the drink is actually named after a Mexican town? 
When visiting Mexico, a popular activity is to take a tequila tasting tour and there is no better place to do this than in the town of Tequila, Jalisco. Tours run to most distilleries, from small family-owned companies to the multi-national brands, from short budget tours to luxury journeys.
We finally made it to Tequila and had a great afternoon wandering town and sampling its namesake drink. Luckily we had the in-laws to be designated drivers!
If tequila, or alcohol in general, isn't your thing there are still plenty of reasons to visit this quaint town, designated both a Pueblo Mágico and the area a UNESCO World Heritage Site.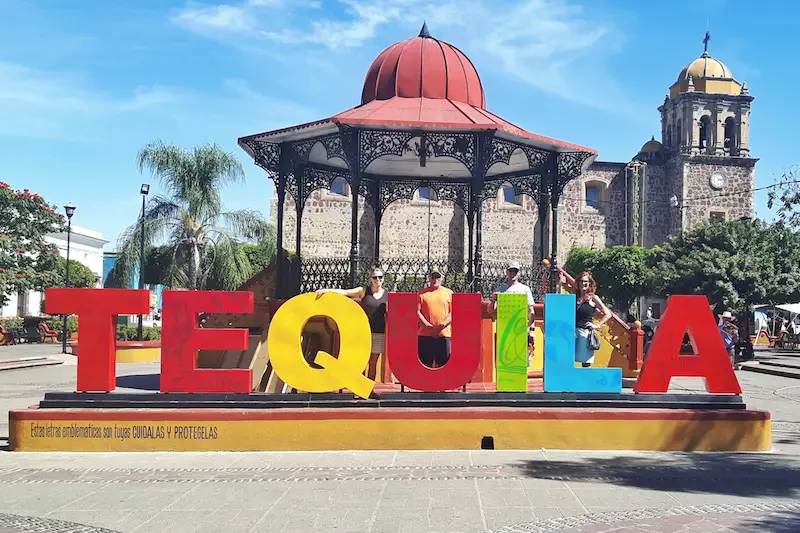 What is a Pueblo Mágico?
Literally translated, pueblo mágico means 'magical town'.  The government of Mexico has named various towns around the country as pueblos mágicos for their natural beauty, cultural or historical significance.  Towns have to apply and make their case for inclusion then, if accepted, maintain certain standards to keep the title.
Our Tequila guide told us that they are not allowed to have traffic lights in the historic centre, buildings must be painted historic colours only, the streets have to be cobblestone, nothing can be taller than the main church tower and a few other requirements.
Why should you visit Tequila, Jalisco?
Miles before you reach the actual town of Tequila, you will drive past fields and fields of agave plants.  The area boasts a volcano, lava fields and ancient ruins as well if you have the time or vehicle to explore further.
It's no coincidence that the town has the same name as the alcohol.  While the infamous drink is synonymous with Mexico for most people, it actually has to come from this specific region to be classified 'tequila'. 
The town of Tequila has been making its namesake drink since the 16th century.  The majority of people in town are employed in the tequila industry somehow.  If you are really interested in the history and process beyond just the flavour, you need to come to the town of Tequila.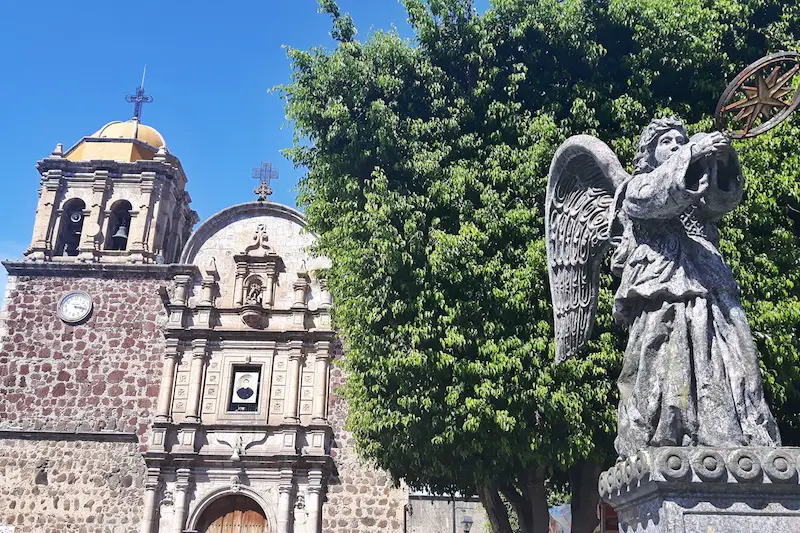 How to get to Tequila, Jalisco
Tequila is about an hour or so west of Guadalajara.  The easiest way is by car, or organized tour, as it is a fair distance and basically in the middle of nowhere.  However, buses do run from the Vallarta Plus Zapopan Terminal in Guadalajara for around $5 USD each way.  If you're staying near the Zapopan terminal in Guadalajara this is a great option.
What types of tequila tours are available?
We took the cheaper tour option that is available just by showing up in town and paid around $150 pesos each, negotiating to throw in the visit to the agave fields.  However, we weren't too interested in the finer details, going to the bigger distilleries and had our own car. 
We also visited on a quiet weekday so showing up without a reservation was no problem.  This isn't the best option for everyone.
The Jose Cuervo Distillery is one of the town's main attractions and the oldest and largest tequila distillery in the world.  Casa Herradura, Casa Sauza and Los Abuelas are other larger outfits in the area.  There are various tour options at different price points.
If you're looking for a regular tour (i.e., not the train) but don't have a car, then consider taking a tour from Guadalajara.  This tour includes round-trip transportation, time in the town, a distillery tour and tequila tastings.  Check out reviews and prices now.
For those people that really want an incredible experience, there is the Tequila Express train that runs from Guadalajara.  This train is ride is all about the journey, not just the destination.  Guests are treated to tequila tastings, snacks and a full mariachi band while travelling through agave fields. 
Once in Tequila, there is a tour of Jose Cuervo's La Rojeña distillery and time to explore the town.  This train runs only on weekends and definitely needs to be booked in advance.  The Jose Cuervo Express can be booked at different luxury levels and for either a sunrise or sunset experience.  Note: the train will be taken in one direction and a bus in the other. 
Read the detailed description and see prices now.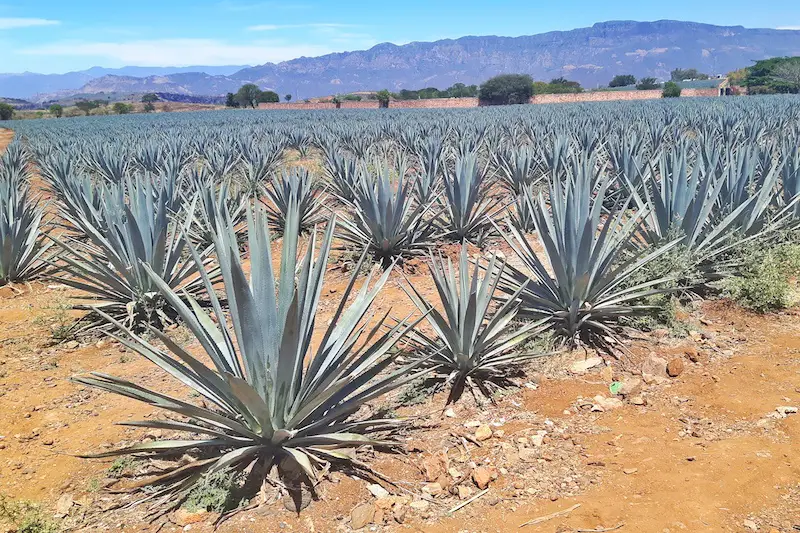 Our experience with a Tequila, Jalisco tour
Every time we visit Terry's parents in Chapala, Mexico we talk about making a day trip to Tequila.  Many of their friends make regular trips to stock their liquor cabinets but we've never made the journey.  This time I vowed it would be different.
We hopped in the car one morning and took the new toll road that bypasses Guadalajara.  It was a beautiful sunny day and the scenery isn't breathtaking but picturesque just the same.  About an hour later we arrived in town although it took a bit of circling to find parking.  Pueblo Magicos aren't great for this as they generally have narrow, cobblestone streets in the centre.
The buildings are historical, colourful and filled with small stores and drink stands.  Looking online ahead of time, it appeared that only the expensive tours were available to pre-book.  Instead, we showed up in town to see what kind of deals were on offer.  No sooner had we parked people were offering us tours.  We politely declined them all as we headed to the main square.
Finally, we settled on a tour from someone with an official badge and no hard-sell.  We opted for the tequila tour in Spanish that was leaving within the next 15 minutes rather than wait an hour or so for the English version.  We had recently taken a Spanish tour in Peru and understood every word so our confidence was high!
Tip: ask plenty of questions to ensure your tour will cover the important things to you.  I was mostly interested in the agave fields and not all tours include these.
The Tequila Tour
Our ride showed up, an honest-to-goodness giant tequila barrel, and we climbed in with our pre-purchased favourite Mexican snacks.  
Side note: do not leave Mexico before you buy home-made potato chips with lime, salt and Valentina hot sauce and consumed a few tubs of fresh cut fruits (preferably with lime and chili). 
The first part of our tour took us around town and then out to the agave fields on the edge of town.  Our guide spoke clearly and, as it was just the two of us, was happy to repeat himself if necessary or answer our questions.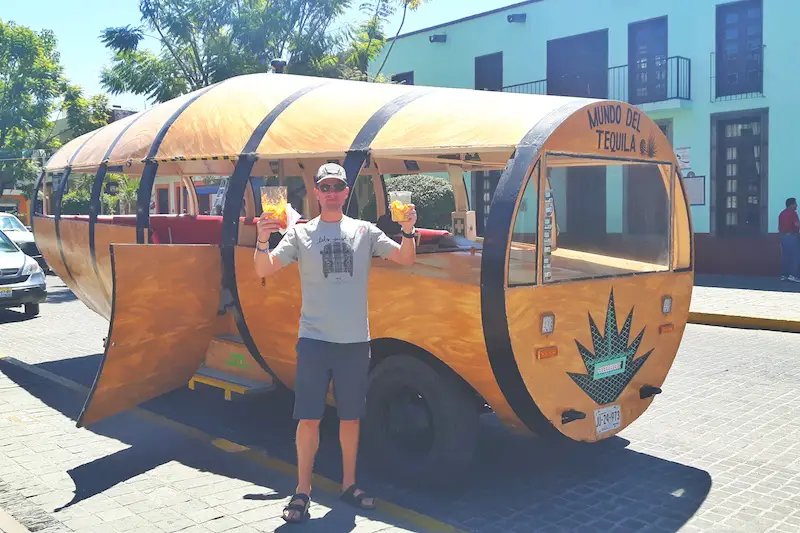 From here, our barrel drove us through town to the old washing station, los lavaderos.  The next stop was a tequila distillery.  We had chosen a tour that included one of the more historical, smaller companies, Orendaín.  Unfortunately, from here it kind of fell apart for us.
At this point, we were combined with a larger group as everyone has to use the distillery's own tour guides.  Our guy was a pretty fast talker and unfortunately, they use a rather bad quality sound system.  We picked up the odd word and phrase here and there but it didn't take us long to switch off. 
We did feel better when a group of college friends in our group told us that they weren't understanding everything either.  They were all native Spanish speakers.  A little bit of redemption, but it didn't help us learn anything about the tequila process.
Our one big takeaway?  How to drink tequila properly.
Take a deep breath in and hold it.
Take a drink.
Swallow the liquid then breathe all the air out.
This blows the alcohol fumes away from you and takes out the burn.  Try it, you'll thank us!
During the tour, everyone is invited to test three levels of tequila quality.  This includes one that hasn't completed the process and is far stronger than anything legally sold (and honestly, why would anyone want to buy it?). 
In the end, we arrived in the tasting room/store and were presented with about 7 or 8 options and an unlimited amount of tastes.  Somehow we had become part of the college group and found ourselves joining in on a few too many tequila rounds.
Not long after, our 'barrel' drove us back to the main plaza, this time transformed into a party bus, and we re-joined Terry's parents.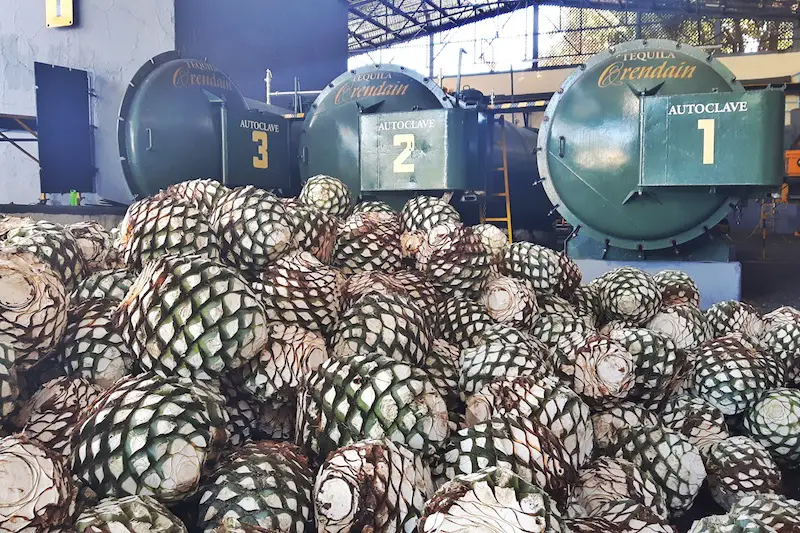 What to do in Tequila, Jalisco (besides tequila tasting tours)
The town of Tequila is actually a lovely place for a wander and the main plaza is a great spot to people watch.  Take a stroll around the cute little streets and enjoy the relaxed pace of life.  There are also a number of decent looking restaurants around the plaza serving traditional food at decent prices.
One of our all-time favourite drinks, when we visit Terry's parents in Chapala, is an almond tequila that they get from a friend.  It turns out it is not actually tequila but that doesn't mean it's any less delicious. 
We decided to hunt it down ourselves while we were in town and found it in a small distillery between the plaza and public laundry station.  Most distilleries have a shop that doesn't require joining a tour.  Seriously, buy the almond liqueur.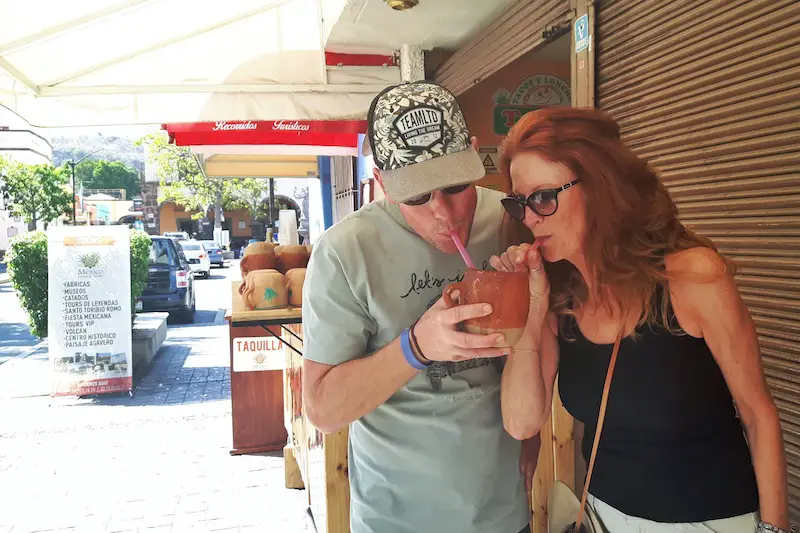 Before leaving the town of Tequila, we just had to try a cantarito.  This drink is sold all over town and comes in a clay mug that you get to keep as a bonus souvenir.  It's made of tequila (surprise, surprise), lime and fruit juices.  It is strong and delicious.  Just the thing on a super hot day in Mexico!
Another popular stop is the National Museum of Tequila.  Opened in 2000, it's an excellent place to learn more about the history, culture and production of tequila.  We're not really 'museum people' so we haven't actually visited the museum and, therefore, can't recommend it one way or the other.
We would really appreciate a share if you found this post helpful!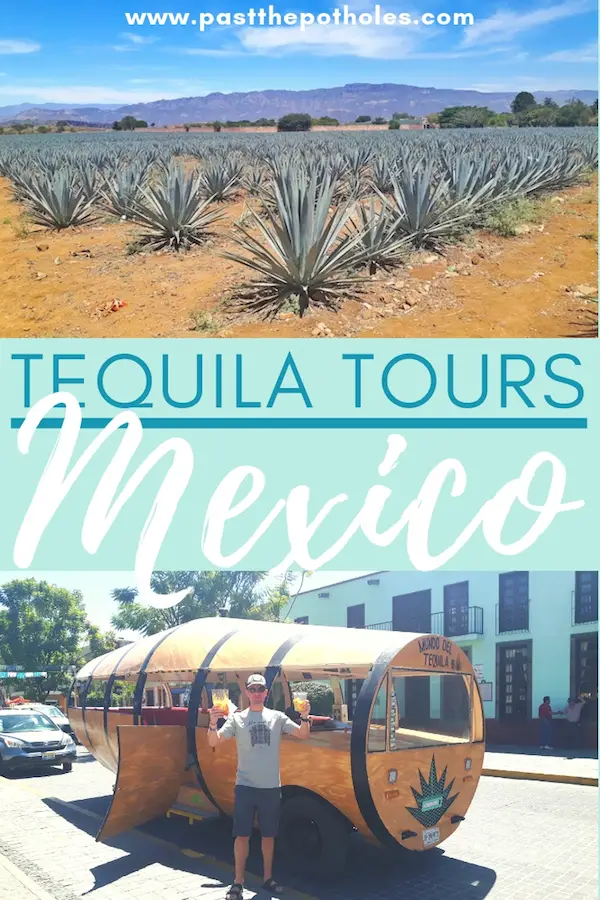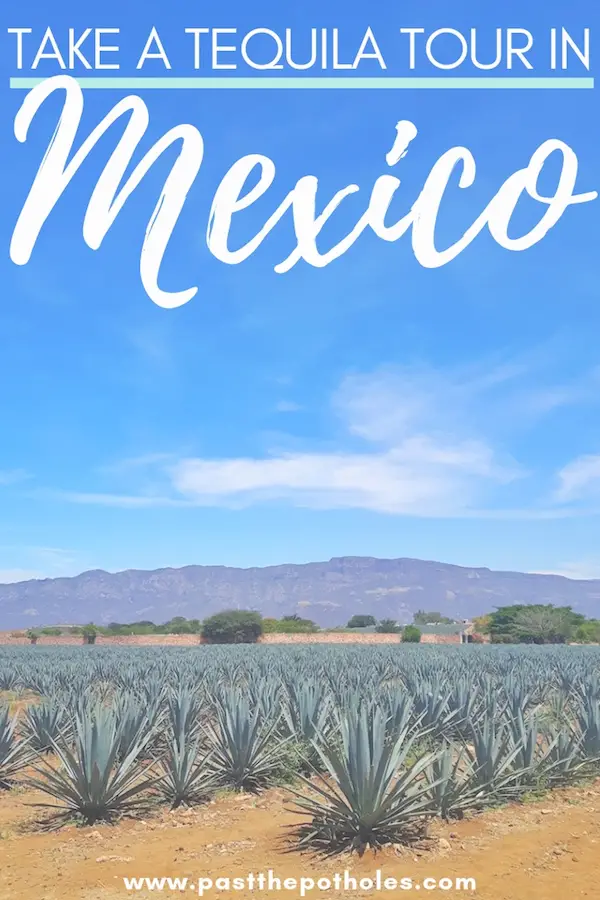 Find all our Mexico posts here.
Get more travel inspiration here.
---