The 15 Best Things to do in Holbox, Mexico ( + complete guide)
Some links in this post may be affiliate links. If you click on them we may make a commission from qualifying purchases at absolutely no cost to you.  Read our full Disclosure Policy here.
Honestly, we didn't fall totally and completely in love with Isla Holbox.  That's not to say we hated it, but a few things conspired to just rub us the wrong way a little.  Having said that, I really want to go back to try again.  I'm positive if we did it over, just a little differently, we would have an amazing time.  
This Isla Holbox guide will help you avoid our mistakes to ensure your trip will leave you feeling nothing but relaxed and smiling like a fool.  There are so many amazing things to do in Holbox so we'll give you some ideas there too!
Isla Holbox Guide
Welcome to our ultimate Holbox guide chock full of travel tips for Isla Holbox.  Learn everything you need to know to plan an unforgettable vacation in Mexico.  Visit Isla Holbox and more with our 2 week Yucatan itinerary.
Isla Holbox Expectations – is it really a secret island paradise?
---
As we planned our Yucatan road trip itinerary, I read many accounts of 'Mexico's Secret Island Paradise'.  While it is damn close to an island paradise, it is so far from a secret that's laughable.  Isla Holbox has well and truly reached the tourist map!  
From the moment we arrived, we were surrounded by travellers.  People are everywhere – walking, eating, drinking, riding golf carts, riding bikes.  
The island is bustling and so much unchecked construction was happening the government had to put a moratorium on the building.  The sewage, electrical and water systems are all struggling to keep up with the recent boom.
I suppose, relative to other places in the Yucatan Peninsula such as Cancun and Isla Mujeres, Holbox is less developed.  Walking on sandy streets certainly adds to the tropical paradise feel!
I think our expectations were so high from everything we had read and heard that we were immediately put off by the place.  Once we had settled in and explored, we were able to see many more positives about the island.  
With better-managed expectations, Isla Holbox really can be an island paradise – just don't expect it to be a secret!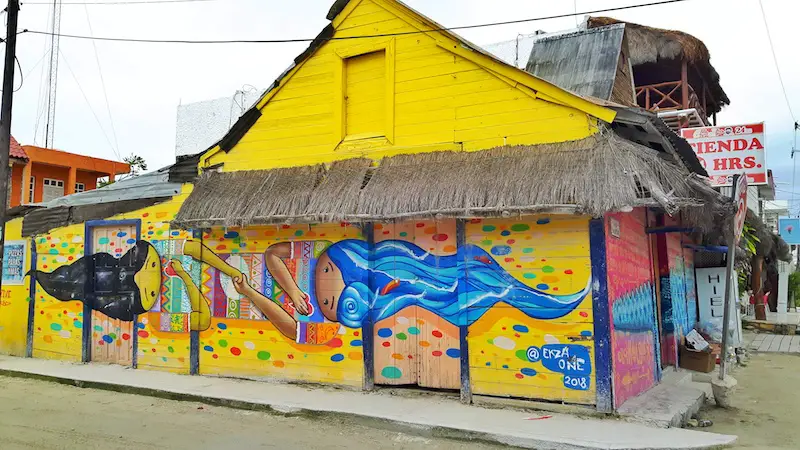 How to get to Isla Holbox
---
Ferries run frequently between Chiquilá on the mainland and Isla Holbox.  There are two companies running hourly departures, so every 30 minutes a ferry is departing from both Chiquilá and Holbox.  The first ferry leaves at 6 am and the last departure to Isla Holbox 9:40 pm.  Both companies cost $150 pesos (approximately $8).
The cheapest way to get to Chiquilá is by public bus.  ADO runs daily services from Cancún, Playa del Carmen, Valladolid and Mérida.  There is also a direct service to and from Cancún airport.  Prices start at $175 pesos ($9) to Cancún. 
If you'd prefer a private or shared shuttle (or your flight times don't match the public bus schedule) there are many companies running this route.  This company runs a shared shuttle leaving terminal 2 at four set times per day for just $40.  Check it out now.
Once you arrive on Holbox Island, it is an easy walk into town taking less than 10 minutes.  Just follow the road straight out of the ferry port and it will take you straight to the town square.  If you prefer not to walk with your luggage there is a line of golf cart taxis waiting to take the ferry passengers to their hotels for just a couple of dollars.
Where to Stay in Isla Holbox
---
I truly believe where you choose to stay is the most important factor in how much you will enjoy your time in Mexico's 'island paradise'.
We decided to 'treat' ourselves by booking a cheap beachfront option.  Our 'beachfront' hotel was behind a road, a massage hut and fishing boats so while there was no view, the beach was just a few steps away.  Our mistake was choosing something that was neither budget nor luxury. 
The room smelled of sewage every day and we had no hot water.  To say this place was basic would be an understatement.  Had this been a cheap, budget hotel we would have no problem with this.  The issue was that we were paying beachfront prices and weren't really getting that.
The best part?  It is sandwiched between the island's two nightclubs.  While the campground next door plays techno music 7 days a week until around 3 am, the other turns the speakers on at 1 am and lasts until 6 am on the weekends! 
As you can imagine, we were not waking up bright-eyed and bushy-tailed, ready to conquer the day.  Us, along with the other guests we met, have never been so happy for a Saturday night storm to put a damper on the party.
Our accommodation alone made a huge difference in how much we enjoyed Isla Holbox.  So where should you stay in Holbox?  My best recommendation would be to either go budget and stay a few blocks from the beach or splurge on a nicer beachfront hotel.
Budget Accommodations in Holbox
Are you travelling on a budget?  Are you more interested in meeting people and partying?  If that sounds like you then your best option is to be ready to walk a few blocks to get to the beach.  Nowhere is a particularly long walk in Holbox Island and there is plenty of activity around the main plaza.
Golden Paradise Hostel is an excellent choice with private rooms, shared kitchen facilities and great outdoor areas with hammocks and loungers.  Guests really love the peaceful 'jungle' feel, the low prices and the cleanliness.  Book now!
Beachfront Isla Holbox Hotels
If you want to be on the beach (that's kind of the point of an island right?) then I cannot suggest strongly enough you put up a little extra cash for somewhere with its own designated sun lounger area. 
The vast majority of the beaches in Isla Holbox are sectioned off for the hotels and beach clubs.  If you're not staying in one of them, you will have to walk a fair bit to find a spot to relax that isn't in the seaweed.  Keep in mind, no matter where you stay in Holbox prices are higher than mainland Mexico so be prepared to get less than you'd expect for whatever price point you choose.
The nicest hotels and resorts are just outside of town to the east but these are pricey.  This is also by far the nicest stretch of beach with miles of sandbars and crystal clear waters.  If you are coming to Isla Holbox to kitesurf, this is also the area where kites are permitted.
Hotel Villas Tiburon is the best value in one of the best locations in Isla Holbox.  The furthest from town, it is opposite the sand bars where the water is definitely the prettiest.  The rooftop bar and hammocks are a great place to hang out during the day.  Be prepared for a long walk into town, renting bikes or golf carts, taking taxis or eating at the hotel restaurant. Check reviews now!
In town and to the west, there are some more reasonably beachfront priced hotels.  These are much more conveniently located for walking into town.
Hotel Casa Takywara is an excellent choice to be beachfront between town and Punta Cocos with beautifully designed rooms and excellent reviews.  A breakfast basket is delivered to your room each morning – easy to carry for breakfast on the beach!
Hotel Puerto Holbox is the best value for beachfront just a short walk to town.  The rooms are set in nice gardens and there is a pool for guests and included breakfast.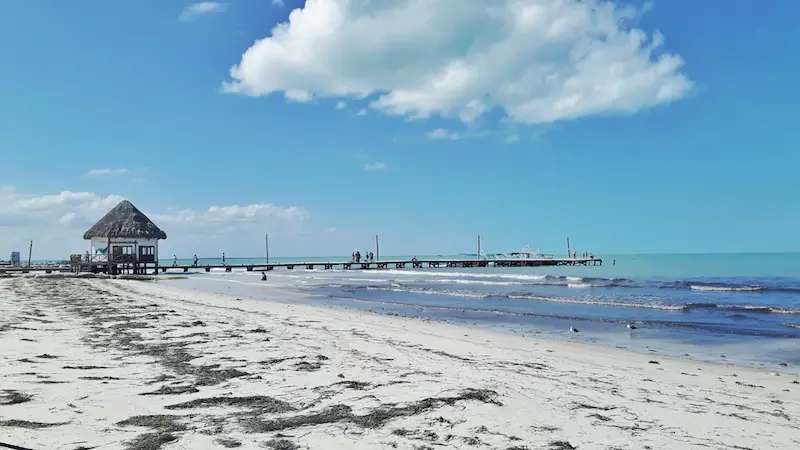 Getting Money in Isla Holbox
---
There is one ATM in Isla Holbox that dispenses Pesos and a few dotted around for US Dollars.  However, the likelihood of them working is slim to none.  Bring as much money as you think you'll need with you to Isla Holbox.  Check in advance if your accommodation accepts credit cards.  While it is mostly a cash island, the more expensive stores and restaurants will accept credit.
To be honest, even if the machines are working you should consider leaving that money for the locals who don't have any other ways to access cash.  During our stay, the hotel bartender was excited to be going on vacation to Playa del Carmen. 
When he showed up for breakfast the next day I asked him what happened.  He said that he was unable to get any money out of his bank account so he couldn't pay for the ferry and bus to leave the island!  Apparently, this is a huge problem for locals who often get paid by direct deposit but then can't access the cash.
Our best advice:  Just bring cash.
The Top Things to do in Holbox
Honestly, one of the best things to do in Isla Holbox is absolutely nothing.  Grab a book and head to the beach.  Find a lounger, hammock or just a piece of sand and relax!
For when that gets boring, try any of these Holbox activities.
Swim with whale sharks on Isla Holbox
Every year thousands of tourists descend upon Isla Holbox to swim with whale sharks.  Unfortunately, these migratory creatures are found from June to mid-September so our December visit didn't allow for us to do this.  If your trip coincides with whale shark season, this is an absolute must-do activity in Isla Holbox.
Learn to Kitesurf in shallow, clear waters
This would be the perfect place to learn how to kitesurf.  The kite beach is blessed with sand bars that create calm, shallow waters for a huge distance.  The fact that the climate and water are tropical makes it that much better.  It's not quite as cheap as kiteboarding in Progreso, but it is definitely much prettier.
If you're already a kiter, there are rental shops in town that will get you kitted out in no time.
Walk to Punta Mosquito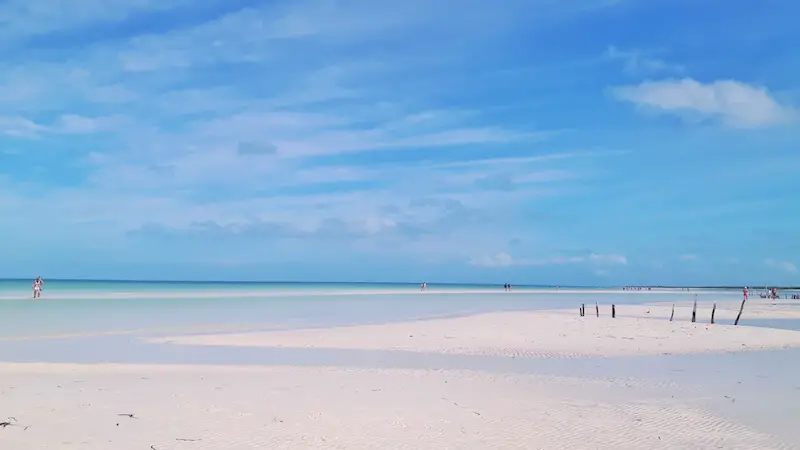 From the main beach, turn right and continue as far as possible.  The road ends and you will need to wade through the sand bars to get all the way to the point.  Obviously, there is no shade but the water is refreshing and the views are outstanding. 
We saw some starfish and a live conch too so keep your eyes peeled!  Nearing the end, you will come across a sign marking the start of the protected area and a marked increase in birdlife.
Continuing far around the point ultimately comes to a huge horseshoe-shaped bay.  When we visited the seaweed was so bad that it wasn't particularly appealing and felt we could have happily stopped at the point and not missed anything. 
Seriously, we had to wade through the stinkiest, squelchiest seaweed that was up to my knees.  One of the more disgusting experiences that come to mind.   At least until the return journey.
If the seaweed has moved on by your visit, by all means, continue on but take plenty of water and leave early.  This was a loooong day.
Kayak tour in the Mangroves
Isla Holbox is actually located within the Yum Balam Nature Reserve and as such, is a great place for all things nature.  Take a half-day kayak tour through the mangroves and spot loads of birds and possibly even some crocodiles.  This area is also known for a large flamingo population so that's always a possibility too. Book this guided sunrise kayak tour through the mangroves now.
Take a snorkelling tour to Cabo Catoche
Cabo Catoche is where the Caribbean Sea and the Atlantic Ocean meet, making it full of diverse sea life and a great place to snorkel.  Aside from the usual fish, you might see nurse sharks, turtles, octopi and lobsters. 
Tours here include not only snorkelling but also some time fishing, exploring the mangroves and lunch.  As always tours can be booked in the town plaza but if you prefer to have it already booked and paid in advance check out this tour.
Walk to Punta Cocos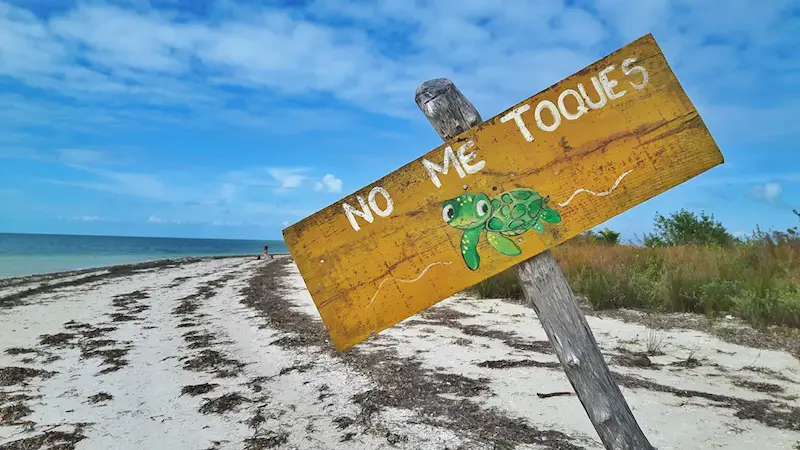 In the opposite direction from Punta Mosquito, but much closer is Punta Cocos.  There is one small beach bar but nothing else except for empty sand and shallow waters.  This section of the island is also a turtle nesting site from May to July, with the babies hatching over the subsequent few months. 
It may be possible to see them if you're lucky, but remember to keep a distance, stay out of their line of sight and absolutely no flashes or bright lights.  No matter what season you visit, relaxing on the beaches of Punta Cocos is an Isla Holbox activity.
Swim in Cenote Yalahau and spot flamingoes at Isla de la Pasión
Only accessible by boat, Cenote Yalahau (often called Yalahau Lagoon) is a popular swimming and snorkelling option.  Generally, a tour here is combined with a visit to Isla Pájaros (Bird Island) and Isla de la Pasion (Passion Island) for some great opportunities to see many birds including pink flamingos, frigates, pelicans and herons. Check out this Holbox half-day tour now.
See the Bioluminescence in Holbox
Wondering what to do in Holbox, Mexico after dark?  To witness the bioluminescence, the sky needs to be as dark as possible.  If you are visiting during a new moon, you're in luck. 
Tours will take groups out on either kayaks or stand-up paddleboards for around 30 minutes through the bioluminescent water then spend an hour at the sandbars before returning.  Check out this tour now.
If you'd prefer to not pay for a tour we met a girl who had gone alone to Punta Cocos on a dark night.  She said she was able to see a little bioluminescence by stirring up the water.
Rent bikes or golf carts and explore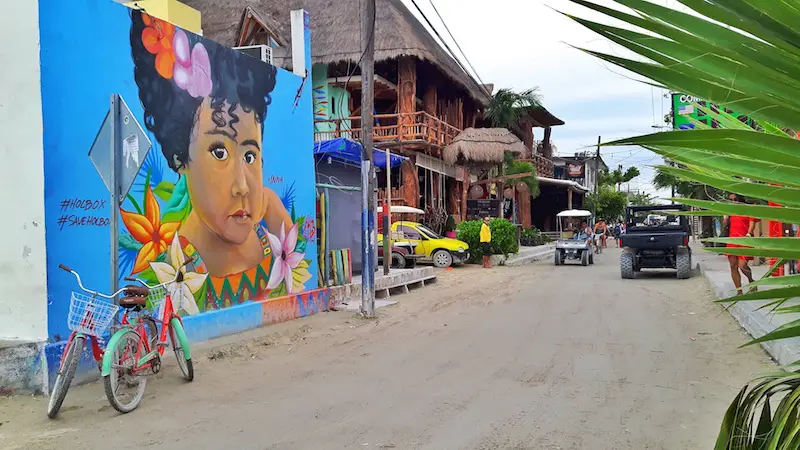 Bikes are probably the best way to get around Isla Holbox.  If you'd rather not work that hard, or you want to go greater distances, golf carts are the only available transportation on Holbox and available for rent. 
Rentals are available all over town and are definitely one of the popular Holbox Island activities.  They will allow you to explore further afield than on foot.
Exercise with the locals
Isla Holbox is a long thin island with almost no motorized vehicles.  This makes it a great place to go for a run.  While the beach is actually not the best for this, especially at high tide, the streets that run parallel to the beach are all sandy.  Run towards Punta Mosquito and the sandy road has an ocean view for most of the way.
There are group workouts happening every day in Isla Holbox.  Boot camp happens in the main plaza and there was Zumba in a building to the north side in the evenings.  If you've spent a little too much time lazing on the beach, eating tacos and marquesitas, this just might be the perfect activity.
Watch the incredible sunsets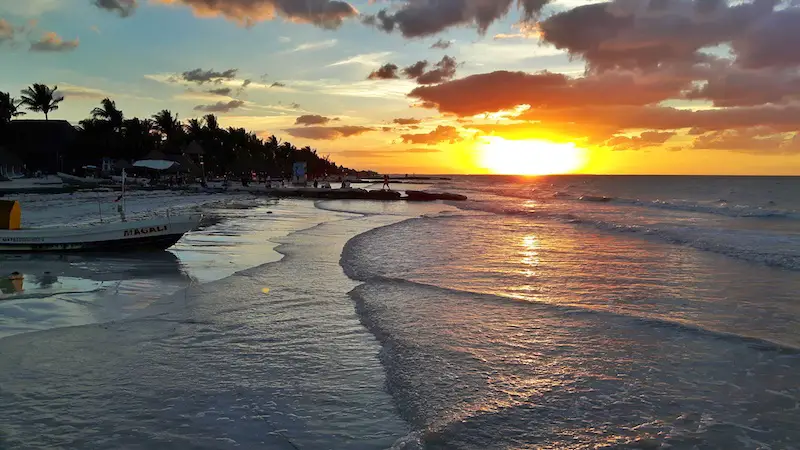 Thanks to the northwest aspect of the main beach in Isla Holbox, there is no shortage of places to watch incredibly colourful sunsets.  The main pier in town fills up each evening as do the few beach bars to the west.  Grab a cold beer from a local convenience store or bar, sit back and enjoy.
Go on a fishing trip with local fishermen
There are plenty of fishing tours available each morning from Isla Holbox.  Fishing is definitely not my cup of tea – my one and only fishing experience had me slightly freaking out when I felt a pull on the line.  I've never been so relieved to see weeds.  However, for many, it's a fun and relaxing activity in Holbox.  Who knows, you might even catch dinner!
Do a self-guided street art tour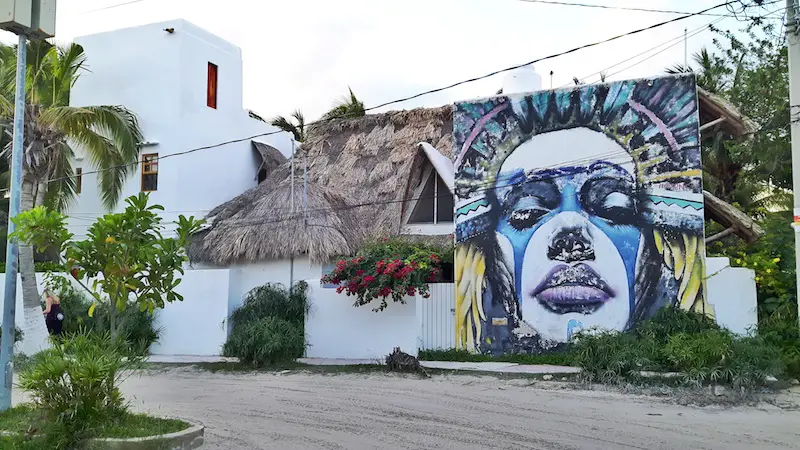 One thing you'll notice almost immediately is the large number of murals around town.  Just about any blank wall has been used as a canvas and you will find colourful works of art at every turn and in the most unsuspecting of places.  Wander the streets surrounding the main plaza, take side streets and even on the beach.  The street art is everywhere!
Eat delicious local food
While many will tell you to try to the local specialty, lobster pizza, we just weren't convinced that we wanted a pizza with a chunk of lobster sitting on top.  Wherever we go in Mexico, tacos al pastor are one of our favourite foods. 
Tacos Queto makes some of the better ones we've had, we may have returned a few nights…  They also make a pastor pizza which is decent and nachos al pastor.  Find them a block north of the main plaza, just down the street from Hot Corner.
We're the furthest thing from foodies, happy to eat peanut butter and jam sandwiches daily to cut down on costs, but we met a Danish couple with a little more class.  On their last night, we joined them for dinner and found ourselves at Luuma, a tapas bar and one of the best Holbox restaurants. 
The atmosphere is wonderful here but the highlight is the menu.  Everything is a modern fusion twist on traditional local dishes and the extensive drinks menu is designed to pair with the food.  This is really a fantastic place for a special evening.
On a side note, I was really happy to see a metal straw in my rather delicious cocktail!
Party at Hot Corner
When the sun sets, Hot Corner is the place to hang out and enjoy a few drinks.  They usually have great live music that will have your toes tapping involuntarily.  Patrons spill out onto the streets and people will dance wherever they can find a space. 
For those wanting to save a few dollars, the convenience store across the street is a good spot to pick up a few beers and join the party streetside.
That about wraps up our Isla Holbox travel guide!  What do you think?  Did we miss anything?  Let us know in the comments below!
Found this post useful?  Pin it so others can find it!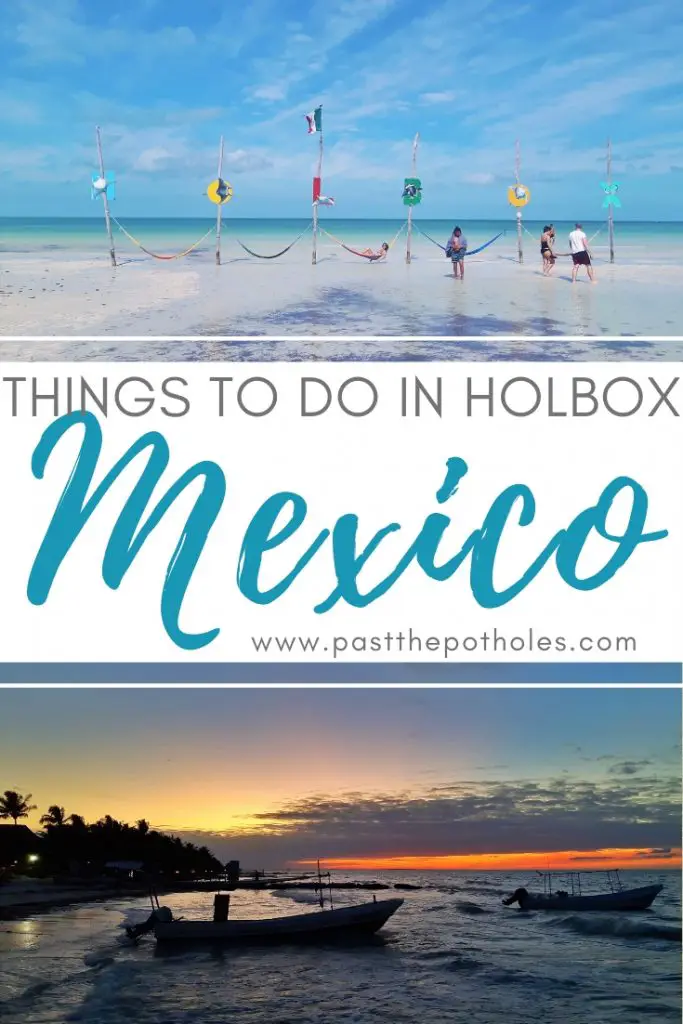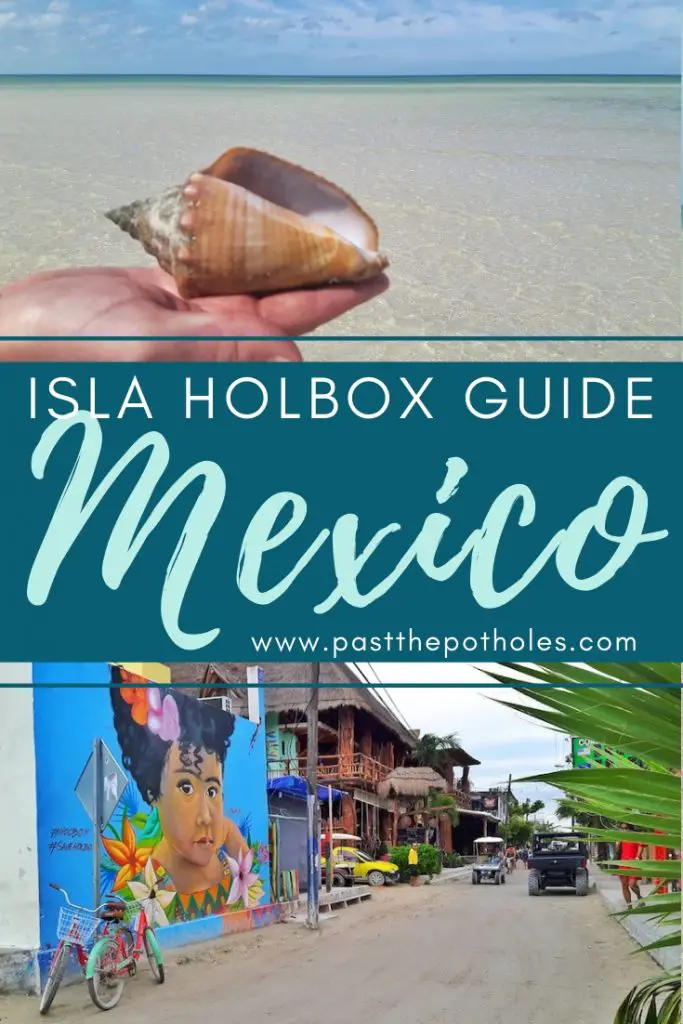 Return to our Destinations page for more travel inspiration!