Hike Paragrant Bay, Trinidad's Prettiest Beach
Some links in this post may be affiliate links. If you click on them we may make a commission from qualifying purchases at absolutely no cost to you.  Read our full Disclosure Policy here.
I had wanted to hike Paragrant Bay (also called Paragon Bay) for quite some time.  A number of people had talked about it being their favourite hike, even saying it is the best beach in Trinidad!  Having finally had the opportunity to hike to Paragrant Bay, I can say it is definitely worth the hype (although everybody failed to mention how challenging it is)!
[btn text="Click here for 70 Awesome Things to do in Trinidad!" tcolor=#FFF bcolor=#1998b5 thovercolor=#444 bhovercolor=#bbede7 link="https://pastthepotholes.com/70-awesome-things-do-trinidad" target="_self"]
How to Hike Paragrant Bay
In addition to being one of the most scenic hiking trails in Trinidad, it is also very accessible.  To do this hike, drive the North Coast Road as if you are heading to Maracas.  Turn onto Fond Pois Doux Road, it does have a sign although it looks more like a near vertical driveway on the left hand side at a bend.  Use this interactive map to find your route.
[mappress mapid="4″]
Park at the North Deck, an events spot that has ridiculously amazing views (they now open for coffee on some mornings).  You will find a small road just to the right.  Take this road basically all the way to the beach.  It's pretty steep and the concrete is a bit slippery in spots due to moss but if you go carefully there won't be any problems.  Throughout the walk down, amazing views of the north coast greet you in different spots.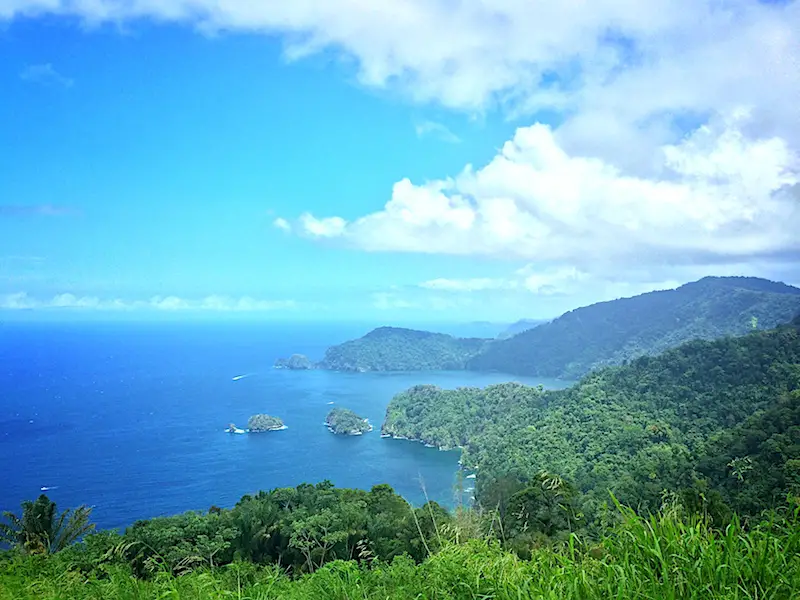 You could drive down this road all the way to the bottom if you were planning on bringing in a lot of food and beach stuff although you would definitely need a 4×4!  Apparently there is spot for camping that can be rented.  Contact The North Deck for information.
The beach is stunning.  I have done this hike twice and both times it was completely deserted.  There is a cute little driftwood swing that was just made for photos!  It's also the perfect shaded spot for a snack. Stay as long as you feel like until you are ready to begin the ascent…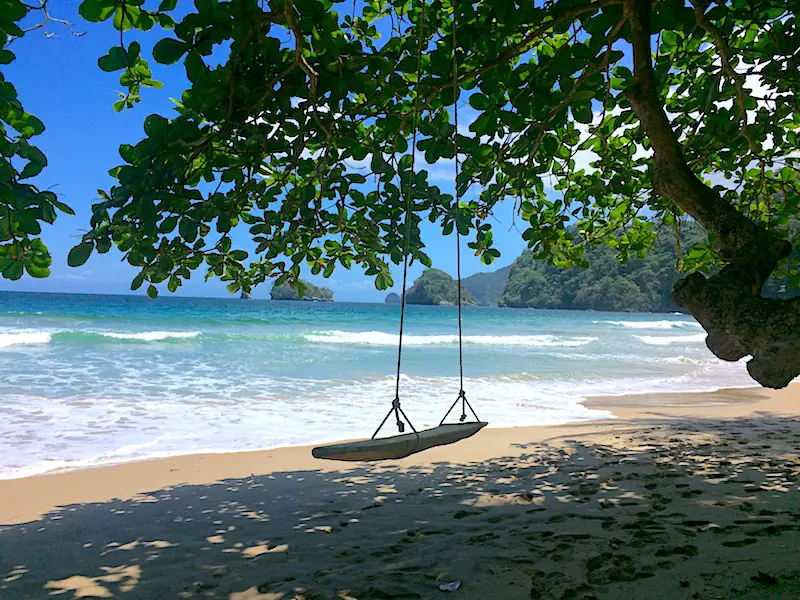 Walk to the far west end of the beach where there is a little freshwater stream coming in from the mountains.  Cross this and follow a small path that will take you up into the forest.  This is one of the more challenging hiking trails in Trinidad.  It's steep and a little tricky in spots but the trees provide good cover and every so often you can stop for another view and to catch your breath!
---
---
After a while, the trail comes out onto a road.  Take the opportunity of the opening to have a rest and a snack.  Trust me, you are going to need the energy!  The road is very steep and just keeps going and going, and going…  The view all along is unbeatable and helps you forget just how tired your legs are.  Warning: there is little to no cover from the sun along this stretch so take your time and drink plenty of water.  You may also want to time leaving the beach with a cooler part of the day.
As you reach the ridge, the view of the Caribbean behind you is suddenly traded for a view right across the breathtaking Paramin hills to Port of Spain and the Gulf of Paria.  It's incredible to think that you can literally see from one coast to the other!  Continue along the road, pass a small group of houses, and you will be back at the cars.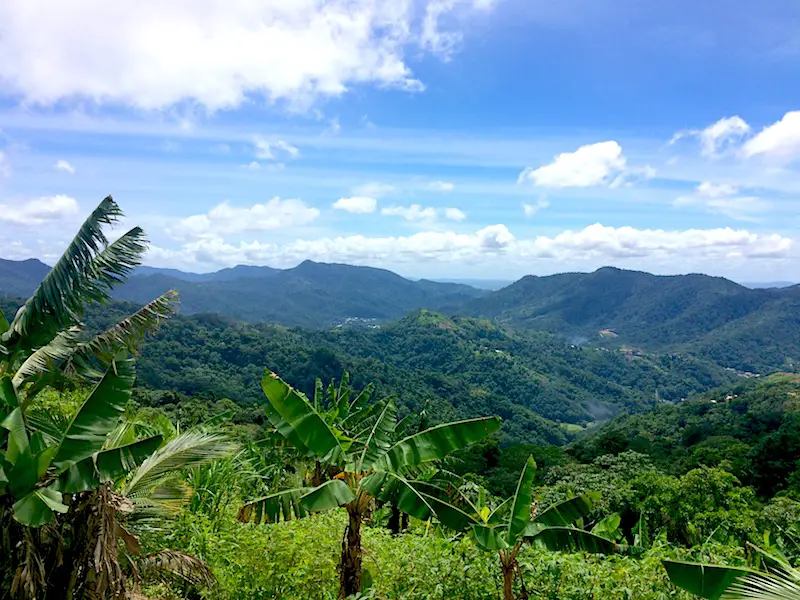 What to Expect when Hiking Paragrant Bay
We left around 8am and got back to the cars shortly before noon, having stopped on the beach for perhaps half an hour or so.  The total distance when hiking Paragrant Bay as a loop is about 8 or 9 km with the return being a longer route than the way down.  You could of course head straight back up the road you came down initially.  The climb would still be very steep but shorter and more shaded.
I most definitely recommend this hike, but you do need to have a decent level of fitness to take this one on.  A hat, sunscreen, bug repellent and lots of water are a must!  Like all hikes in Trinidad, it is very hot and humid so light, quick dry shorts and t-shirts should be worn along with comfortable shoes that provide support.  Leaving more water and a change of clothes in the car is a great ideas as you are sure to arrive back sweaty and thirsty!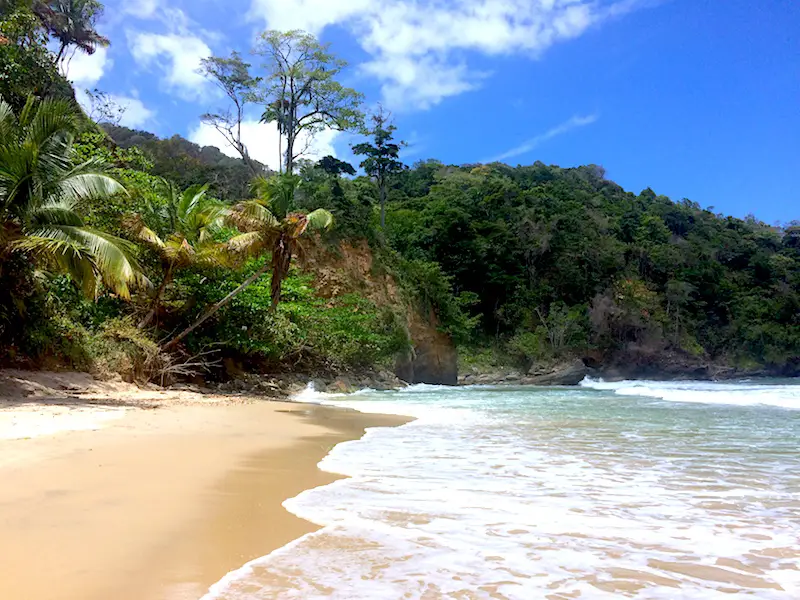 You should not consider completing this hike alone (never smart for hiking anyway).  If you are not an experienced hiker a guide would also be a good idea, although not necessary.  The tricky part is finding the start of the trail leaving the beach but with a short search that shouldn't pose too big a problem.  Remember, you can always return the way you came if you are unsure.
---
---
Like this post, pin it for others to find!
[columns] [span6]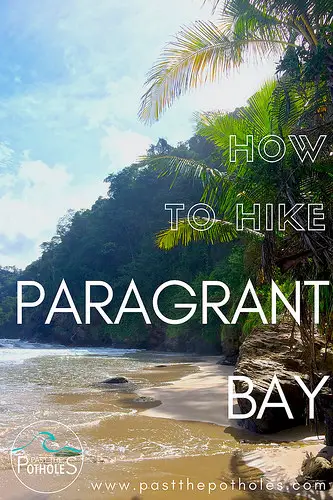 [/span6][span6]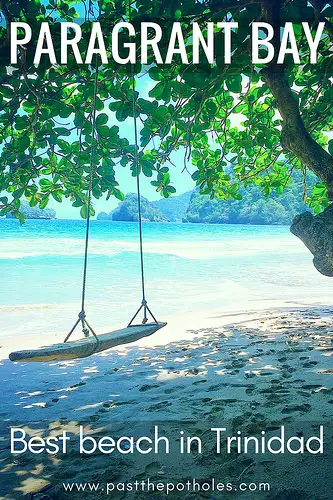 [/span6][/columns]
Have you had an opportunity to hike Paragrant Bay?  What did you think?  Where is your favourite hike?  Have you discovered some hidden beaches?  Let us know in the comments below!
See all our Trinidad posts here!
Discover more Destinations now!