Hiking Avocat Waterfall and Three Pools
Some links in this post may be affiliate links. If you click on them we may make a commission from qualifying purchases at absolutely no cost to you.  Read our full Disclosure Policy here.
Jungle, river and waterfalls all in one hike?  And it's not full of groups of tourists?  It really does exist in Trinidad!
We had a friend visit from Canada and so we organized this hike to Avocat Waterfall.  I'd been wanting to hike to Avocat Waterfall since a local friend at the squash club first told me about it, calling it his favourite waterfall in Trinidad.  Terry had been to Three Pools with his grade 10 Physical Education class already so combining the two was the perfect opportunity for me to get there too.
This has to be one of my favourite hikes in Trinidad.  It was amazing!
How to Hike to Avocat Waterfall and Three Pools
To get there, head along the North Coast Road, past Maracas and all the way to the spring bridge in Blanchisseusse.  It's a rather large, bright structure that you cannot miss on a random stretch of perfectly paved road after a long, bumpy drive.  Park off to the side just before crossing the bridge.  Follow the opening to your right into the forest.  After a short walk, you reach the river and find water so calm and clear that it is hard to see where the trees end and their reflections begin.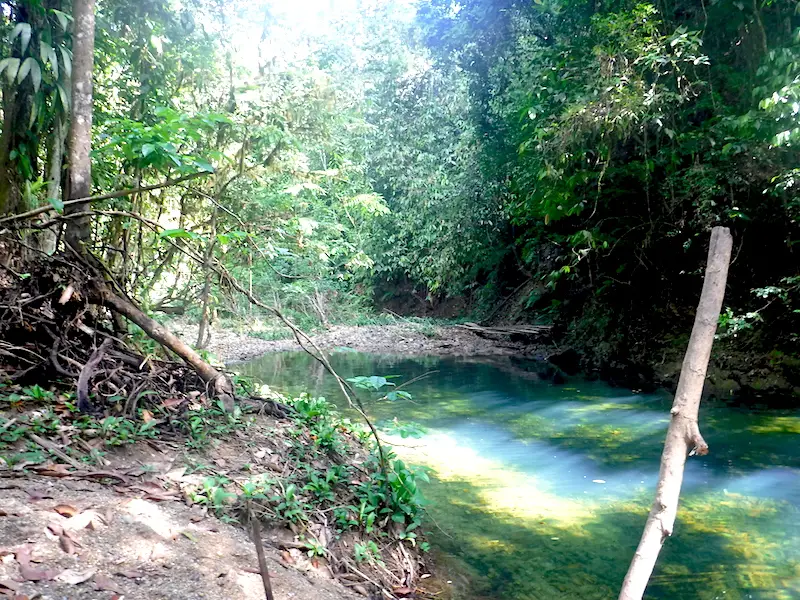 Avocat Waterfall
Follow the path to the right of the pool and head up a short embankment.  Just a couple of steps after beginning the incline, you have a choice to follow the water to your left (this path is pretty flat) and will take you straight to Three Pools, or head up the slope to your right to Avocat Waterfall.  Go right!  Keep your eyes open for the path on the right.  It is easy to see when you look for it, but likely you will have your head down watching your footing and naturally follow the wider path to the left.
The path Avocat waterfall is quite steep for perhaps forty minutes with no relief from the incline.  Eventually, it levels, crosses a shallow stream and over the bank on the far side.  You will now be at a wider and deeper river.  To get to the waterfall you need to swim to the path straight across.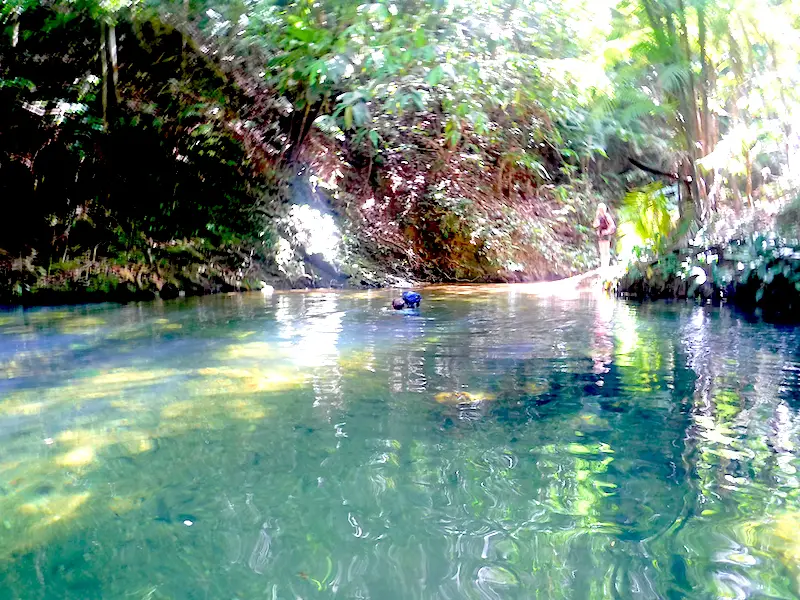 Get out and walk a little upstream to your right and you will be rewarded with an amazing view of Avocat Falls.
There is a path to the right that will take you up to the top of the falls but this is for the more capable and probably only when it's dry.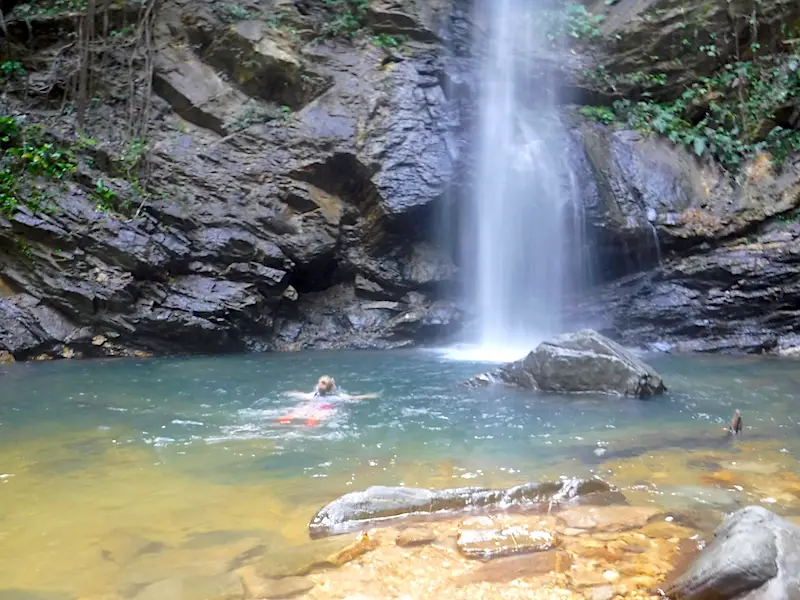 ---
Three Pools
When you've had your fill of the view, swimming in the spray, and perhaps a snack, turn around and head back to the point where you had to swim across the river.  This time, however, get back in the water and swim downstream.
The rest of the hike now follows the river until you reach Three Pools.  At times you will be swimming, other times wading, sometimes walking on paths.  It really is a hike that could never be described as boring.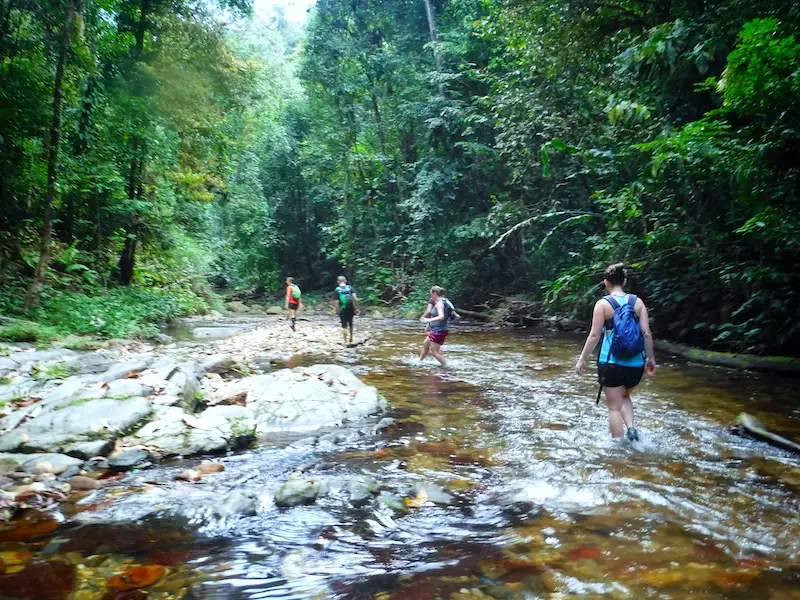 Eventually, you will reach the Three Pools.  There are some interesting rock formations and small waterfalls. You can climb up the large rock in the first pool and jump off if you dare!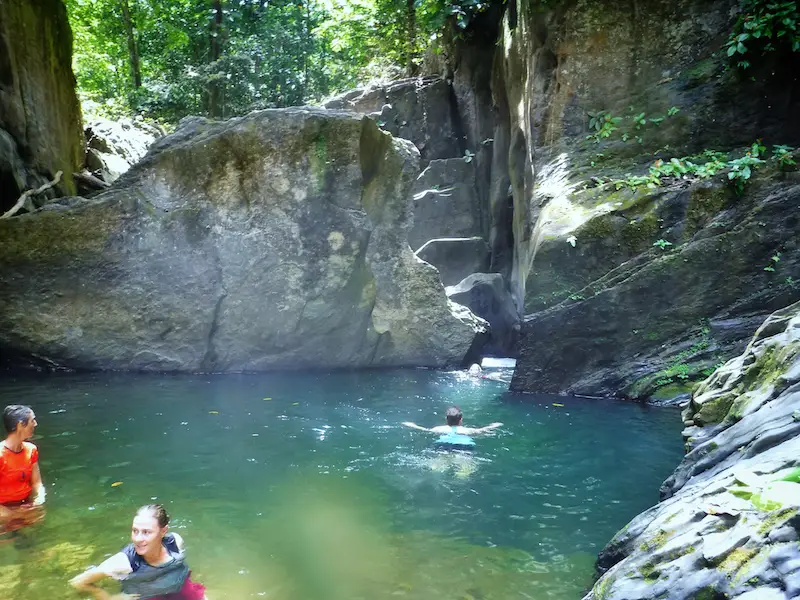 To get to the second pool, you will need to go over a small waterfall.  Sit on the rock before sliding off and keep your feet out in front of you.  Luckily it is smooth but there is a hidden rock a couple of metres ahead that the current will push you towards.
Follow the water and paths downstream and you will soon come out at the same junction shortly after you began. Head to the right and follow the path until you reach your car.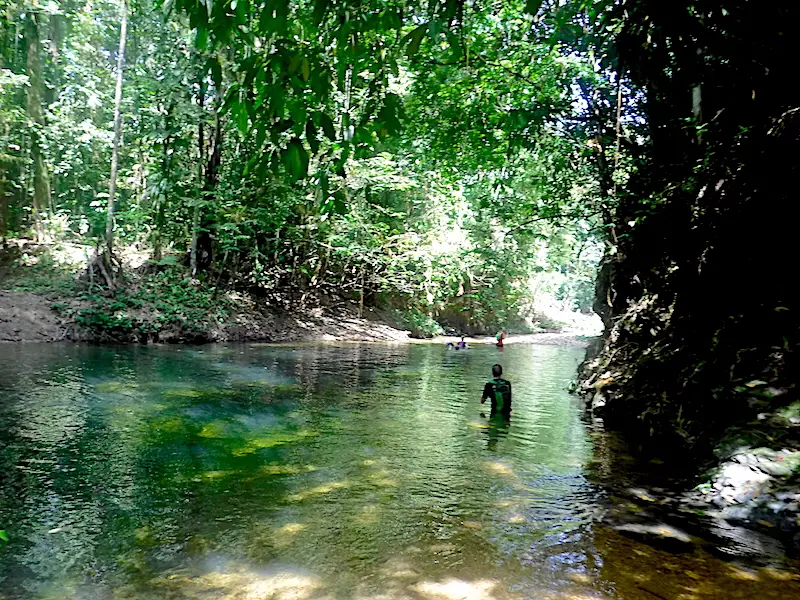 TIPS for Hiking Avocat Waterfall, Trinidad
Don't go alone.  We never had any problems on any hike in Trinidad and only met wonderfully friendly people, but robberies do happen and safety is in numbers.
Start early.  Mornings tend to be sunnier but clouds and rain can arrive later in the day.
Wear waterproof shoes like my Keen hiking sandals.  These provide enough support for this hike and dry so much quicker than hiking shoes.
Make sure you fully waterproof everything you bring, or hide it in the car!  There is zero chance of staying dry when you hike Avocat Waterfall!!  I put everything in my Outdoor Research Dry Bag from MEC and carried my FujiFilm waterproof camera.
Bring a change of clothes to leave in the car.  It's a long and soggy ride back into town if you don't.
Relax at Hundred Steps Beach in La Fillette after your hike.  It is a beautiful spot to rinse off and rest after your hike and you will have it to yourselves.
Stop in Maracas for some Bake and Shark – you've earned it!
Have you hiked Avocat Waterfall and Three Pools?  Do you have a favourite hike in Trinidad?  Let us know in the comments below!
Want to save this post for later?  Pin it!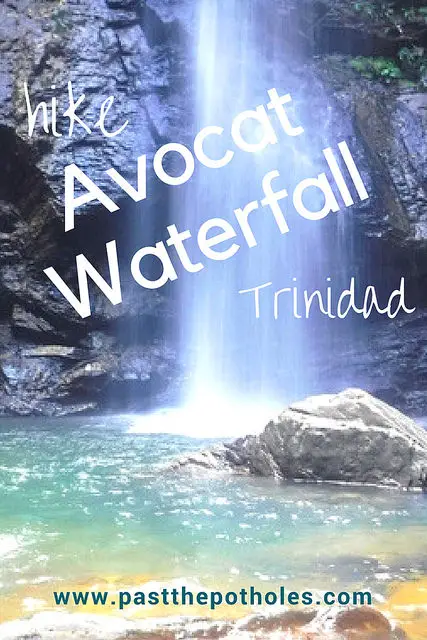 Return to our Destinations page for more information!