The Ultimate Guide to the Best Beaches in Trinidad and Tobago
Some links in this post may be affiliate links. If you click on them we may make a commission from qualifying purchases at absolutely no cost to you.  Read our full Disclosure Policy here.
Are you thinking of taking a trip to the Caribbean?  Dreaming of a relaxing vacation with warm water and cold drinks on beautiful beaches?  Trinidad and Tobago probably aren't the first islands you think of when planning a beach trip but they have some amazing beaches.  There are too many to name but we will give you the rundown on our top picks for best beaches in Trinidad and Tobago.
---
---
If you've already planned a trip to one of these islands the chances are you're looking for some adventure and nature, not just sitting around in the sun.  However, when you've finished that hike to Avocat Waterfall or Turure Watersteps, what better way to recover than with a refreshing dip in the ocean.  We can help you find the best beach to relax.
The Best Beaches in Trinidad and Tobago
Each island has its own charm and character and the climate in Trinidad and Tobago is perfect for the beach year round.
Tobago is the 'relaxing' tourist side of the twin-island nation.  This is typically where people go to relax at the beach and experience the more typical 'island life'.
Trinidad is the 'business' island with bustling Port of Spain but it also has a lot of cultural places to visit and more than its fair share of beaches.
Whichever island you are visiting, Trinidad and Tobago beaches have the perfect spot for you!  This is our list of favourite beaches for various activities.  For a more complete list of all beaches in Trinidad and Tobago, check out this post.
The 10 Best Beaches in Trinidad
Find some of these beaches mentioned in our one week Trinidad itinerary and two week Trinidad itinerary posts here.
In no particular order:
[mappress mapid="9″]
1. Maracas Beach, Trinidad – the best beach in Trinidad for fun and convenience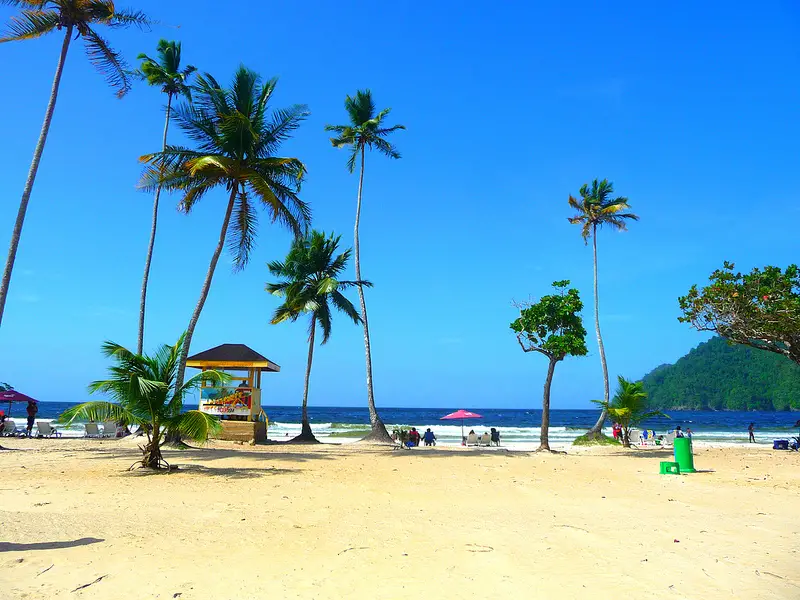 Maracas Beach is undoubtedly the most popular of the beaches of Trinidad.  Found in Maracas Bay, Trinidad it is the closest beach to the capital Port of Spain and is also incredibly pretty so you will never find this one deserted.  There are restaurants (you have to try the signature shark and bake!), toilets and umbrellas and chairs for rent.  If you are looking for something a little quieter Tyrico Bay is just at the end of Maracas Bay so it is easy to make use of the same facilities.
As the most convenient option, it also gets the busiest on weekends when many locals flock to the beach.  However, it is huge and never gets overcrowded.  We've visited on some of the busiest days of the year and never felt it was too busy.  Trinis love to lime (or hang out) and always pack a full cooler and speaker.  It makes for the best atmosphere for a fun beach experience and a real glimpse at the social life in Trinidad and Tobago.  It's also your best choice if your time is limited in Trinidad.  Maracas Beach is just 45 minutes from the city.
2. Las Cuevas Beach in Trinidad – best beach for family fun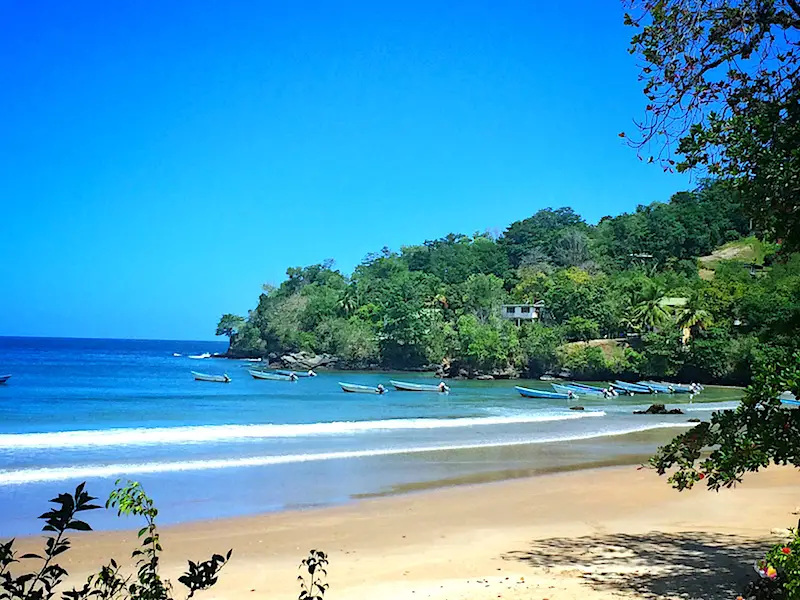 The next large bay after Maracas Bay, Trinidad is Las Cuevas, probably my favourite of all Trinidad beaches.  Continue along the north coast road just 7km further and you will come across this gorgeous sweeping bay.  The beach gets its name from the rocky cliffs along part of its edge.  These make for some great exploring for the kids but also provide plenty of much-needed shade.
Facilities are also available at this beach and there is one restaurant/bar.  Some chairs are available for rent at the entrance to the beach but not further along.  Walk further along the beach and any people you might encounter here will be gone.  There is even occasionally a decent beginner surf break at the far end of the beach!  It's also a great beach for games as there are large expanses of flat sand.
3.  Hundred Steps Beach – the best secluded beach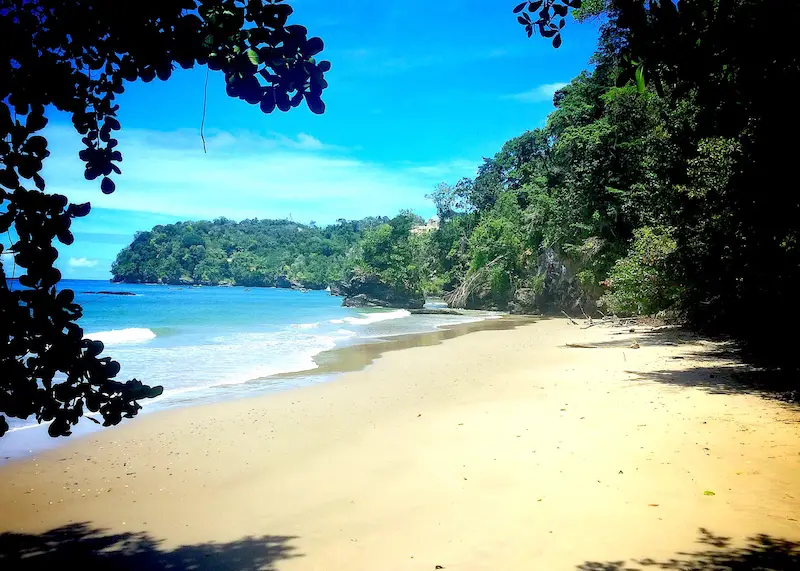 You've probably never heard of Hundred Steps Beach. We had lived in Trinidad for the better part of a year before we heard of it!  This small beach requires a short walk and 100 steps to be descended but you'll be greeted with a gorgeous white sand cove backed by jungle and cliffs.  Put in the little extra effort to get here and you are almost guaranteed to have it all to yourselves.
Hundred Steps Beach is a great spot if you're looking for seclusion and privacy.  It's also the perfect spot to rinse off after a sweaty jungle hike to Avocat Falls or Paria Bay as it is in La Filette, between Maracas and Blanchisseusse along the North Coast Road.  Just look for Mitchell Trace road.
4.  Grande Rivière Beach – the best beach for turtle spotting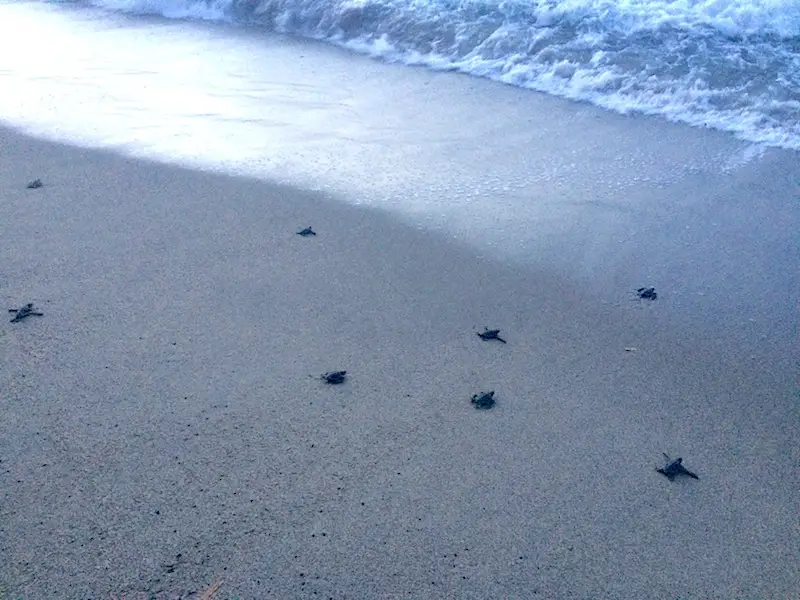 Grande Riviere beach is one of the least accessible beaches in Trinidad thanks to its location along the northeast coast but it is well worth the visit, especially during turtle nesting season.  This beach is the second largest leatherback nesting site in the world.  Hundreds come ashore each night between March and June.  From June to September hatchlings can be seen making their dangerous journey to the sea.
Aside from the turtles, it's a beautiful part of the country with many jungle and river hikes in the area.
5.  Mayaro Beach – the best weekend beach getaway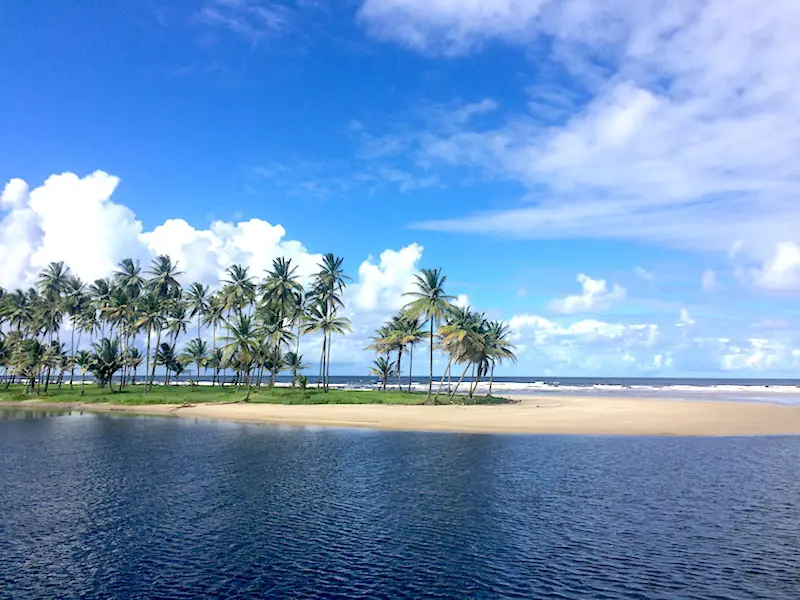 Mayaro Beach, Trinidad is a popular weekend destination for Port of Spain locals.  Many wealthier families have a beach house here or will rent one.  This long strip of sand is not groomed like many Caribbean beaches and so among the fishing boats, you will also find driftwood, coconuts and even whole trees washed ashore.  The further south, the wider and cleaner the beach becomes.  You are sure to find Trini beach limes happening in Mayaro on the weekends but it's never crowded.  It's also a great spot for a real taste of local life.  Be careful swimming here though as it is prone to rip tides.
Set your alarm clock to wake up before the sun.  Facing east, this beach has amazing sunrises.  Don't worry, Mayaro is the perfect place for an afternoon nap to make for the early start!
6.  Paria Bay, Trinidad – ultimate beach day for the adventurous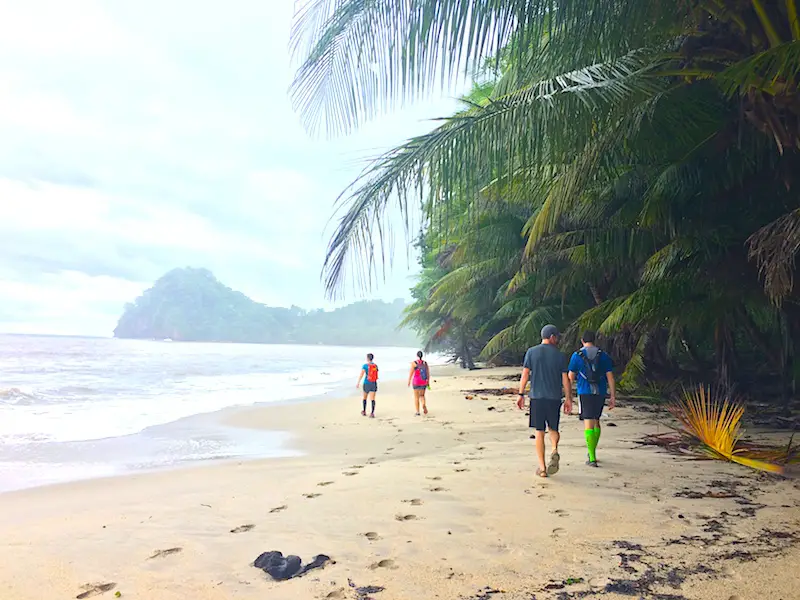 Paria Bay is definitely one of the prettiest beaches of Trinidad and Tobago.  It remains completely unspoiled thanks to the two-hour hike required to reach it.  The large coconut palm-framed beach also plays host to nesting leatherback turtles and, just back from the shore, has its very own waterfall.
If you pack light and don't mind working for it, Paria Beach is one of my favourite beaches in Trinidad.  Read more about how to hike to Paria Bay in this post.
7.  Paragrant Bay – best beach for incredible views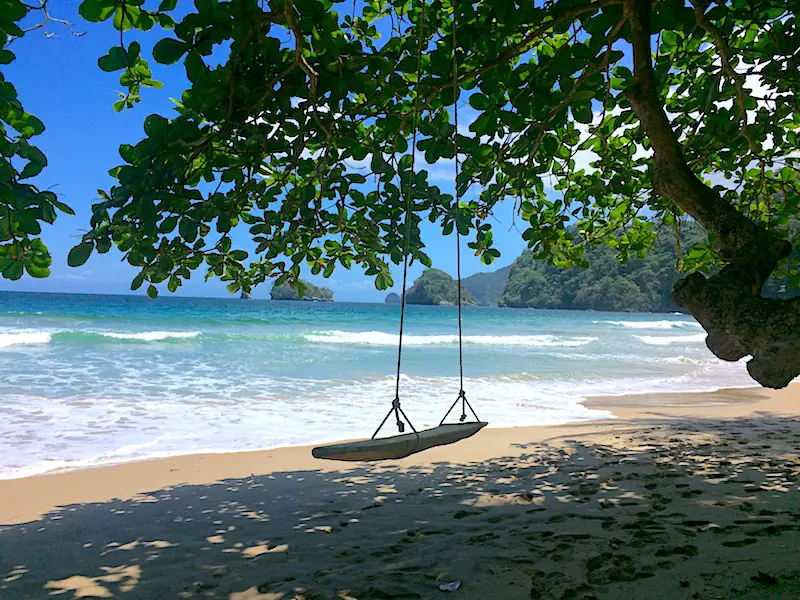 Hiking to Paragrant Bay involves constant stunning views, some of the best we saw in Trinidad.  The beach is also one of the prettiest.  A little freshwater stream meets the ocean at the west end of the beach and a driftwood swing hangs under a tree.  The perfect place for a beach picnic.  Be warned though, it's a serious workout to get back to the car!
8.  Toco Beach – best beach for surfing Trinidad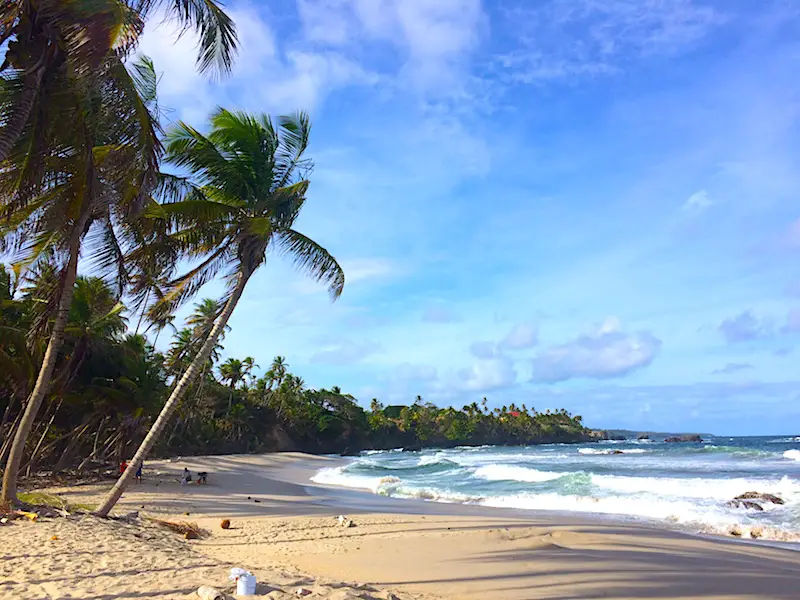 While the best surfing in Trinidad and Tobago is in Tobago, there are a few beaches with decent waves in Trinidad too.  If you are looking to surf while in Trinidad, this is the best beach for surfing.  It's also a great place to camp and take in the surrounding nature and scenery.  It's a fair drive from Port of Spain so make this a weekend trip and combine it with other east coast activities.  Find more ideas in 70 Awesome Things to do in Trinidad.
9.  Colombus Bay – best beach for calm waters
Colombus Bay is right at the southwestern tip of Trinidad and takes a long drive to reach it.  However, it is on the edge of a huge coconut plantation and has some interesting rock formations at the western edge of the beach so it's visually quite attractive.
South Trinidad has a distinctly different feel than the north with much stronger Indian influences.  Columbus Bay is certainly an interesting contrast to Maracas, Trinidad.  It is also home to the calmest waters I have seen.  Situated at the outer edge of the Caribbean, Trinidad and Tobago don't typically have the crystal clear, calm waters of some other islands.  However, at this beach, there was barely a ripple.  If you are not a strong swimmer or have small children in tow, this is a great beach for swimming.
10.  Macqueripe Bay – the best beach for snorkelling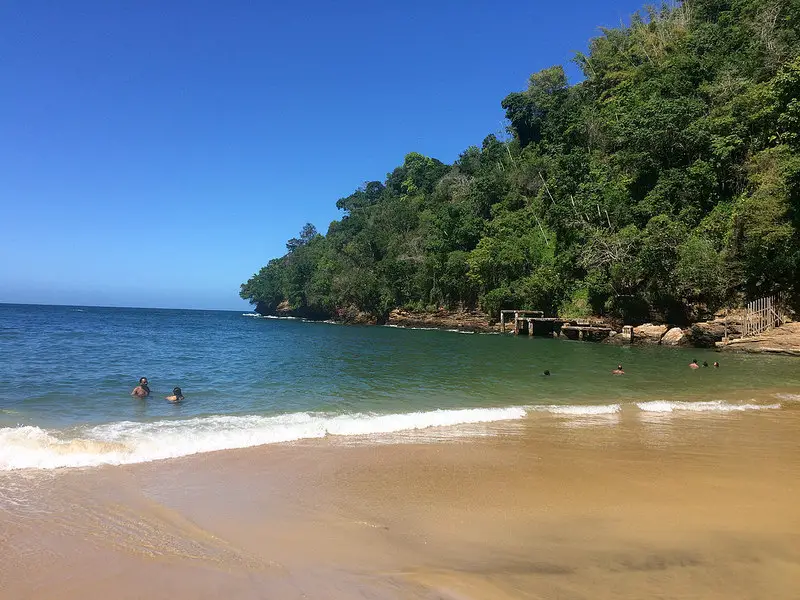 Macqueripe Bay may not make the cut for best beaches in Trinidad on looks alone but what it does have is the best snorkelling.  The beach is pretty enough at low tide, in a narrow bay surrounded by mountains and a view across to Venezuela but at high tide is shrinks to almost nothing.  However, the bay is incredibly deep.  So deep in fact, during World War II, the U.S. army actually used it as a safe harbour for their submarines!
In addition to its depth, it's also usually pretty calm which makes it a great place to snorkel.  It's rare to snorkel here and not see turtles among other sea life.  The best snorkelling is in the morning.  It's also a great spot for SCUBA diving although there aren't any facilities on site so you will need to have arranged equipment and instructors ahead of time if necessary.

The 6 Best Beaches in Tobago
A number of these beaches feature in our popular One Week in Tobago Itinerary post.
In no particular order:
[mappress mapid="10″]
1.  Pigeon Point, Tobago – best beach for Instagrammers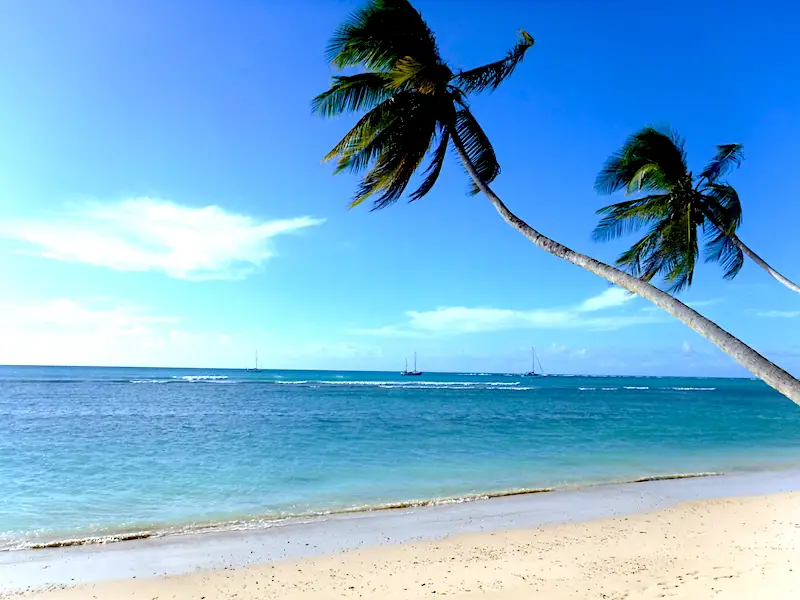 Visiting Trinidad's sister isle?  Pigeon Point, Tobago is an absolute must.  This peninsula is actually a heritage park so it comes with an entry fee of $20TT (about $3) but it is well worth it.  Pigeon Point Beach, Tobago is the iconic Caribbean beach with white sand, turquoise water and coconut palms leaning towards the sea.  Here you will find toilets and showers, a couple of restaurant/bar choices and chairs for rent.
If you're feeling active there is also a watersports centre that specializes in kitesurfing but also has windsurfing, sailing and SUP.  We spent an awesome weekend here with Brett and the team at Radical Sports Tobago learning to kiteboard.  It leaves little doubt that it is one of the best beaches in Tobago.
2.  Castara, Tobago – best for a quieter place to stay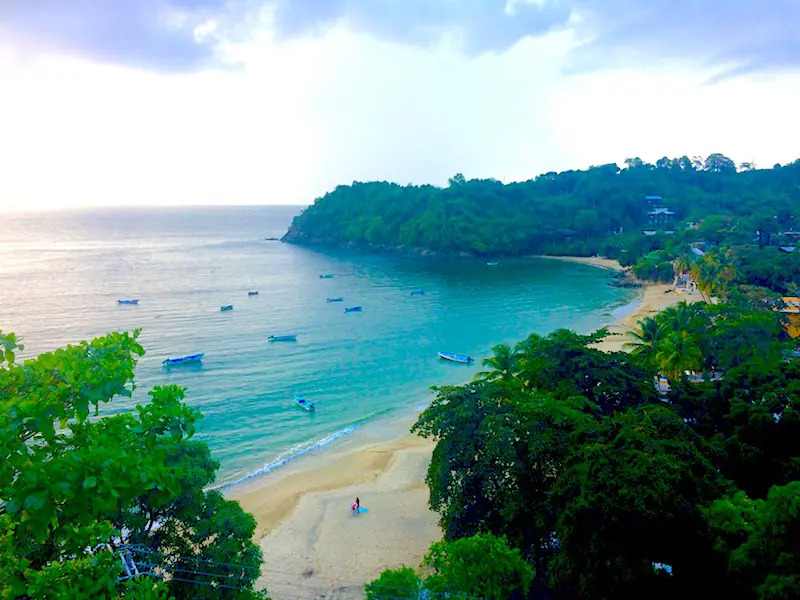 We stayed in Castara Bay for a few nights on our last visit to Tobago and are really glad we did.  If you are looking for somewhere more authentic and relaxed than the touristy Crown Point area, or more central for nature activities, then Castara is our number one recommendation.
The beach is beautiful and the resident manta ray population makes snorkelling a treat.  It is also the best-developed town for amenities and even has it's own waterfall after a short hike.
3.  Mount Irvine Beach, Tobago – best beach for surfers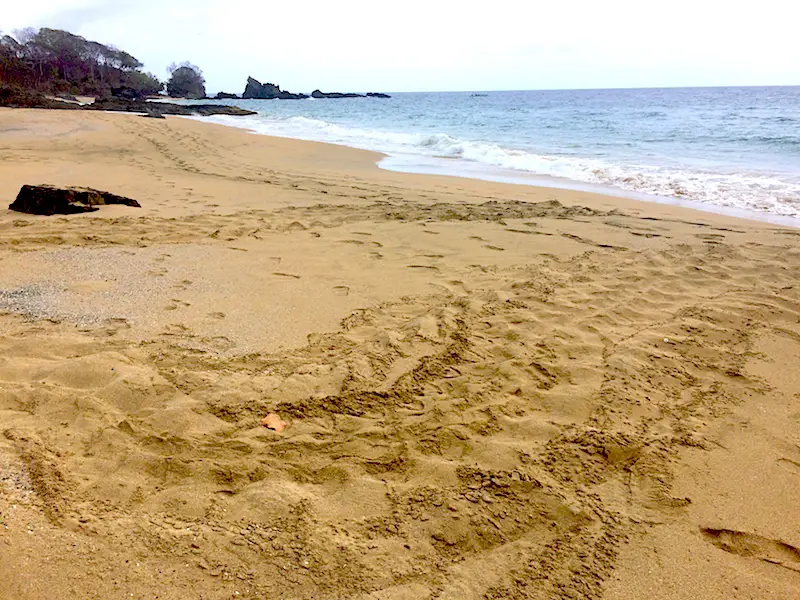 Want to surf Trinidad and Tobago?  You need to head to Mount Irvine.  This is the top surf spot in Tobago.  It's not the prettiest beach on the island but certainly holds its own and there are a number of smaller, attractive bays you can walk to close by.
4.  Englishman's Bay, Tobago – best beach for a 'Robinson Crusoe' feel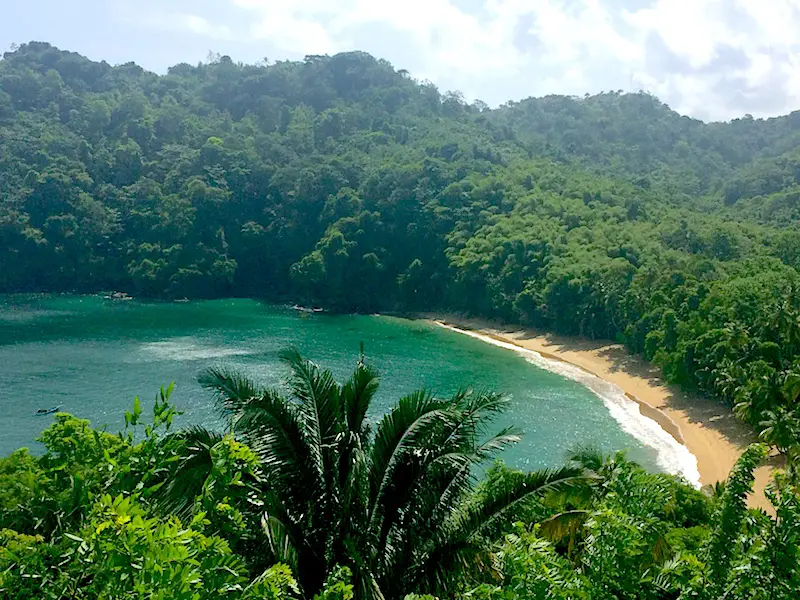 Englishman's Bay, Tobago consistently makes lists of best beaches in the Caribbean.  The bright emerald waters with the dense green jungle behind make it a winner for everyone.  There is one restaurant on the beach that also rents loungers but otherwise is undeveloped.
The rocks at each end of the bay make for some decent snorkelling and there are plenty of trees to find a quiet spot to relax under.  This Tobago beach's popularity has grown immensely over recent years so you will need to arrive early for a chance to feel like you have it all to yourself.
5.  Store Bay Beach, Tobago – best beach for finding a boat tour
Store Bay Beach quite honestly wouldn't make it onto this list if not for its location.  Being the closest beach to the airport and in Crown Point, it is the logical choice for people with just a few hours to spare before a flight.  It also has plenty of amenities and is the starting point for most boat and catamaran trips including the glass bottom boat tours to Buccoo Reef and the Nylon Pool, an absolute must when in Tobago!
You can book online for peace of mind.  However, you won't have any trouble finding a tour once there.  In fact, you'll have a hard time avoiding the ticket sellers and already having a booking may make it easier to shrug them off.  Check tour prices and availability now.
6.  Pirate's Bay, Charlotteville – best Tobago beaches for seclusion, snorkelling and culture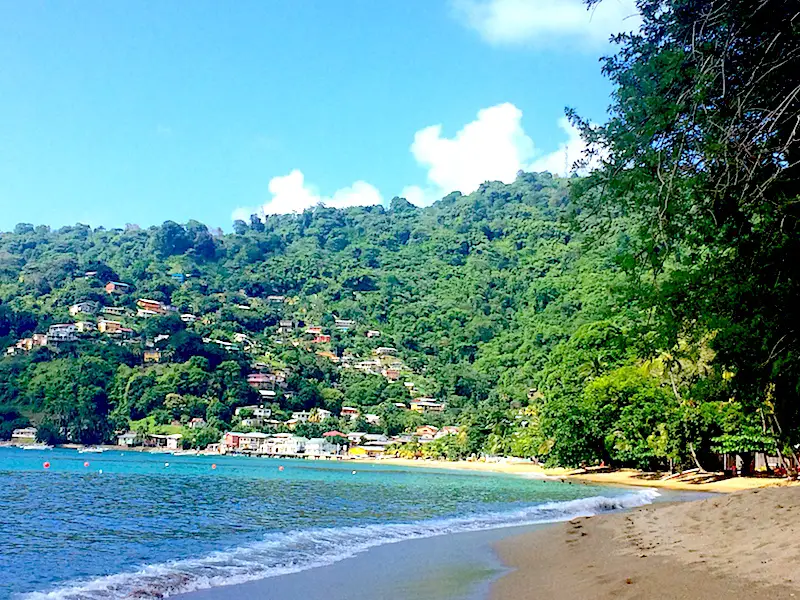 OK, I'm cheating a little here but I'm putting two beaches together.  Charlotteville has a great long beach that is perfect for a walk and to watch the local fishermen at work.  It is full of character and colour but, as a busy fishing village, not the best for swimming.
After enjoying the culture in Charlotteville, and lunch at the Suckhole, head over the point at the west end of the beach and discover Pirate's Bay.  This small beach often has a few private yachts moored off its shore as it is calm and gorgeous.  The calm waters also make it a pretty good choice for snorkelling too.  If you don't want to walk or drive you can find a water taxi at the dock to take you around the point.
Have you visited any Trinidad and Tobago beaches?  Which ones were your favourites?  Share in the comments below!
If you found this post helpful, consider sharing it for others to find.
[columns] [span6]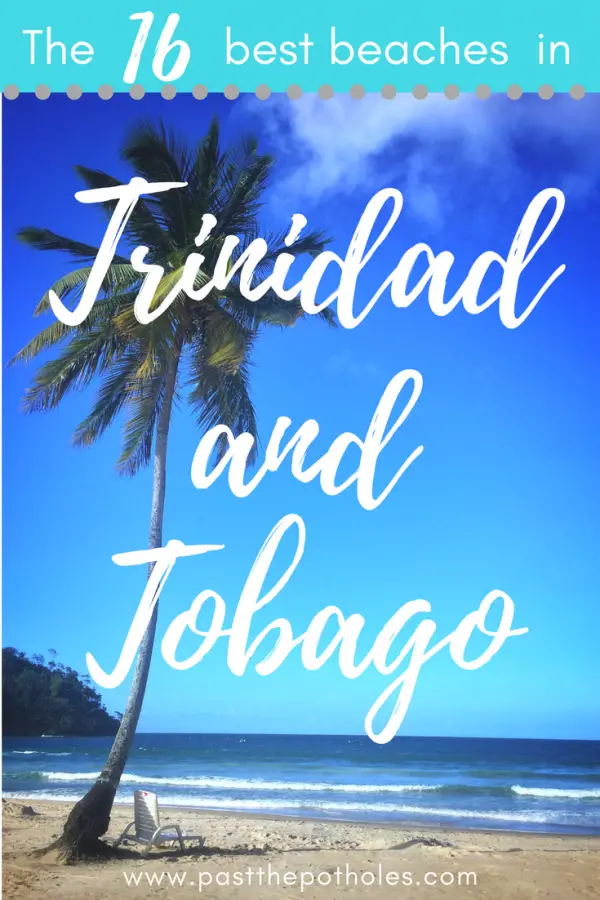 [/span6][span6]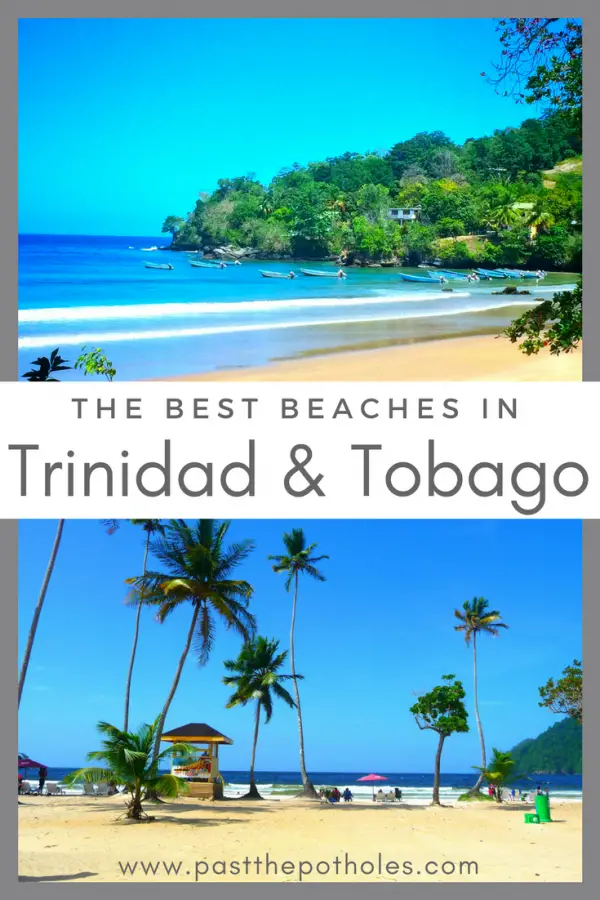 [/span6][/columns]
Return to our Destinations page for more travel inspiration!
---
Some links in this post are affiliate links.  That means if you click on them and make a purchase we will make a small commission at no cost to you. Thanks for your support!
---