How to hike Turure Watersteps, and why you should!
Some links in this post may be affiliate links. If you click on them we may make a commission from qualifying purchases at absolutely no cost to you.  Read our full Disclosure Policy here.
Turure Watersteps just might be the perfect hike.  It is easy enough for anyone to complete and makes for a great family adventure.  It's a beautiful hike through jungle, along a river with a really interesting series of limestone waterfalls at the end.  Sounds pretty awesome, right?
How to Hike to Turure Watersteps
Where does the Turure Watersteps hike start?
Turure Watersteps are just past Valencia.  Drive east along the highway from Port of Spain to Valencia and head to the left when the road forks.  As you start to leave town, turn left onto Cumaca Road.  You will see signs for Valencia Eco Resort, a quarry and a 'Save the Pawi' sign.  This road can be rough at points but any car can make, just go slow.  Trust me, if our little go-kart could get there whatever you're driving shouldn't have a problem!
Shortly after passing the quarry there will be a small bridge and the road turns sharply to the right.  Park in the wider section just past the bridge.  The hike begins by climbing the steep clearing to the left of the river.  Once at the top the trail becomes clear.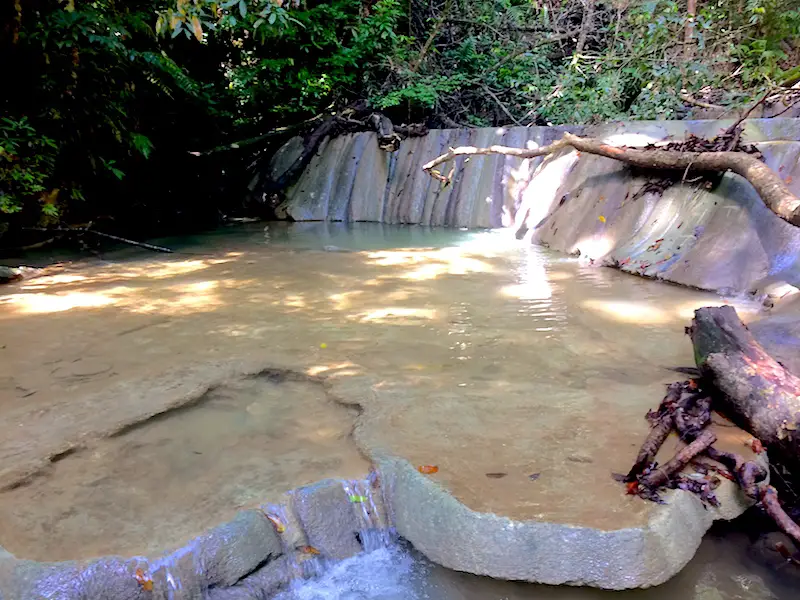 Throughout the hike, there are a number of points where you cross the river.  These are the only spots where the trail can become unclear as you need to find where it picks up again on the other side.  If in doubt, just remember to keep following the river upstream.
When you reach the first limestone waterfall you can cross over and climb up the side.  The limestone actually provides incredible traction in spite of its slippery appearance.  There are about three levels to climb up and explore with an option for further exploration upstream.  The brave amongst your group will even have an opportunity to jump over one waterfall (only recommended if you have someone who knows the safe spot).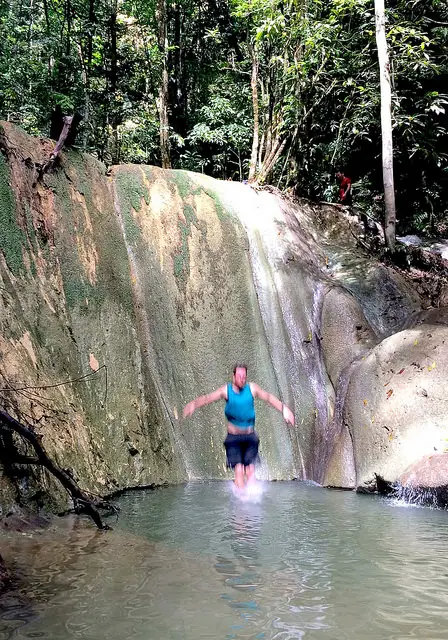 How long should it take to hike Turure Watersteps?
The hike takes about 45 minutes each way and is quite easy.  We have hiked this with children as young as three or four who had no difficulties.  There are a few spots with a slight incline but the path is easy and no hill is too steep or too long.  Probably the trickiest parts are the river crossings due to the rocky riverbed.  However, the water is clear so finding footing is easy and always step on the small rocks to avoid slipping.
Depending on how long you choose to stay and explore, relax and eat at the watersteps, the hike will likely take anywhere from 2 to 3 hours.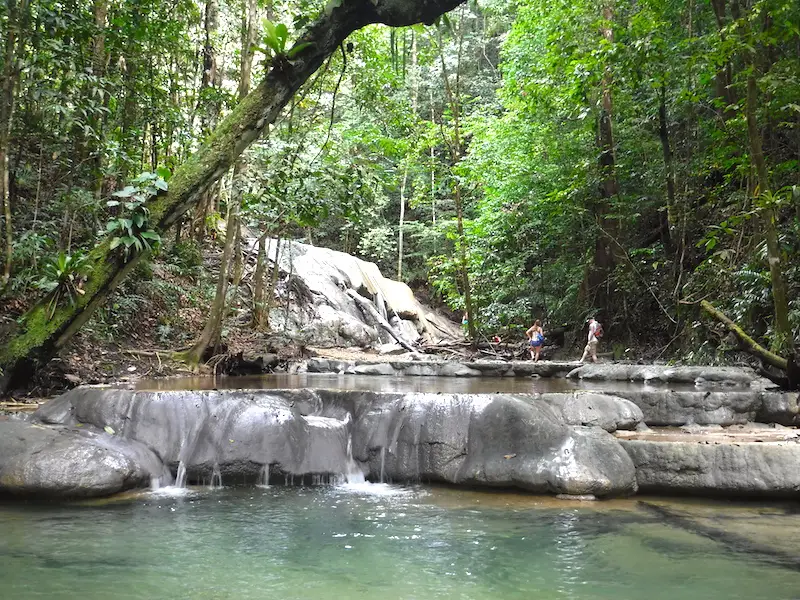 What can we expect to see?
Hiking Turure Watersteps (also called Cumaca Waterfall) takes you through dense tropical jungle.  There is an abundance of wildlife and you could see a variety of creatures if you are quiet and look carefully.  You will almost certainly see many birds, insects and reptiles along the trail.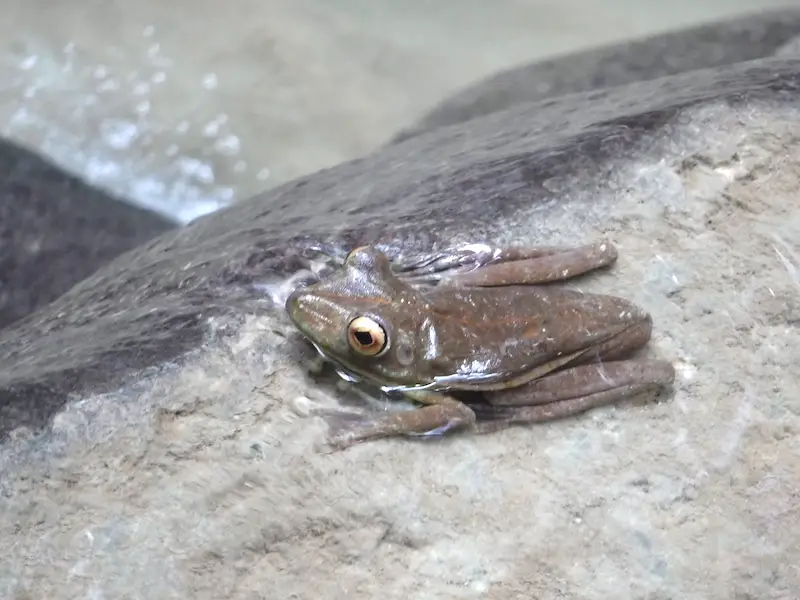 When should we go?
It is best to leave first thing in the morning for this (and any) hike.  The drive is about an hour from Port of Spain and you will want to have enough time to explore and enjoy the waterfalls.
This hike can be completed at any time throughout the year although the water will be the clearest, as will the skies, during the dry season – December to May.  Completing this hike during the rainy season shouldn't pose a problem but the water levels will be higher.  However, you shouldn't try to hike it if there was particularly heavy rain in the previous day(s) as it could make the trail and river unsafe as well as the water might not be clear.
[columns] [span6]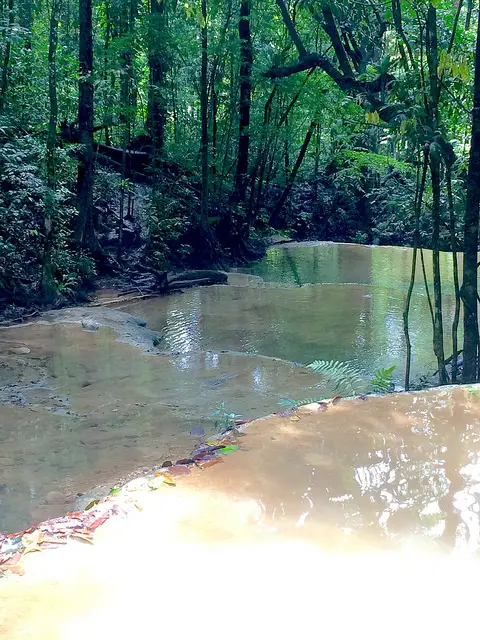 [/span6][span6]
[/span6][/columns]
We completed this hike once in the rainy season and once in the dry season.  While it was thoroughly enjoyable at both times, the water was much prettier the second time around (although jumping was not as safe due to the lower water level).
What should we wear/bring to Turure Watersteps?
This hike has multiple river crossings.  Waterproof hiking sandals such as Keens are perfect.  Otherwise, be sure you don't mind you your regular hiking shoes getting wet!
Lightweight, quick dry hiking shirt – even in the rain, it is hot and humid
Lighweight, quick dry hiking or workout shorts
Day backpack or hydration pack
Dry bag for anything that can't get wet
Swimsuit
PackTowel or sarong to dry off
Camera – you will want to take pictures!
Snacks and plenty of water
Small first aid kit
Sunscreen and bug spray (it is mostly in the shade so sunscreen is not essential but bug spray is!)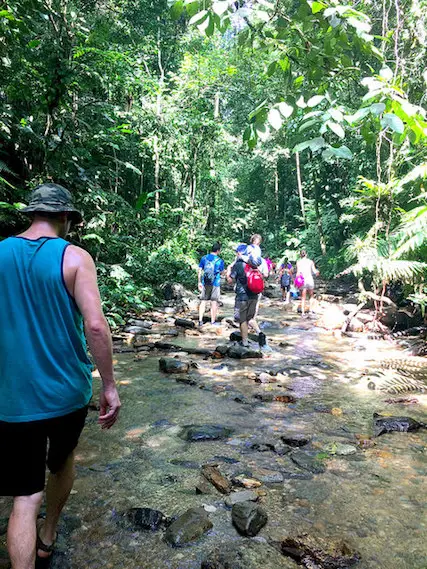 Have you done this hike?  What did you think of it?
If you are interested in more hiking in Trinidad you might want to read about Paria Bay Hike, Hiking Paragrant Bay, Avocat Falls and Three Pools Hike and Hiking Trinidad's North Coast.
If you found this post useful, pin it and share with others!
[columns] [span6]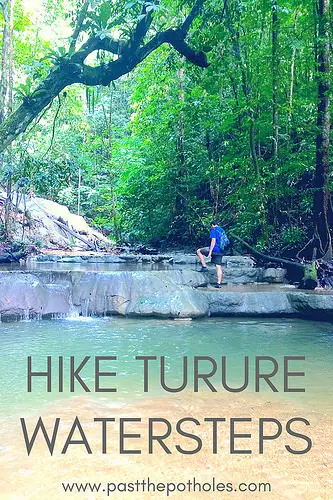 [/span6][span6]
add content here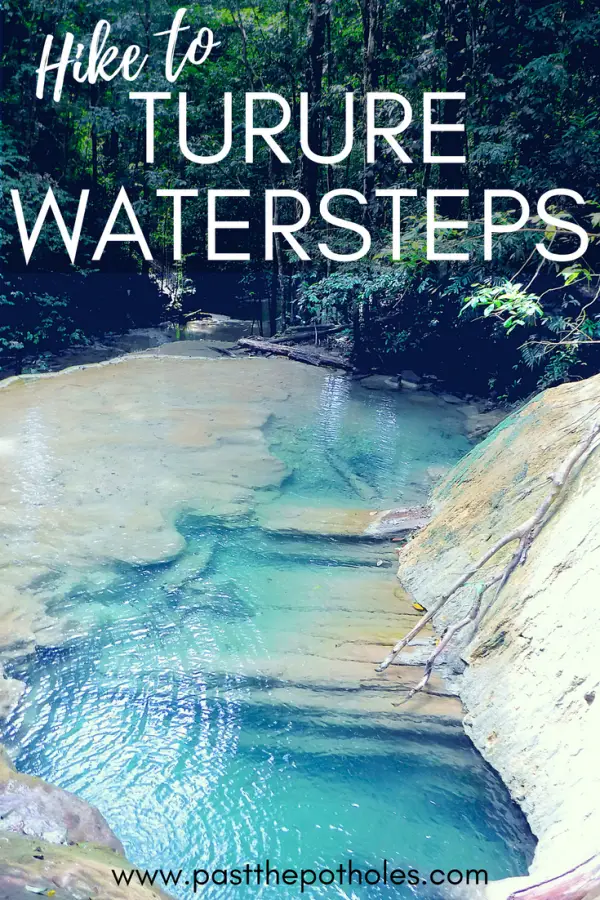 [/span6][/columns]
Return to our Destinations page.