The Ultimate Trinidad Itinerary for an Awesome Two Weeks!
Some links in this post may be affiliate links. If you click on them we may make a commission from qualifying purchases at absolutely no cost to you.  Read our full Disclosure Policy here.
Try looking up things to do in Trinidad and you won't find much.  Believe me, I tried.  When we first decided to move to Trinidad, I started researching the island and things to do with very little luck.  Don't let this fool you into thinking there is nothing here of interest!
However, if you simply book flights, a hotel and show up you may very well be disappointed.  With no tourist infrastructure, it is important to know where to go and what to do.  A local contact or a guide is really helpful but if you rent a car and follow this two week Trinidad itinerary, you will have a great time!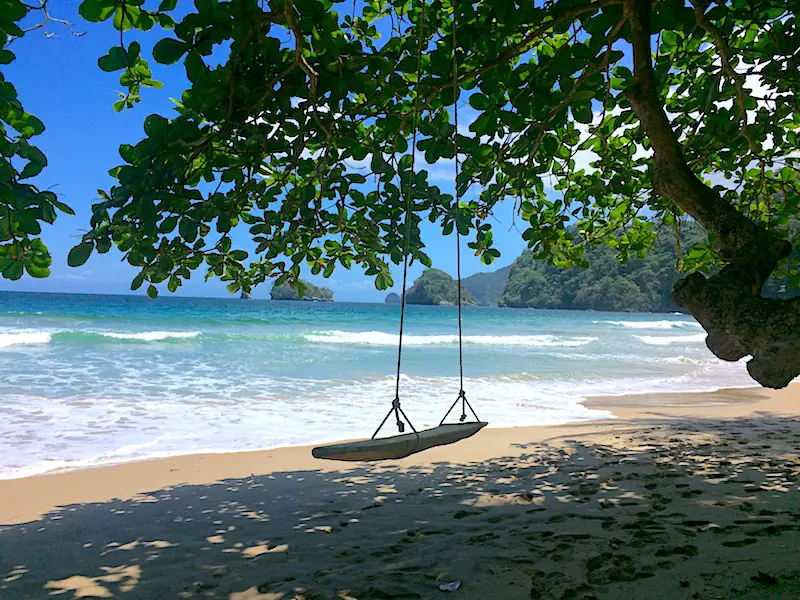 Having lived in Trinidad for a year, we explored all four corners of this island.  We made some amazing local friends who pointed us in all the right directions.  You can trust that our Trinidad itinerary gives you a fantastic taste of what this incredible island nation has to offer.  This is the two-week itinerary we followed when my family came to visit with only slight tweaks due to illness and injury.  They would tell you first hand that this itinerary had them falling in love with Trinidad!
Our Trinidad itinerary is great for a group that has mixed abilities and interests. In our case, it suited our 6 year old nephew up to my 60+ year old dad.  It by no means covers everything this island has to offer but you will get a taste for the many facets of Trinidad.  If you want to see some nature, get active and relax on the beach, this is the two week Trinidad itinerary for you!
---
Don't have two weeks?  Here is our One Week Trinidad Itinerary.
---
Two Week Trinidad Itinerary
NOTE: this itinerary is fully customizable.  Change the order of the days.  Take activities out.  Add others in.  If you have more or less time on the island it is easy to pick and choose what to add or take out.
Daytime Activities
Day One – check in and explore Port of Spain
Arrive at Piarco International Airport and travel to your hotel or apartment.  I would recommend staying in or around the Port of Spain area as this gives you the most options and amenities.  Outside of here, you'll have a hard time finding much more than small local stores and restaurants.  Spend the rest of the day getting to know the area.  Walk around the Queens Park Savannah, head to Ariapita Avenue for dinner and drinks or simply unpack and recover from a long travel day!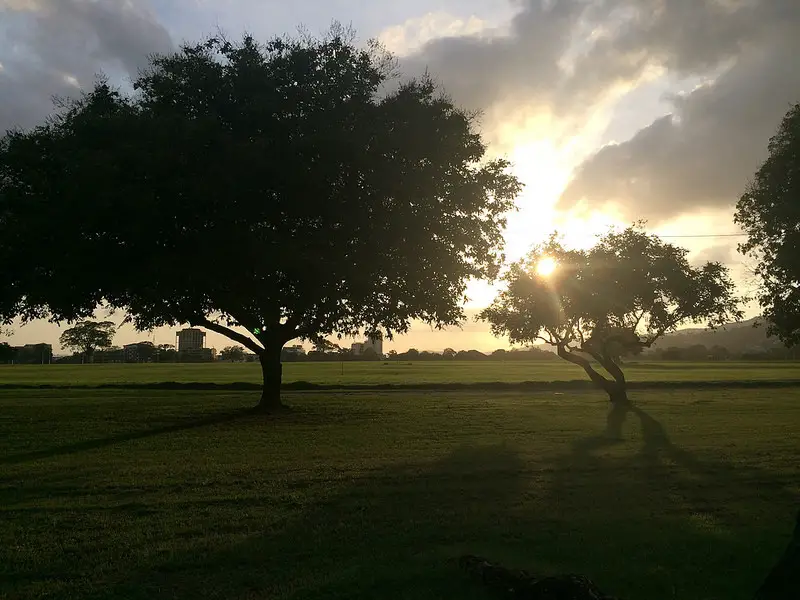 Day Two – snorkelling in Macqueripe Bay
Get up early and head over to Macqueripe Bay in Chaguaramas for some snorkelling.  Turtles are a common sighting here among other sea life.  Diving is also possible here although you would have to pre-arrange as there isn't anything on site.  Macqueripe also offers a ziplining park.  If you've done this elsewhere, don't bother but otherwise have some fun.  The kids' ziplining is pretty fun.  They also rent mountain bikes and you will find many trails throughout the area.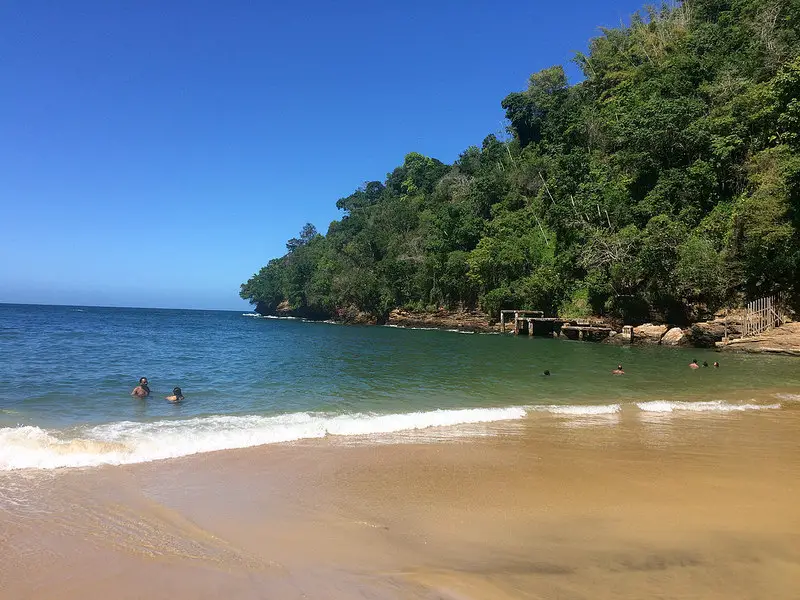 On your way out, stop by Bamboo Cathedral for some monkey sighting.  You could head all the way up to the tracking station or just turn around when the path becomes steep.  You could take a walk along the Chaguaramas boardwalk, grab some food at Cafe del Mar in the marina or simply head back into town.  There is also a military museum in Chaguaramas that includes an actual plane that you can go inside and explore.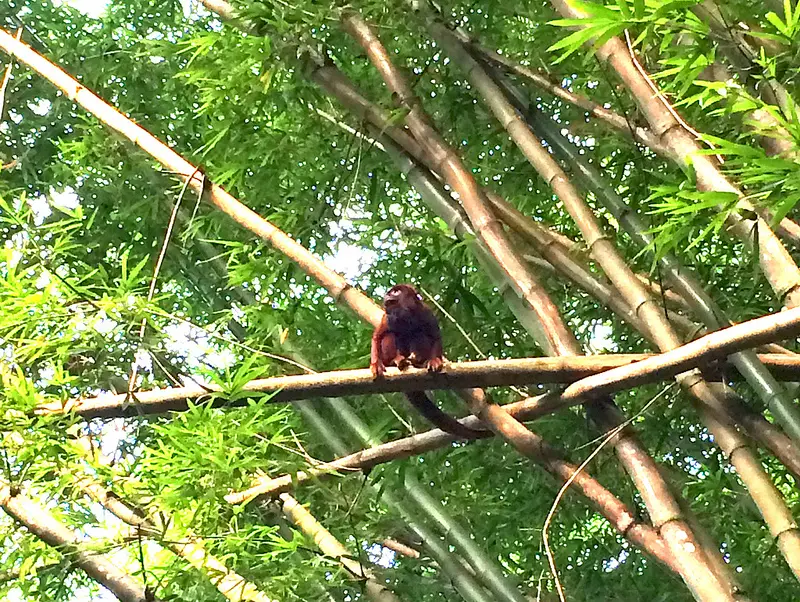 Day Three – hike to Turure Watersteps
Time to explore!  A great family hike is Turure Watersteps.  This requires a drive of about an hour east of the city but then it's an easy 45-minute hike to a series of limestone waterfalls.  Other options are Mermaid Pools, in the dry season, or Rio Seco both of which are a little further on the east coast.  If you would like to stay closer to home or want something less challenging, try Edith Falls or Covigne River, both in Chaguaramas.  Want to rinse off at a beach after hiking?  Head to the north coast to hike Avocat Waterfall and Three Pools or Yarra River.  If you're up to more of a challenge, read about the hike to Paria Bay.  Whichever hike you choose to include in your Trinidad itinerary, you won't be disappointed!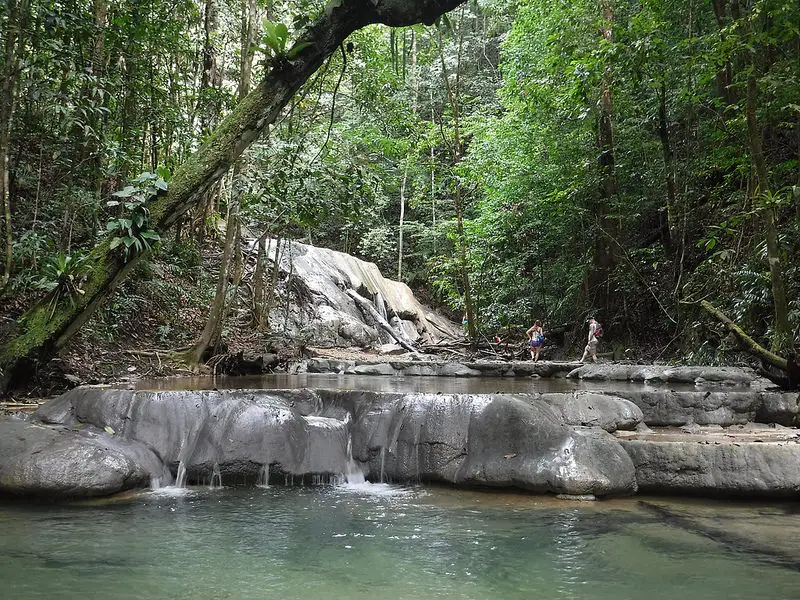 Day Four – Maracas Beach day
Beach day!  Maracas Bay is the closest and most popular Caribbean beach to Port of Spain.  A very windy but scenic road over the Northern Range will take you here in around 40 minutes.  Be sure to stop at the lookout on the way.
When you've worked up an appetite in the waves, head over to Richard's Bake and Shark for, you've guessed it, bake and shark!  There are LOTS of vendors but it is generally accepted that Richard's is the best.  To be honest, I couldn't say as we only ever had Richard's but I can tell you it was delicious!  Load up on toppings and enjoy.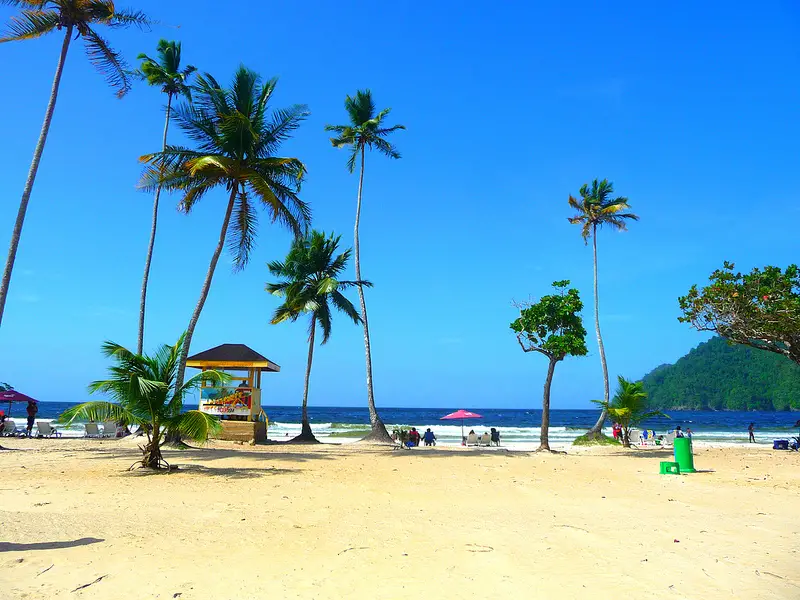 Day Five – explore South Trinidad (or the east coast)
Day five of your Trinidad itinerary leads you to explore some other areas of Trinidad.
South is a more Indian region and you will notice more Muslim and Hindu influences.  Choose from options such as climbing the San Fernando Hill for a great view, Pitch Lake, Columbus Bay (the calmest waters in Trinidad) and Devil's Woodyard (mud volcanos).  As you drive back north, stop at Debe for some authentic Indian food at the Green Shed and check out the Temple on the Sea (beautiful at sunset).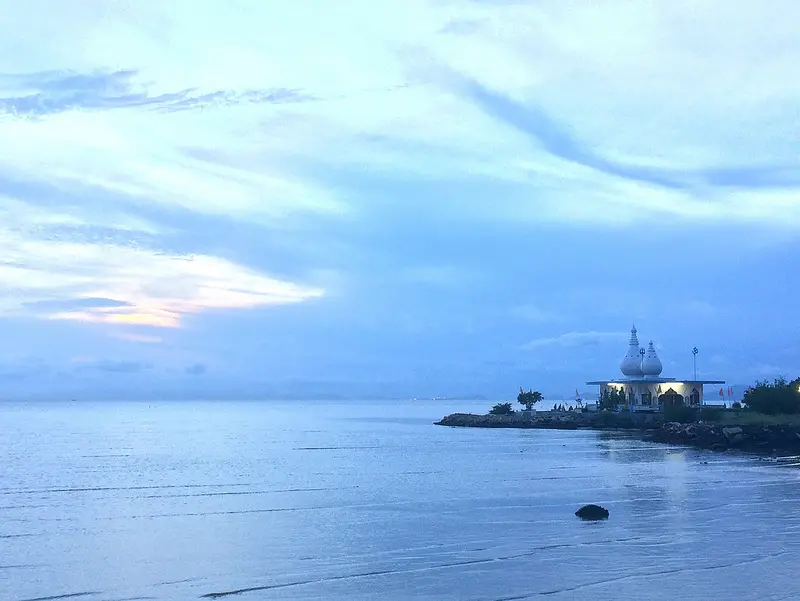 The eastern Atlantic coast is more rugged and undeveloped.  This option adds a long driving day to your Trinidad itinerary so perhaps not a great option for young kids, but it's a stunning part of the country.  When you reach the eastern coast you could head north to Toco, Trinidad's best surfing spot and to Galera Point Lighthouse for beautiful views toward Tobago.  If you choose to head south you will first come to Manzanilla.  Continue south through the cocals and reach Mayaro, a popular weekend beach spot for locals.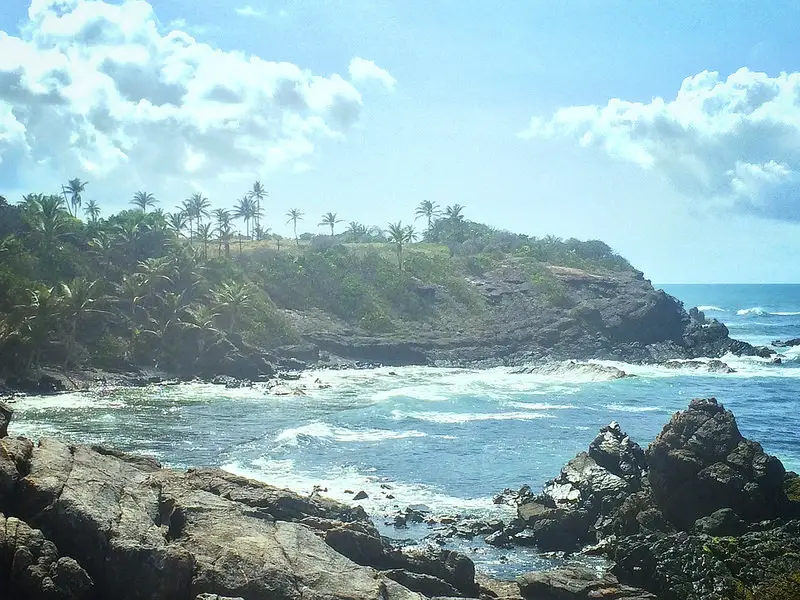 Not interested in spending hours in the car?  No problem!  You now have time to either add in one of the hikes you haven't done yet, get adventurous in Chaguaramas (military museum, golf, explore jungle trails on bike or foot, ziplining…) or another beach day.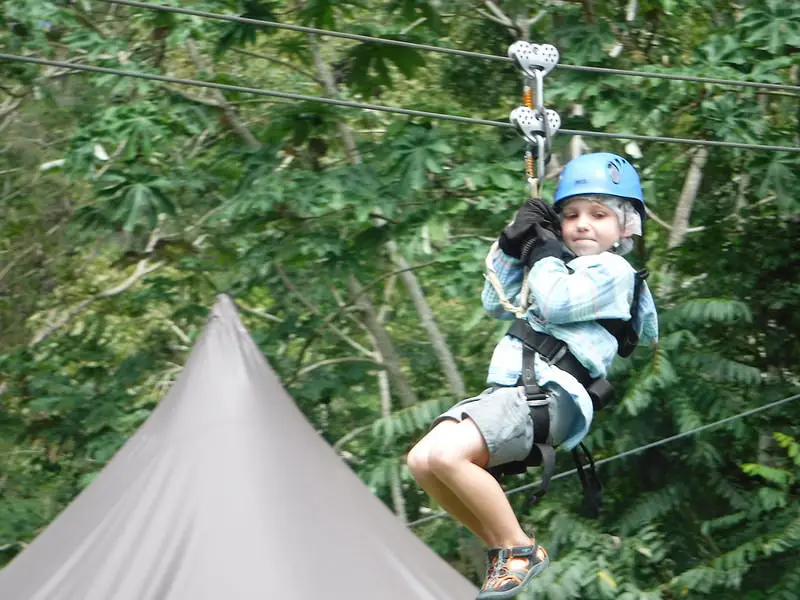 Day Six – go 'Down de Islands' on a boat tour
Head DDI (Down De Islands) on a boat tour and explore Gasparee Caves.
If boats or caves aren't your thing, stay on dry land for a round of golf.  Chaguaramas Golf Course is a cheap, basic nine-hole public course in a beautiful setting.  Alternatively, you could book a visitor tee-time at St. Andrew's Golf Course in Maraval.  This will cost you more but it is a beautiful championship course although golfing as a non-member can be tricky.  Call ahead to make sure you will be allowed on the course.
If your group has golfers and non-golfers, consider mixing Chaguaramas Golf Course with a hike to Edith Falls or Covigne River and meeting for a cold drink at the golf course's clubhouse after.  Their fries are a delicious and well-deserved snack also!
[columns] [span6]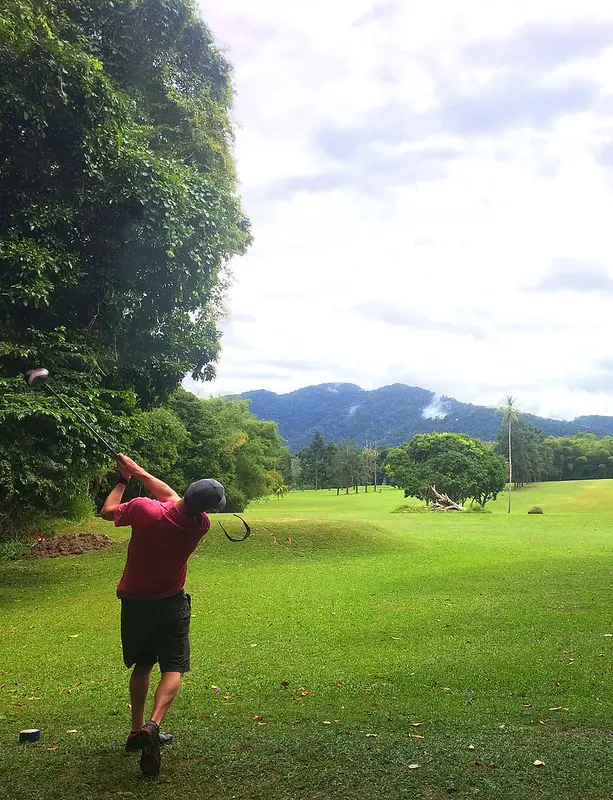 [/span6][span6]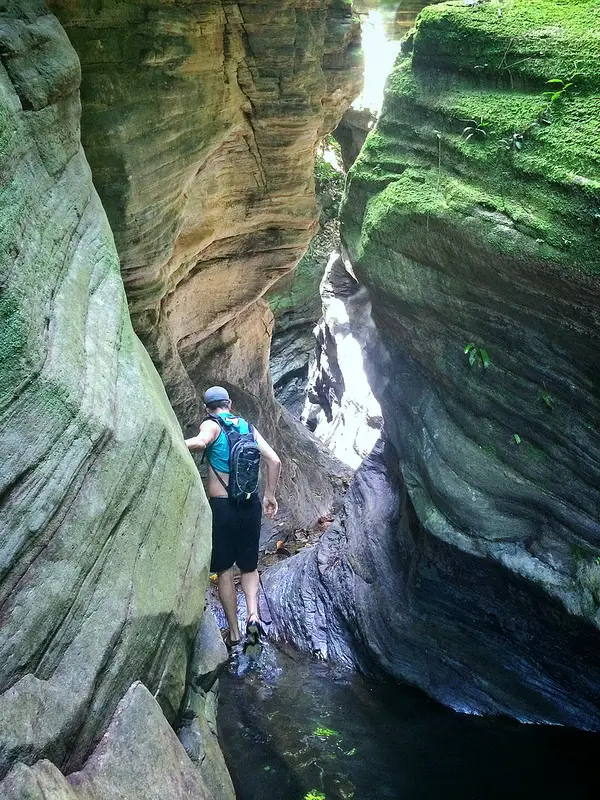 [/span6][/columns]
Day Seven – Las Cuevas beach day
Check out Las Cuevas beach today.  It's just 7km past Maracas but much quieter.  It's a long stretch of golden sand with wider areas for ball play and caves to provide some shade.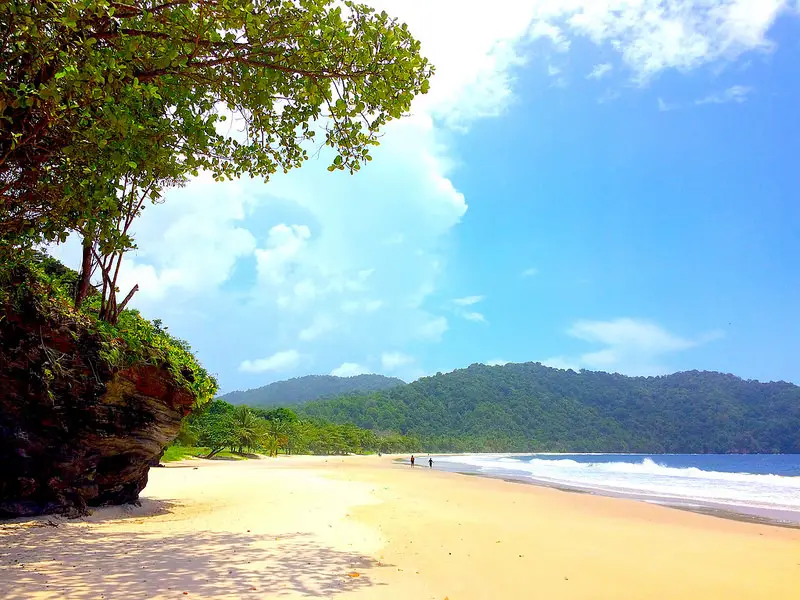 Day Eight – fly to Tobago
With Tobago just a 15-minute flight away you have plenty of time to include a quick trip to this sister isle into your Trinidad itinerary.  Get an early flight to maximize your time and you can have your toes in the sand long before noon.  Check out our post of Top Experiences in Tobago for things to do while there.  We managed to fly over in the morning and be on time for the afternoon glass bottom boat tour to the Nylon Pool.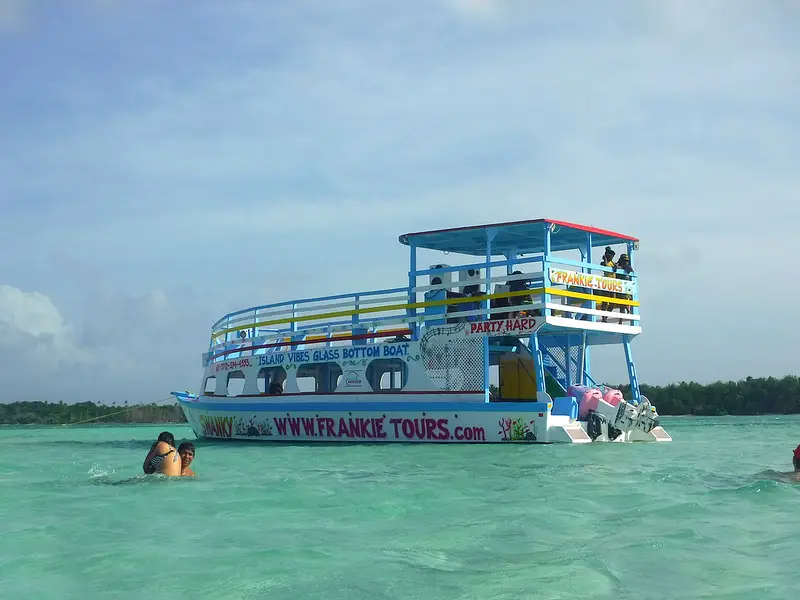 Day Nine – explore Tobago
You have a full day in Tobago – beaches, hiking, waterfalls, watersports, the options are endless.  Check out our post on Top Experiences in Tobago to help you choose.  If you can time your trip to Tobago to include a Sunday be sure to visit Sunday School in Buccoo Village.
Day Ten – Pigeon Point beach day
Check out of your hotel then head to Pigeon Point or Store Bay for the day.  Both are within walking distance, or a short taxi ride, of the airport so you can make the most of your final day in Tobago.  Head to the airport in time for your quick flight back to Trinidad.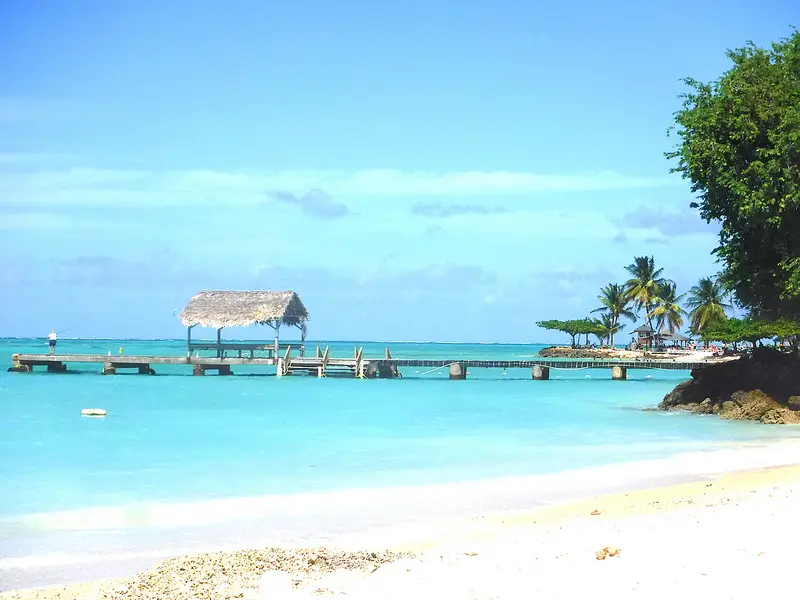 Day Eleven – birdwatching in Trinidad
Be sure to include the national bird, the hummingbird, in your Trinidad itinerary.  The two best places to see these adorable creatures are Asa Wright Nature Centre and Yerette Hummingbird Sanctuary.  Asa Wright has a lot more besides just hummingbirds and also has a lodge and restaurant.  You could consider spending a night here and seeing the active wildlife in the early morning.  After the drive to get there, you'll be in no rush to hit the road again!
Yerette is the best place to see hummingbirds if that is your sole interest.  However, it requires simply sitting on a man's porch to watch them and includes a lengthy presentation.  Interesting and informative I'm sure, but with an active six-year-old boy we personally opted for Asa Wright.  My hummingbird obsessed mother was not disappointed although I can't offer a comparison of the two options.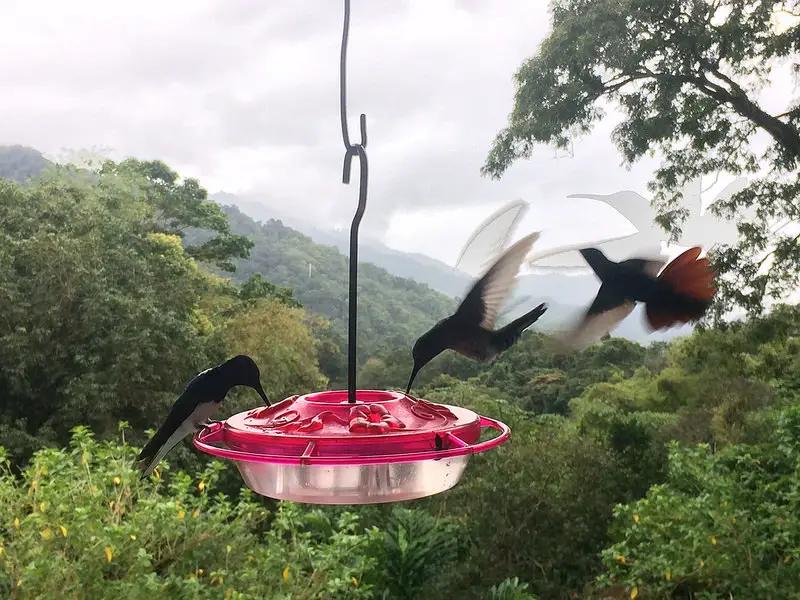 Day Twelve – hike in the jungle
Hike day!  Choose a hike you didn't get to on day three.  If you did make it to Turure Watersteps last time, and if your group is mixed ability, I would highly recommend Covigne River, Rio Seco or Avocat Waterfall.  The latter is the most challenging of the three but you could always skip the waterfall and head straight to Three Pools.
Looking for more of a challenge, and a gorgeous beach?  The Paragrant Bay hike was one of the toughest and most scenic hikes I completed in Trinidad.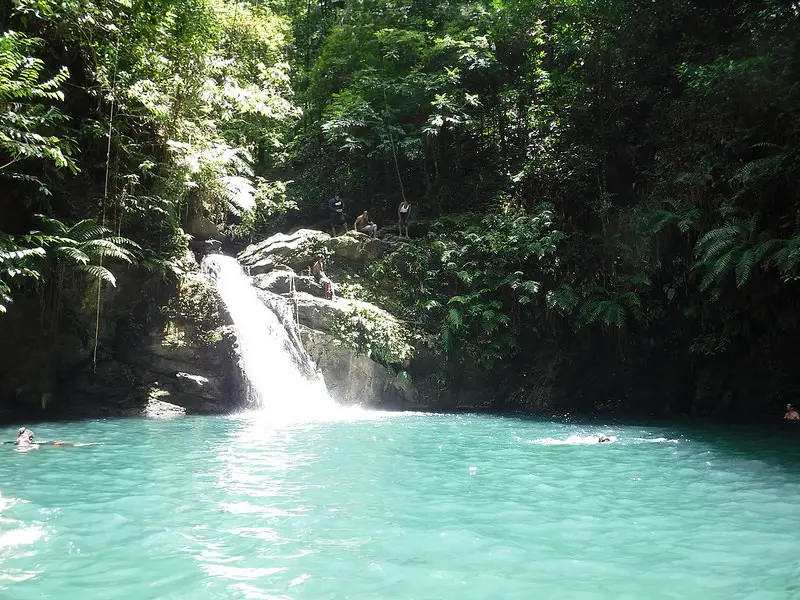 Day Thirteen – explore Port of Spain and Fort George
Stick close to town this morning.  Take the kids to the zoo, check out the Botanical Gardens (don't miss the orchid house), walk around the Savannah, wander along Frederick Street, Woodford Square and the National Museum.  If you are looking for some exercise with a view, walk up Lady Chancellor Road, just west of the Emperor Valley Zoo, between 6 am and 9 am.  You can drive up here too if that's too much (it's quite steep)!
There are also a couple of malls you could explore and search for souvenirs.  Long Circular Mall is older but closer to downtown and The Falls at Westmall is a large, modern and quite extravagant looking place with many brand name stores.  Don't expect to like any of the prices though – remember everything is imported!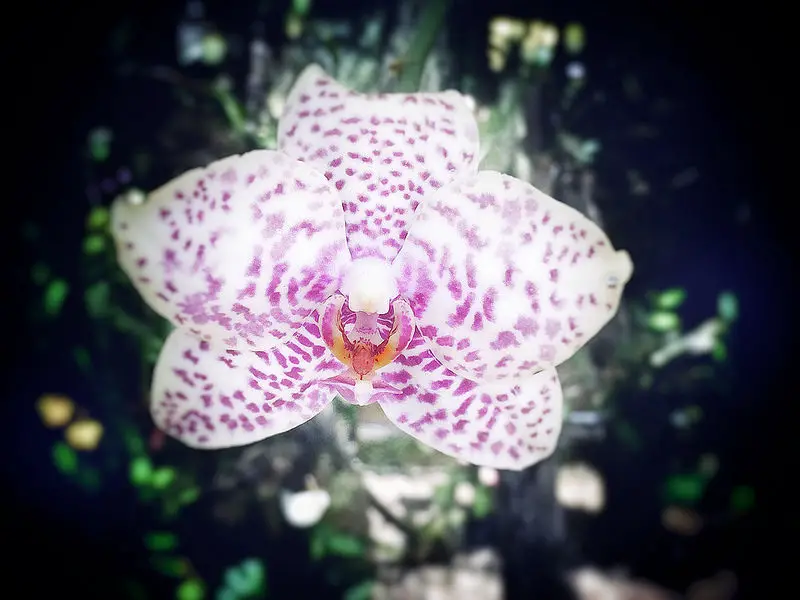 Fort George is a great place for a picnic.  Pack some snacks and head up the steep road when you've had enough of the city streets.  Kids will enjoy running around and exploring while adults will love to relax and enjoy the view.
Of course, if the city doesn't really interest you, head out on another hike or head back to the beach!
Wrap it up in time to get to Caroni Swamp for your sunset boat tour.  Tours leave around 4:30 pm but allow extra time for traffic as it's a busy time on the roads.  You will need to pre-book but I did this just the night before with no problems.  Many companies offer this trip but the most established is Nanan's Ecotours.  Your guide will point out any wildlife as you travel through the mangroves then stop in the estuary to witness thousands of scarlet ibises and egrets coming home to roost for the night.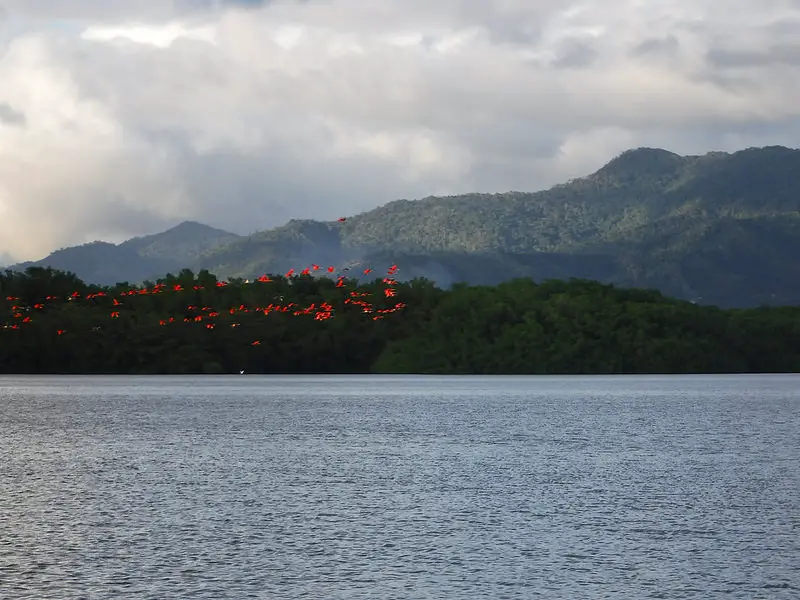 Day Fourteen – pack up and head home
Pack up, enjoy a final swim or walk if you have time, stock up on those last few souvenirs and head to the airport for home!
Evening Entertainment
Sunset Magic
If you didn't make it to Fort George during the day, try to squeeze in a trip up to this historical site in St. James for sunset.  The site has a guard and is open until 5:30 or 6 pm each day.  Be sure to get up before it closes and head back down soon after taking in the breathtaking view.  The road up passes through a poorer neighbourhood so it's not a place to stick around too long after dark.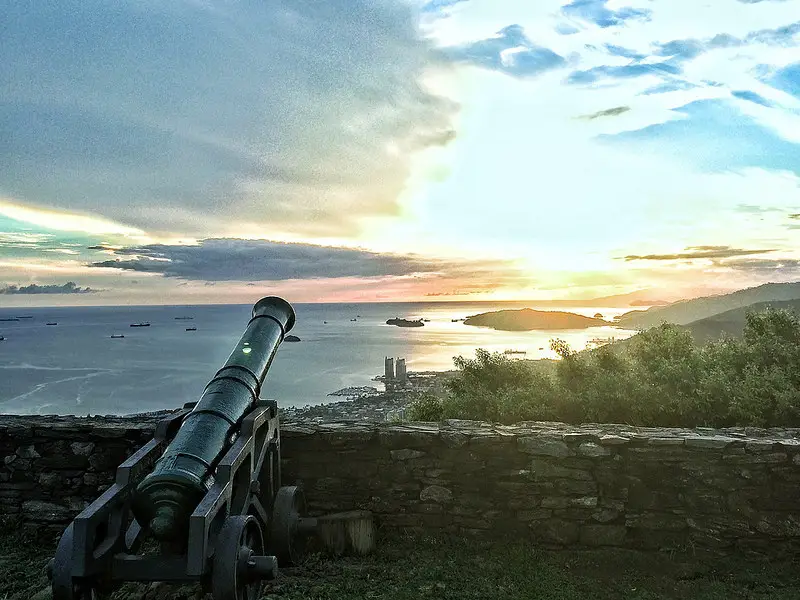 Food and Culture
On a Friday or Saturday night, go to the food court at the Queen's Park Savannah.  The southeast corner fills with food stalls of local, delicious, cheap foods.  This is the best place to try local favourites such as pholourie, roti and BBQ chicken.  You could even try the souse if you're brave enough!  Opposite this is the National Academy of Performing Arts so, depending on schedules, you could catch a performance here too.
A Trinidad itinerary is not complete without tasting doubles.  They can be found along Ariapita Avenue in the evenings and are a great late night snack.  If you want to try the best, head to Sauce Doubles, a roadside stand in Curepe.  The crowd on the sidewalk will tell you exactly where it is!
Lime Like a Local
Friday night is the best night to experience Ariapita Avenue.  This is the night the locals 'lime' and the bars all along this road will be spilling out onto the streets.  Just look for one that is busy and has the right atmosphere for you as local favourites vary over time.  This is a great area to grab dinner too.  You will find everything from street food to high-end restaurants.
Panyard Visit
If you are in Trinidad during carnival season, one of the best things to do in Trinidad is to visit a panyard one evening.  Steelbands will be practising more frequently the closer to carnival it gets and weekend evenings are more likely to be successful.  Some panyards sell beer and will set out chairs.  A couple of the larger, more accessible include PCS Silver Stars on Tragarete Road and Phase II in Woodbrook.  There are also occasional organized panyard tours that you could join.  Here is a comprehensive list of panyards around Trinidad.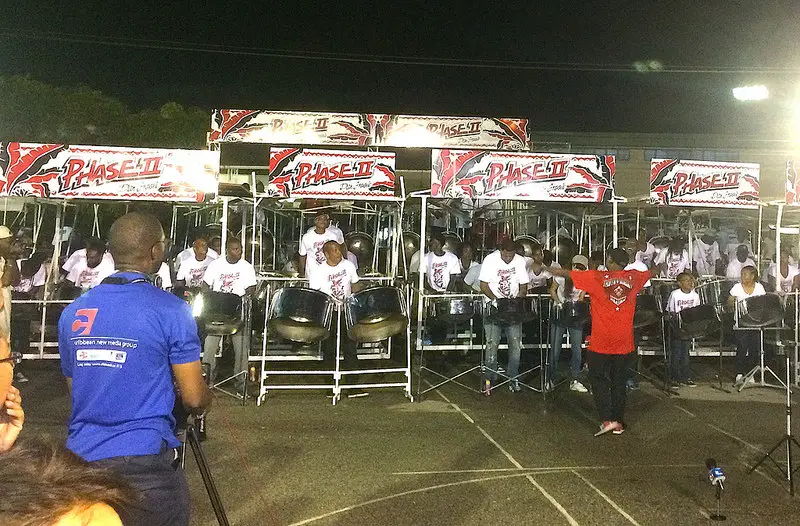 Here is a video of Phase II performing during the 2017 Pan Semi-Finals.  It's not the best quality as it was super crowded!  And, of course, dark but you get the idea.
[kad_youtube url="https://www.youtube.com/watch?v=v2yNSTlQDnE" maxwidth=1000 ]
What are your favourite things to do in Trinidad?  What would you add to this Trinidad itinerary?  Comment below with your suggestions.  Or perhaps you need help planning your perfect trip to Trinidad?
If you like this post, PIN it!
[columns] [span6]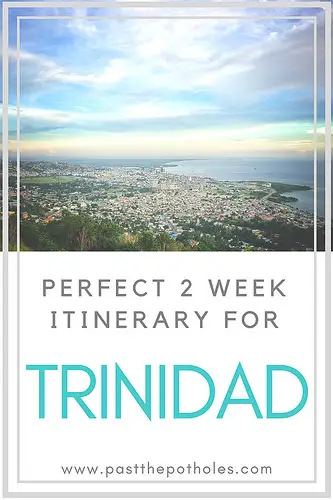 [/span6][span6]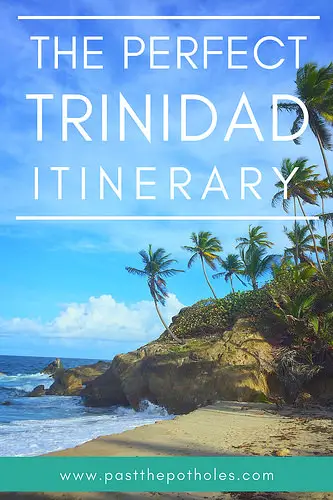 [/span6][/columns]
Go back to our Destinations page.