Hiking Trinidad's North Coast
Some links in this post may be affiliate links. If you click on them we may make a commission from qualifying purchases at absolutely no cost to you.  Read our full Disclosure Policy here.
If you know where to look, there are countless beautiful places for hiking Trinidad's north coast.  You can join a group hike that run frequently on weekends and holidays but it's best to go with friends.  A car is a must and don't go alone, otherwise enjoy!  Here are a few of the hikes we enjoyed during our year in Trinidad.
Bamboo Cathedral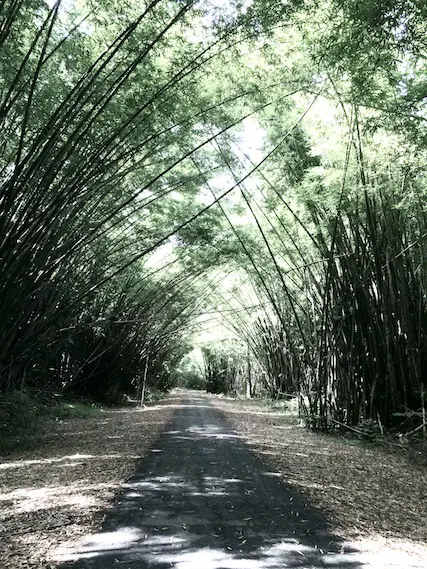 Just off Tucker Valley Road on the way to Macqueripe Bay in Chaguaramas, Bamboo Cathedral is a short, easy hike.  Many people hike, run or bike up to the tracking station at least once a week for exercise but it's also a lovely nature walk. It is also possibly the best place to see monkeys.  There were numerous occasions when we saw Red Howler Monkeys and groups Capuchin monkeys playing in the trees, often with babies!
A very popular one, it follows a wide paved road all the way through the 'cathedral' and up to an old tracking station.  Through the cathedral is perfectly flat and you could choose to turn around here.  After this point it gets quite steep as it heads up to the tracking station.  A third of the way up there is a little lookout where you can catch your breath and a glimpse of Venezuela.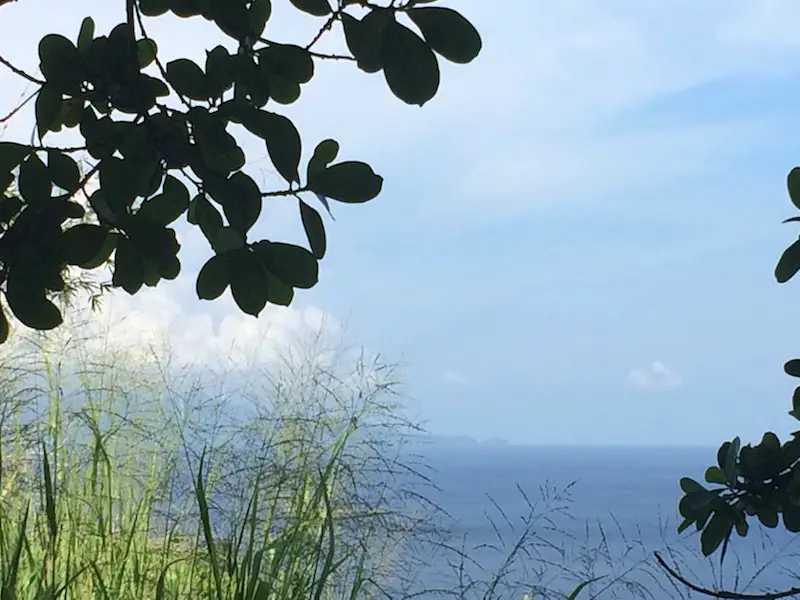 There are some interesting abandoned buildings and a radio tower to explore but the wasps are INSANE up there!  This is a great introduction to hiking Trinidad's north coast as it is very easy to reach and quite a short hike.
[columns] [span6]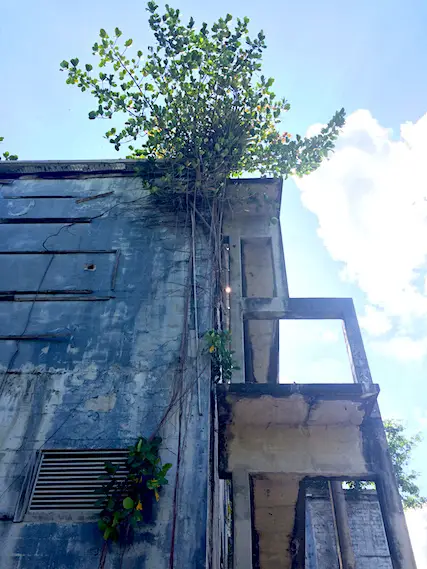 [/span6][span6]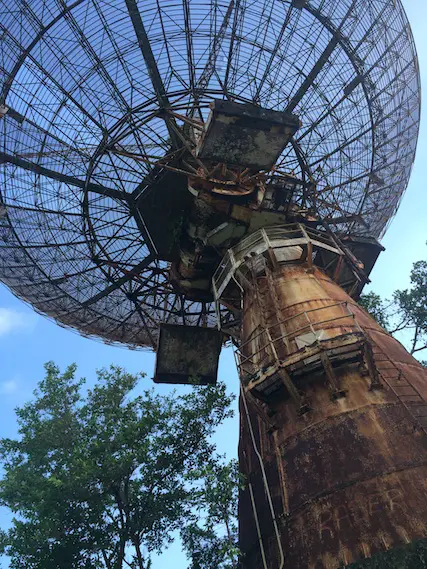 [/span6][/columns]
If you're looking for more of a challenge, you could park at Samaan Park, on Tucker Valley Road shortly before the entrance to Bamboo Cathedral, and look for the trail heading into the forest at the far end.  Follow the trail up through dense jungle.  At the only junction, turn left to come out at the top of the tracking station.  From here you can retrace your steps or head down the regular path and walk along the road back to your car.  Bring bug spray, mosquitoes were terrible along this trail!
Santa Cruz to Maracas Bay
If you're looking for a more challenging option for hiking Trinidad's north coast, this is a good workout!  About 11km out and back, the first kilometre or so is quite steep uphill.  After that it is a steady descent for about 5km until you reach the village of Maracas.
It is pretty well shaded the entire way so that's a huge help.  The walk back is a little tougher: those 5 or so kilometres of downhill on the way?  Yep, all uphill going back!  We stopped once we hit the village's paved roads as we were turning around to return to the cars.  However, organize vehicles either by having someone drop you off and meet you in Maracas with the car, or book a maxi and it would make for an awesome start to a beach day!  Definitely on my to-do list…  Alternatively, park at the beach and hike in reverse.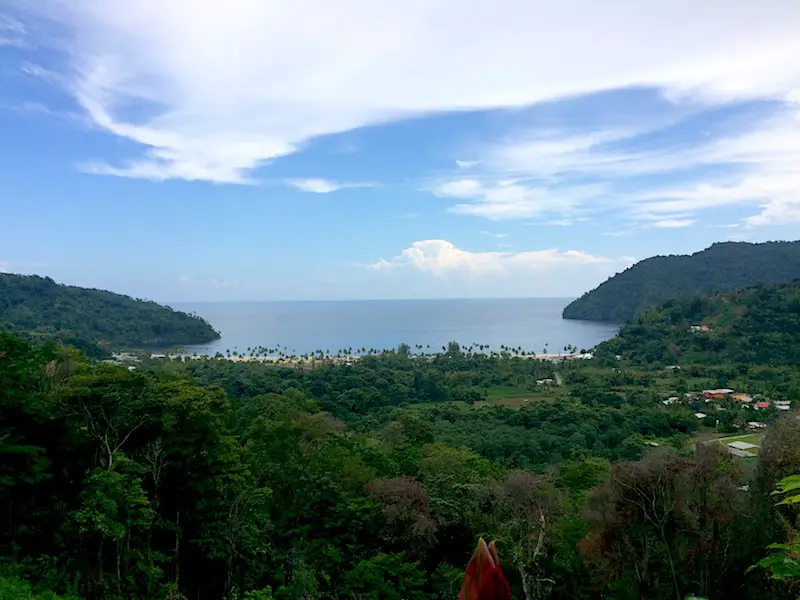 Peechon Cove
This isn't so much a hike as a scramble down the mountainside from the North Coast Road to the shore about half way between the start of the road and Maracas Bay.  You will see a small hut on the ocean side and a vehicle covered in a bright blue tarp.  Just after that there is a grassy area on the left where you can park.  The trail begins between the parking and the building.  You might not believe there is a trail, but up close a gap can be seen between the trees!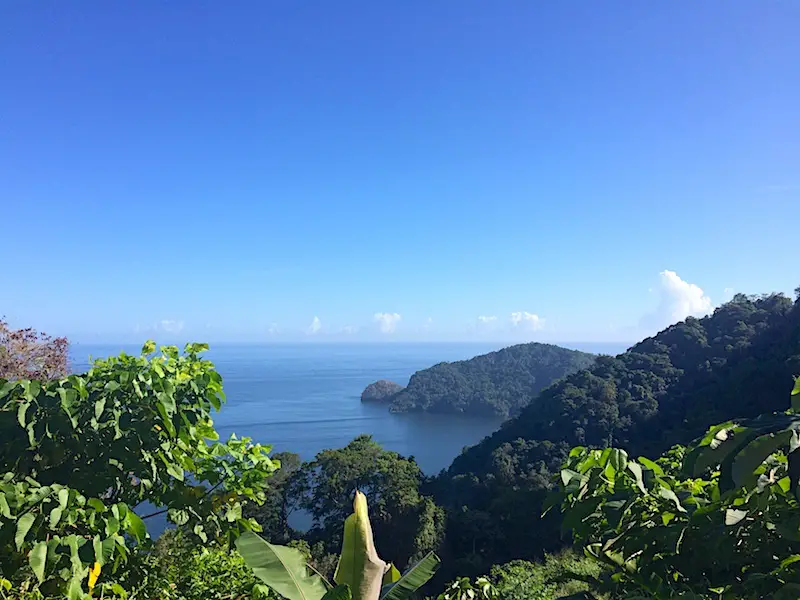 It is very steep and there were a few spots where fallen trees were blocking the path and required some climbing.  It is a little more than one kilometre each way but the uphill back is quite challenging in spots.  At the bottom there is a peninsula with a little cove on one side with a small pebble beach and a waterfall on the other side.  Both require some basic rock climbing to get to and the water is quite turbulent so I wouldn't recommend it for anyone that isn't a strong swimmer.  This wasn't my favourite hike, but worth doing once!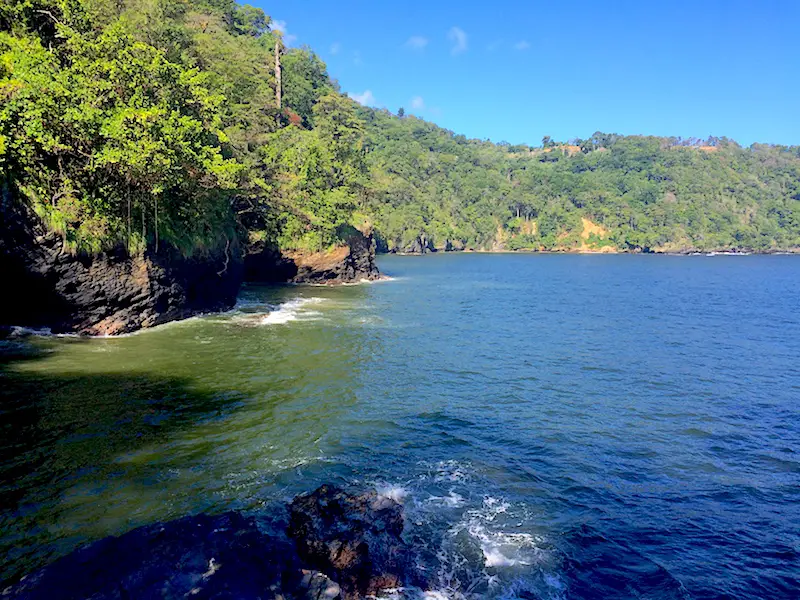 ---
---
We would really appreciate you sharing this with others!  
Pin it!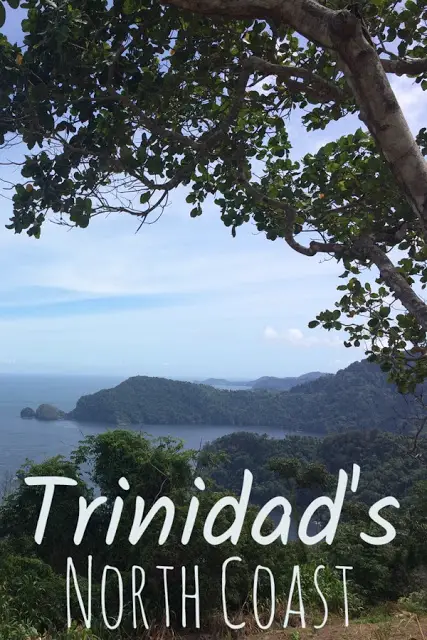 Have you been hiking in Trinidad?  Where are your favourite hikes?  Which spots would you recommend?
Return to all our Trinidad posts here.
Return to our Destinations page.