The Ultimate Itinerary for One Amazing Week in Trinidad
Some links in this post may be affiliate links. If you click on them we may make a commission from qualifying purchases at absolutely no cost to you.  Read our full Disclosure Policy here.
Looking for a Caribbean vacation?  If you've never considered Trinidad it's time you did.  This off the beaten track island offers a different experience from most other Caribbean destinations and it's lack of tourism means you will be getting a really authentic experience.
If you have enough vacation time, check out our Two Week Trinidad Itinerary.  However, if you can only manage one week in Trinidad there is still plenty you can see and do.
How to Spend One Week in Trinidad
Things to keep in mind:
You will need freedom of movement to fully enjoy Trinidad.  Car hire would be our strong recommendation but you can also hire a car with a driver or book tours.  Check with Kalloos for cars and drivers.  Check car hire prices now with RentalCars.com.

All activities are interchangeable.  Some are dependent on the day of the week so adjust the order according to your schedule.

Pick and choose activities of interest to you and trade out those that aren't your style.  Click to find a comprehensive list of 70 things to do in Trinidad!
Day One – explore Port of Spain
Arrive at Piarco International Airport and transfer to your hotel.  Depending on your arrival time, you will hopefully have enough daylight left to explore the local area.  If it's early enough (before sunset), take a walk around the Queen's Park Savannah.  You could head to Ariapita Avenue for dinner and drinks.  Alternatively, unpack and relax in your hotel.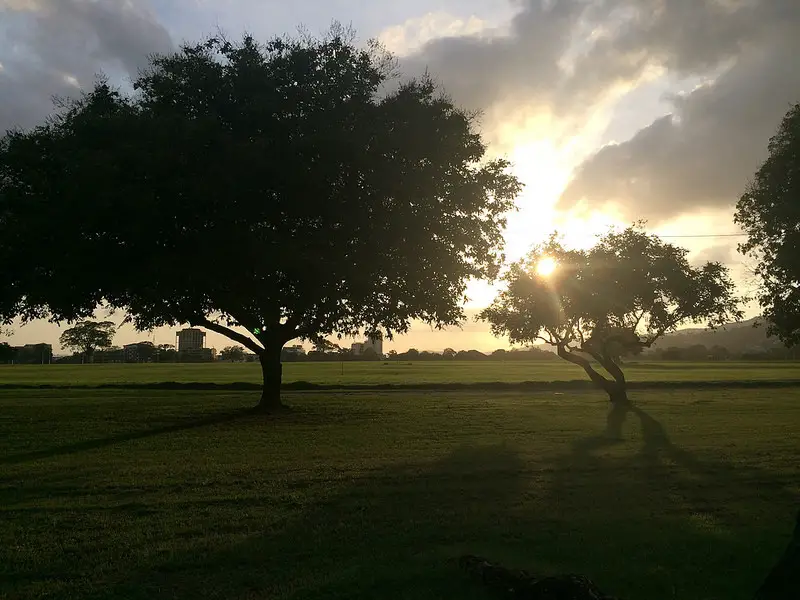 Trotter's has the most extensive menu we have ever seen so you are sure to find something here.  Alternatively, you could head over to One Woodbrook Place for Chaud Cafe & Wine Bar for light but delicious dining or, one of our favourites, Svaada for Indian food.
Day Two – beach day!
Head to the beach!  Maracas Beach is the nearest decent beach to Port of Spain.  This is where you will find the most people, eating places, toilets and chairs and umbrellas.  Be sure to try bake and shark.  However, 7km further you will find longer, quieter Las Cuevas beach which also has facilities.  If you're looking for something more adventurous you can continue along the north coast road to any number of beaches and bays.
[btn text="Discover the Absolute Best Beaches in Trinidad!" tcolor=#FFF bcolor=#1998b5 thovercolor=#444 bhovercolor=#bbede7 link="https://pastthepotholes.com/best-beaches-in-trinidad-and-tobago" target="_blank"]
If snorkelling is your thing, head to Macqueripe Bay in Chaguaramas.  It is very common to see turtles in the water here and as a bonus, you could try zip lining, mountain biking on the many local trails or visit Bamboo Cathedral for a chance to see monkeys when you've had enough of the water.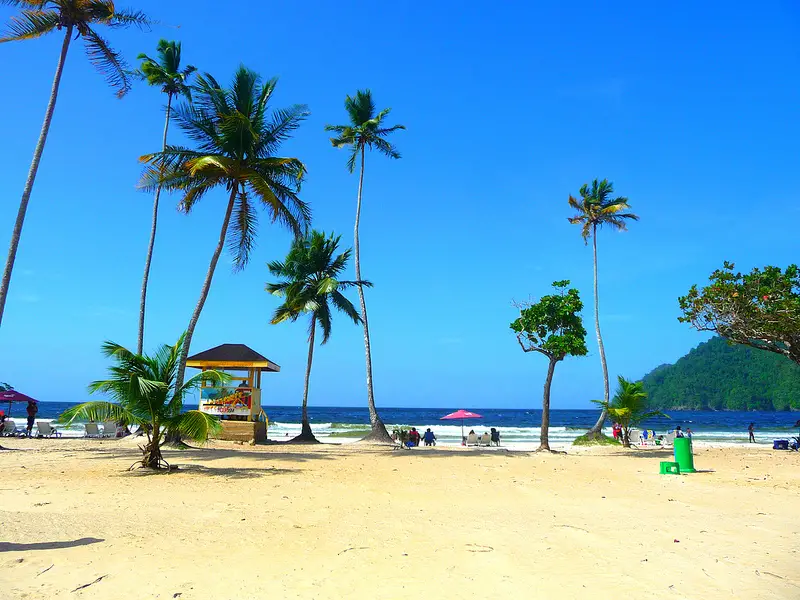 For some traditional Creole food in a lovely setting head to Veni Mangé on Ariapita Avenue.  The French-Creole menu is served in a traditional house surrounded by artwork from local artists – much of which can be purchased.  It is only open Wednesday – Friday so time your visit accordingly.  They are quite popular so we would recommend making a reservation, especially for larger groups.
Day Three – a jungle, beach or river hike
Trinidad has some of the best hiking we have done.  Thick jungle, mountains, rivers and waterfalls can be found all over the north of the island and best of all?  They are all free – and noticeably void of other people.  We love how natural the trails are here.  We have been to so many other places where man-made steps, handrails and viewing platforms seem to spoil the natural environment.
The tricky part, however, is finding the trailhead.  I would recommend hiring a guide, joining a group (check Facebook for numerous hiking groups) or researching ahead of time.  Hiking was definitely one of our favourite things to do and deserves a place on your one week Trinidad itinerary.
With just one week in Trinidad, you will have to pick and choose carefully.  Click below to read a few posts about some of our favourite hikes: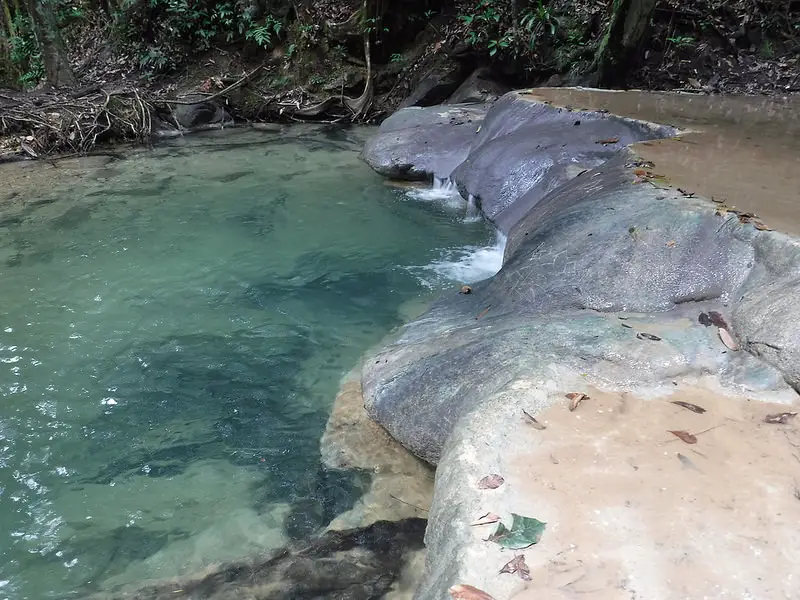 You've worked up an appetite today so now's the time to try what many consider to be the national dish – roti.  Probably the easiest place for a visitor is Hot Shoppe on Mucurapo Road but everyone has their favourite spot.  You could ask the staff at your hotel and I'm sure they would give you a great local recommendation.
OR  If roti isn't your thing, buffet style places such as El Pecos or Creole Kitchen will allow you to pick and choose from local favourites.  For a true local meal be sure to choose the curried or BBQ chicken, macaroni pie, provisions such as yucca and pelau.  You will be charged by weight for your meal so it can be a really economical way to eat.
Day Four – birdwatching in Trinidad
Trinidad is known to have incredible biodiversity, particularly with respect to bird species.  It actually has the highest density of bird species in the world.  There are a number of activities you could choose to witness this.  I would suggest either Caroni Swamp boat tour or Asa Wright Nature Centre.  Asa Wright will be a full day adventure but Caroni Swamp will leave you with the morning to explore other areas.  Stick close to Port of Spain because of the traffic.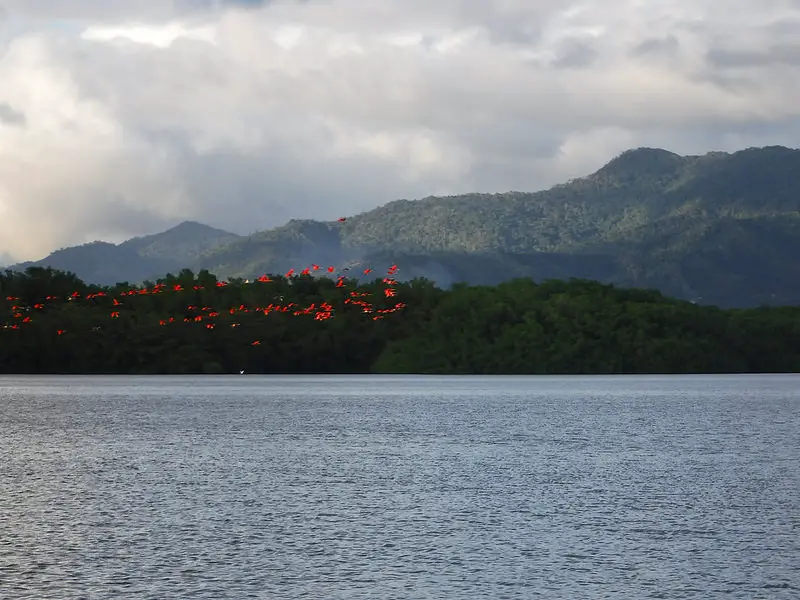 On a Friday, go to the Savannah food court in the southeast corner for a number of local options.  From here head over to Ariapita Avenue for a drink (or two).  Just look for the places that are busy!  There is nothing better than doubles after a few drinks.  This traditional food is found on most corners, just look for someone selling food out of a small cart or cooler.  At just $1 each, no one should end their week in Trinidad without trying at least one!
Day Five – choose from the city, beach or hike!
If you didn't explore Port of Spain yesterday now is the time!  It's not a city known for having a beautiful downtown but there is certainly enough interesting architecture, parks and museums to fill a day.  Read this post on 70 Awesome Things to do in Trinidad for the highlights.  Items 26 – 31 are all in the city.  End with a visit up to Fort George for sunset.
OR   If cities aren't your thing you could spend the day on another hike, or on the water.  There are a number of water-based activities so you won't have any problem finding the one for you.
OR   If you're feeling adventurous (and energetic) hop on a quick flight over to Tobago for the day.  The 20 minute flight will put you just a 10 minute walk from Store Bay Beach although I would recommend going a little further (or taking a taxi) to Pigeon Point Heritage Park.  Alternatively, read this post of Top Experiences in Tobago for some ideas of what you could do.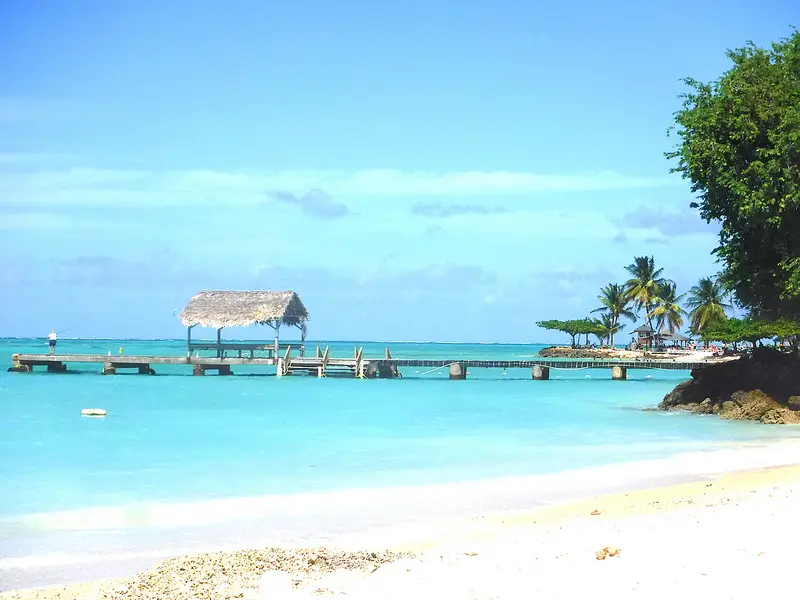 You're probably tired after today so now would be a great time to pick up some KFC to enjoy back at the hotel.  I wouldn't normally suggest a fast food restaurant but KFC is something of a religion here.  Everyone will tell you it tastes different here.  They're right!  Get the spicy chicken for the best flavour.  You could also try Royal Castle, the Trini version of KFC.
Day Six – beach day
For your final full day, head to the beach so you can return home rested and relaxed (and tanned!).  Try a new beach this time, there are so many gorgeous beaches here.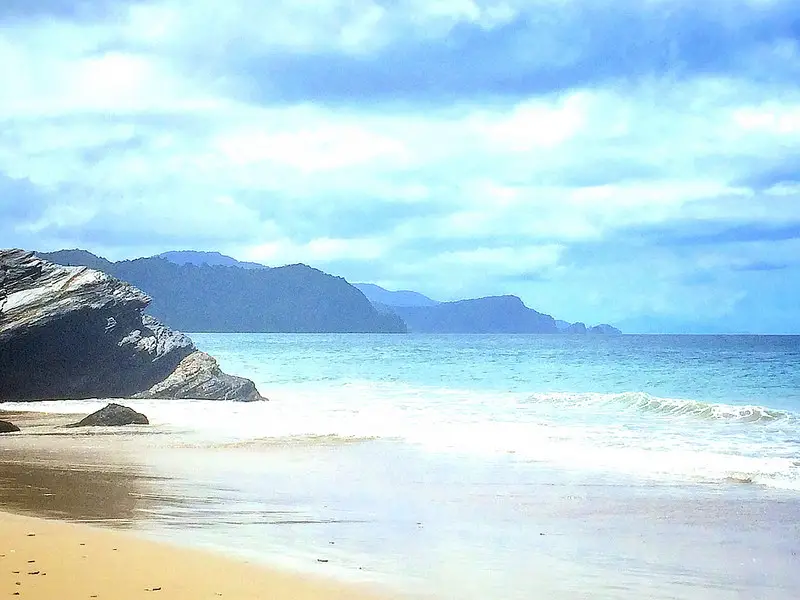 For your final dinner, try Jenny's on Cipriani Boulevard.  This Chinese restaurant is not only delicious but is in a beautiful old plantation style house.  Sit on the verandah for a great dining atmosphere.  Alternatively, Tiki Village in Kapok Hotel has amazing Indonesian food and a first class view over the Savannah.
If your one week in Trinidad falls during carnival season, visit a panyard after dinner to watch the steel pan bands practising.  I love the guys who are working 7 drums at a time, while dancing to the beat!!
Day Seven – go home
Your one week in Trinidad has come to an end.  Depending on your flight time, you may be heading straight to the airport or have a little time to relax at the pool or fit in some last minute shopping.  Both The Falls at Westmall and Long Circular Mall have a couple of shops where you can find souvenirs to take home.
Be sure to leave plenty of time to get to the airport.  Traffic can be terrible along the highway if there is the slightest disruption, or you are leaving at rush hour.  Honestly, Google Maps will tell you it's a 25 minute drive but we know people who left three hours and still missed their flights (of course, that's not normal)!
Head home and tell all your friends about your amazing time in Trinidad!
If you found this post useful, pin it for later use!
[columns] [span4]
[/span4] [span4]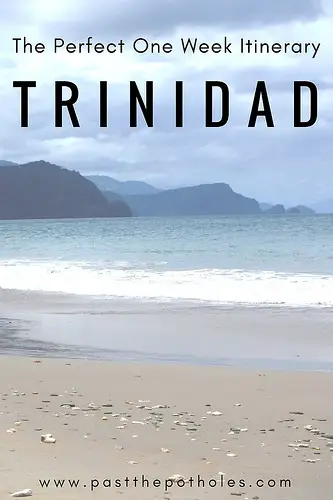 [/span4][span4]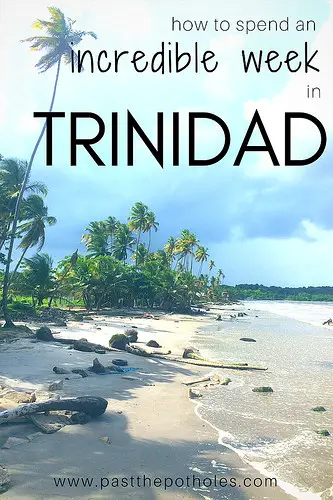 [/span4][/columns]
Have you been to Trinidad?  What would you do with one week in Trinidad?
Go back to our Destinations page.
---
---
Some links in this post are affiliate links.  That means if you click on them and make a purchase we will make a small commission at absolutely no cost to you. Win-win, right?  Thanks for your support!
---