Everything you need to know to hike Paria Bay, Trinidad
Some links in this post may be affiliate links. If you click on them we may make a commission from qualifying purchases at absolutely no cost to you.  Read our full Disclosure Policy here.
Imagine hiking through a hot and humid jungle.  You are sweating uncontrollably and your legs are complaining about the fourth steep ascent in two hours.  Just when you think you've had enough the trail opens out to the most beautiful, deserted beach you've ever seen.  Sound about perfect?  Keep reading to find out how you can discover the beautiful Paria Bay in Trinidad for yourself.
This is possibly my favourite hike in Trinidad.  Or perhaps it's Avocat Waterfall Hike….  Too difficult a decision, but either way, if you are a hiker this is a must do when on the island.
How to Hike to Paria Bay from Blanchisseusse
Where does the Paria Bay hike start?
To begin this hike drive the North Coast Road to Blanchisseusse and continue all the way to the end of the road.  There is a little stream you can use to rinse off after and space to park beside it on the right.  Follow the trail that turns sharply right at the end of the road and then follow it down to a small beach.  This is the only part of the trail that can be confusing.  You will need to hop over a little stream and continue towards the trees on the other side.  The trail picks up almost immediately so it will be easy to know you're on the right track.
The trail hugs the north coastline and offers periodic views and the odd little beach.  Part way along, there is the option of a detour to Turtle Rock.  It's worth the extra steps for the views and photo opportunity.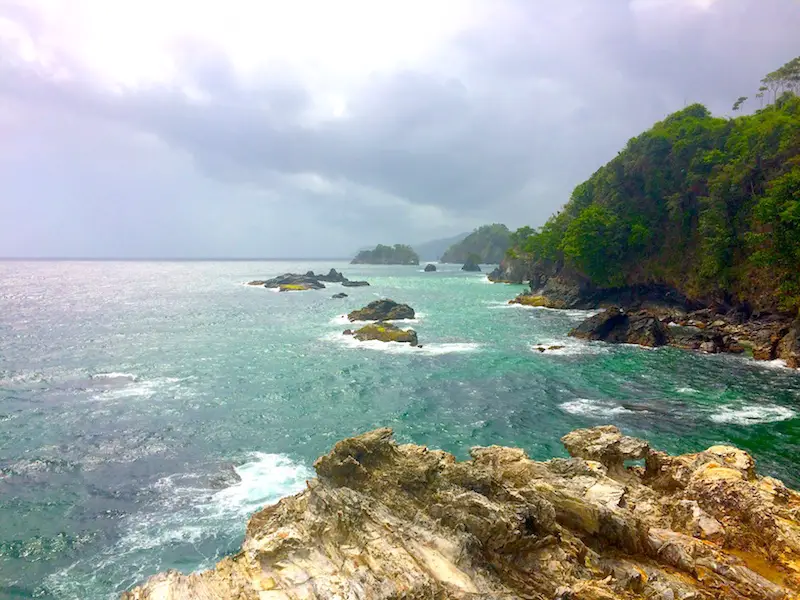 How long should it take to hike Paria Bay?
The trail takes about two to two and a half hours each way plus the time you choose to spend there.  There are four decent inclines along the way but none are too long and each is followed by a decline.  One of my favourite things about this hike is that it is challenging but undulating.  A lot of Trinidad hikes are uphill all one way and downhill in reverse so this is a nice change.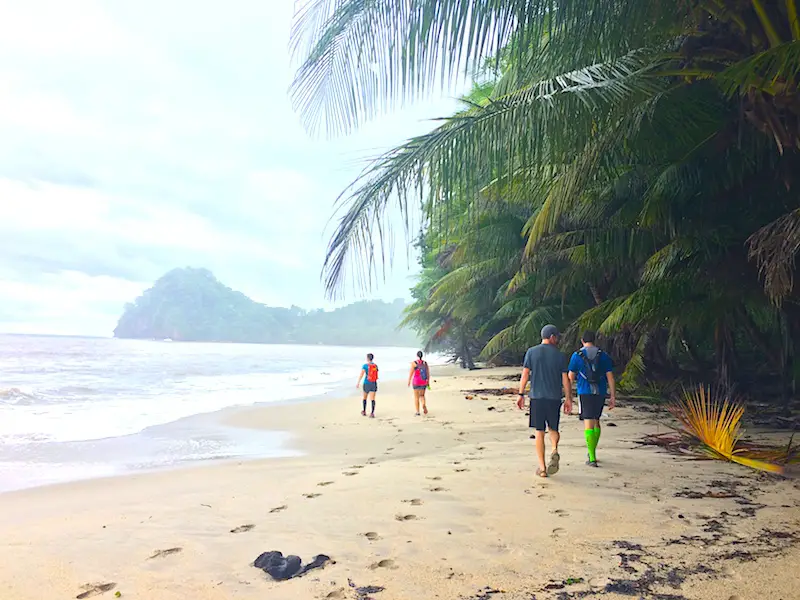 At one point, there is a trail that heads into the forest away from the coastline.  This trail leads all the way into Brasso Seco.  Don't take it – at least not for the Paria Bay hike!  Keep to the left or follow the coast and you will have a hard time losing the trail.
What can we expect to see on the hike?
When you eventually reach the bay take a moment to enjoy the view and walk to the far west end, to your left, to see the famous Paria rock arch.  Walk along the beach towards the far end and eventually you will see a trail that heads back into the forest.  It is right beside the first of two makeshift shelters.  About 15 minutes of walking on this trail and you will find a beautiful waterfall.  There aren't too many hikes that will give you a waterfall and beach!  The water is freezing refreshing but it is a lovely place to have a swim and a snack.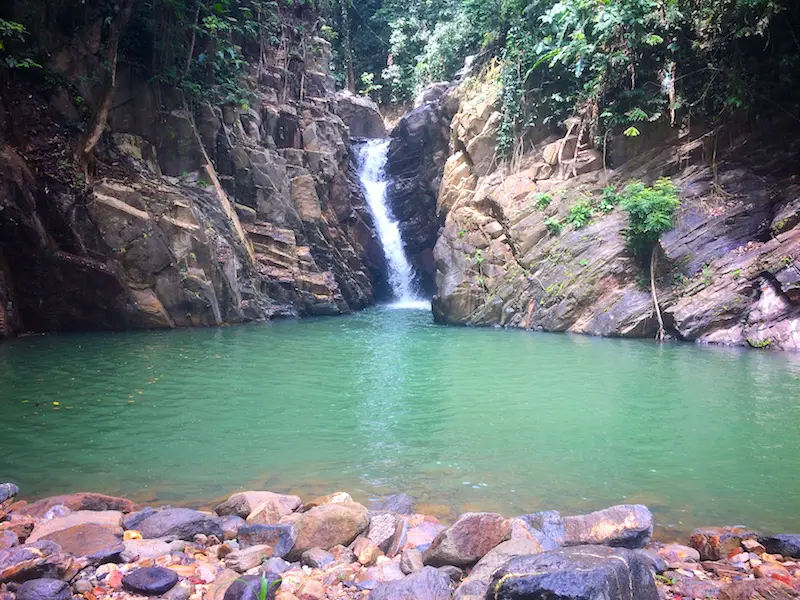 Our first visit here was after heavy rains and we couldn't actually get to the waterfall as the river was so high.  It did, however, provide Terry with the perfect opportunity to take a shortcut back to the beach (and still puts me in a fit of giggles every time I watch)!
[kad_youtube url="https://youtu.be/rmzQ7dwA_8E" width=660 ]
The second time around, there had been a huge rock fall which completely changed the landscape.  The waterfall is now at least 20 feet further up the river and the pool in front has changed dramatically.  You've got to love nature!
Keep your eyes peeled for wildlife too.  We've seen turtle eggs and macaws on this hike in addition to the usual lizards and birds.  The Trinidad jungle plays host to a huge amount of wildlife and the Paria Bay area is a perfect place to spot some of it.
When you've had enough, if that's possible, hike back out the same way you came.  Paria Bay is perfectly located for a stop at one of the many beaches for a post-hike swim.  Or stop at Maracas Beach for some bake and shark.  You've earned it!
When should we go?
Anytime is a great time for this hike!  However, if you have the option the dry season would be an excellent choice.  The north coast of Trinidad is particularly prone to rain and landslides are fairly common on the North Coast Road, making the drive tricky.  Having said that, both times I did this hike was in the rainy season and I thoroughly enjoyed it.  It rained on both occasions but didn't take away from the views.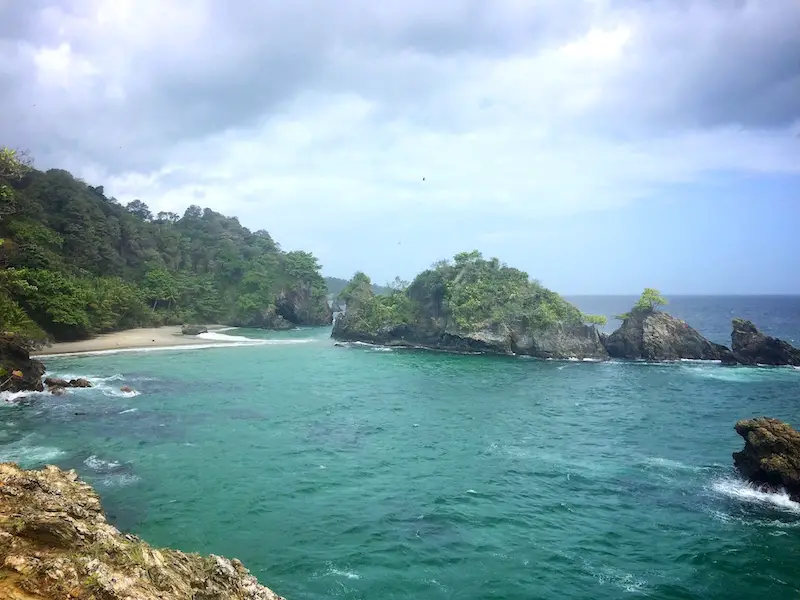 Head out first thing in the morning.  You will have a fairly long drive to the trailhead and it's a long hike.  Leaving early will ensure you have all the time you would like at Paria Bay and not feel rushed to get back to the city in the afternoon.  An added bonus for an early morning start is that the skies tend to be clearer first thing.  This is especially important if you are hiking Paria Bay during the rainy season.
What should we wear or bring to hike Paria Bay?
This is a dry hike up until you reach the waterfall so regular hiking shoes will be fine.
Lightweight hiking shirt – even in the rain, it is hot and humid.
Lightweight hiking or workout shorts
Day backpack or hydration pack
Swimsuit
PackTowel or sarong to dry off
Camera – you will want to take pictures!
Snacks and plenty of water
Small first aid kit
Sunscreen and bug spray
If you found this post useful, pin it and share with others!
[columns] [span6]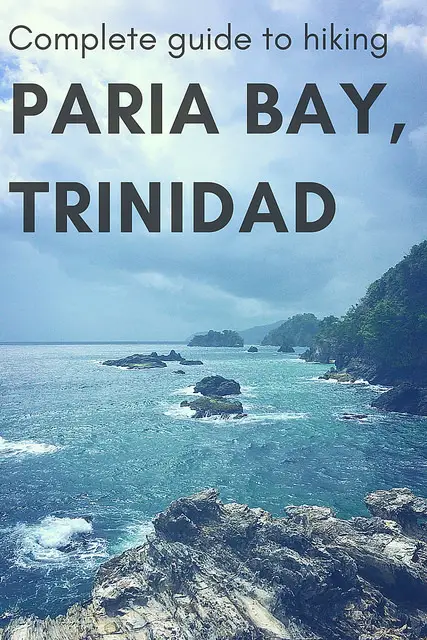 [/span6][span6]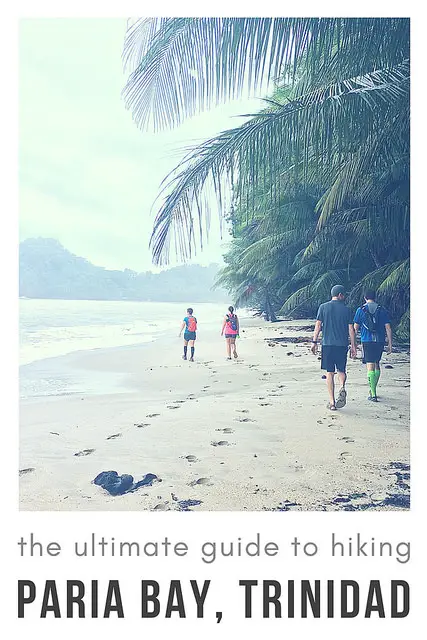 [/span6][/columns]
Have you done this hike?  What did you think of it?
Return to Destinations page.