Some links in this post may be affiliate links. If you click on them we may make a commission from qualifying purchases at absolutely no cost to you.  Read our full Disclosure Policy here.
We decided to add a quick side trip to Albania in the middle of our time in Spain.  A friend we taught with in Mexico is now living and teaching here with his fiancée.  A perfect excuse to catch up with him and see another country!
[mappress mapid="13″]
Discovering Albania
This country is beautiful!  Huge mountains fall into the ocean, countryside is filled with livestock and small towns perch on the hillside.  Amongst this there is a healthy dose of modern cities and construction too.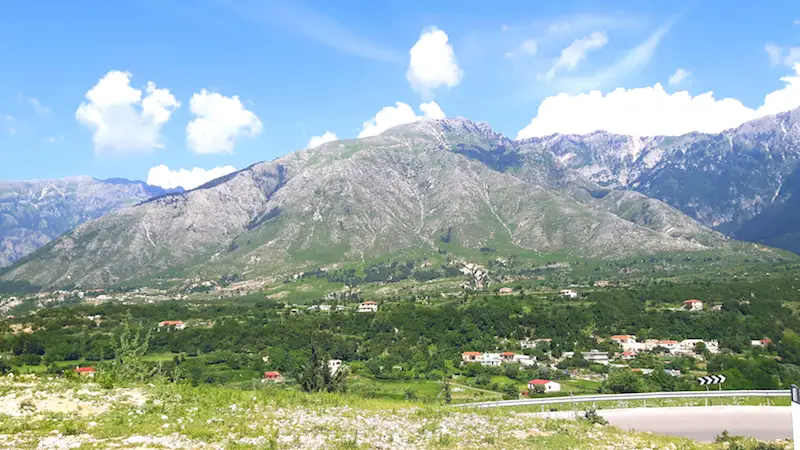 Growing up in England, Albania was the mysterious place that we knew existed but not much else.  Still in the grips of communism, it was barely considered part of Europe at all.  This has created an interesting culture – entirely self-sufficient until a few years ago then literally thrown into a modern, capitalist world almost overnight.  It's resulted in some interesting contrasts.
Exploring Durrës
After returning from Dhermi in the south, we settled in to our friends' apartment in Durrës.  The sea views from every window are enough to keep us in the apartment much longer than we should but we did get out and about too!
The city is pretty developed and, with a port, quite industrial and yet has a pile of history.  We've checked out the Roman amphitheatre, the Byzantine marketplace and the old city wall.  I did try to get to the top of the wall but failed miserably and smashed my knee in the process!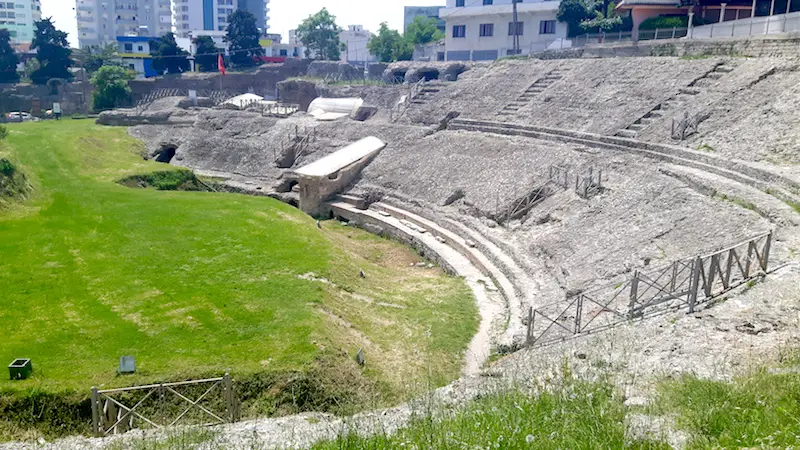 While the beaches aren't quite a match for those in the south, there is still a wide beach right in town with a busy promenade along its length.  The crystal clear blue waters are more than a little enticing!  A mountain just outside of town tempted Terry to go for a hike/climb and gave him some amazing views of the coastline.
While our days have been spent pretty relaxed, our evenings have been jam-packed!  Between taco nights, dominoes nights and wedding celebrations we've been out (and over-indulging) every night!  It's been a lot of fun to get back into the amazing social network of international teaching.
Cape of Rodon
Terry and I went solo exploring one day.  We borrowed the car and headed north to the Cape of Rodon.  Doesn't it sound like it should be a location in Game of Thrones?  Not that we've ever watched it to know…
The cape is a peninsular of land that offers awesome views, beautiful beaches with a bonus castle and historic church!  We even got a workout as we had to scale the cliff to get back to the hiking trail from the beach below.
We finished the day off with lunch on a beach.  It was surprising to see just how developed it was with row after row of palaces and sun loungers ready for hire.
Tirana
The capital of Albania isn't too far away so Terry and I hopped on the public minibuses one afternoon to explore.  The bus driver ended up dropping us much further out of the city than anticipated so we put some serious miles on our sandals but had enough time to wander through some of the key sights.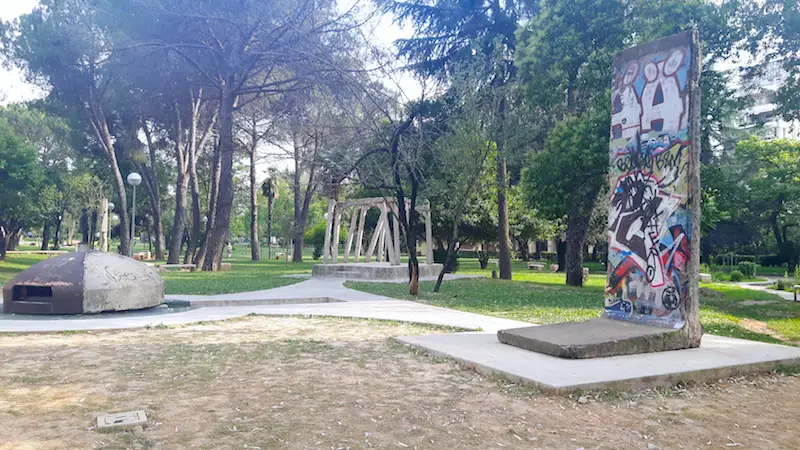 There is a lot of park space in the city and the old Communist elite neighbourhood is a good stroll now filled with cafes and restaurants.  We met Aleisha and Chip in a cafe where they were meeting people to sell off some things before they leave Albania.  The return journey to Durrës was a little more comfortable!
Kruje
While poor Mr. Chip had to work, the three of us took a day trip to Kruje.  This small town in the mountains was the centre of the resistance against the Ottoman in the 15th century.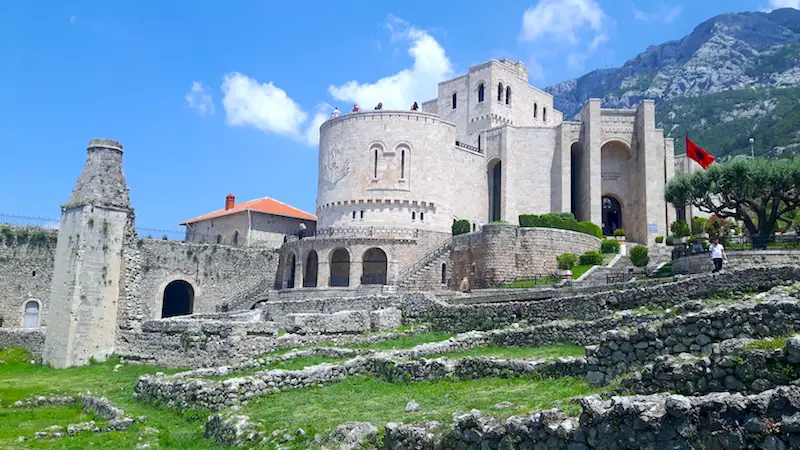 We wandered the old main street now filled with souvenirs and antiques before heading up the hill to the castle.  Lunch at the top was delicious with the absolute best views I've seen from a restaurant.  Of course we ordered too much but the thieving cat who stole a sausage off Terry's plate helped us out!
Weekend trip to Montenegro
For our last weekend, we packed a bag again and took off to Kotor, Montenegro.  After lunch, and a quick medical emergency, we hit the road northbound.  Despite leaving a rather conspicuous trail of blood, we decided the new slice in Chip's thumb would be fine!
The drive alone is an adventure in Albania but we arrived in Kotor with daylight to spare.  Just that morning we had gone online and rented this 'castle' for the night.  The 3-bedroom stone house was slightly less than regal but a great place to stay in the old walled city nonetheless.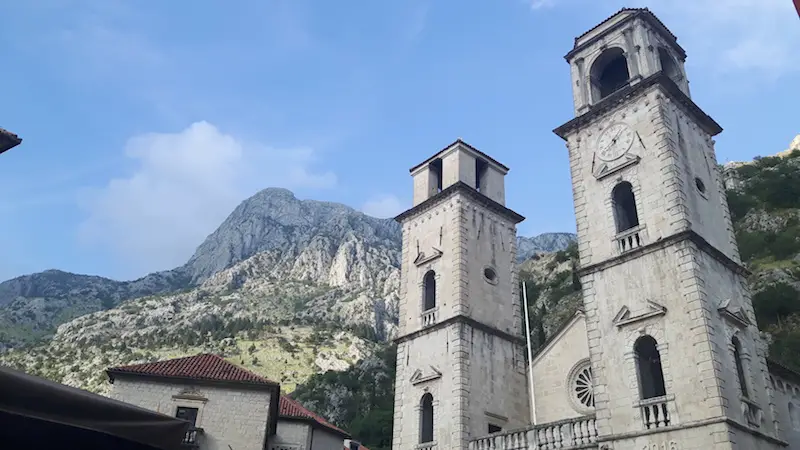 The town is wedged between a huge inlet and a mountain.  The city wall climbs all the way up the incredibly steep mountain with a chapel half way up and fort at the very top.  I guess they were paranoid about invasion from any angle!
Besides the history and beautiful setting, Kotor also has more than its fair share of bars and restaurants.  We headed out for a dinner and a drink and before we knew what happened, we were in party mode.  The drinks were good and the company even better.  We were having so much fun we barely remembered to eat.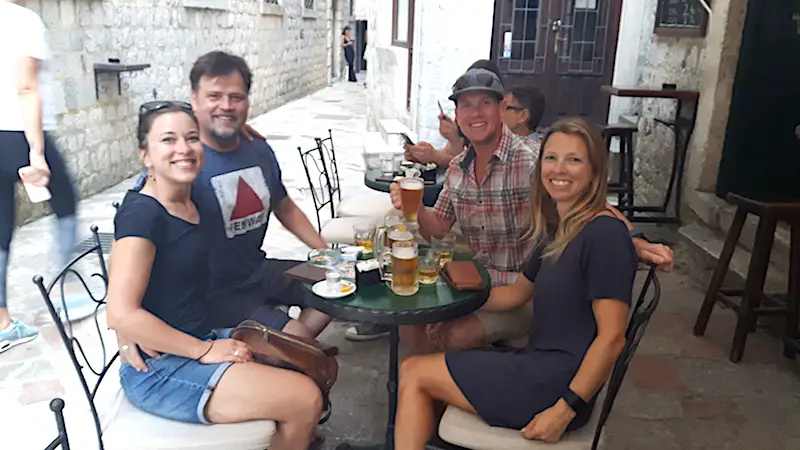 Miraculously, everyone felt fine the next morning.  The boys prepared to climb a mountain while the girls went in search of breakfast.  Wandering the narrow streets we stumbled across a hidden plaza with a small shop offering old time photos.  Why not??
To round out the weekend we had lunch on the water and spent some time swimming and relaxing on a beach.
The drive home was a rollercoaster!  Crazy drivers, interesting overtaking on mountain roads, tourist buses refusing to move over and sheer drops missing railings.  We even managed to rescue a turtle in the middle of the road and, amazingly, saw our first car accident in Albania!  Never a dull moment…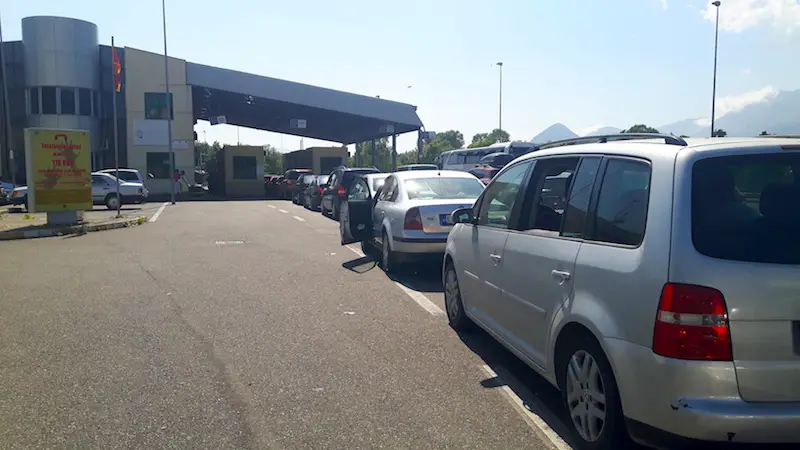 We had an amazing time in both Albania and Montenegro.  There is no question we would highly recommend both countries without hesitation!
←Week 38: Read about last week in Barcelona!
Week 40: Next week we'll be in Istanbul and back to Spain!→
---
Return to our Travel Journal page.
Find what you need on our Destinations page.