House Sitting in Spain Guide (+ things to do in Oliva, Spain)
Some links in this post may be affiliate links. If you click on them we may make a commission from qualifying purchases at absolutely no cost to you.  Read our full Disclosure Policy here.
Despite growing up in England, my family never made it to Spain.  Largely put off by images of over-development and partying Brits in places like Benidorm or Malaga, it never appealed to us.  However, when we booked our first job house sitting in Spain, we discovered there is so much more to the country!
Spain is an incredible destination to live like a local for a while.  I once read that it's the perfect country for slow travel and that is so true.  While the country is filled with amazing history, architecture and scenery, it really is all about the lifestyle!
Housesitting in Spain is a great way to discover some lesser-known areas, live in comfortable accommodations and enjoy the relaxed pace of life.  With so many expats living in Spain, there are always loads of house sitting jobs in Spain available too.
House Sitting in Spain:  Oliva, Valencia
---
Our first Spanish house sit was a few kilometres outside of the small town of Oliva, Valencia.  Where is Oliva, Spain you may ask?  We did too!
We'd never heard of the place but a quick Google search told us it is just over an hour south of Valencia, a similar distance from Alicante in the south.  The town sits just back from a 17km long beach that is a great place for kitesurfing.
Oliva has a well-preserved old town and the area is not so well-known with tourists yet.  Most of the tourist industry in this part of Spain comes from Spaniards living in the mountains around Madrid.
While our house sit was a few kilometres outside of town, it was just a short walk from the beach.  The house was lovely and the perfect place to relax for two weeks.  The owners were kind enough to let us use their car given the remote location so getting around was easy.
We loved our time in Oliva, Spain so much we actually booked to return for almost 3 months less than a year later!  The same homeowners have asked us multiple times to return but we had already booked an apartment for an extended stay.  We would still happily return if the dates worked out though.
Spain House Sit Responsibilities
We were charged with four adorable cats in addition to looking after the house.   Each with their own personalities, it took no time at all for Kenya to come along for cuddles with Nicky not too far behind.  Being mostly outdoor cats, they were easy to look after, aside from being rather demanding with their meals!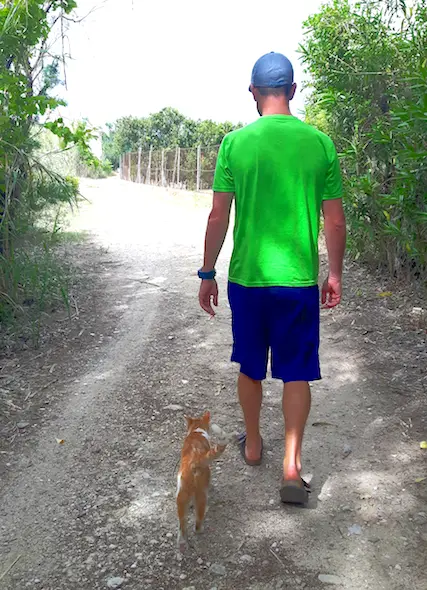 However, they did keep us on our toes and remind us that this is a serious responsibility.  On our first day, we found ourselves trying (and failing) to rescue a tiny rabbit they considered a toy.  A few days later Nicky decided to go walk-about.  Twenty-six hours later, as I was trying to figure out how to tell the homeowners we'd lost a cat, he strolled in demanding food!
This housesit was pretty relaxed.  Being only cats, we could leave for the day to explore the area.  We were expected to leave the house as we found it and give the cats food and attention.  While we could go out for the day, it was an expectation that we not go out all day every day.  As we are working online, we spend plenty of time at home anyway so this was not an issue.
The homeowners did expect daily updates which we would send anyway.  They loved the little videos we sent and they were able to have peace of mind that all was fine in their absence!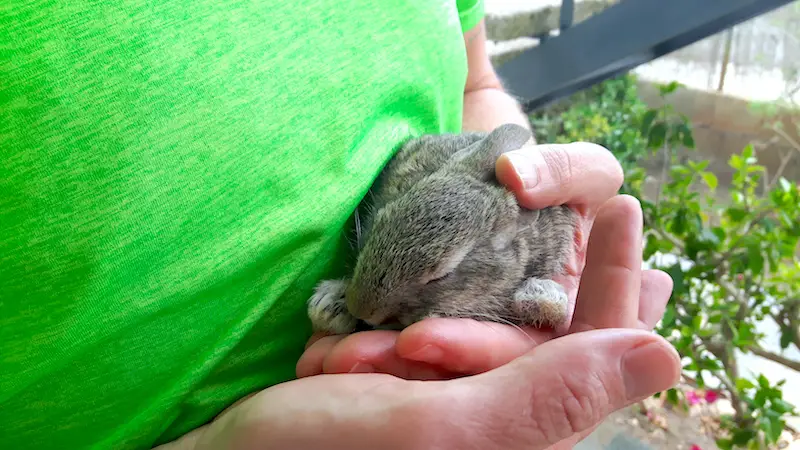 What to Expect Housesitting in Spain
If you're considering house sitting, it is important to remember that it is much more than just free accommodation.  You need to be prepared to deal with emergencies and take on the responsibilities of home and pet ownership.   We've had cats go missing, dogs get sick and hurricanes blow through town to contend with over our various house sits.
Each house sit comes with different expectations.  We've had one house sit in Mexico with no pets, a cleaner and a gardener.  Basically, our only responsibility was to sleep in the house each night.  House sits with dogs are generally more work than those with cats.  We've even seen a few advertised house sits that require the sitters to ALWAYS be present in the house, or to never leave the dogs alone.  Before confirming a sit, ask questions and ensure everyone can keep to what's agreed.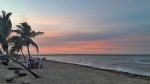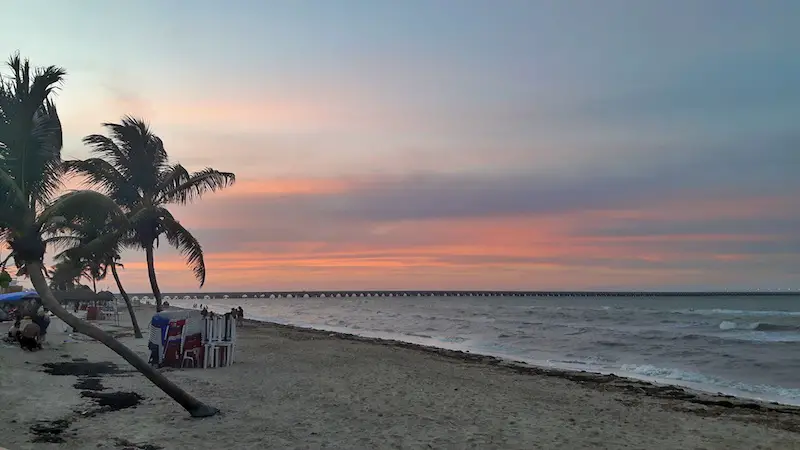 READ THIS POST:
Our House Sit in Mexico: Things to do in Progreso, Mexico
How to Get a House Sit in Spain
We have memberships with a couple of housesitting websites and have an automatic email set up for new advertisements.  I receive multiple Spain house sit requests in my inbox daily from Trusted Housesitters.  We highly recommend them, having found most of our house sits (including our house sit in Oliva, Spain) through this website.
Here are our top tips for scoring that awesome house sit:
Take time to create a quality profile.  Be sure to list applicable skills and experience while letting your personality show through.
Choose photos that do the same.
Apply as soon as possible.  We have had homeowners come out and say that they received so many applications, they accepted the first one.  Setting up daily email alerts goes a long way to helping with this.
Write a brief but personalized email when you apply.  Be sure to let them know why you'll be a great fit and grab their attention.  We keep a generic draft on hand at all times that we can quickly edit and send to save time.
If you're unsure about taking the plunge, a membership is not needed to look at the current available house sits.  You can look for free any time.  However, when you decide you want to take advantage of this money-saving travel hack, it is well worth the membership fee.
We pay $99 CDN a year – less than one night's hotel in many places!  Use our code RAF89690 and receive a 25% discount on your first year or click on this link to sign up.
Things to do in Oliva, Spain (and surrounding area)
---
We've now spent 3 months in Oliva (Spain) and have a decent idea of some of the things to do in the area.  While we did spend plenty of time in the house with our new furry friends, we were able to discover some of the local highlights as well.
Some of the following activities we were able to do during our house sit, others we did while renting an AirBnB apartment near the golf course.
Explore Oliva Old Town (Spain)
We had read about a free walking tour happening one morning in town so signed up for it.  What the English advertisement failed to mention was that the tour was in Spanish!  Between a large group and theatrical guide, we didn't catch too much but it did allow us to tour the city and see the major sites.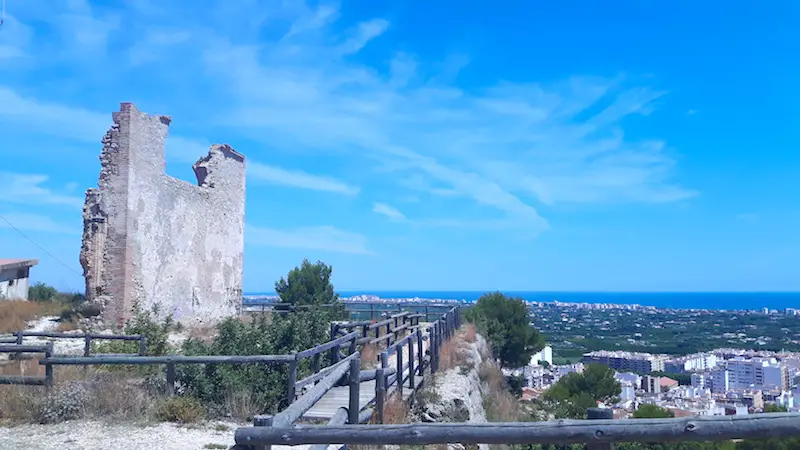 Independently, we climbed up to the old tower on the hill, Castel de Santa Ana, for some excellent views over town and to the sea.  There's not a lot left of the tower (basically one wall) but it's still worth a climb if you have the time.
The new part of town, however, is where all the action lives.  There is a long paseo running the length of town where you will find people at the coffee shops throughout the mornings, families playing in the evenings and plenty of action.  Each Friday morning there is an excellent local market that takes up much of this space.
Kitesurfing at Oliva Playa
Our favourite thing about this area in Spain was the beach.  It is miles of fine sand, backed by protected sand dunes and often empty.  Each afternoon throughout spring and summer, the wind picks up and kites fill the air.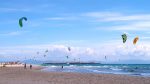 READ THIS POST:
Learning to Kitesurf in Tarifa, Spain
Terry took a kiteboarding lesson from a place in Oliva Nova but we can't recommend them at all.  Of the 5 different kite schools we've used, they were easily the worst!  We did, however, use our favourite kite school in nearby Denia when we returned this past year.  More on them coming soon!
The water is crystal clear and calm in the mornings.  Perfect for SUP, kayaking and young children.  In the afternoon, the kitesurfers and local fishermen come out.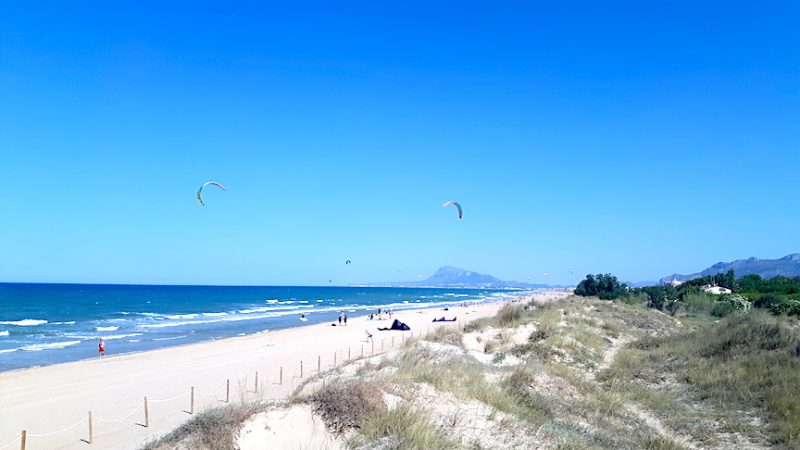 Discover Denia
About 20km south of Oliva is Denia.  This is actually my favourite town in the area.  The old town is really cute with plenty of bars and restaurants and it sits right on the water.  It's a little larger than Oliva and feels a bit younger.
Denia sits right at the base of the Montgo, a large mountain sitting alone.  There is some great hiking on the Montgo as well as the waters around it are a protected marine reserve.
Cycle around Pego-Oliva Marsh
Just across the highway is another protected wildlife area.  This time it is wetlands.  I took my mum for a bike ride around the marshes during my parents' visit and we discovered some lovely scenery and boardwalks.  Given we went around midday during a heatwave in June, we didn't see too many birds but I'm sure there are plenty in the mornings and evenings.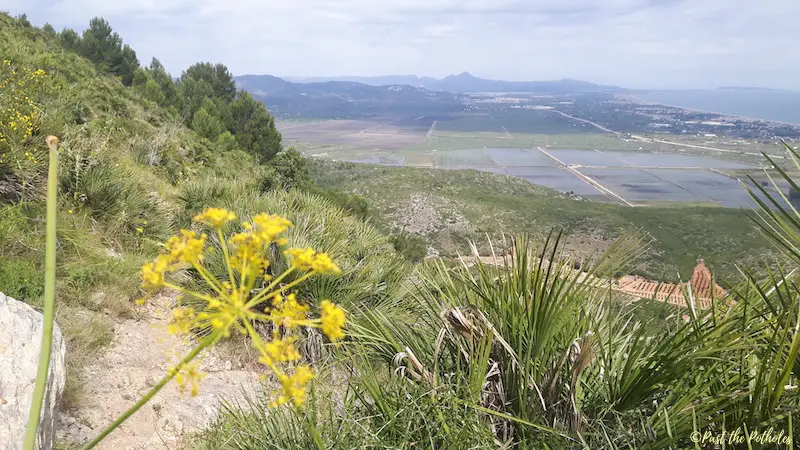 Have Lunch at Font Salada
On the edge of the Pego-Oliva Wetlands is a natural spring called Font Salada.  Around it, there is a small restaurant and bar.  The water is crystal clear and said to be 23ºC year-round.  We stopped for a lovely drink after our sweaty bike ride around the marsh.  While we didn't eat, we definitely saw some delicious looking meals come out of the kitchen!
Hiking in La Segaria
Not far south of Oliva is a small town called El Verger.  On the edge of town is a small mountain outcrop called La Segaria with a few hiking trails mapped out.
We hiked two separate trails and thoroughly enjoyed the scenery and the terrain.  At one point, trying to avoid hiking along the road, we ended up walking inside what we believe to be an old aqueduct.  That is until it dropped away to nothing into an old quarry leaving us scrambling up the rocky hillside.
All trails start with a steep, rocky incline but from there you can choose your difficulty level.  The longest trail skirts around the base of the rock while there are a few 'shortcuts' that go up and over various peaks.  A few caves are mixed in for some fun too.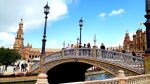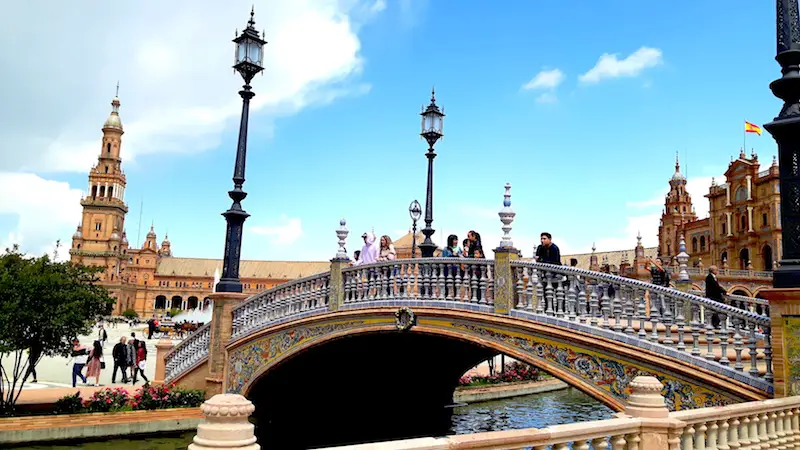 READ THIS POST:
One Day in Seville: The Perfect Plan to Maximize your Time
Explore the nearby Mountain Towns
One of our favourite things about this part of Spain is having the Mediterranean Sea in the front yard and mountains in the back.  When you're ready for a break from the beach, there are a number of small mountain villages dotted around the hills in the area.
Xativa is the largest and best known, especially for its numerous fountains.  It has a castle on the hill, a maze of narrow streets making up its old town and a lovely park space in what looks like a dried-up riverbed.
We also visited Alcalalí and Llíber.  Both are cute and worth a wander.  The drive between Llíber and Gata de Gorgos is one of the more scenic in the area.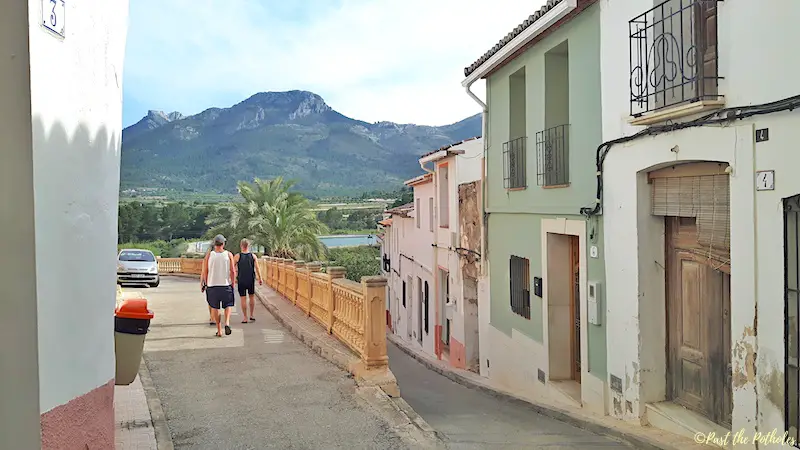 Snorkelling in the Mediterranean
The water in Oliva isn't good for snorkelling as the lack of rocks and abundance of sand mean there isn't much to see.  However, there are a few good spots in the area where you can explore the colourful underwater life.
At the south end of Denia is an area called Las Rotas.  The sand makes way for rocks and the marine reserve begins here making for some good snorkelling.
Further south, beyond Javea (Xabia), there are some good rocky coves.  Benitachell (Cala Moraig) and Playa de la Granadella are most notable for their clear waters and great snorkelling.  We visited Benitachell but we warned, the far end of the beach is nudist!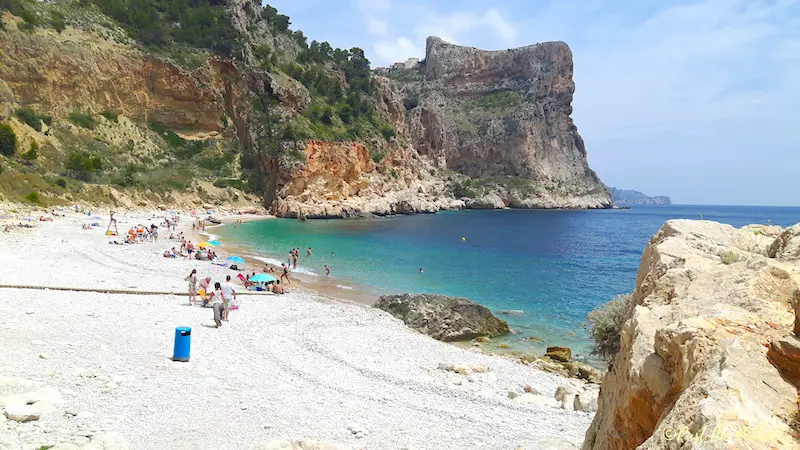 Castell de Guadalest
We took a day trip to the mountain town of Guadalest one day for something different.  This town is very small but famous for its beautiful location and castle on the mountaintop.  It also seems to have a strange obsession with all things microscopic.  There were at least two museums claiming to have all kinds of carvings only to be seen through a microscope.  We skipped those.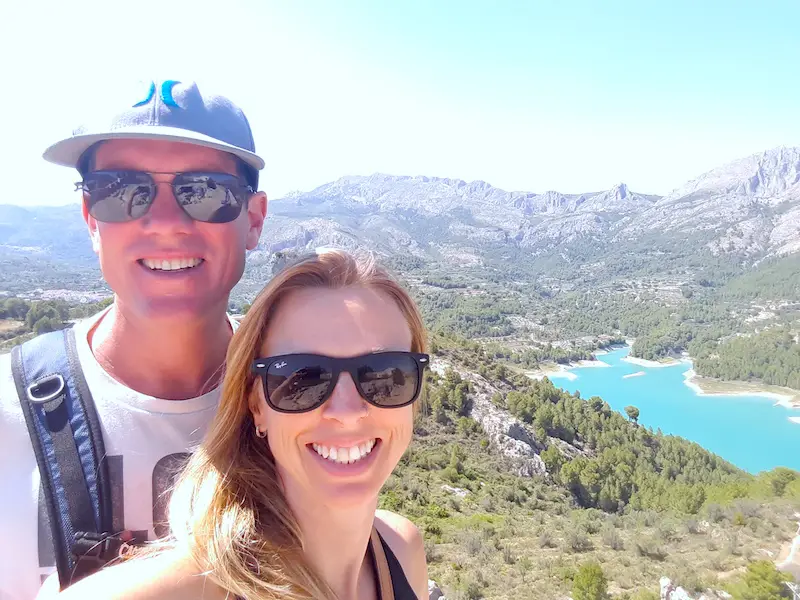 After lunch, we wandered through town and up the hill for views across the mountains and turquoise reservoir.
We also climbed up to the castle remains.  For this, you have to go through a typical family house which is now a museum.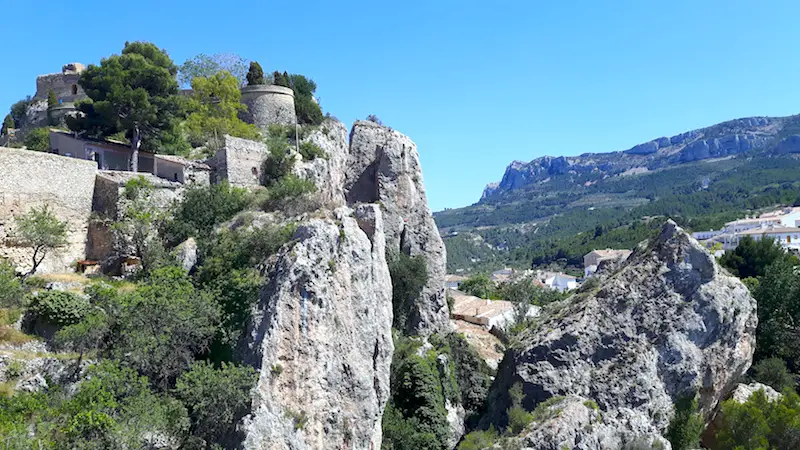 Where to Stay in Oliva, Spain
There aren't a lot of hotels in Oliva with the one large exception being the very nice Oliva Nova Golf and Beach Hotel.  Most people rent apartments when they visit the area and we found the best options on AirBnB.  The owners of our apartment were so kind and friendly and we loved our complex with beautiful gardens and 3(!) pools.  Use our link for $45 CDN off your first booking.
If you're considering getting into house sitting, Spain is the perfect place to start!
Save this for later: Pin it now!
[columns] [span4]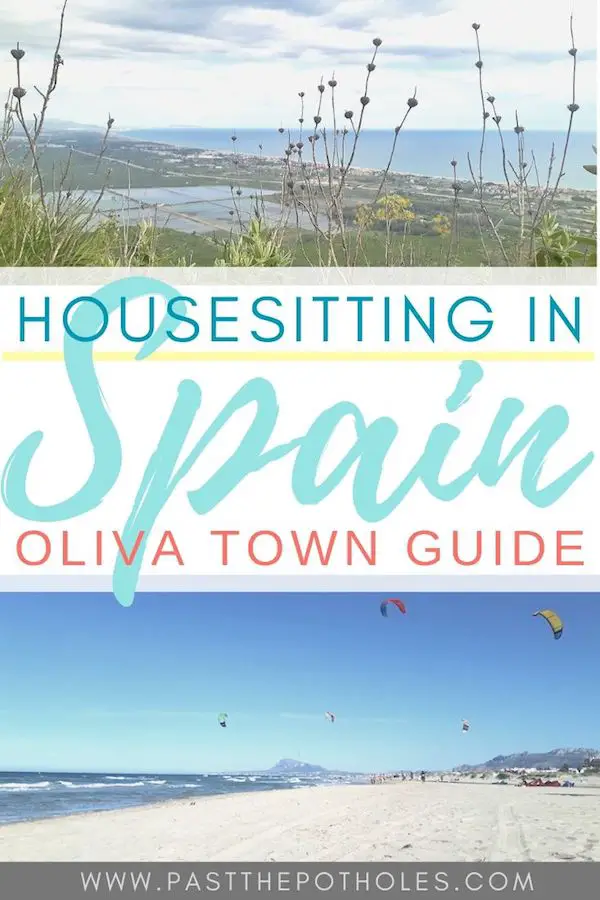 [/span4][span4]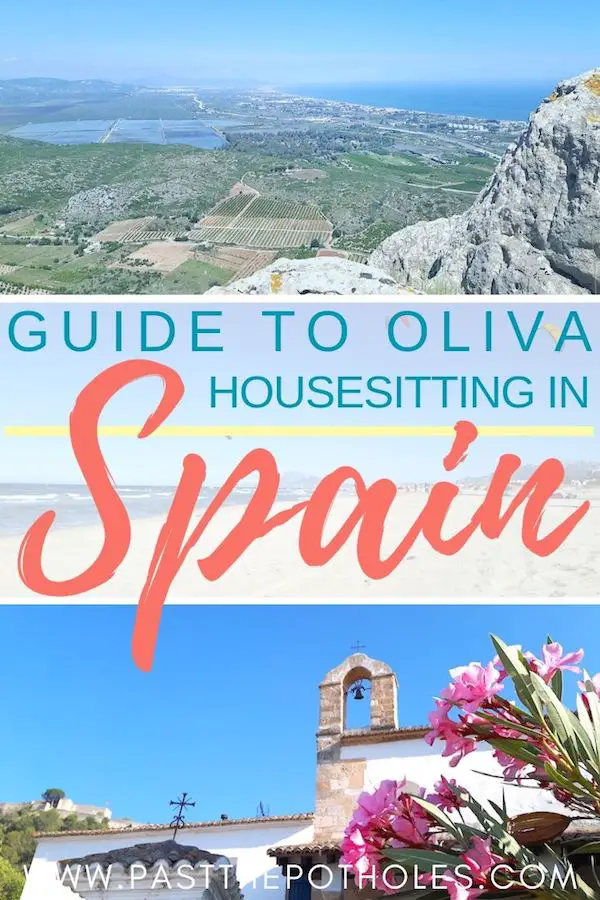 [/span4][span4]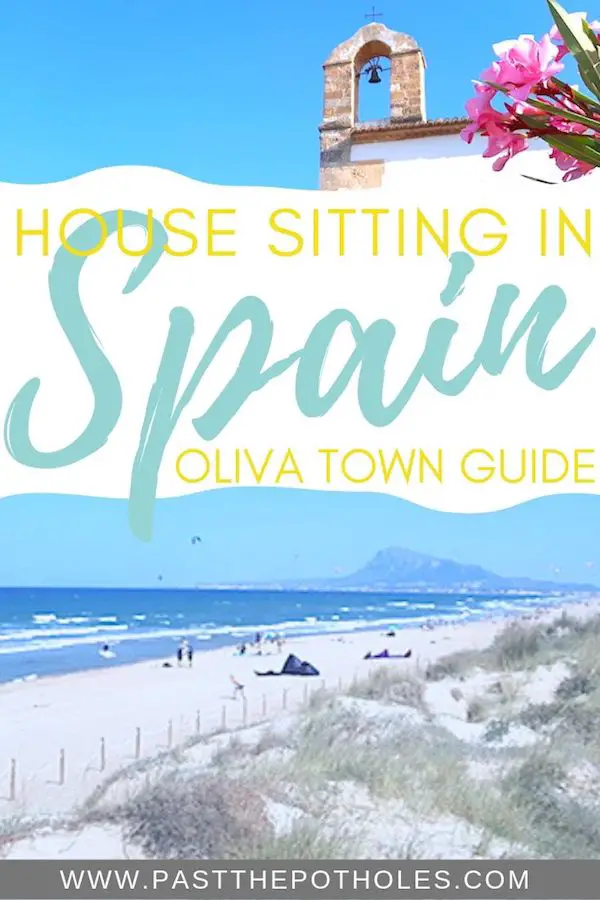 [/span4][/columns]
---
← Read last week's adventures in Istanbul, Turkey!
Find out how we spent our second week housesitting in Oliva, Spain →
---