Looking back to September: Switzerland, France and England
Some links in this post may be affiliate links. If you click on them we may make a commission from qualifying purchases at absolutely no cost to you.  Read our full Disclosure Policy here.
I'm a little slow getting this post up but we've been busy discovering a couple of new countries and squeezing in some family time!
So, what did September look like?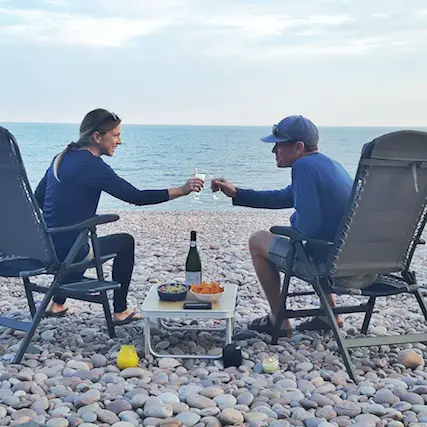 Devon, England's South Coast
We began September at a house sit in Devon, England.  Two weeks in an amazing house in a quaint little village by the sea.  We even had use of a beach hut!  All for the price of looking after 5 (yep, 5!) sweet little cats.
Budleigh Salterton was the perfect spot to catch our breath after a whirlwind trip around England visiting friends and family throughout August.  It's situated at the west end of the Jurassic Coast and on the mouth of the River Otter.  This means beautiful scenery and miles of walking trails.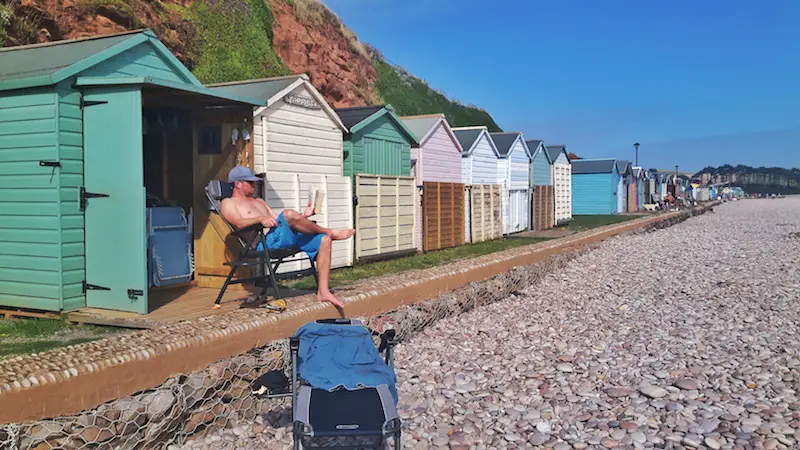 We walked along the coastal path to Sidmouth in the east, Exmouth in the west and Otterton up the river.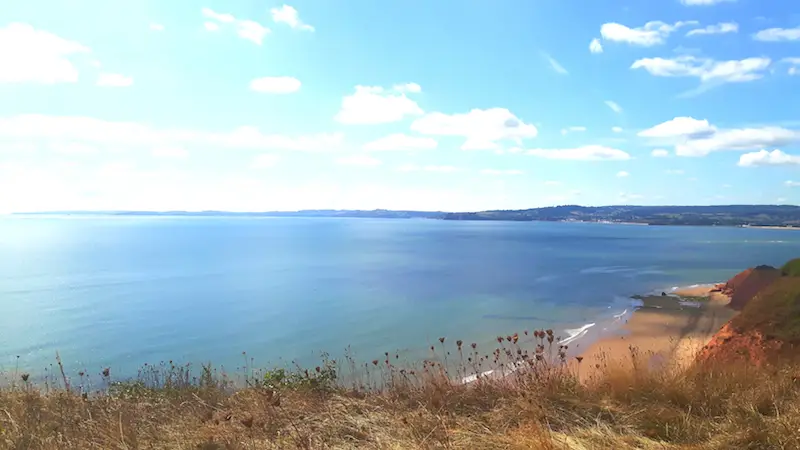 We spent as much time as possible taking advantage of the beach hut.  Even when the weather didn't cooperate!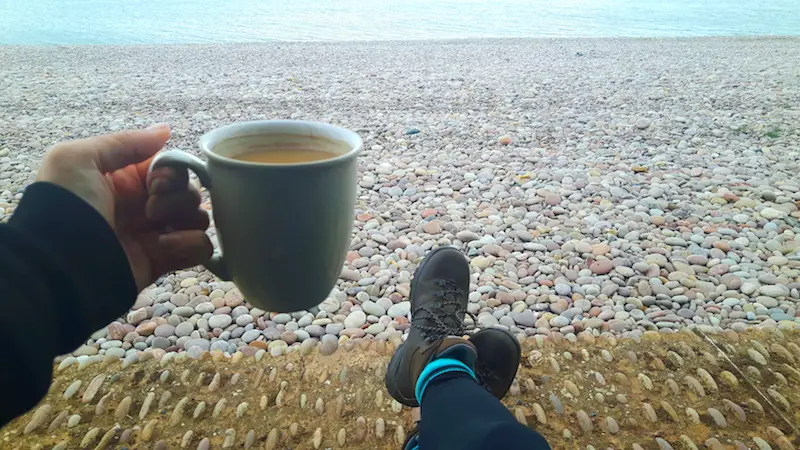 Our biggest day trip was taking the bus into Exeter.  This is a really nice city that is worth the visit.  We took a walking tour and discovered some of the oldest parts as well as the newest although we still have more we could discover.  Next time.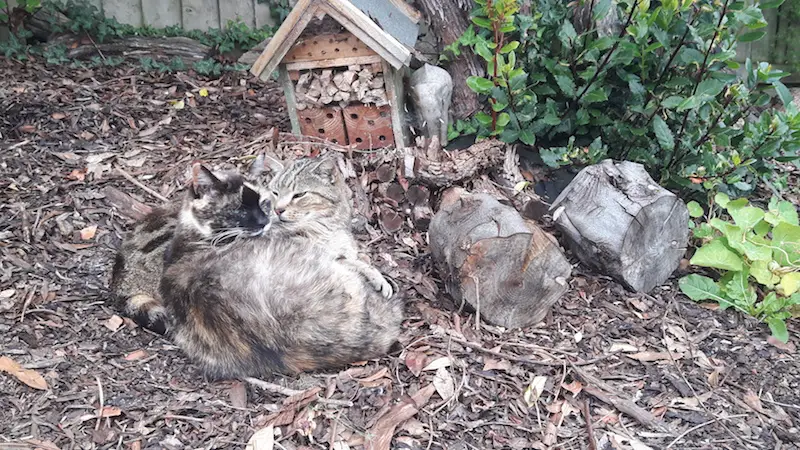 The cats were great, one would sleep with us and night, another would come in for morning cuddles and the others were pretty independent.  The homeowners had a beautiful garden that required more work than the cats!
Boat Life
When we had to (sadly) leave Devon, our next stop was a short visit to my brother and sister-in-law.  They had a pretty fully house so we got to stay on their boat on the River Thames!  The sacrifices we make ;)[icon icon=icon-smile size=22px color=b1997e ]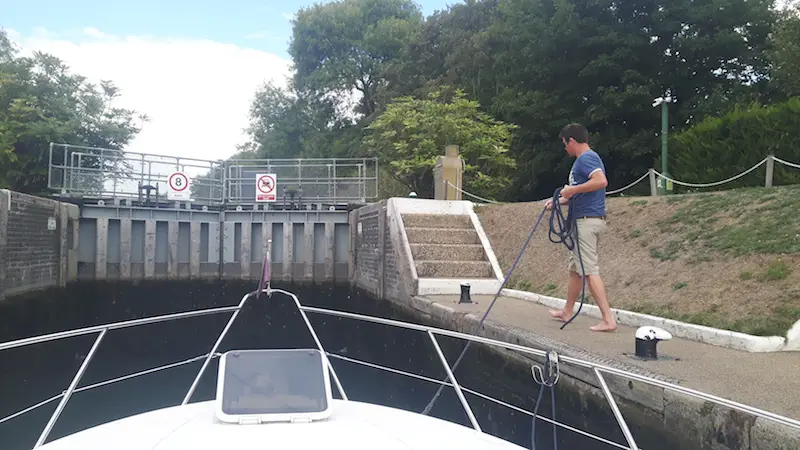 My uncle and his wife were in town for a wedding so Sunday was the perfect day for a river cruise followed by a drink and dinner in Eton.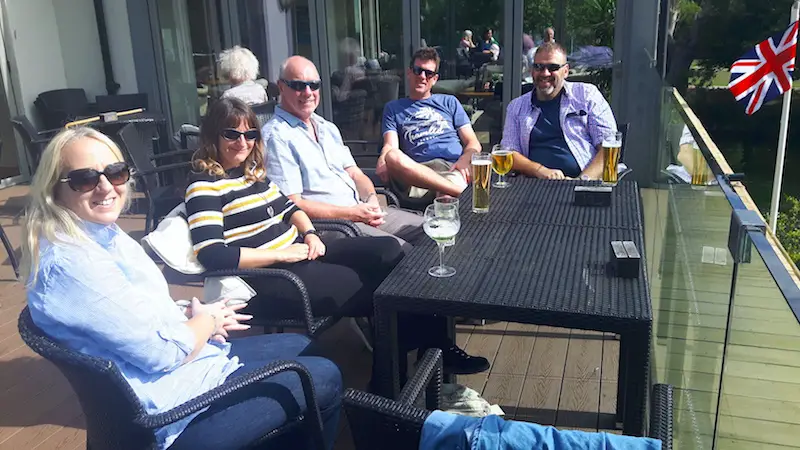 Housesitting in Geneva
Bright and early on a Monday morning we hopped on a flight from London Luton to Geneva, Switzerland for another house sit we had booked.  After taking the train into the city centre, we met our new host and immediately hopped on a bus to France.  I love Europe!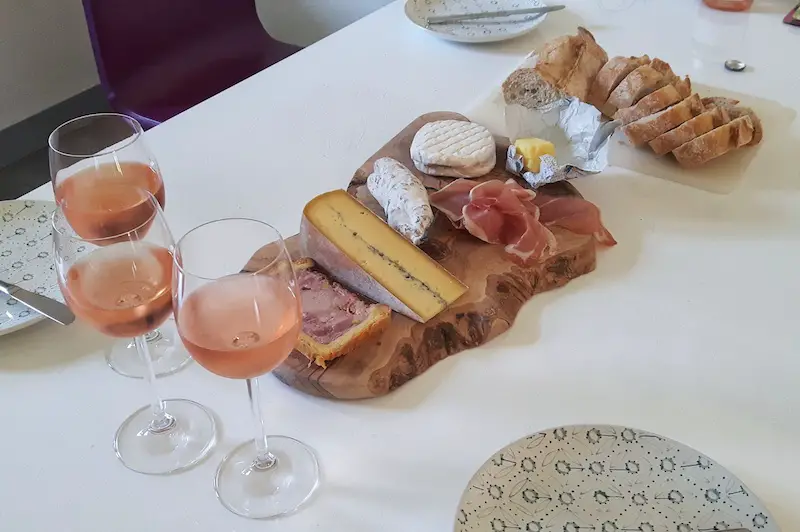 While the house was technically in France, it was just a 10 minute drive from the Swiss border and in the foothills of the Jura Mountains.  With a car included, it was a great area to explore!
The cats, Fatpuss and Grimth, were both old, lazy and content with spending their days sleeping.  We had a great time looking after them and enjoying their rather entertaining personalities, but it also gave us a fair bit of freedom.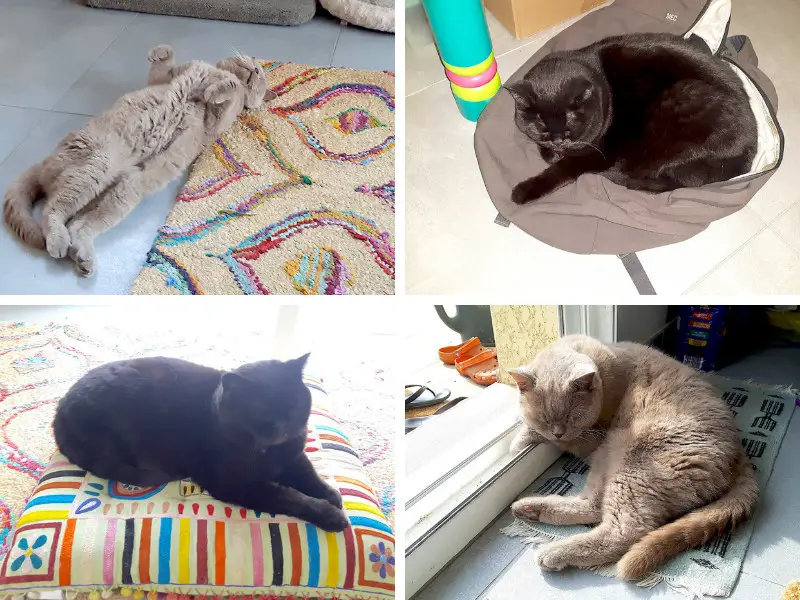 Annecy, France
Our first bigger day trip was to Annecy which is a town on a lake in the French Alps known as the Venice of France.  It is undoubtedly one of the most stunning places we've ever seen.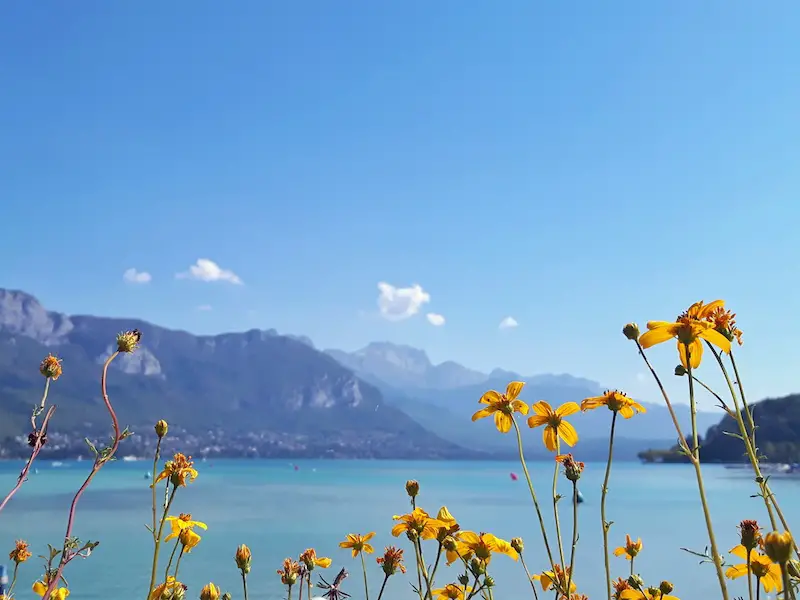 The lake is a beautiful turquoise and surrounded by mountains.  The town has a cute medieval core with canals winding along beside its flower-filled streets and even a little castle on an island.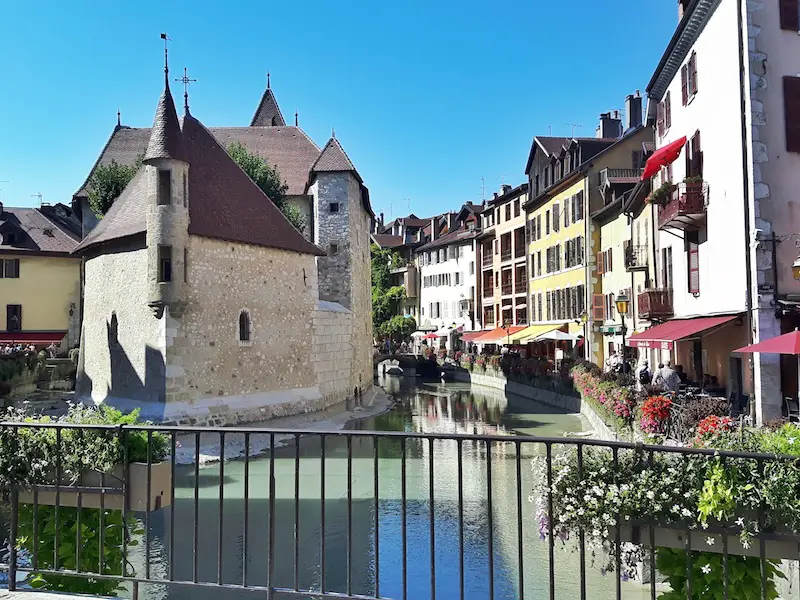 We took a lunch (meat, cheese and bread – very European) with us to eat in the lakefront park and avoided the overpriced tourist cafes and would definitely recommend that.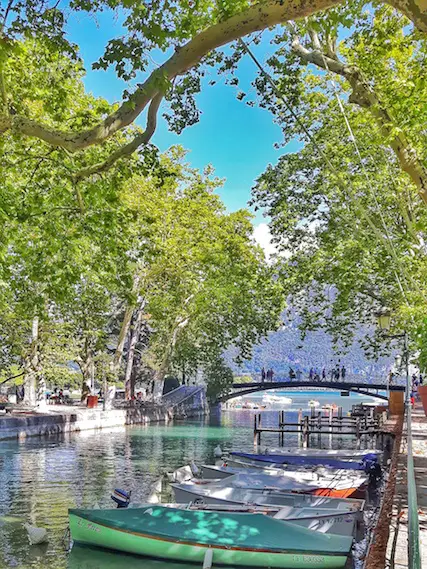 There are loads of watersport and hiking options around the lake but with time running out before feline dinnertime, we drove to the nearby gorge I'd read about online.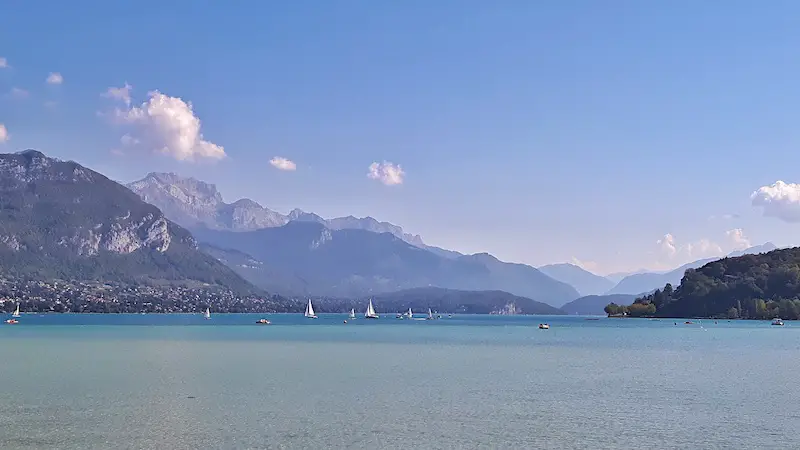 Les Gorges du Fier is impressive but comes with a price tag to enter at €5.70 each.  Due to occasional flooding, it is not possible to explore the gorge freely but there is a walkway that has been constructed half way up the wall.  While it is an amazing place, it was a bit too 'sterilized' for us (and we're never fans of entry fees!).  Still, it's worth a visit for sure.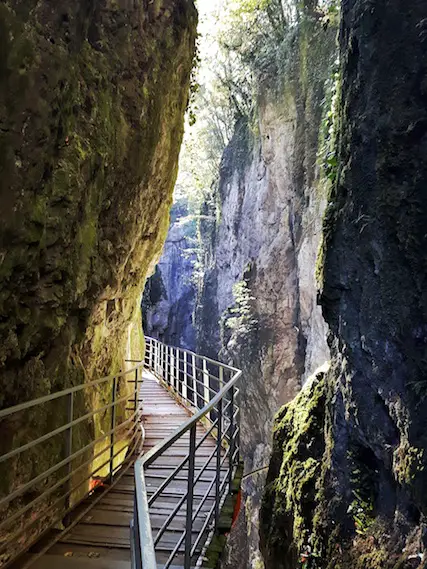 Gruyères, Switzerland
Our other big day trip was to Gruyeres, home of the famous cheese.  This small town is nestled on a hill in the Swiss Alps with a castle dominating the skyline.  We wandered the streets, checked out the views from the castle, and nearly fainted at the prices for fondue.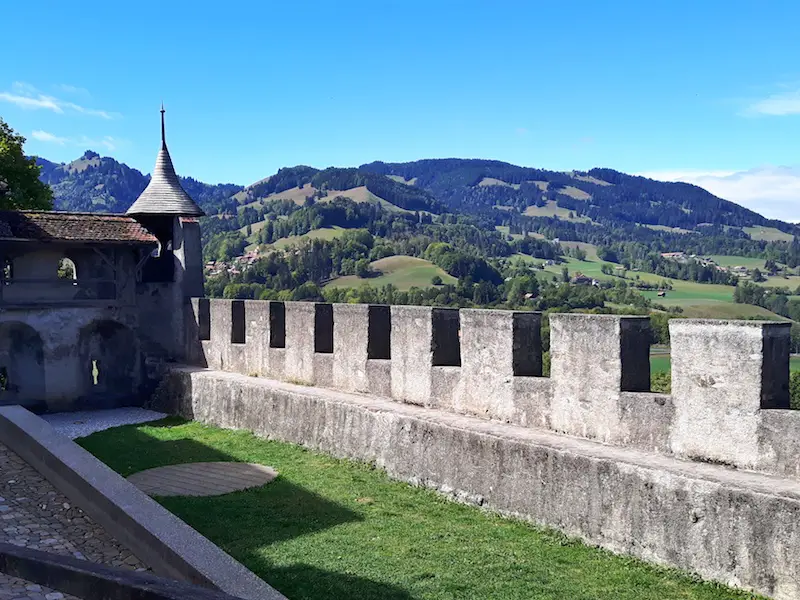 Foodies among you will be shaking your heads that we didn't throw the budget out the window to taste the most classic Swiss dish in what is considered by many the best place for it.  That was our plan but we just couldn't convince ourselves to pay nearly $100 for some melted cheese!  We definitely didn't drive to the next town and have McDonalds…
Near to Gruyeres is another gorge that I stumbled across while looking on the map.  This one is free with a hiking trail that winds its way through the ravine, criss-crossing the river a number of times.  At the far end, we discovered a large dam on a picturesque lake.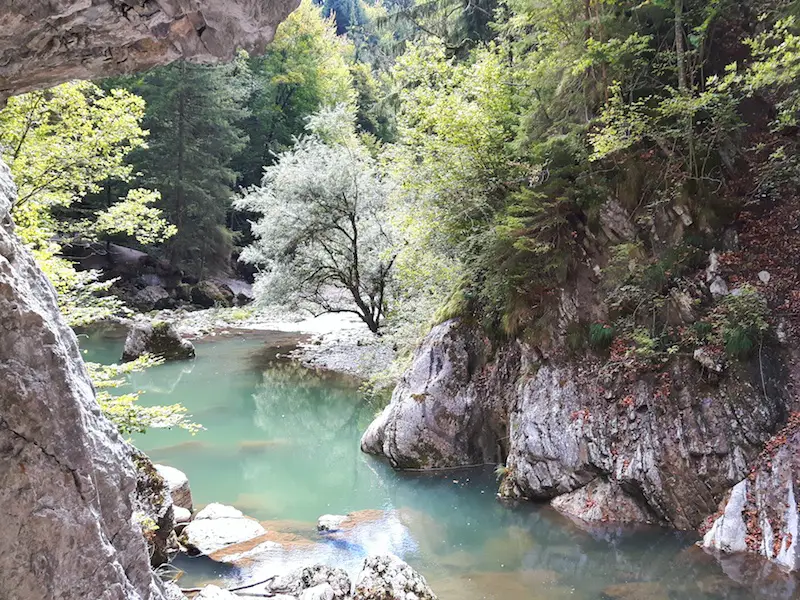 If you're wanting to walk through a gorge we would recommend this one.  Although it's not as steep or as narrow, it is a more enjoyable walk (and did we say it's free?).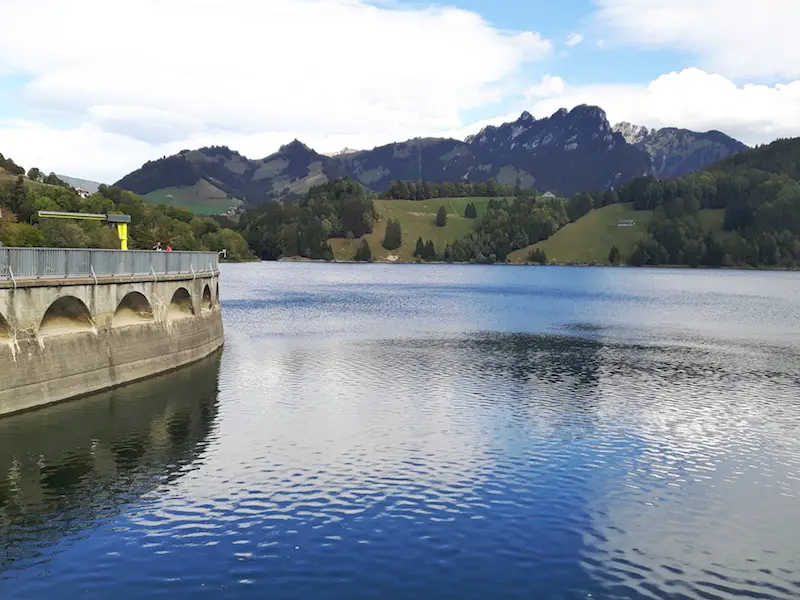 On our drive home, we stopped in Montreux. Parking had us driving right through town and out the other side but we walked back towards the city along a lovely lakefront promenade. The scenery here is amazing with vineyards covering the foothills but the showstopper is Chateau Chillon.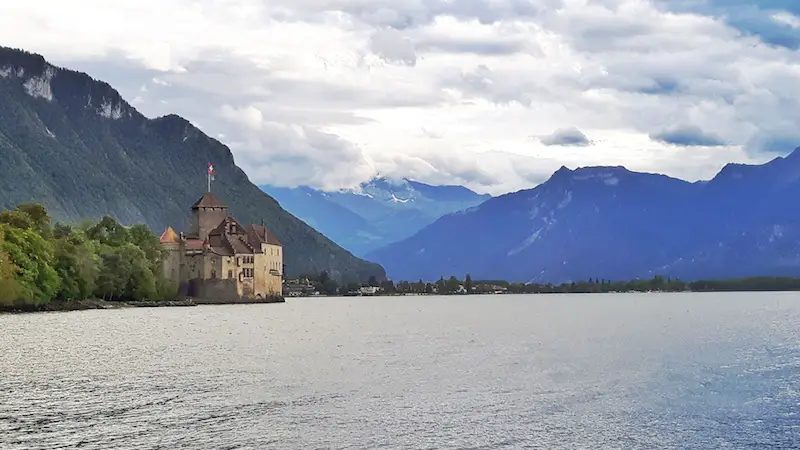 The Local Area
Aside from our three bigger day trips, we were able to explore the local area a little too.  Ferney-Voltaire is a great little town just on the French side of the border with a traditional Saturday market.  While prices are a little steep, it's a great place to wander.  We bought a couple of things and then took ourselves over the border to Lake Geneva for a picnic lunch.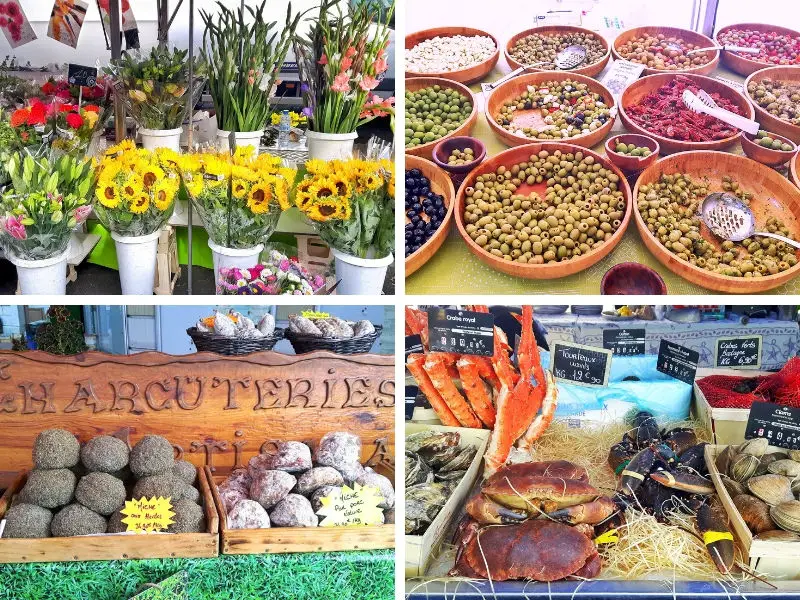 The Jura Mountains are a hiker's dream.  We explored a couple of hiking trails and a ski resort.  Unfortunately, the summer luge was closed as that sounded like a lot of fun.  The day we hiked was a little overcast so we didn't get the amazing stunning views of the Alps and Mont Blanc that are possible here.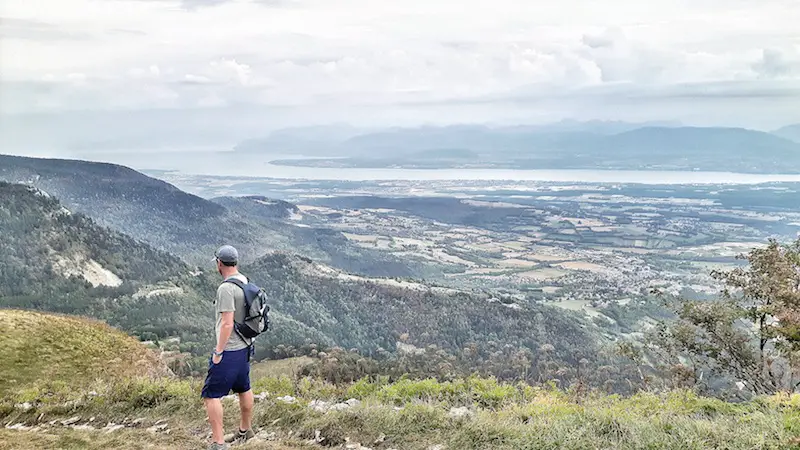 Geneva, Switzerland
We took the bus into Geneva for a day as well.  Perhaps the ridiculous winds prevented us from fully enjoying it but, to be honest, we just couldn't get too excited about it.  Our walking tour was informative, perhaps a little too much, and took us around the major areas.  There is a cute medieval centre, plenty of monuments and boatloads of museums.  But it was cold.  And expensive.  And just lacked . . . something for us.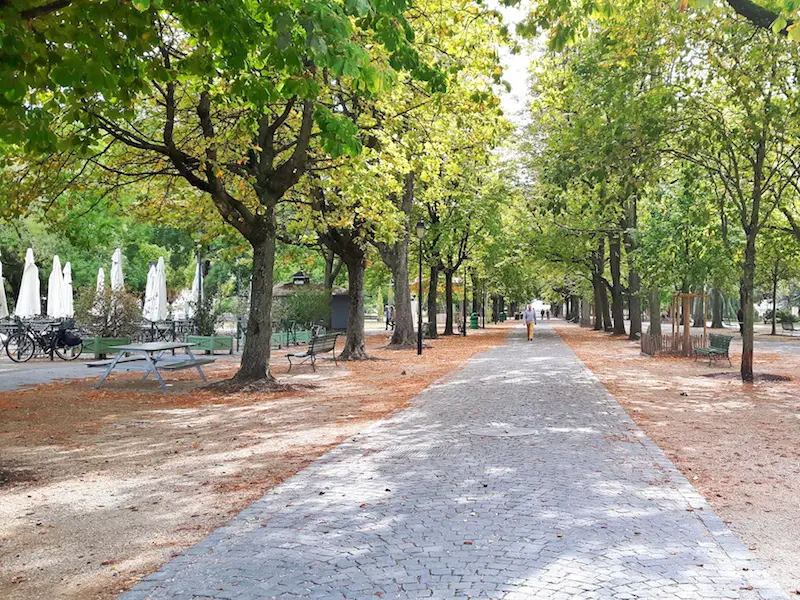 Meeting Friends in Bern
Bizarrely, friends of ours from Canada happened to book a vacation in Switzerland while we were there.  We had 2 free days between the end of our sit and our flights back to London so we hopped on the train to Bern.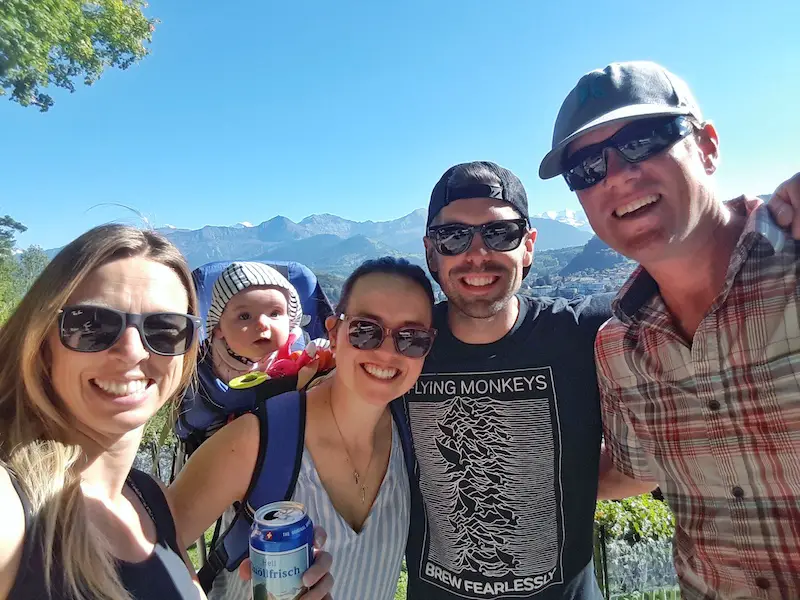 We crashed their awesome AirBnB for a couple of nights and spent a little time exploring Bern.  While we didn't get to spend a huge amount of time in the city, it's charm is obvious from the start.  The river winds it way around the old town and we headed up to the Rose Garden for sunset.  Not already an AirBnB user?  Use this code to get $45CDN in credit!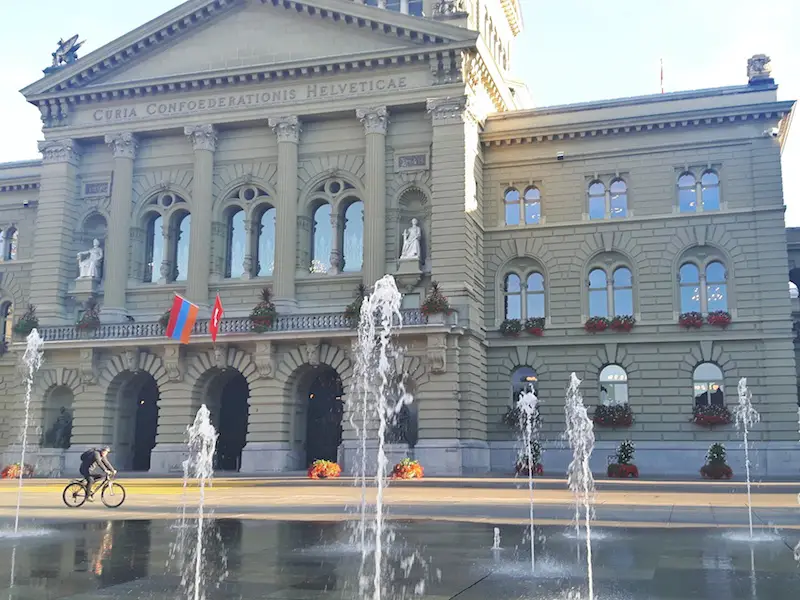 Lake Thun
For our full day together, we took the train to Thun and then a ferry onto the lake to Spietz.  The views here are INCREDIBLE!  This is the same lake where you can find the very popular Interlaken, but at the opposite end.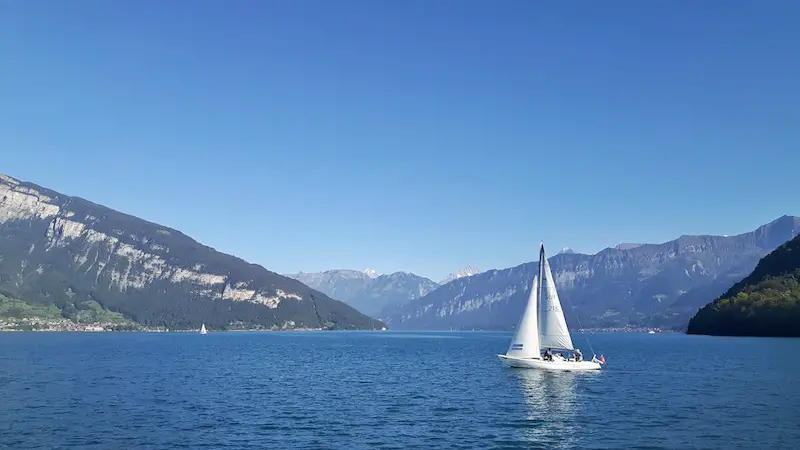 We wandered around Spietz and found a spot with a view for lunch.  It's a nice town with a photogenic castle (surprise!) but the showstopper really is the lake and mountains.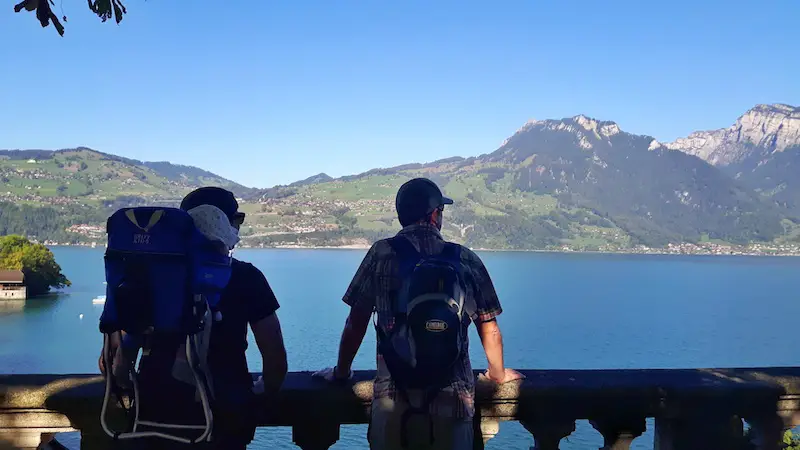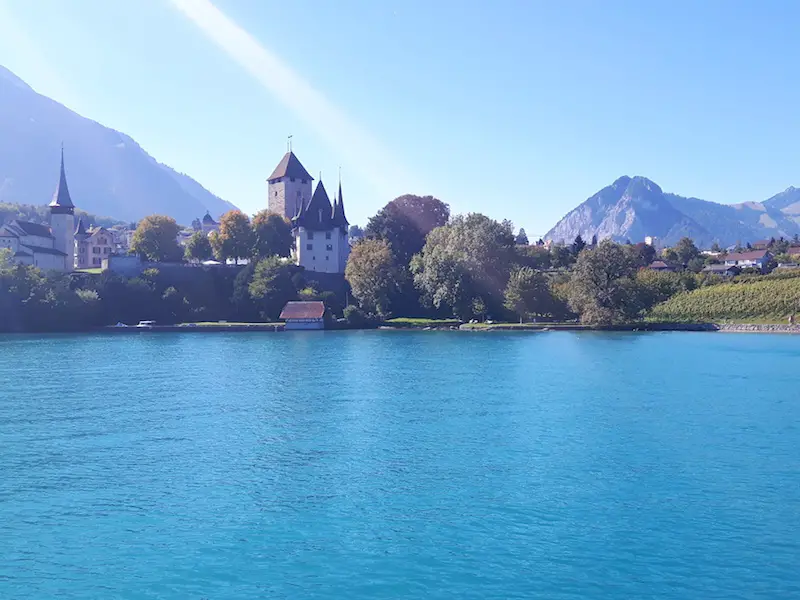 England again!
For our final few days of the month we returned to my brother's in England.  With the cooler weather we didn't stay on the boat this time.  We were able to relax and catch up.  It's the most we've seen each other in years!  And I got to ride my beloved London Underground to get to them.
Walks through Burnham Beeches, dinner in Windsor and meeting with friends were the highlights.  We also managed to squeeze in some shopping and preparations for our upcoming Iceland road trip in October.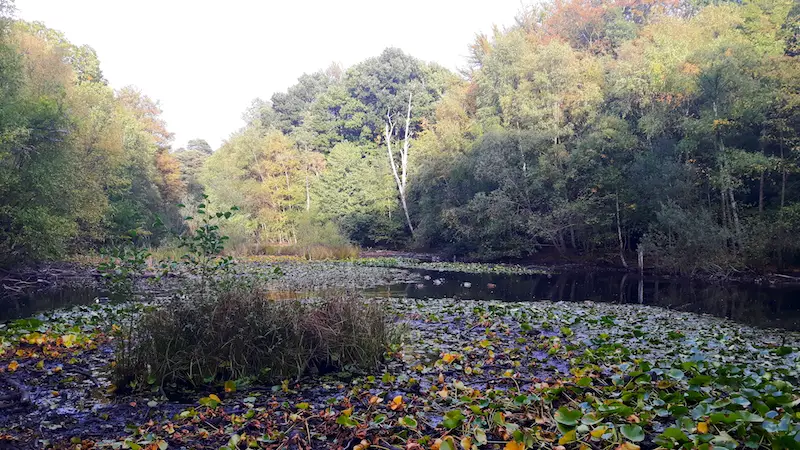 Becoming a Housesitter
Throughout September, we spent 24 nights caring for cats rent-free in comfortable houses.  We even had use of a car for ten days!  House sitting is undoubtedly the best way to travel for free.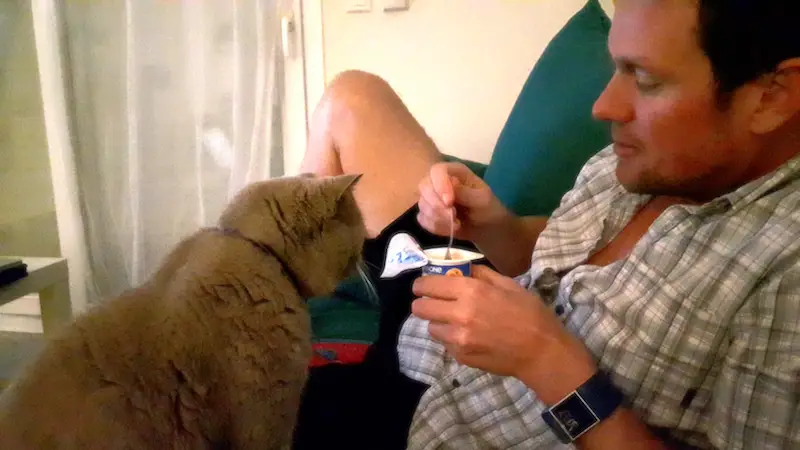 Want to stay all over the world for free?  Use this link or the code  RAF89690 to sign up and receive 25% off your first year membership.  At $100 CDN (before the discount) booking just one sit will more than pay for the fee. (Note: while you get 25% off your membership we will also receive 2 free months)
If you have any questions about housesitting, don't hesitate to ask.
Discover more great destinations now.
Find all our Travel Journal posts in one place here.