What is the cost of travel in Colombia? Our detailed travel budget
Some links in this post may be affiliate links. If you click on them we may make a commission from qualifying purchases at absolutely no cost to you.  Read our full Disclosure Policy here.
If you are looking for a budget destination for a trip, Colombia fits the bill.  Colombia may be one of the cheapest countries we've traveled to but that doesn't mean you won't love every second.  There are such varied landscapes, available activities and entertainment along with a rich culture it definitely packs a punch!
But, regardless of how cheap a destination might be, a vacation is still going to put a dent in the wallet.  So just what is the cost of travel in Colombia?
We share our budget from our experience traveling in Colombia.
How much does it cost to travel in Colombia?
Before we dive straight into the numbers, we need to give a little context.  Not everyone travels the same way or expects the same standards.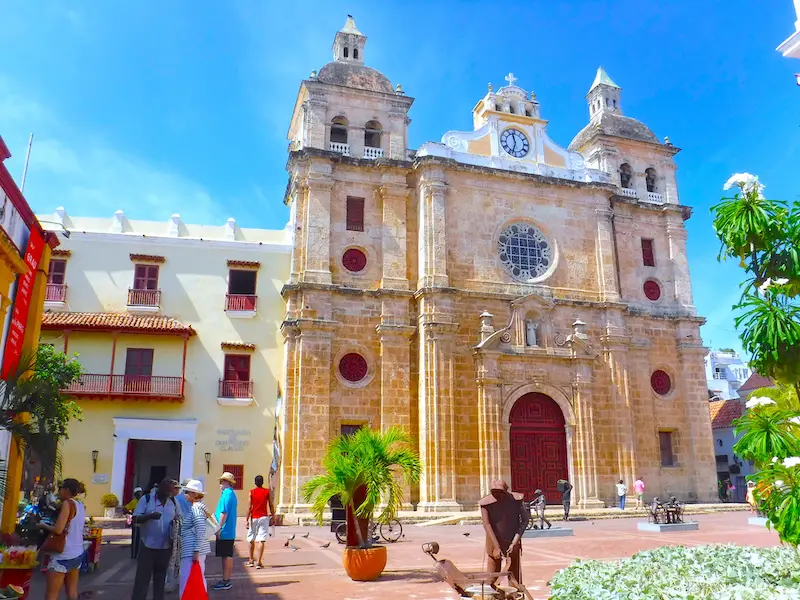 How do we travel?
We're not 'extreme budget' travellers but we're not extravagant either.  Is there such a thing as a mid-budget traveller?  Well, we are it.  Value is the most important factor to us.
⇒  We have full time jobs, make a decent income and are well past thinking that a dorm room is a good idea to save money!  We will take a flight to save too many hours on a bus, or even rent a car if that's the best way to see a place.
⇒  However, we don't splurge on luxury.  We happily rent a double room in a hostel with good reviews or one of the cheapest hotels available.  We have taken more long-distance buses than I care to remember and we will walk miles to save a cab fare.
⇒  We're not foodies.  Street food is our friend and we are not against cheap international fast food chains to avoid an expensive meal!  We also tend not to drink when it's just us but if we meet people we've been known to have a few too many drinks.
Our budget reflects this.  We save wherever we can, while maintaining a basic level of comfort, so that we can splurge on the fun stuff!  Consider your travel style and allow for your needs in the budget.
Where did we go in Colombia?
Our Colombia trip was a total of 18 days – just under 3 weeks.  We flew into Bogota and departed from Cartagena to maximize time within the country and took mostly buses with one internal flight to move around.
[btn text="Read our Colombia Itinerary now!" tcolor=#FFF bcolor=#1998b5 thovercolor=#444 bhovercolor=#bbede7 link="https://pastthepotholes.com/best-places-to-visit-colombia" target="_blank"]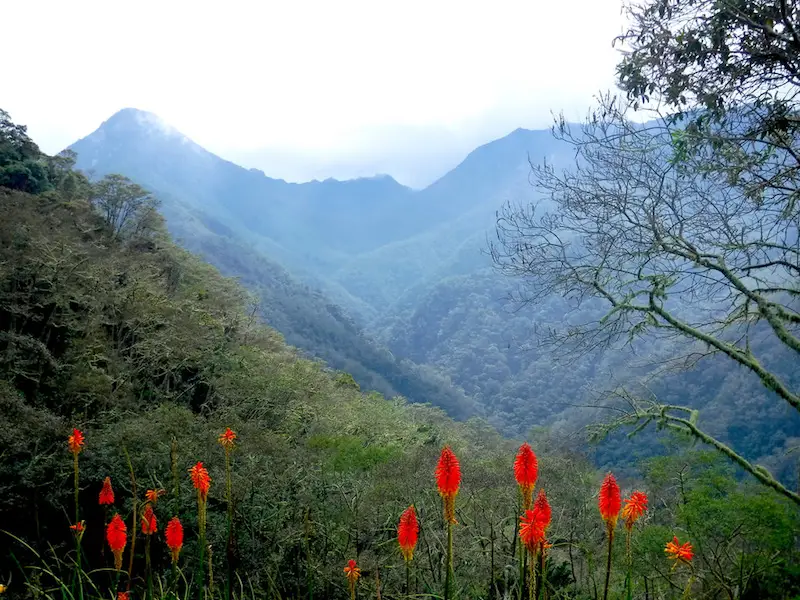 Bogota, Salento, Medellin, Santa Marta and Cartagena were our main destination and we also did the 4 day Lost City trek (a major ticket item in our budget).
The more you move around, the higher the budget climbs.  If you need to cut costs, consider visiting fewer destinations.
This budget breakdown for Colombia does not include our international flights.  These will obviously vary widely depending on your origin and so need to be determined by you alone.  We highly recommend Google Flights to find the best prices.
Our Colombia Travel Budget
Accommodation
$51.77 USD – Bogota – one night at the Hotel Muisca (really neat old building in a great location!).  Check it out now!
$49.92 USD ($24.96 per night) – Salento – two nights at the Hotel Salento Real Eje Cafetero (highly recommend).  Find availability now!
COP210,000 (approx. $68.83 USD or $22.94 per night) – Medellin – three nights at the Paisa City Party Hostel Medellin.  Check dates here!
COP103,448 (approx. $33.80 USD) – Santa Marta – one night for a little comfort at the Hotel Tayromar before the Lost City trek.  See pictures here!
COP332,100 (approx. $108.51 USD or $36.17 per night) – Santa Marta – three nights for the Hostal Parque Real after the Lost City trek.  Check availability now!
COP481,600 (approx. $157.36 USD or $39.34 per night) – Cartagena – four nights for Leyendas del Mar (brand new, if the rooftop is done it will be a great spot in a perfect location!).  Find reviews and prices here!
**We also spent 3 nights in the jungle doing the Lost City Trek and one night 'sleeping' on a night bus from Bogota to Salento.  Therefore, four nights didn't cost us anything extra.**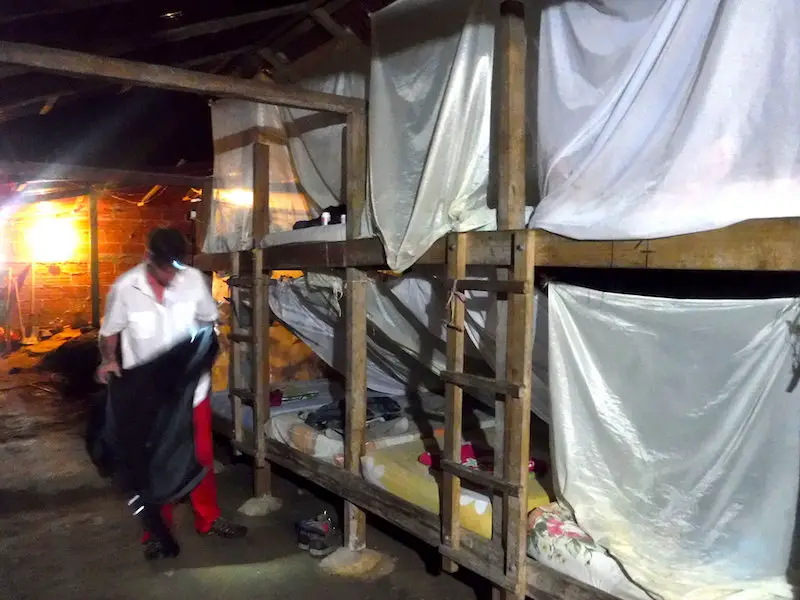 Total Accommodation Costs =  $470.18 USD or $33.58 per night for 2 people (not including the free nights)
Transportation
COP354,980 (approx. $114.38 USD) – VivaColombia flight from Medellin to Santa Marta.  We paid extra for one hold bag and two hand luggages.
$42.53 USD – Bolivariano bus from Bogota to Salento
COP94,000 (approx. $30.29 USD) – Bus from Salento to Medellin
COP84,000 (approx. $27.07 USD) – Mirasol bus from Santa Marta to Cartagena
COP40,000 (approx. $12.89 USD) – taxi from Bogota airport to la Candelaria
COP70,000 (approx. $22.55 USD) – taxi from Medellin to Jose Maria Cordova airport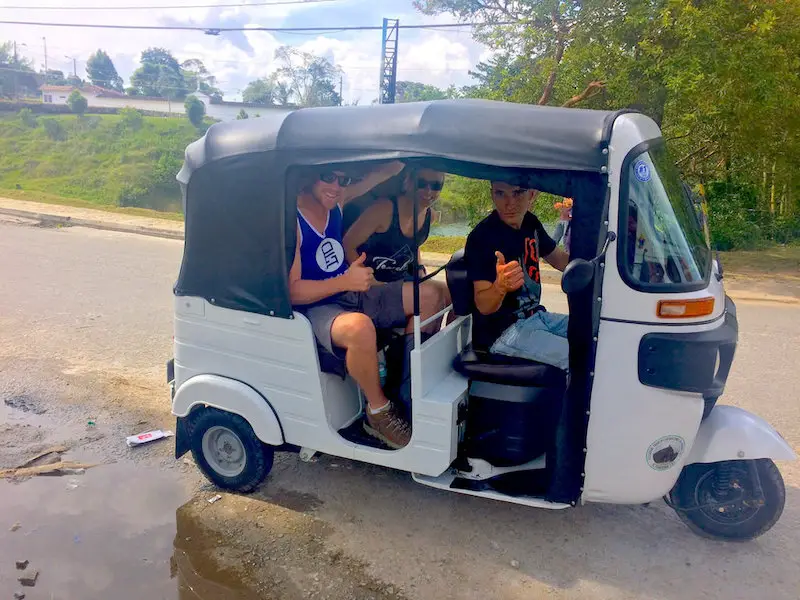 Total Transportation Costs =  $249.71 USD or $13.87 per day for 2 people
Tours and Activities
COP1,400,000 (approx. $451.08) – Lost City Trek.  We booked with Expotur and would recommend them.  Read about our experience hiking to the Ciudad Perdida here.  This cost includes food and accommodation for the four day tour.
COP36,000 (approx. $11.60 USD) – El Penol de Guatape to climb to the top of the rock.
**Besides the Lost City, we did everything else independently using public transport.  Those costs are small and included in the daily spending money.**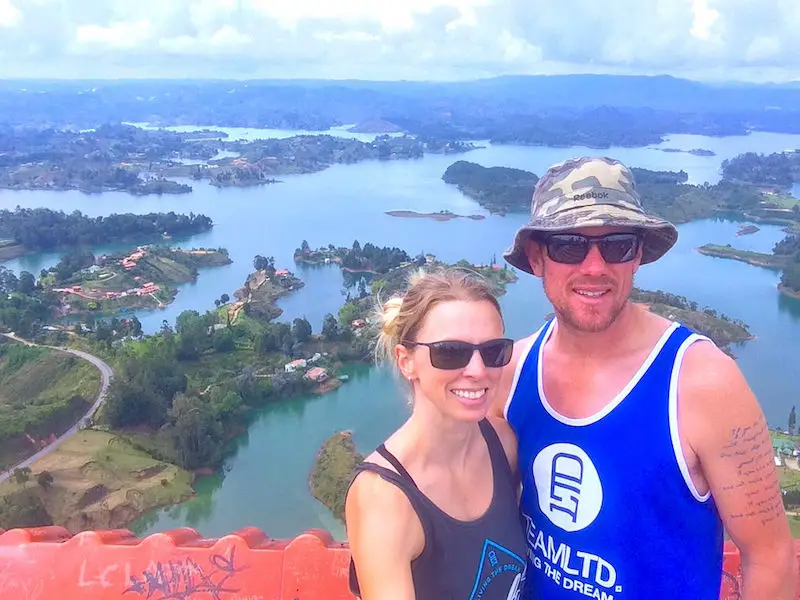 Total Tours/Activities Costs =  $462.68 USD 
Daily Spending Money
We took money out at ATMs in Colombia without any problems.  The total here is approximate as there were many small purchases and we brought a little unused money home with us.
Daily spending money includes:
All food costs. (We booked mostly accommodations that included breakfast to reduce our food costs.)
Souvenir purchases were minimal and included three children's soccer jerseys for our nephews, some jewelry for a Christmas presents and a few small candy gifts.
In addition, we used cash for tips for our two free walking tours, two taxi rides in Bogota, Metro rides in Medellin and public buses to take a day trip to Guatape.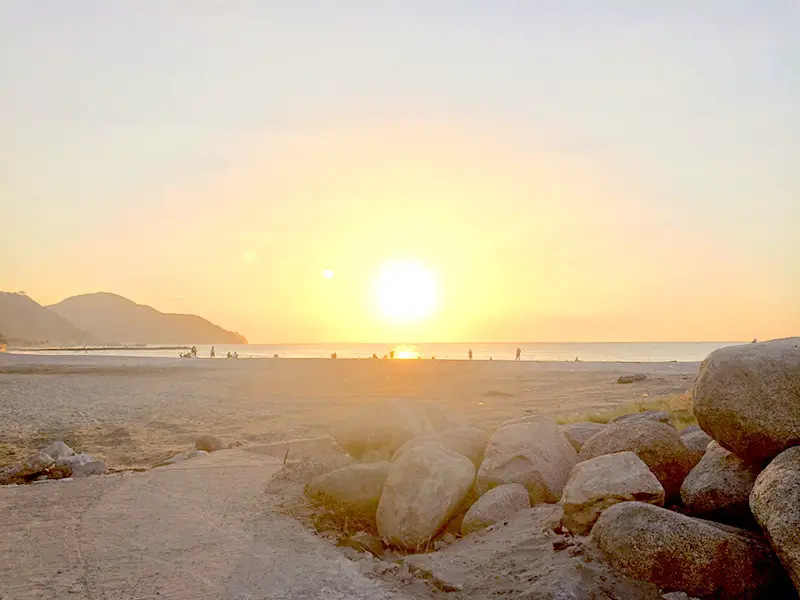 Total Daily Spending Costs:  $300 USD or $16.67 per day for 2 people
So, what is the cost of travel in Colombia?
The cost of travel in Colombia varies for everyone depending on how fast you travel and the level of comfort you choose.  However, this Colombia travel budget should give you a great idea of how to budget for your trip.
The total cost for our trip to Colombia was $1482.57 USD.
This amounts to $82.37 per day for 2 people
or $41.18 USD per person per day.
**This includes absolutely everything except our flights to and from Colombia.**
**If you are travelling alone, expect the daily per person rate to be a little higher as some costs are shared when travelling with a partner (for example, taxi costs).**
 Consider saving this for later!
[columns] [span6]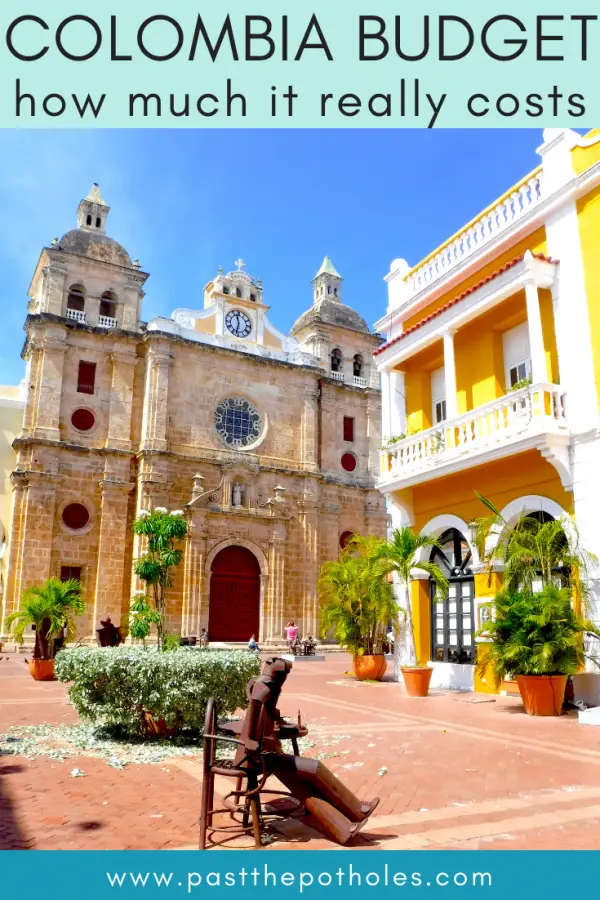 [/span6][span6]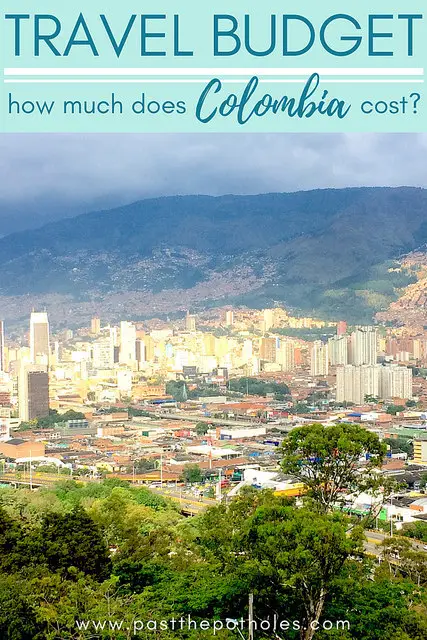 [/span6][/columns]
Return to our Destinations page now.
---
Some links in this post are affiliate links.  That means if you click on them and make a purchase we will make a small commission at absolutely no cost to you. Win-win, right?  Thanks for your support!
---