Ek' Balam Ruins, Valladolid: Why You Need To Go
Some links in this post may be affiliate links. If you click on them we may make a commission from qualifying purchases at absolutely no cost to you.  Read our full Disclosure Policy here.
For people wanting to visit Mayan ruins while in Mexico but don't fancy joining hordes of other tourists, Ek' Balam ruins are a perfect choice.  While covering a smaller area, the ruins are still impressive and have the most amazing pyramid I've seen!
Most visitors to Mexico's Yucatán Peninsula plan to see Chichén Itzá.  However, it can get insanely hot and crowded here.  Don't get me wrong – it's definitely worth fighting off a few tourists to see the ruins.  
However, few make it to Ek' Balam and you can enjoy a much more relaxed time exploring these ruins.  Ek' Balam ruins are also quite unique so taking the time to see both is a great option too.
A huge bonus is that you are still allowed to climb on all the structures at Ek' Balam.  The views from the top are worth the bit of sweat to get there.  
Cobá ruins are a favourite site as visitors are still allowed to climb the tallest pyramid but all other structures are closed off.  That is not the case at Ek' Balam Mayan ruins.
As of 2020, visitors are no longer able to climb the main pyramid at Coba.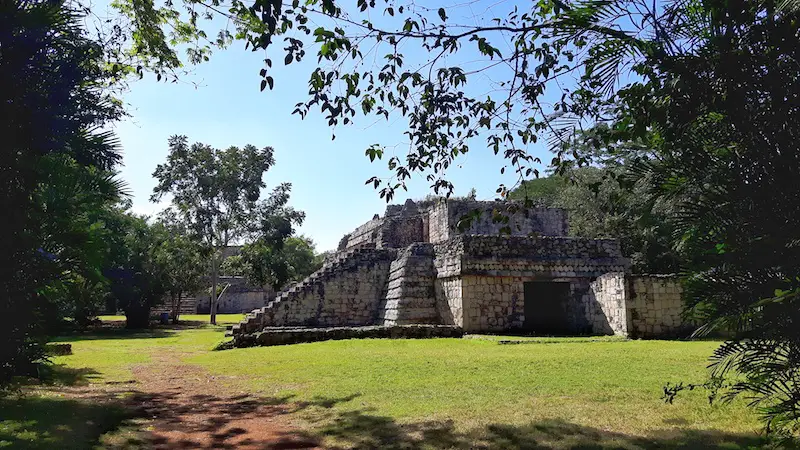 Ek' Balam was a functioning city between 700-1000 A.D. and its name means Black Jaguar in the Mayan language.  Currently, only a fraction of the site is excavated and there are a number of trails leading through the trees that will allow you to explore the other areas a little.
Looking for more information on the Yucatán Peninsula?  Read the below posts for guides on Mayan ruins, cenotes and awesome beach towns:
---
How to get to Ek' Balam ruins
From Valladolid
For independent travellers, the best place to stay is the nearby colonial city of Valladolid.
We left our hotel straight after breakfast and easily found the shared taxis (colectivos) that run the Ek' Balam – Valladolid route just around the corner.  Each taxi charges $50 pesos for a seat, of which there are four.  
As our taxi already had one person waiting, we figured the odds of a single person coming along at any time was slim.  We paid $150 pesos for ourselves and the extra seat.  It also meant we had a much more comfortable ride with the back seat to ourselves.  The other passenger was actually a vendor heading out to the ruins to start his day of work.
Find the Ek' Balam taxis on Calle 37 between Calles 42 and 44 (note: this isn't quite where I had read they were from multiple sources, I guess they moved…).  The drive takes just 25 minutes.
To return, taxis wait in the same place they drop off.  However, as it's not such a busy site be prepared to either wait or pay for the extra seats.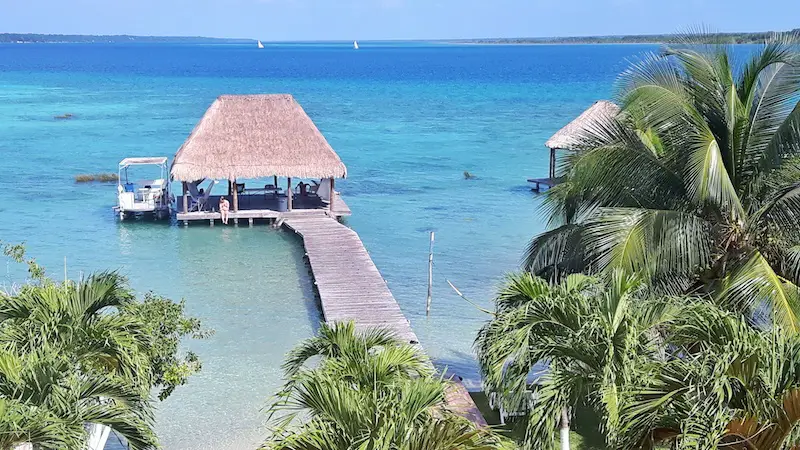 From Cancun or Mayan Riviera
The cheapest way to get to Ek' Balam from either  Cancun, Tulum or Playa del Carmen is by bus to Valladolid.  From there, take the shared taxis.  ADO buses are frequent and cost around $250 pesos ($13 USD).  However, you won't be arriving early if you choose this option (unless you take the 4 am bus).
The easiest way to get to Ek' Balam from the Caribbean coast is through a tour.  These tours will combine the Mayan ruins, Ek' Balam, with a cenote and either a tour of Valladolid, Chichén Itzá or Rio Lagartos meaning you fit a lot in for the price!
Check out these tours for some great ideas:
Exploring Ek' Balam, Valladolid
We arrived mid-morning and while there were certainly already people there, it wasn't busy.  After paying the entry fee, we walked through a small market area first before veering left to the actual Mayan ruins.  Ek' Balam is a fairly small site, at least the excavated part, but that means it is easy to navigate for those with reduced mobility.
Immediately upon entering there is the remains of the old city wall.  Walk through this before reaching an interesting arch on your left and the Palacio Oval to your right.  This structure is worth climbing as it gives a great view over the rest of the site.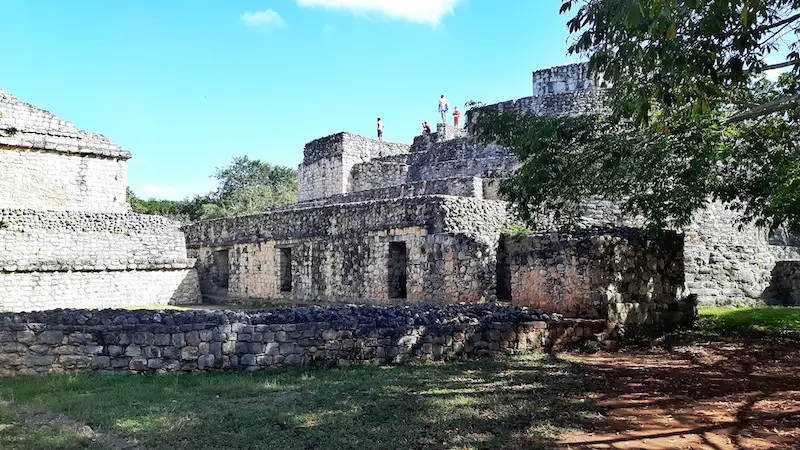 There are signs posted throughout the site giving information on major structures.  If you want to follow them, you will need to move in a clockwise direction (not that the order matters much as far as I can tell).  To be honest, they don't tell you too much so if you're really interested to learn the history of this site, hire an official guide at the entrance.
Behind the arch are Los Gemelos.  These two identical buildings have some detailed carving work in their stones and temples on the top.  These seemed right out of a movie to me – just missing the evil ruler and poor human sacrifice standing on the raised platform.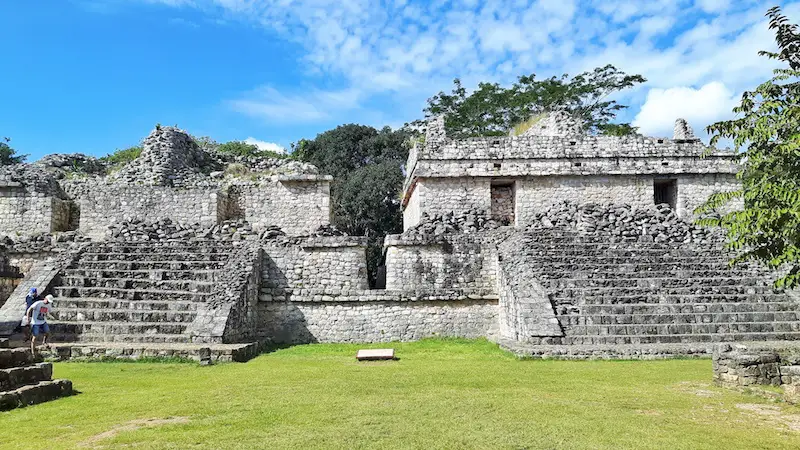 Walking past Los Gemelos leads to the ball court.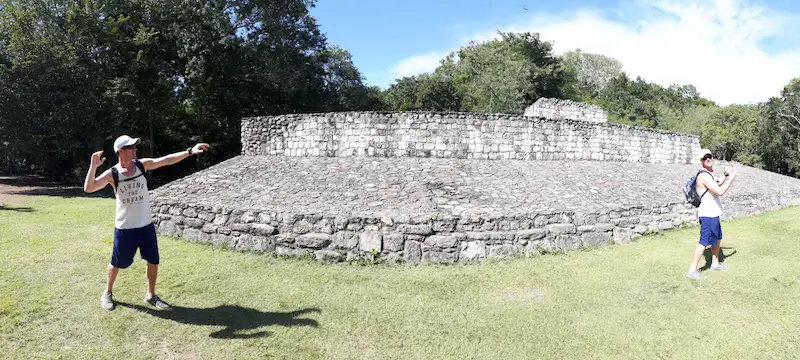 Furthest to the right is the Palacio de las Monjas (or Nun's Palace).  It's a large platform with a small altar on top.
The largest structure at Ek' Balam is the Acropolis.  I had assumed it was a pyramid, similar to those found at most other Mayan ruin sites.  But I was wrong.  While there are stairs ascending to the top, there are small chambers surrounding the base and a number of platforms branching off the stairway.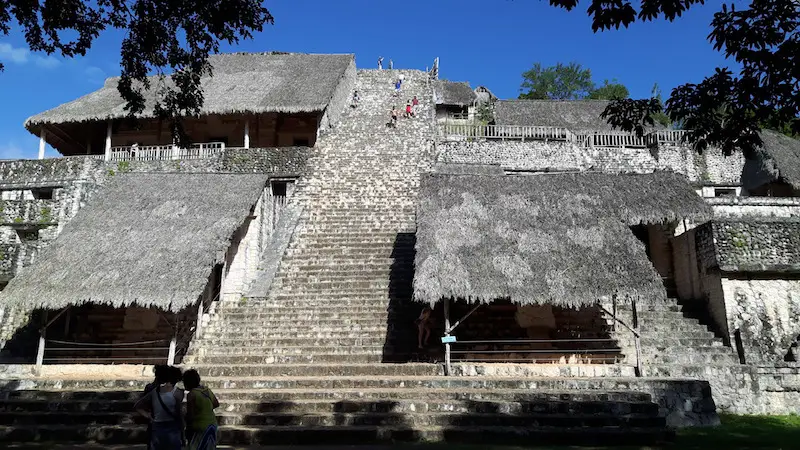 Climbing to the top affords excellent views across the Yucatan jungle.  You may be tempted to think that the hills you see are just that – hills.  Yucatán is a very flat state and in fact, any changes in elevation are actually un-excavated ruins.
Unlike ancient pyramids, the top isn't actually the best part of this one!  You can find platforms on both the left and right sides of the main stairway about half way up.  These are both home to incredibly detailed (and certainly re-constructed) carvings.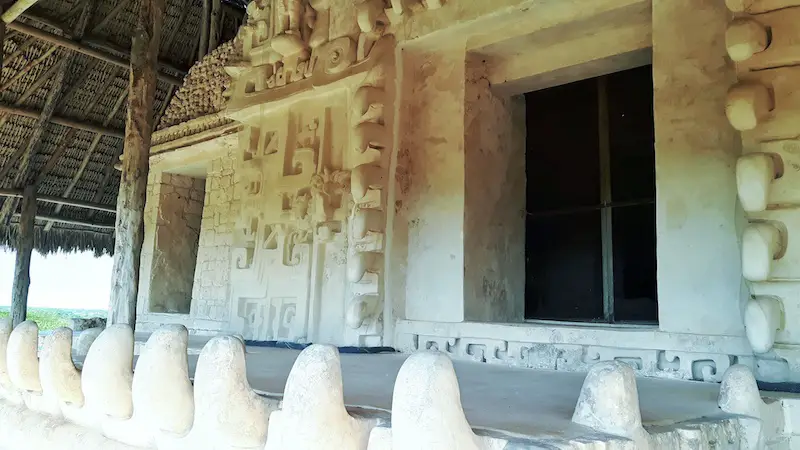 The most ornate section is to the left.  It is supposed to be the tomb of an important Ek' Balam leader, Ukit Kan Le'k Tok'.  The entrance to the tomb is through what appears to be a huge jaguar mouth.  Looking down, there is a plaza with a well, or pool, and was probably a great place of activity during the height of the Mayan civilization.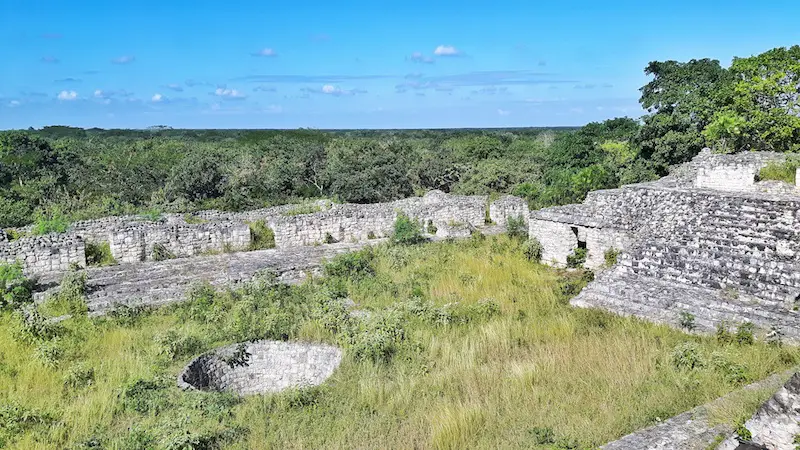 As you leave the Ek' Balam ruins, you have the option to visit Cenote X'Canche.  I read about this being a quiet, off-the-beaten-path cenote but the vendors and signs advertising a zip line and rappelling into the sinkhole among other activities told us things had changed!  It could be fun if you're looking for a touristy bit of action.
What is the Entrance Fee for Ek Balam Mayan ruins?
As of December 2018, it cost $211 pesos (approximately $11 USD) to enter Ek Balam archaeological site.
To be honest, we thought this was pretty steep compared to just $70 pesos for Cobá and only a slightly higher cost of $254 for Chichén Itzá.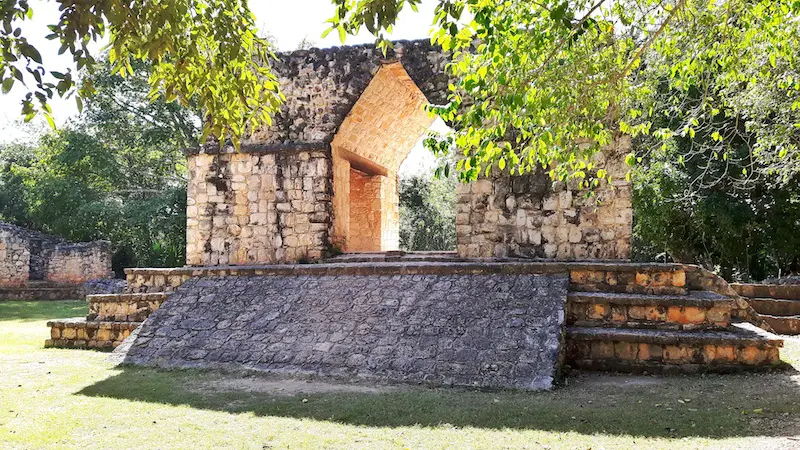 Ek' Balam and Las Coloradas?
One of the main reasons I booked us into Valladolid for four nights was in the hopes of making a day trip to Las Coloradas, the pink lakes.  Unfortunately, no amount of google searching could show me a realistic option.  Public transport would take most of the day and only got you as far as Rio Lagartos.  I couldn't a car rental option in Valladolid.  Tours were expensive.
It wasn't until we were in the taxi returning from Ek' Balam that I asked the driver about it.  I was told that to hire a taxi for the entire day was $1200 pesos (approximately $65 USD).  Unfortunately, it was too late for us but boy do I wish I'd known about that option before already visiting Chichén Itzá and Ek' Balam (leaving too late in the day to make that kind of detour).
Ek' Balam is on the road to Rio Lagartos and Las Coloradas so combining the two would be no problem at all with an early start.  I would consider even adding Chichén Itzá to the start of the day…
We would love it if you could share this article so others can find it!