Some links in this post may be affiliate links. If you click on them we may make a commission from qualifying purchases at absolutely no cost to you.  Read our full Disclosure Policy here.
After a little more than 3 weeks in Ireland, it was time to move on.  With a quick overnight again in Dublin, we took the Irish Ferries line to Holyhead in Wales for our next adventure.
[mappress mapid="16″]
Hiking in Wales
Our only bit of rain during our entire time in Ireland came on our last day.  Unfortunately, it crossed the Irish Sea with us so we managed to stretch it out to two days of rain!
We only had 2 nights in Conwy on Wales' north coast so we grabbed our waterproofs and took off to Llyn Ogwen.  The area surrounding this lake is supposed to have some of the most rugged and dramatic scenery in all of Snowdonia.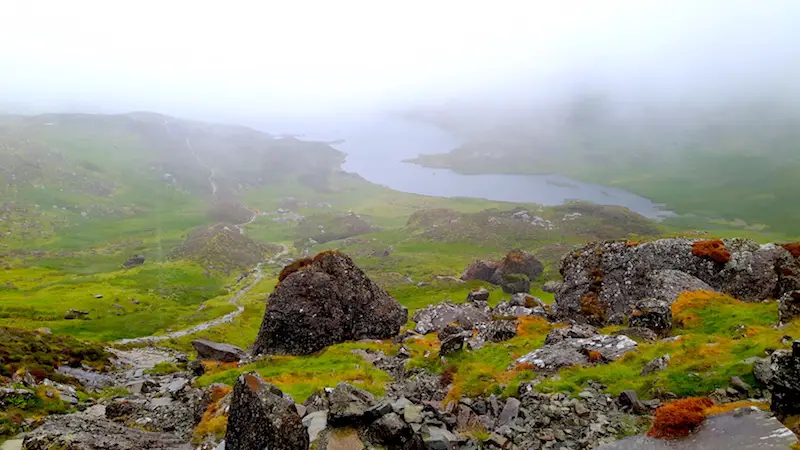 As we parked, there were many cars around and barely a raindrop was falling.  We turned left behind the cafeteria building and began the relatively easy hike to the lake.  At this point we were dry and surrounded by other people.
At the lake we took the path to the left.  We could hear voices floating across the lake but the low clouds meant that we couldn't see the bodies they belonged to.  As we hiked the rain got heavier and the clouds got thicker but we kept going.
The hike is extremely pretty, even in the rain and clouds.  As we passed rocks and heather, sheep were grazing and we crossed the occasional stream and waterfall.
The highest point is basically a boulder field and we found one huge boulder with room to sit under and have a snack.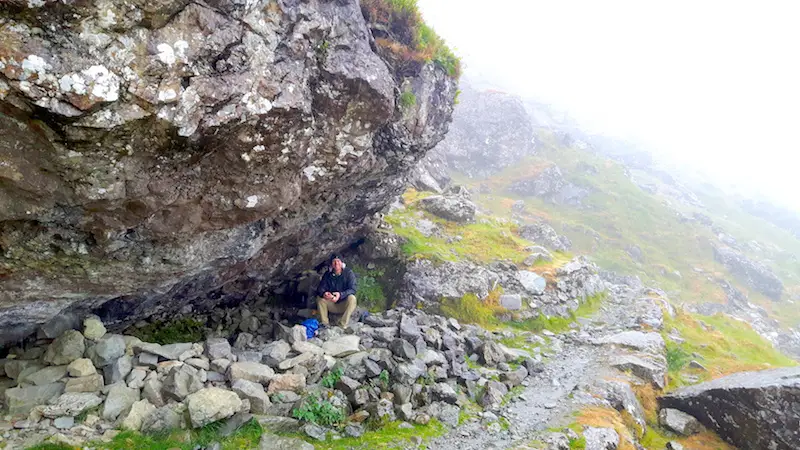 Every once in a while, the clouds cleared just enough to give us a glimpse of how beautiful the area is – a tease of how it might look on a sunny day!
Mount Snowdon
The most famous landmark in Snowdonia National Park is, of course, Mount Snowdon.  This is the highest peak in England and Wales.  I have climbed it before, years ago, but climbing a mountain is always a good idea, and I thought Terry would enjoy it.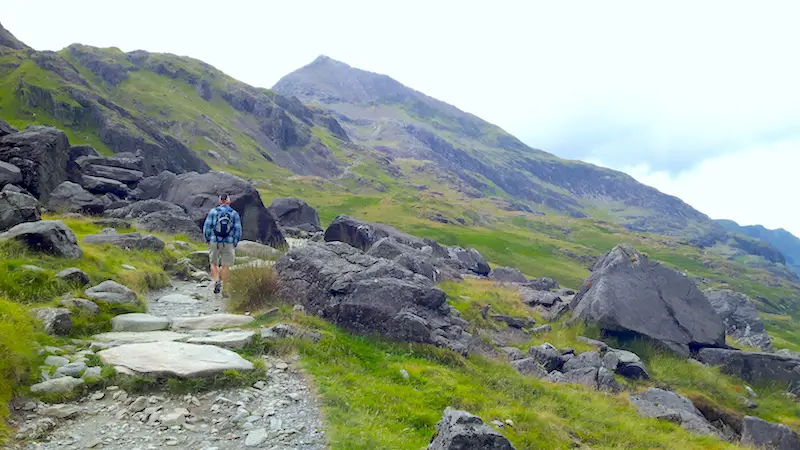 There are 6 main routes up but I didn't have a clue which trail I had already hiked.  Leaving from Llanberis is the easiest (although longest) trail and also provides the best parking options.  It also means it is the busiest – not really our thing!
Much preferring circular routes over out and backs, we decided to park in Llanberis but take the bus to a different trailhead.  We began our ascent at Pen-y-Pass.  This is shorter but one of the more challenging routes, although still quite popular (surprisingly so).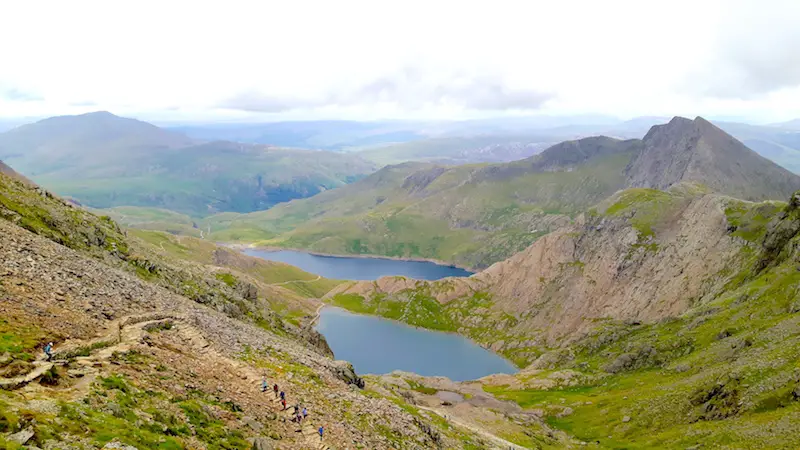 The views were awesome all the way up.
Near the summit, the trails merge and everyone makes the last hundred or so metres together.  We got there just in time to admire the view before the clouds rolled in.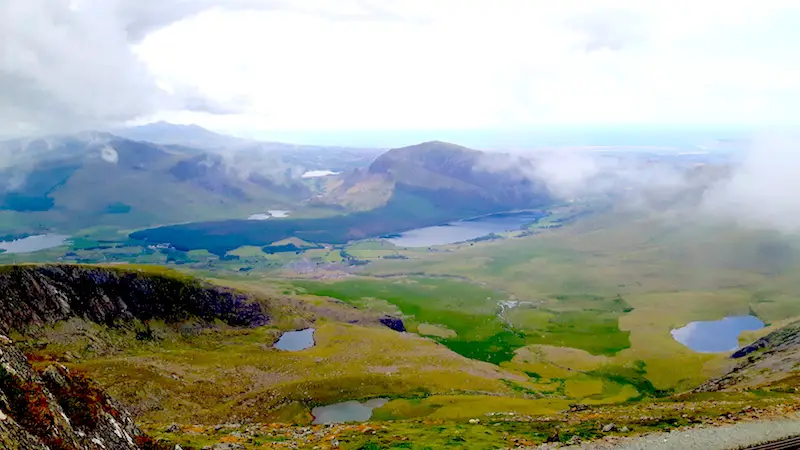 The summit cafe/train station was amazingly warm and the perfect place to have a snack.  They even have their own summit beer to celebrate the climb!
We took the Llanberis Path back down to more stunning scenery.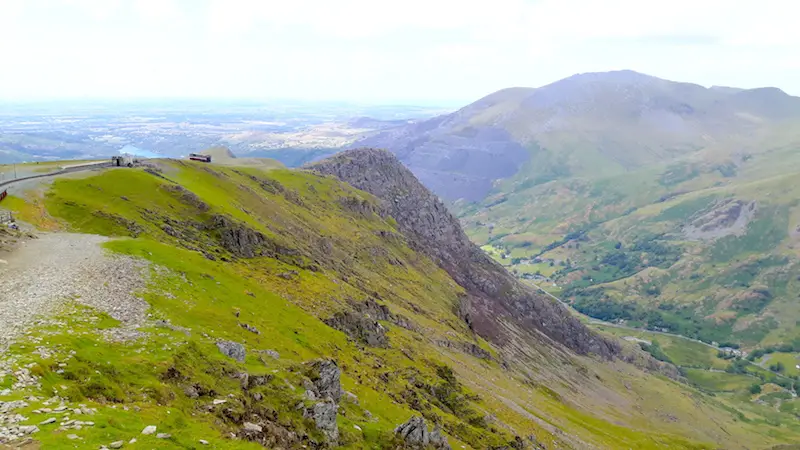 Many times on the steep ascent we had been grateful to not have to put our knees through the same trail on the return journey.  This path is longer, busier but so much easier on our old knees as it is a gradual descend into town.
Conwy
Originally I had picked Conwy to stay as it has good train and bus links.  We ended up renting a car but it was still a good choice.  With a castle, old city walls and a pretty harbour, it was a lovely place to spend a few days.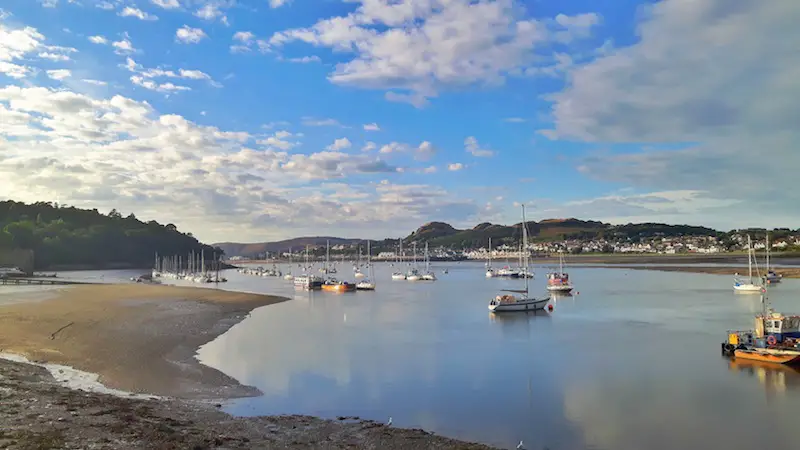 We even joined in with the local pub quiz night and met a few locals.  While we didn't wow anyone with our knowledge, it was a lot of fun!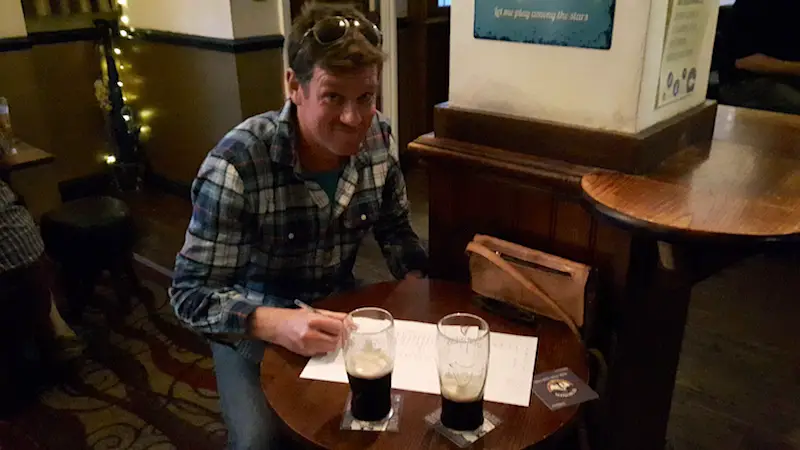 Somerset Wedding
As we left Wales, we stopped in Bristol to pick up my mum from the coach station.  Then it was on to our next place: an apartment overlooking the bay in Kewstoke, Somerset.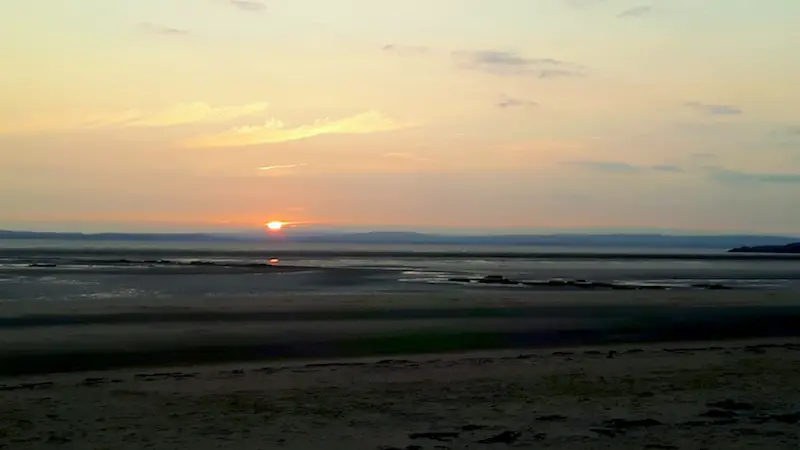 We were here for the wedding of one of my best friends!  Such a fun night catching up with friends and dancing to the live band.  Three days later and I still don't have a voice!
We spent some time in the Mendip Hills area.  We hiked through Ebbor Gorge near the town of Wookey Hole.  We wandered the beaches of Weston-Super-Mare and Brean.   We walked along the beach in Sand Bay, outside our front door.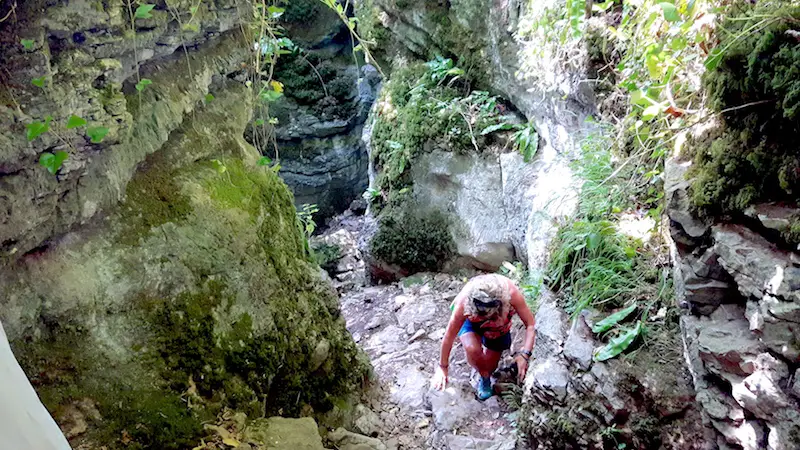 We even discovered a beer named The Potholer!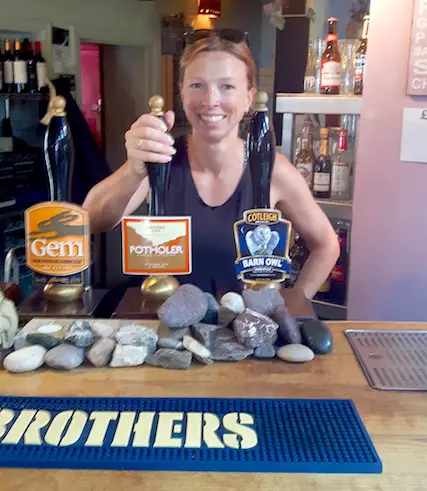 On Sunday we met my brother and sister-in-law in Cheddar.  While the caves come with a hefty price tag, it is possible to walk the cliff top gorge walk for free.  However, we discovered the best views come from along the road that runs right through the middle of it.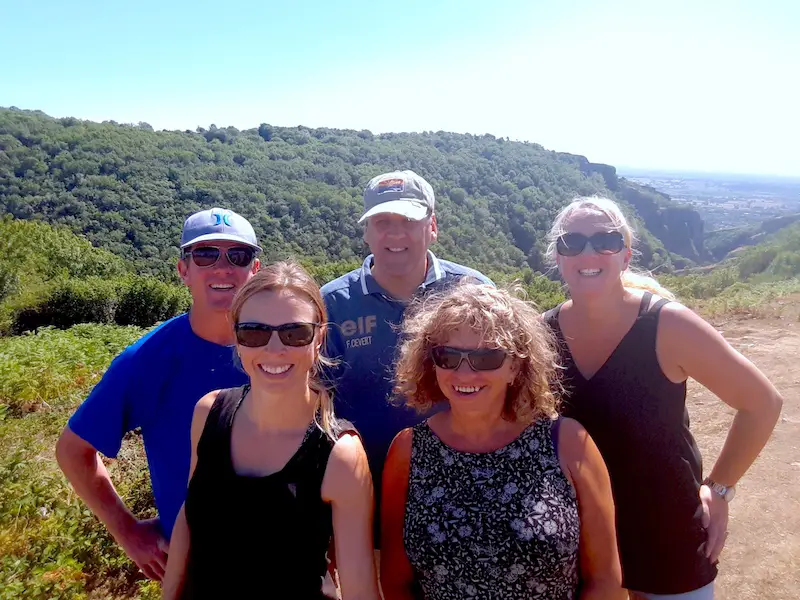 What's Next?
Exhausted but happy, we said goodbye to everyone (they took my mum with them) and drove off towards Cornwall.  Our next 10 days will be spent in Newquay and we're pretty excited about all the area has to offer!
Go back to our Destinations page.
Read our Travel Journals here.