Tortuga Bay, Galapagos: The Best Beach on Santa Cruz
Some links in this post may be affiliate links. If you click on them we may make a commission from qualifying purchases at absolutely no cost to you.  Read our full Disclosure Policy here.
People may not visit the Galapagos Islands for their beaches but it would be a shame to leave without spending some time at a couple of them.  These islands are home to some of the most beautiful beaches we have ever seen.  Our absolute favourite was Tortuga Bay, Galapagos – so much so we returned 3 times!
---
Want more Galapagos Islands travel planning tips?  Get our Ultimate Galapagos Travel Guide to kick off your planning and our Essential Packing Guide to plan what to bring.  For more detailed information on each island, check out these posts below: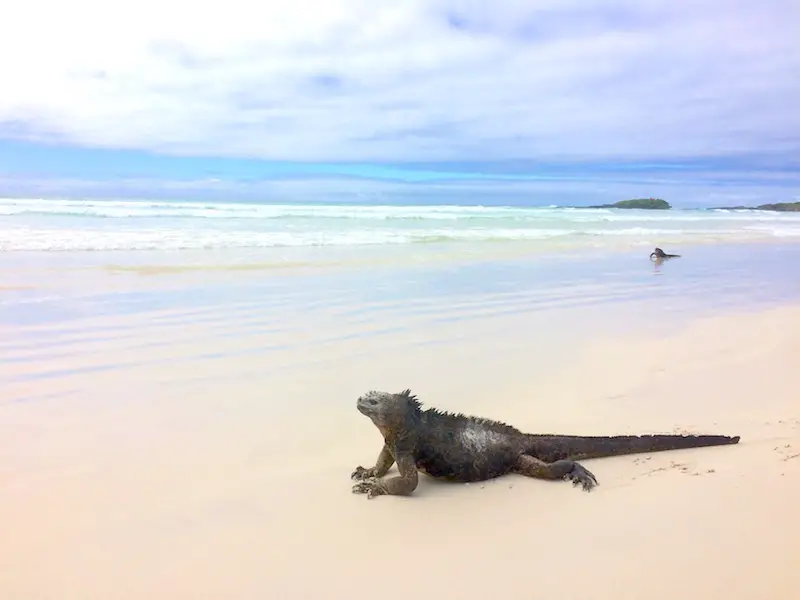 Why should we visit Tortuga Bay, Galapagos?
Here for the wildlife?  The beaches (there are actually two) are home to loads of marine iguanas.  This was probably one of the best spots to see them crawling along the sands, sleeping in the sun, piling on top of each other under the trees, swimming in the lagoon…  They were literally everywhere.
While the main beach, Playa Brava, is not advised for swimming, Playa Mansa is just past the end of this wide bay on a sheltered lagoon.  This is perfect for snorkelling.  As the name suggests, turtles are a very regular occurrence but plenty of other sea life.  Terry even saw a couple of sharks here!  If you happen to rustle a food wrapper you are sure to meet a few Galapagos finches up close too.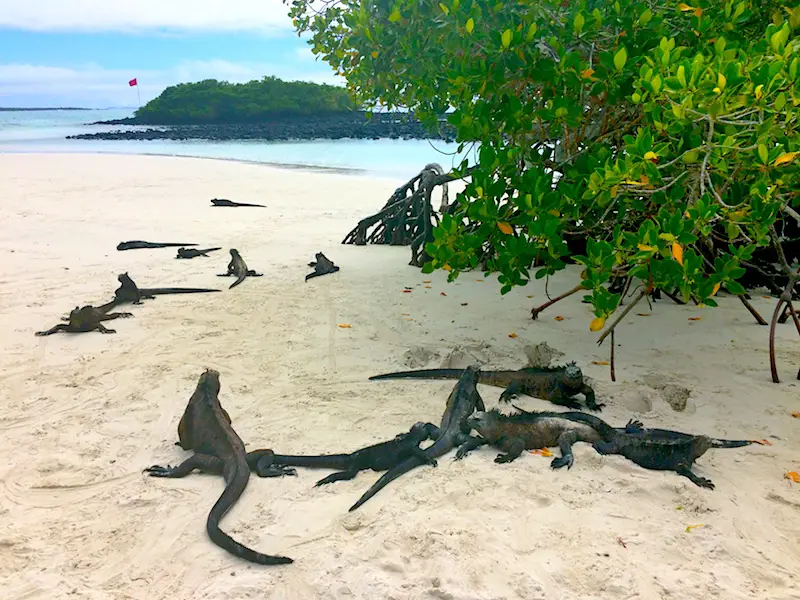 Looking for that perfect Instagram shot?  The wide sweeping Tortuga Bay, Santa Cruz is the perfect background.  In case the powdery white sand, black lava rocks and turquoise waters aren't enough, there's a good chance a marine iguana is waiting to photo bomb you too!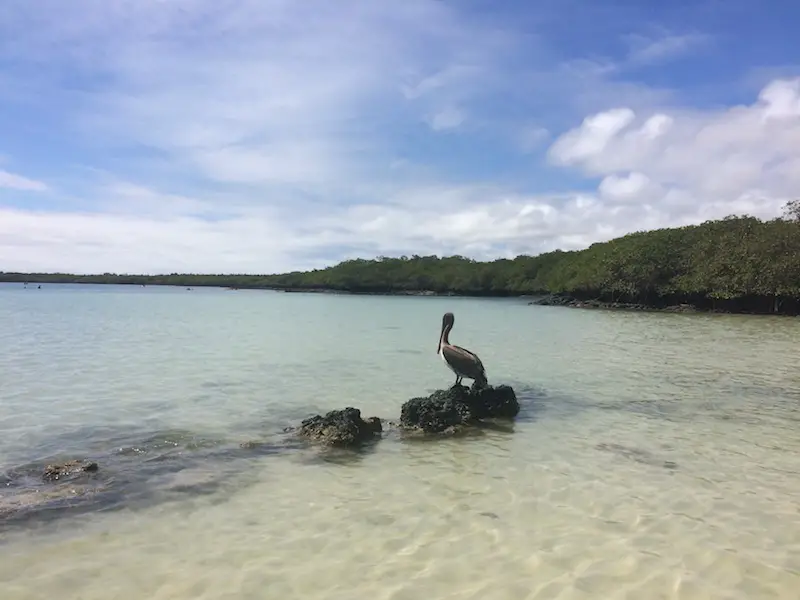 Hoping for some action?  Playa Brava, the first large beach at Tortuga Bay is a popular surf spot.  You will have to rent a board in town and carry it out here though.  A chance encounter with a shark or turtle while snorkelling in Playa Mansa may also get your heart rate up a little.  Kayak rentals are also available in the lagoon for those that want to explore a little further.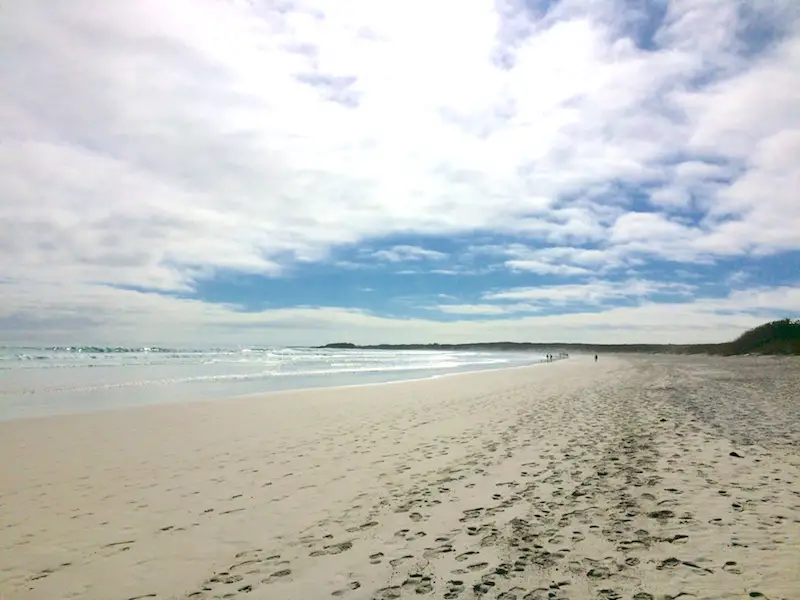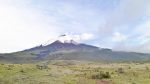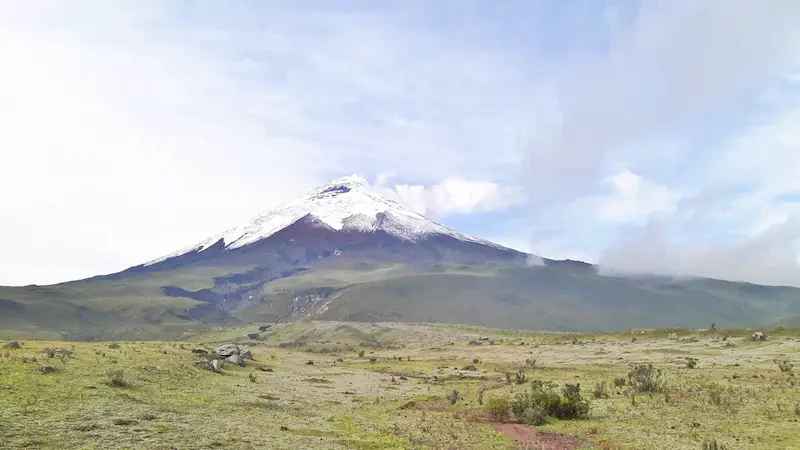 READ THIS POST:
Quito Day Trip to Cotopaxi National Park
How do we get to Tortuga Bay Beach?
You will find Tortuga Bay on Santa Cruz Island, just outside the main town of Puerto Ayora.  Walk straight up the road from the main docks by the volleyball courts and turn left at Charles Darwin Avenue.  This road will eventually lead you to the start of the trail.
You will have to sign in at the little hut at the top of the stairs but it is completely free.  A 30-45 minute walk through the lava rock and cactus field will take you to Playa Brava.  Turn right and walk along the beach to the far end.  Follow the trail through the trees and to the right to find Playa Mansa and the lagoon.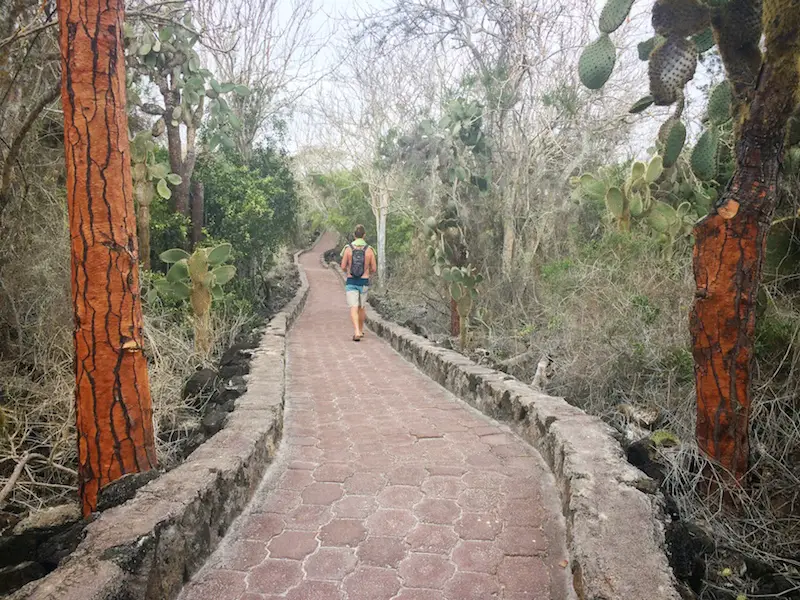 Alternatively, there is a water taxi available from the main dock in Puerto Ayora.  Look for the little hut with the sign.  We didn't take this but I believe it costs $10 and the last boat leaves the beach pretty early, around 2 or 3 pm.  It's a great option for those who have mobility or health issues but otherwise, we would recommend just to walk.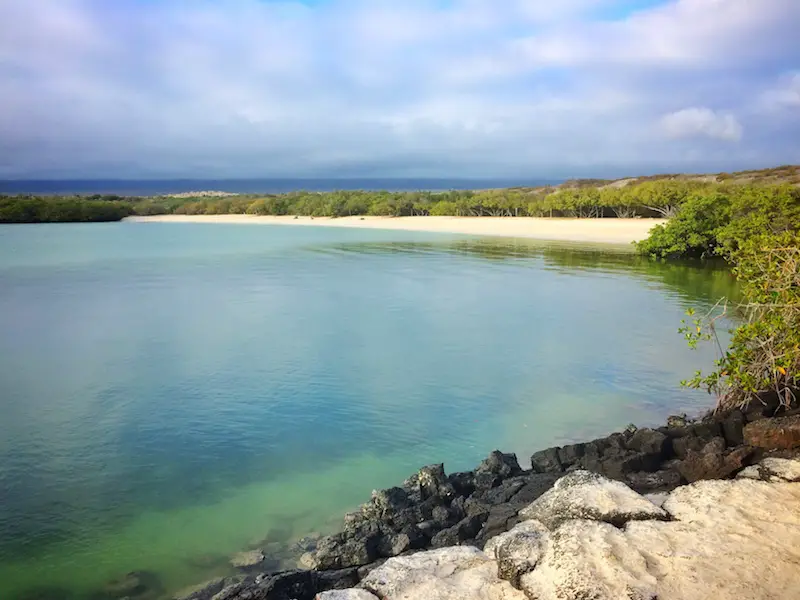 How much time should we spend at Tortuga Bay?
This really depends on how much you like spending time at the beach.  At a minimum, allow for an hour walk each way from the centre of town plus the time spent at the beach.
It's probably a 20-minute walk along the beach to the lagoon in addition to the hike out there.  If you are on a tight schedule or just interested in a few pictures, a visit could take as little as 3 hours.  However, if you're a fan of surfing, snorkelling or just sunbathing with marine iguanas for company you could easily spend the whole day here (and return for more another day).
Help others find this article by pinning it!
[columns] [span6]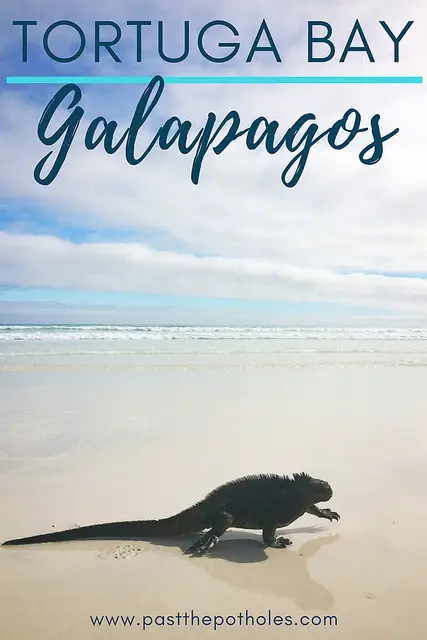 [/span6][span6]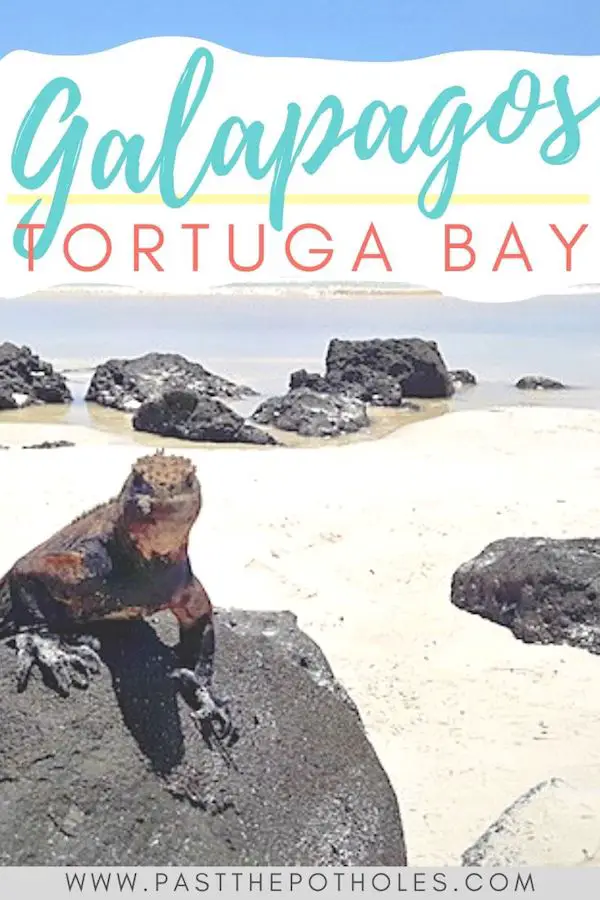 [/span6][/columns]
Return to our
Destinations
page for more travel inspiration.