7 Best Day Trips from Quito, Ecuador you will love!
Some links in this post may be affiliate links. If you click on them we may make a commission from qualifying purchases at absolutely no cost to you.  Read our full Disclosure Policy here.
Quito is a wonderful city to spend a few days while visiting Ecuador.  There are plenty of interesting activities and things to do in Quito with the centro historico at its heart.  However, the real magic lies in the surrounding Andes Mountains with a variety of day trips from Quito that are worth doing.
On our first visit, we planned three days thinking it would be enough to explore the city of Quito.  We weren't wrong, but it didn't account for the extra days we would want to spend getting out of the city.  There are plenty of attractions in Quito worth seeing but make sure you allow for at least a few additional days for the best Quito day trips that most interest you.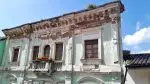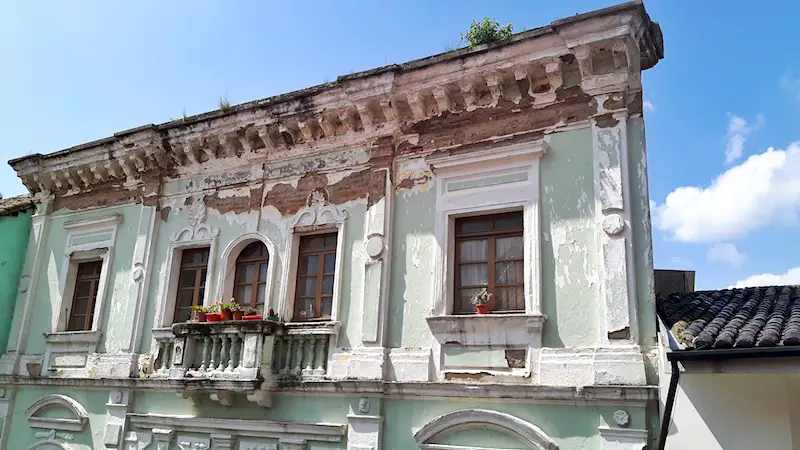 READ THIS POST:
9 Best Things to do in Quito, Ecuador.
[space_20]
The Best Day Trips from Quito
---
There are so many excellent day tours from Quito that we couldn't possibly do them all ourselves.  We asked travel bloggers to share their favourite Quito day tours along with useful information on the best way to get there.
Birdwatching and Adrenaline on a Mindo Day Trip
Mindo is a birdwatcher's paradise in the heart of the cloud rainforest in Ecuador.  It has one of the worlds most diverse ecosystems and it's a haven for outdoor enthusiasts.
If birdwatching isn't for you, there are plenty of other things to do in Mindo.  For fabulous views over the cloud rainforest, you can take a ride on the Tabitha, or you can go zip lining through the forest at Mindo Canopy.
The town also has a wonderful chocolate museum where you can go on a tour to see how chocolate is produced from a bean to an artisan bar.
There are also plenty of walking trails to explore the surrounding cloud rainforest.  For me, the highlight of my visit here was spotting toucans, hummingbirds and beautiful orchids.
El Edén treehouse is an excellent place to stop for lunch or coffee. You'll find it near the orchid farm in the centre of town.  This small cafe is family run, and their garden is stunning. You'll be mesmerised by the number of birds that visit.  There are bird feeders everywhere and the hummingbirds regularly catch you by surprise.
A day trip to this area is fabulous, but I can guarantee you'll regret not choosing to stay longer.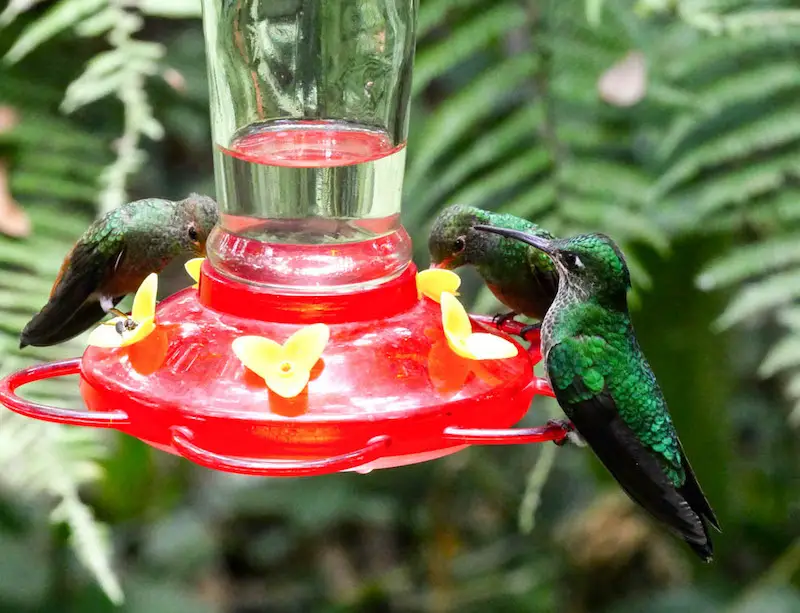 How to get to Mindo
Mindo is just a 2-hour drive north of Quito, and the easiest way to get there is by car.  If you don't fancy hiring a car, a taxi would cost around $90 although you could get it as cheap as $50 if you're good at negotiating.
The cheapest option is to go by bus from Quito to Mindo.   Catch the Flor del Valle bus, which departs from the Ophelia bus terminal, Quito in the north of the city.
If you prefer, you can book a day tour to the area from Quito.  Check out this day tour option now.
---
Recommended by Fiona from Passport and Piano.
[space_40]
Hike up Cotopaxi Volcano from Quito
If you're looking for a fun adventure with a side of stunning views, book a day trip to Cotopaxi National Park.  Your day will begin early with a drive along the Route of the Volcanoes, the Panamerican Highway, heading south out of Quito.
After stopping for a hearty breakfast, you will begin the drive through Cotopaxi National Park.  If you get lucky with clear skies you will get some incredible views of Volcán Pichincha and the surrounding landscapes.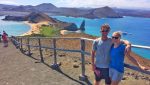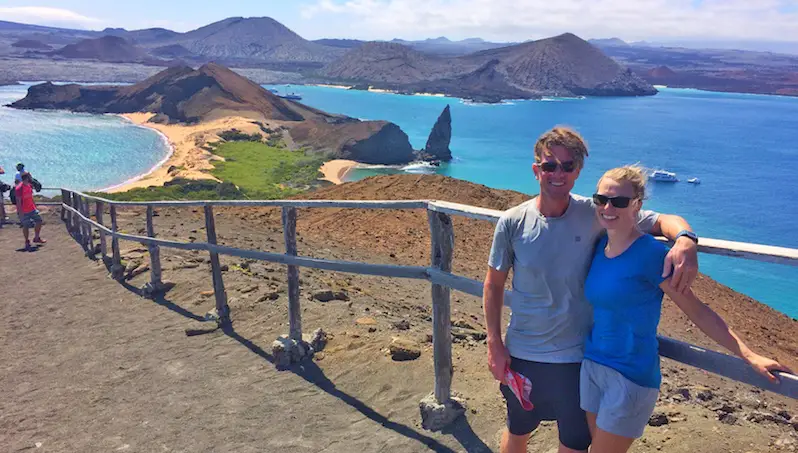 READ THIS POST:
The Ultimate Galapagos Islands Travel Guide
Now for the fun!  Your group will hike up to the refuge at an altitude of almost 16,000 feet.  If the weather cooperates you can continue up from there a little further to the edge of the glacier that crowns the active volcano.  Grab a hot chocolate or coca tea in the refuge to warm up a little before the descent.
The best part about doing this with a day tour is that you will be given a mountain bike to zoom back down the mountainside and meet at the shores of Lake Limpiopungo.  The road is all gravel and super bumpy so be careful!
If you've got the time, Cotopaxi National Park is a perfect spot to spend a few days.  However, this day trip will give you the perfect taste and a boatload of fun!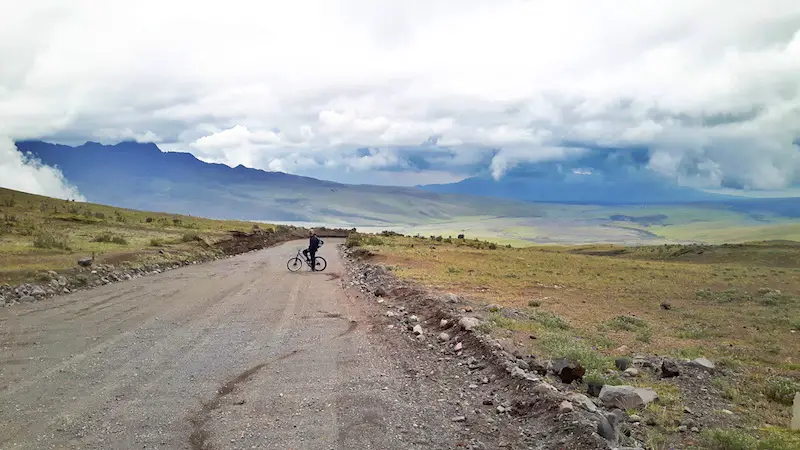 How to get to Cotopaxi National Park
The park entrance is about an hour's drive south of Quito and then there is an additional hour of driving through the park to get to the volcano.  If you are looking to do it independently on a day trip you really need your own vehicle.  Otherwise, you are looking at a combination of multiple buses and good luck hitchhiking.
To hike Cotopaxi in one day, we suggest taking an organized tour.  You can read more about our day trip to Cotopaxi here.
[space_40]
Hike into a volcano at Pululahua Crater
Pululahua Crater is an extinct volcanic crater which is now farmland, populated by local farmers and their families. There is only a handful of craters like this in the world, so this one is definitely worth a visit.
It's a short walk from the entrance to the viewpoint, where you will be greeted by a gorgeous view over the crater.  You can hike down into the crater (both ways takes 1.5 hours).  However, be prepared for the strenuous hike back up at high altitude.  You can also take a circuit hike in the crater (13km).
Be sure to choose a clear day to visit.  The first time I visited I only saw cloud!  Also, ensure you take enough water if you plan to hike – it's essential to stay hydrated at high altitude.
This stunning crater will wow you, so make sure it plays a part in your Quito trip.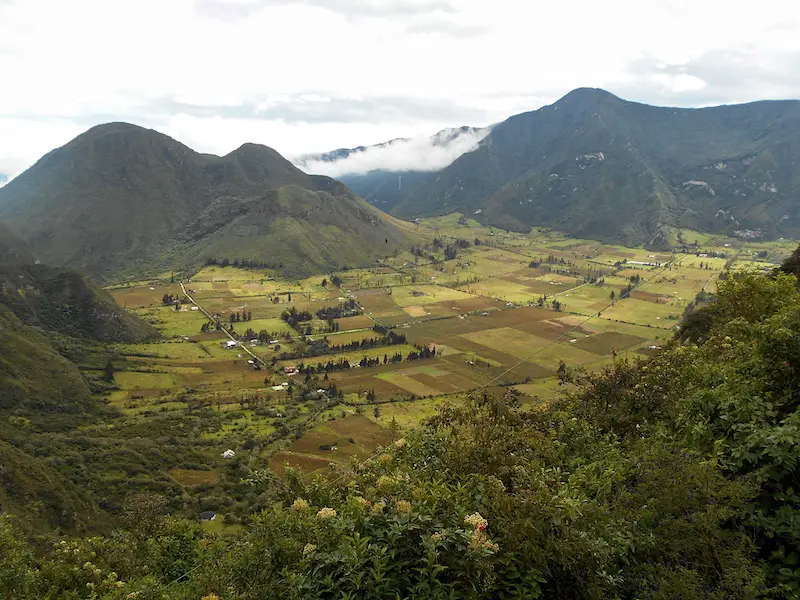 How to get to Pululahua Crater
Pululahua Crater is located north of Quito and is easily accessible via public transport.  You can take a local bus from Quito city centre towards Mitad El Mundo getting off at the last stop.  The bus costs less than $1 each way and drops you 1km away from the site.
Alternatively, you can take a taxi. This will cost approximately $15-20 and take roughly 40 minutes.  If you have a full day, the best option is to hire a taxi to take you to both Puluhua crater and Mitad El Mundo.  Both attractions are easily visited in one day.  Taxi drivers are aware of this day trip and will be able to take you for around $40.  Remember to agree on the price beforehand.
---
Recommended by Hannah from Hannah's Happy Adventures.
[space_40]
Laguna Quilotoa Day Trip from Quito
If your time in Quito is really short, a day trip to Laguna Quilotoa is a perfect option as you really see a lot in one day.  While there is a lot of time spent on the road, Quilotoa Crater Lake is stunning and a must-see in Ecuador.  The emerald lake is found in the crater of an extinct volcano high in the Andes.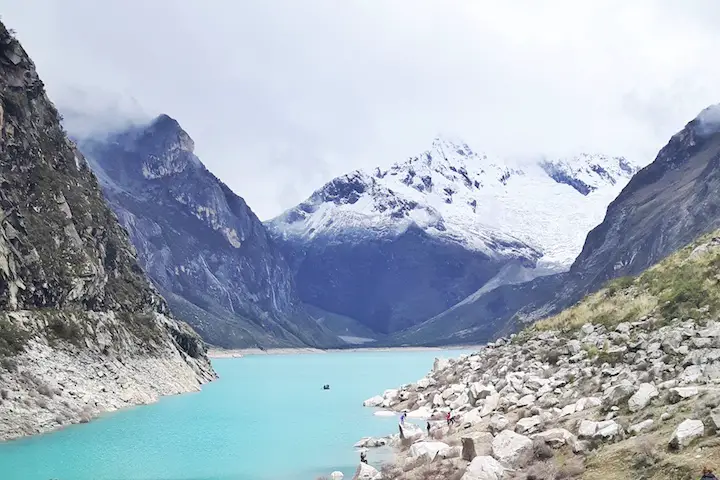 READ THIS POST:
An Adventure-Packed 2-Week Peru Itinerary
Once at the crater, there is a path down into the crater to the lake's edge where you can rent kayaks or relax.  Keep in mind that the trail down is steep and sandy for the return hike which is made more challenging by the altitude.  However, there are mules to rent if you prefer.  There is also a trail that loops the entire crater, although this will take several hours to complete.
By taking a day tour, you will also stop at an indigenous market in a traditional Andean community as well as a photo stop for the impressive Toachi Canyon.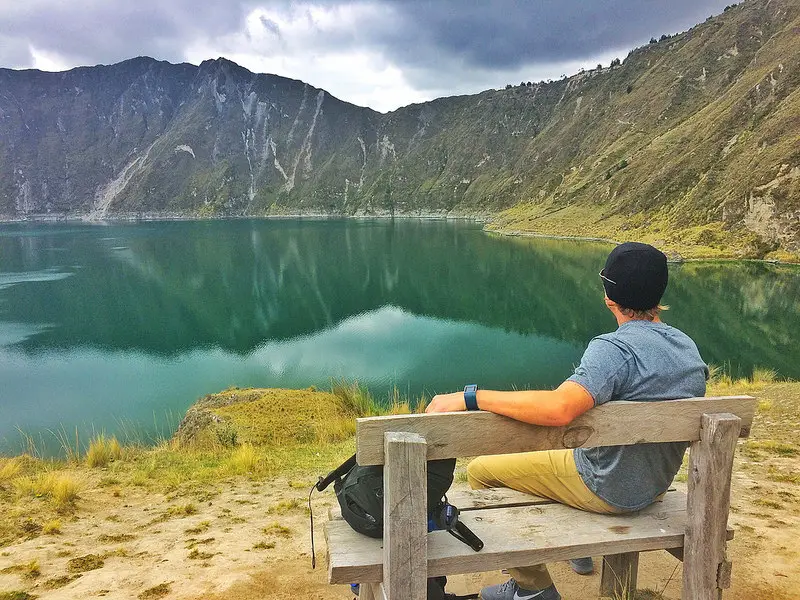 How to get to Laguna Quilotoa
As mentioned, for a day trip we really do recommend booking a tour.  You can read more about our personal experience with a day trip to Quilotoa here.
However, Quilotoa can be reached by public transport and this is a good option if you plan to stay overnight.  Take a bus from Quitumbe Bus Terminal to Latacunga and then switch for a bus to Quilotoa.
If you've got plenty of time, why not spend a few days hiking the Quilotoa Loop?  This is definitely on our wish list.
[space_40]
Stand in the Middle of the World (Mitad del Mundo)
Taking a trip from Quito to the middle of the world – or Mitad del Mundo is easy and most definitely required travelling.   It's here that you can stand atop the line that marks the middle of the world and have a foot in each of the northern and southern hemispheres.
You have two choices when you arrive, and we recommend you visit both of the middles of the world.
Yes, that's right there are two.  Way back in 1736 when the French confirmed that the earth did indeed bulge out nearer the centre, this first spot was identified.  The government of Ecuador has since turned it into a park dedicated to, well the middle of the world.  The enormous monument and globe in the centre is a great viewpoint, the various buildings around the site a series of historic displays and statues.  The vividly painted lines perfect for photos.
But it's at the nearby, only 200 metres away, Museo de Sitio Intiñan: Camino del Sol, where you'll learn much more about being at the centre of the world.  This includes undertaking some very neat experiments like showing the Coriolis effect (how water does down plugholes differently in the north and south hemisphere).
I'd find it hard to visit the country whose name means "The Republic of the Equator" without coming here.  The displays might be a little cheesy, but the experiments are undeniably fun and there aren't many people who can say they've stood with a foot in both the northern and southern hemisphere at the same time!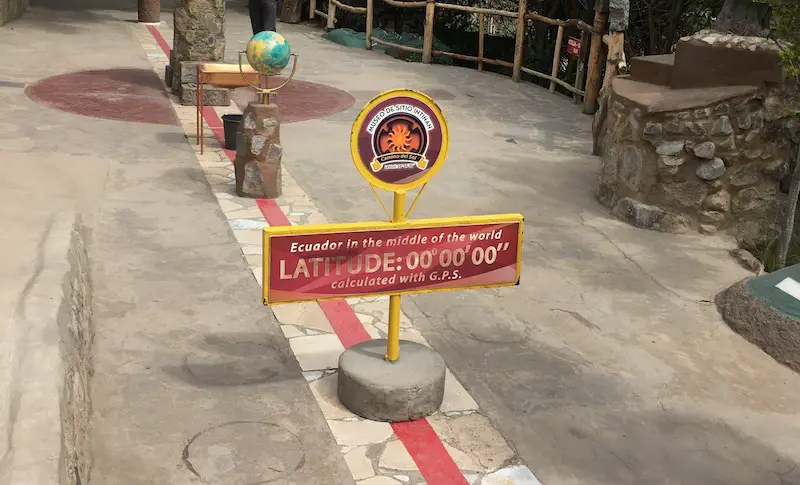 How to get to the Mitad del Mundo
Take a bus from the northern bus station of Ofelia to Mitad del Mundo for 50 cents.  The bus takes around 45 minutes from Quito to Mitad del Mundo.
Alternatively, Community Hostel has a great option for $10 that will take you to both equator sites and drop you at the cable car to see the sunset from Pichincha Volcano.
---
Recommended by Sarah from A Social Nomad.
[space_40]
Escape the city noise on top of Rucu Pichincha
Pichincha Volcano, part of the Andes mountain range, is located on the north side of Quito.  The highest part of the volcano is 4784 meters above the ocean and towers almost 2000 meters above Quito.  At the edge of the city centre is the TelefériQo, a gondola lift that takes you up Pichincha to Cruz Loma viewpoint.
However, if you really want a challenge, don't stop at the viewpoint.  Make a day out of your visit and hike to the Rucu Pichincha volcano summit at 4696 meters altitude.  You don't need a guide or tour so it's a great budget activity in Quito.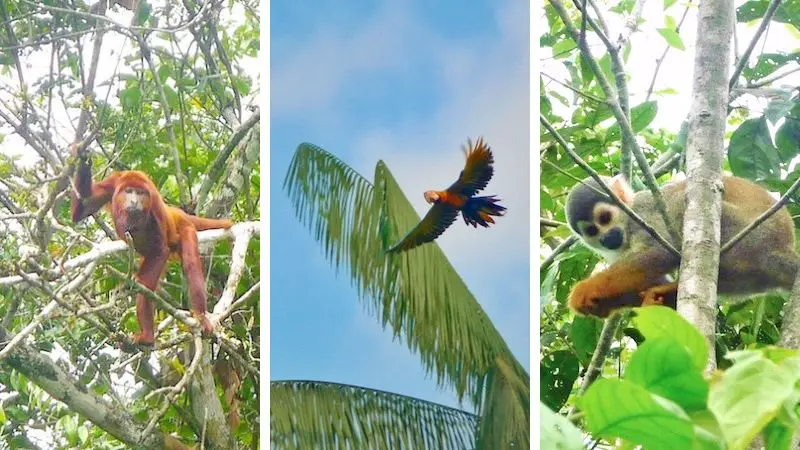 READ THIS POST:
Our 4 Day Amazon Rainforest Adventure Tour in Ecuador
With Loma Cruz viewpoint behind you, you follow the trail that leads right. The trails are well marked and you can also find them on the offline app Maps.Me.  The hike is more or less 10 km and takes about 4-5 hours from where the TelefériQo leaves you.  The trail starts off with a slight incline on compact dirt paths before it goes over to a gravel trail and before the summit, a sandy steeper climb.  On clear days, you'll have an amazing view in all directions from the Rucu summit.
Remember to bring food, water and maybe an extra sweater as it can be quite windy when you're getting closer to the top.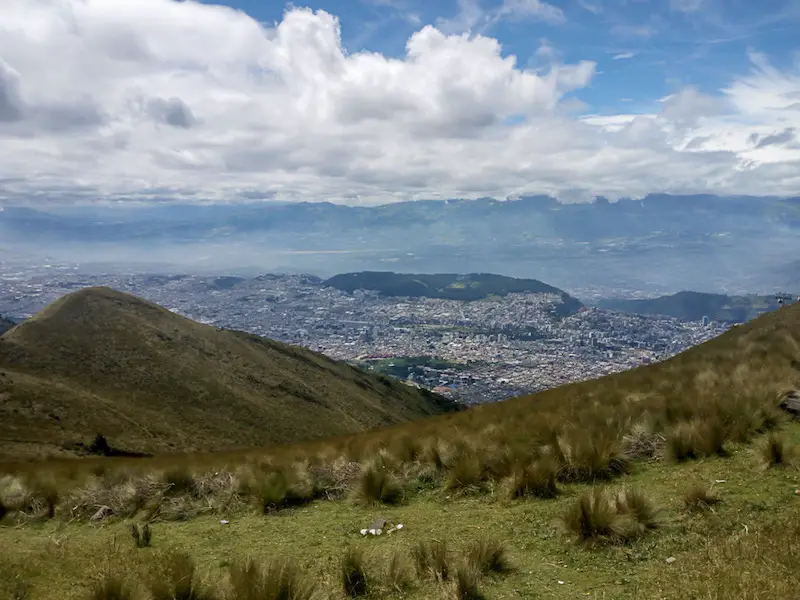 How to get to Volcán Pichincha
The best way to get to the start of this hike is to take a taxi to the TeleferiQo.  From Quito Old Town it should cost $4-5.  A roundtrip ticket on the TelefériQo is $8.50.  You can also catch public transportation and vans that pass by the area. If you are more than one person or don't mind the price, it will definitely save you time to take the taxi!
---
Recommended by Julie from Why Not Ju.
[space_40]
Otavalo Market Day Trip
The largest market in South America, the Otavalo market is a popular and famous day trip from Quito.  The largest market day is Saturday, followed by Wednesday, and many people suggest going on these days.  In fact, a number of Otavalo tours in Quito only run on Saturdays.
If you don't like crowds, or your schedule doesn't fit, the market is open every day.  There are just fewer stalls open.  However, the animal market is only held on Saturdays if that is of interest to you.
Just about anything can be found at this huge market but it is most famous for the colourful handmade crafts.  You can find artisan textiles, ceramics, wood, silver and more.  However, not everything is an artisan item and there are increasing numbers of imported products for sale.  Be sure to ask the vendors before spending any money.
[kad_youtube url="https://www.youtube.com/watch?v=GB5kLo7eHVI" width=760 ]
How to Get to Otavalo Market
It is quite easy to go by public bus from Quito to Otavalo.  Depending on your location, make your way to Carcelen Bus Terminal.  From there, take either a Cooperativa Otavalo or Cooperativa Los Lagos bus.  The journey from here should take around 2 hours and cost $2.50.
Alternatively, for those that don't want the hassle of figuring out the buses, there are day tours available.  Tours combine Otavalo with other locations such as Cotacachi, Imbabura Volcano, Cayambe or Cuicocha Crater Lake.  Check out this tour now.  

So, there it is – our round up of the best day trips Quito has to offer.  Don't they all sound amazing?  It's no wonder Quito has become such a popular spot for travellers and expats alike.  When you've had enough of the hustle and bustle of Quito, escape the city with any one of these unforgettable Quito day tours.
Please consider saving this post to help others find it!
[columns] [span6]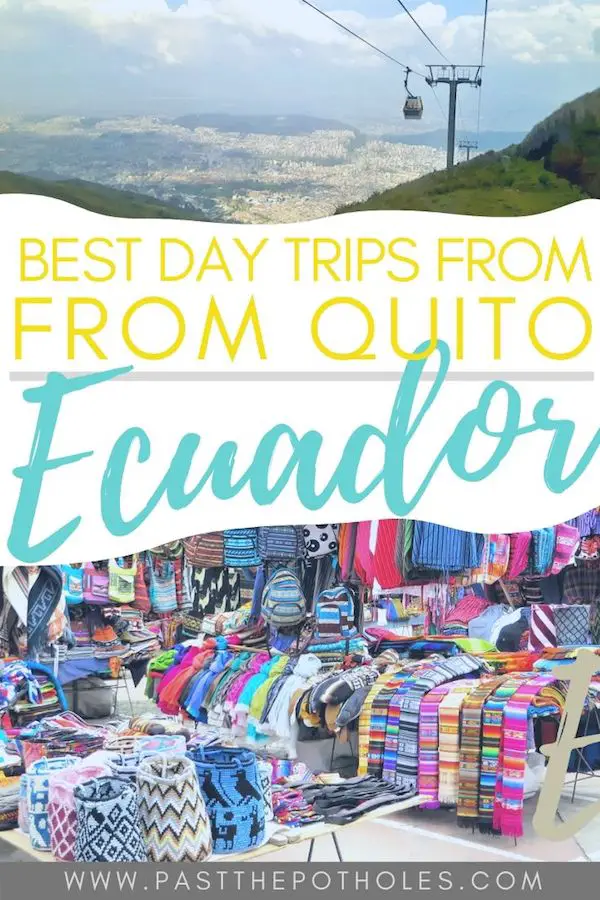 [/span6][span6]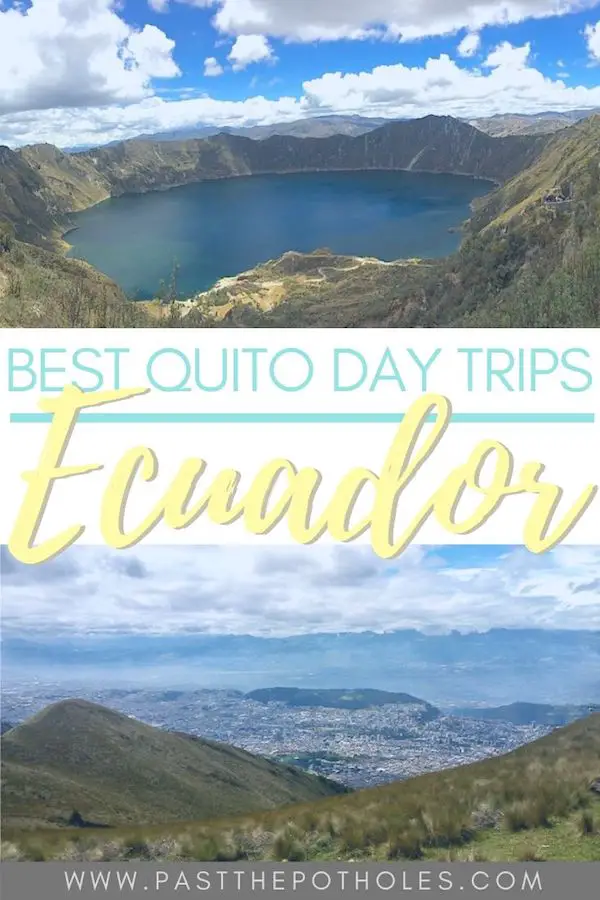 [/span6][/columns]
Find more travel inspiration at our Destinations page.
Ready to start planning?  Save time and money with our Travel Tools page.