Where to Stay in Tobago (and where to eat, too) for the best experience!
Some links in this post may be affiliate links. If you click on them we may make a commission from qualifying purchases at absolutely no cost to you.  Read our full Disclosure Policy here.
When visiting Tobago, you will have a lot of food and accommodation options.  While the island is small and can be driven entirely in a day, you would be better off choosing your location based on your activity choices to cut down on travel time.  This post will give you some ideas of where to stay in Tobago for the more popular areas and, as a bonus, where to eat as well!
**Note: prices vary greatly from low to high season.  Any given prices are an indication of what we paid and meant only as a point of comparison between the options**
Where to Stay in Tobago
Crown Point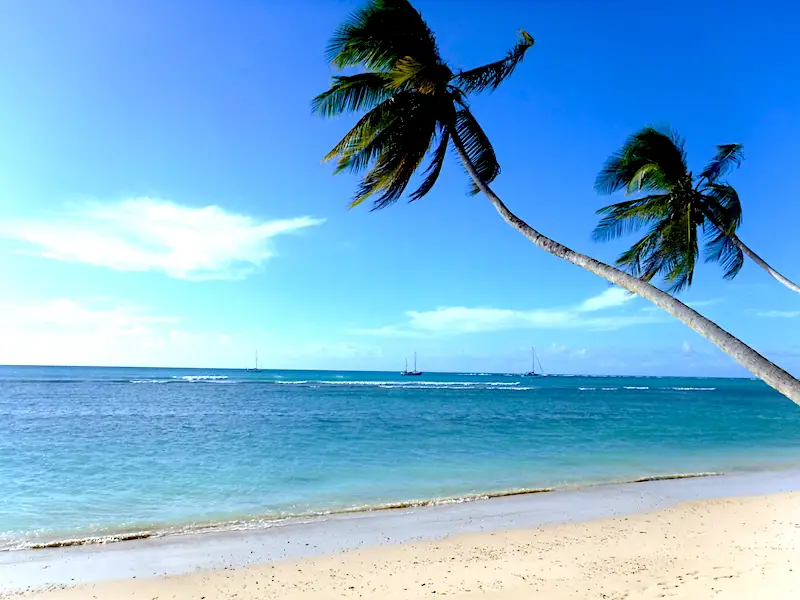 Why stay in Crown Point?
Beyond the obvious fact that it's stunning, this is the most convenient, touristy and action-packed part of Tobago.  Everything is walking distance, including the airport, which makes it a great location for a quick weekend getaway.  If you are in Tobago for watersports, tours, restaurants or nightlife you want to stay in Crown Point.
Where to Stay in Crown Point
$95 – We stayed at Carolina Point Resort on one of our trips.  It is a short walk to Swallows Beach, between Store Bay and Pigeon Point.  The owner was incredibly friendly and even took us on a tour to a local beach one morning.  He also has a larger apartment with a king size bed and gorgeous kitchen for longer stays or larger groups.  Click here for prices and reviews.
$100 – On another visit, we booked Shepherd's Inn.  It's a little further from the beach, closer to the airport, but still very walkable and has a pool and restaurant.
$170 – Kariwak Village is another favourite of friends.  It isn't on the beach but is set in lovely gardens and their restaurant is said to be delicious!  Click now for photos and availability.
$250 – We have many friends who choose to stay at Coco Reef Resort and Spa.  With its own private beach protected by a break wall, it is a great family option.  Check reviews and availability now.
Where to Eat in Crown Point
La Cantina is an Italian restaurant known for its pizza.  Most people make sure to stop in here when in Crown Point.
The cafe at Kariwak Village is a favourite for most people.  It is open for breakfast, lunch and dinner and known for using fresh, local ingredients.
Skewers offers a much cheaper option with Middle Eastern food.  Their gyros are delicious along with their fries!  While gyros may not sound particularly authentic, this food is quickly becoming an adopted local dish much like curry in England.
Cafe Coco is in a really nice building with a relaxed atmosphere.  The food was good, but perhaps a little overpriced for what you get.  Still, it is likely the most romantic option if you're looking for a date night.
Traditions restaurant inside Pigeon Point Heritage Park has delicious, well-priced food.  Their chicken fingers are a huge helping (plenty to share) and their fish tacos are also very tasty.  Renmars, also in Pigeon Point, has OK fast food but go there if you want to try a local buffet.

 Black Rock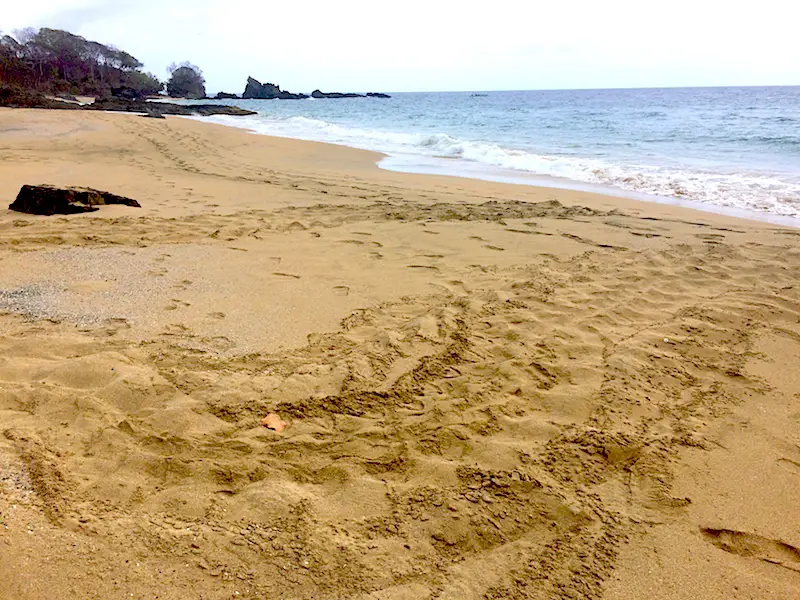 Why stay in Black Rock?
This area is where to stay in Tobago for surfing, golf or turtle watching.  This is the second most concentrated area of hotels, after Crown Point, and you will be able to find something to suit you.  It's the most convenient area without being in the middle of the busy Crown Point area.  It includes Mount Irvine Bay, Grafton Bay and Great Courland Bay.
NOTE: we've never stayed or eaten in this area so we cannot comment personally, rather from considering friends' and customer reviews.
Where to Stay in Black Rock
$60 – Miller's Guesthouse in Buccoo Village has great reviews and is one of the better values in the area.  Check reviews and prices now!
$90 – Grafton Beach Resort is a decent mid-price option.  It is right on the beach with a pool and includes a great breakfast.  Click here for pictures and reviews!
$150 – Turtle Beach by Rex Resorts has an all-inclusive option and is a beachfront hotel right on the same beach where most turtles nest (March – September)
$250 – Plantation Beach Villas is a luxury option with beachfront villas including a kitchen and a pool shared between the 6 villas.  If you're looking to splurge, this place comes with great reviews.  Check reviews and availability now!
Where to Eat in Mount Irvine Area
Waves – in front of the Grafton Beach Resort, this beachfront restaurant has a prime location.  It has great reviews too, particularly for their lunch/basic menu items.  With that view, I'm sure everything tastes amazing anyway!
The Fish Pot – this little place has great reviews also.  The building and atmosphere look a little more Trinbagonian than some other restaurants and that is always a good thing!
Most hotels in this area have at least one restaurant so you may find it more convenient to eat there (roads are dark, narrow and drivers are a little crazy here – maybe not the best to walk around the streets after dark).  Alternatively, try finding some local spot, usually someone has a set up in their front room or yard, for some real authentic food.
Speyside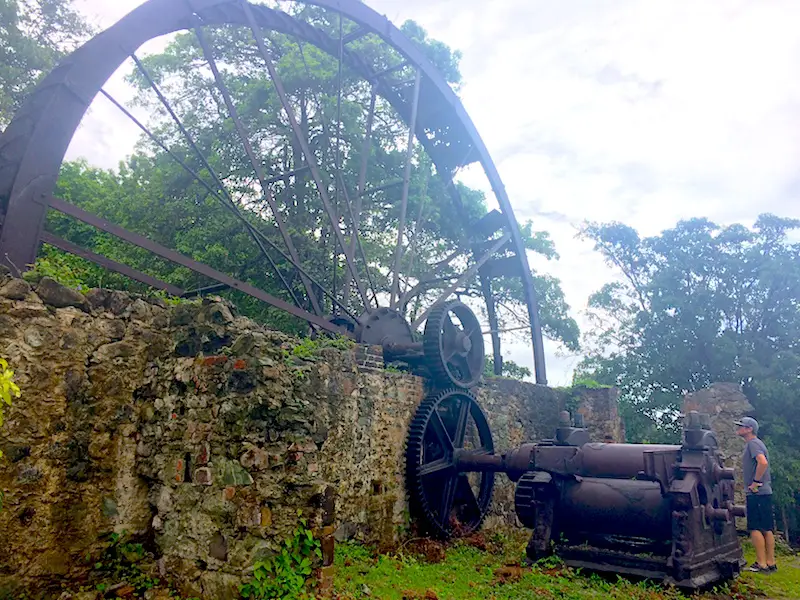 Why stay in Speyside?
Speyside is a very small, quiet fishing town on the far northeast Atlantic coast.  This is where to stay in Tobago if you are there for SCUBA diving and bird watching. Otherwise, you won't find much of anything going on.
Where to Stay in Speyside
$130 – We stayed at Speyside Inn.  The European managers were very friendly and helpful and the price was very reasonable. There is a pool and an on-site restaurant that provides a delicious breakfast included in your room.  Our room had a balcony with an ocean view and was actually a surprisingly nice room (we expected a little more rustic for the price)! They also run a dive shop right next door.
$170 – Blue Waters Inn is the spot where most people stay and comes very highly recommended by friends.  This is in the next bay over from town so expect to walk or drive to get anywhere but has a pool and restaurant on site and is the only place in the area with a decent beach.  Check availability and reviews here.
Where to Eat in Speyside
Jemma's Seaview Kitchen (Jemma's Treehouse) – before The Suckhole came along in Charlotteville, this was THE place to eat.  Many tours stop here for lunch.  It is right on the beach with a great view.  They had just closed when we arrived so we can't give a personal recommendation, however.
There are a string of road/beachside restaurants along the main road through town next to Jemma's.  Pick one that looks good to you and go for it!
Speyside Inn has a restaurant across the road from the beach.  A few tables have a partial view of the water. We ate here and the cook made us a delicious meal – even in the middle of a long power cut!  A Dutch couple is currently running this place and is making an effort to import high-quality meats and tasty wines.
Blue Waters Inn offers the only 'fine' dining option in the area.  It is actually on the next bay west so will require a drive or walk and it is definitely pricier.  We were told by a Trini friend that this is the only hotel in Tobago worth the price…
Castara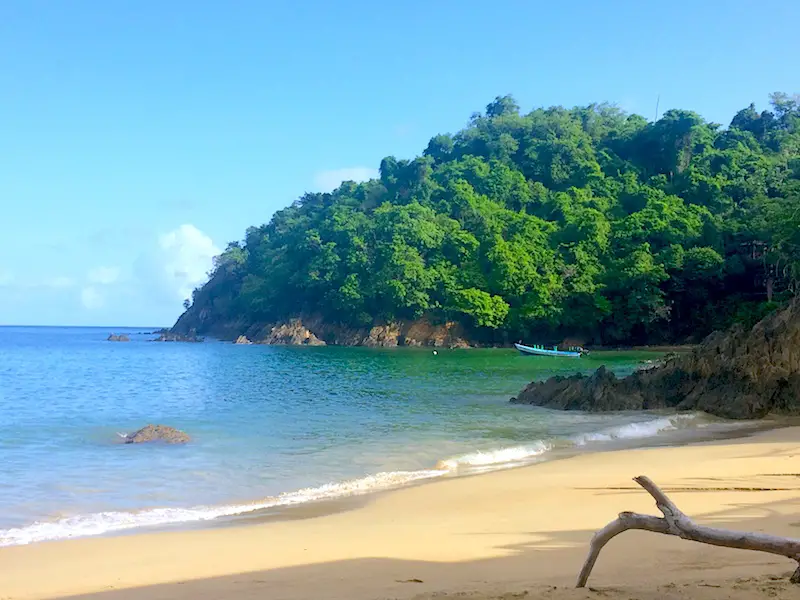 Why stay in Castara?
Castara is my top recommendation for where to stay in Tobago if you are hoping to explore the island.  It is centrally located along the north coast and is the fishing village with the most amenities for visitors.  You will find a few restaurants, a couple of hotels and plenty of guesthouses. The bay is picturesque and the beach is a lovely spot to spend some time with decent snorkelling.  If your top activities include hiking, nature or bird watching and culture this is the where to stay in Tobago for you!
Where to Stay in Castara
$50 (for the cheapest) – The Naturalist Resort was our choice and, while it is definitely rustic, it served us well with a full kitchen, included breakfast (NOT recommended) and is right on the beach.  If you have the budget I would recommend splurging on the highly recommended beachfront apartments.  Check reviews and prices here.
There were many decent looking options I found on AirBnB if I hadn't got a good deal at The Naturalist.  There are far more guesthouses than hotels in Castara.  If you don't already have one, get an AirBnB account here.  By using our link you will receive $45 off your first booking!
$150 and up – Castara Retreats is a high-end place nestled in the hills surrounding the bay.  There are a lot of stairs here but the views are spectacular if you can afford it!  Check out the reviews and photos here!
Where to Eat in Castara
D'Almond Tree – Confession:  we ate here our first night simply because it is on the beach and right next to our hotel.  It was so good we returned the next night and never bothered to try any other places in town!  The menu is on a whiteboard but just ignore it – the waitress will tell you what they actually have each night.  Order the Catch of the Day.  It really is caught fresh each day and you will get a different fish each night.  Tip: they don't sell alcohol so pop along the sand to the convenience store and grab a bottle of wine or six-pack of beer.  They were even kind enough to let us keep it in their fridge during our meal.
Castara Retreats – This is a budget breaker for sure so only come here for a special occasion.  We recommend heading up for sunset, a happy hour cocktail and maybe an appetizer before walking back into town to eat elsewhere.
Like this post?  Pin it for later!
[columns] [span6]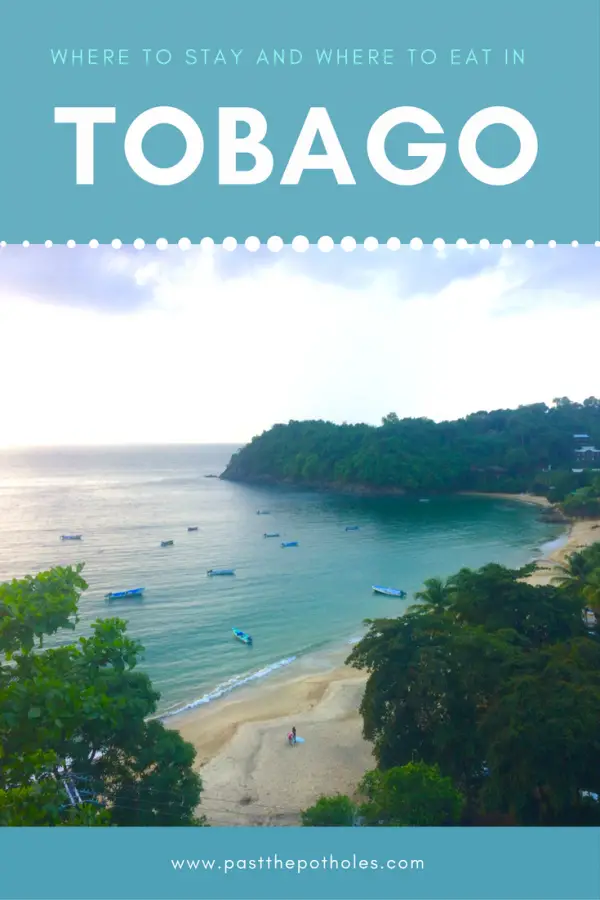 [/span6][span6]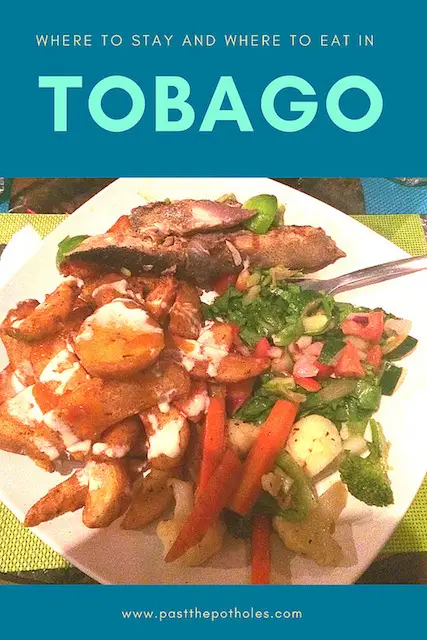 [/span6][/columns]
Have you been to Tobago before?  What do you think is the best place to stay?  Let us know in the comments below.
Return to our Destinations page now.
---
---
Some links in this post are affiliate links.  That means if you click on them and make a purchase we will make a small commission at absolutely no cost to you. Win-win, right?  Thanks for your support!
---