Puerto Ayora Fish Market, Santa Cruz
Some links in this post may be affiliate links. If you click on them we may make a commission from qualifying purchases at absolutely no cost to you.  Read our full Disclosure Policy here.
You cannot visit Santa Cruz Island in the Galapagos without a visit to the fish market in Puerto Ayora.
This was our first stop after checking into our hostel and within an hour of arriving in the Galapagos we had already checked off some major creatures people come to the islands to see.
---
Want more Galapagos Islands travel planning tips?  Get our Ultimate Galapagos Travel Guide to kick off your planning and our Essential Packing Guide to plan what to bring.  For more detailed information on each island, check out these posts below:
Where is the Puerto Ayora Fish Market?
The fish market is right in the centre of town along the waterfront.  If closed, it is small and easily missed but during the day it is a hive of activity.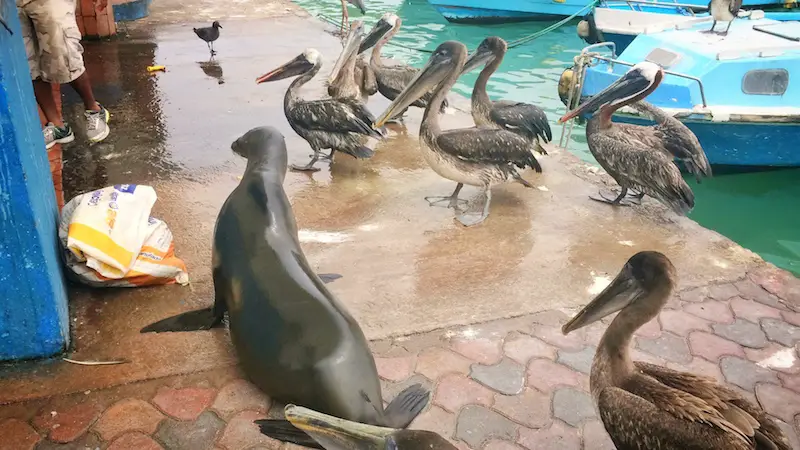 Start at the main docks (by the volleyball courts) and follow the waterfront road east.  Just a few minutes later you will come across a small counter with a roof but no walls.  Beside it is a small open plaza.
Tip: from here continue east along this road for the Charles Darwin Research Station.
What is there to see at the fish market?
When open, men and women are bustling around cutting up huge fish, weighing piles of lobster and whatever other tasks are entailed in running a fish market.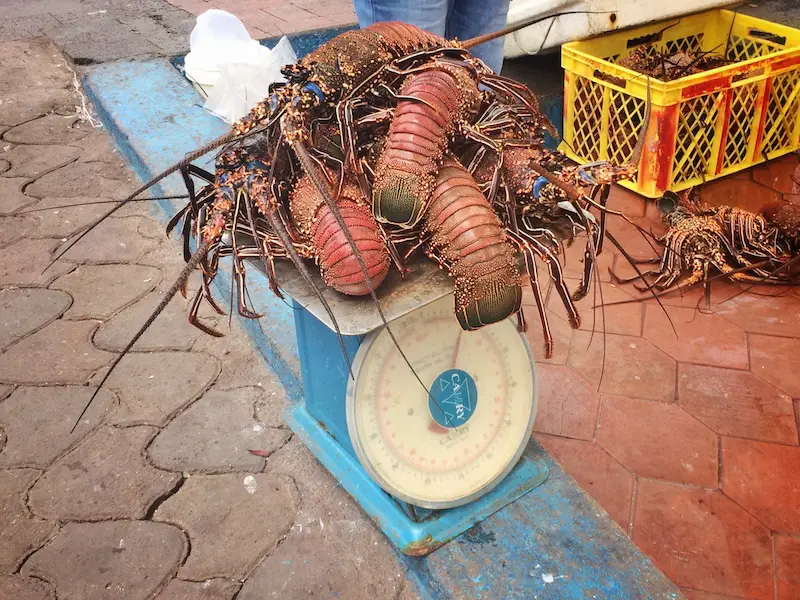 There is almost guaranteed to be a sea lion either lazing on the nearby bench, waiting for scraps or taking matters into its own hands and stealing them!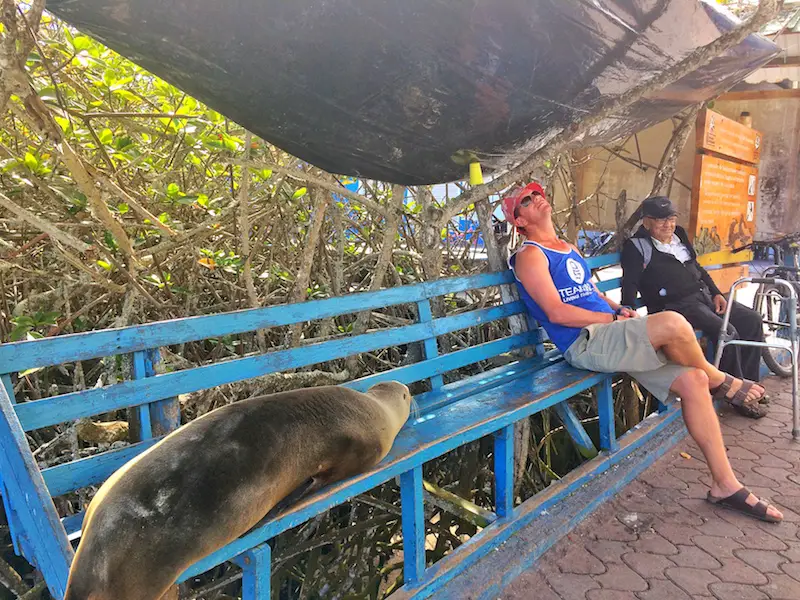 Pelicans also gather here in the hopes of a snack.  We even saw a big crane one time.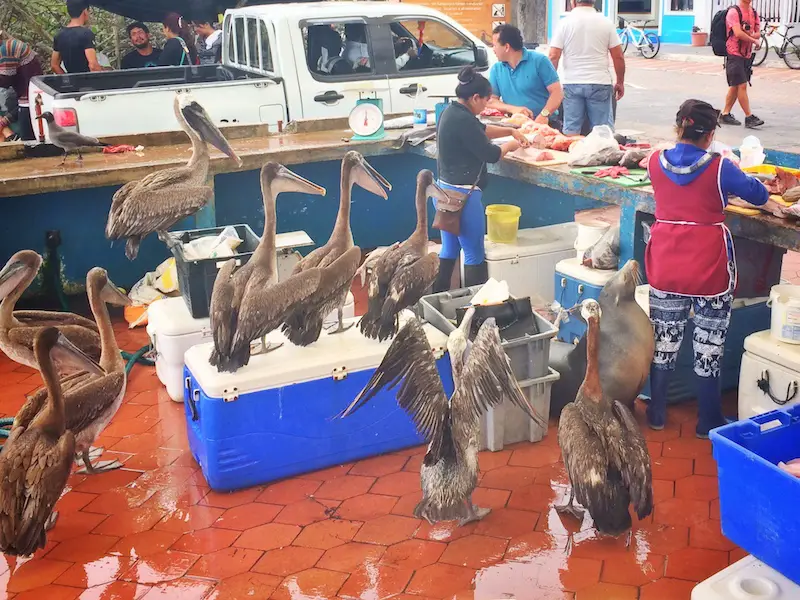 Huge frigate birds wait on the lamp posts, fly around and occasionally swoop in stealing fish right from the market table!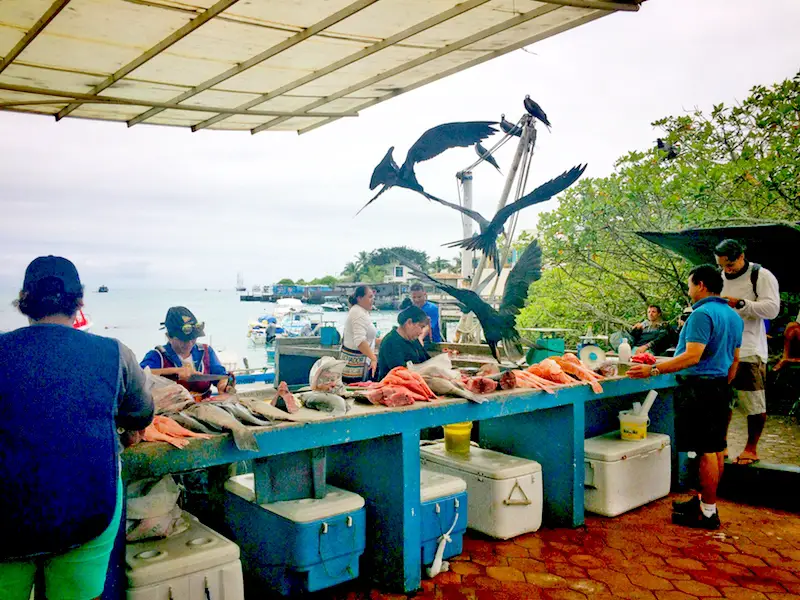 There is also a decent chance of spotting a marine iguana or two here, although the Charles Darwin Research Centre or Tortuga Bay are much better places for sightings.
Tip: there are a few restaurants around town that will cook your fish or lobster for you that you can buy fresh at the market.  It could also make a great home cooked meal if your accommodation comes with a kitchen.  We saw people feasting on lobster in our hostel kitchen.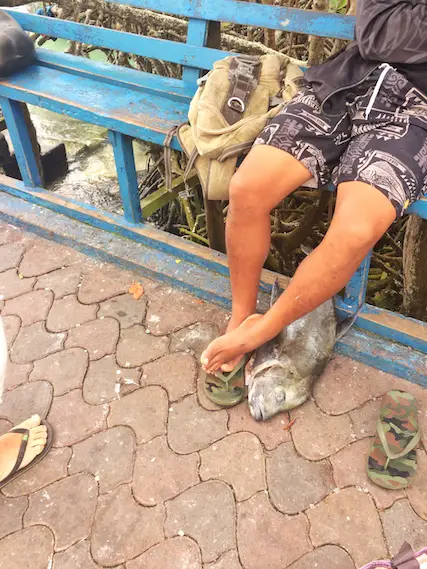 How long does it take to visit Puerto Ayora Fish Market, Santa Cruz?
Depending on where you are staying, walking to the fish market takes just a matter of minutes.  Once there, you could stay for just a minute or two or be happy snapping pictures for much longer.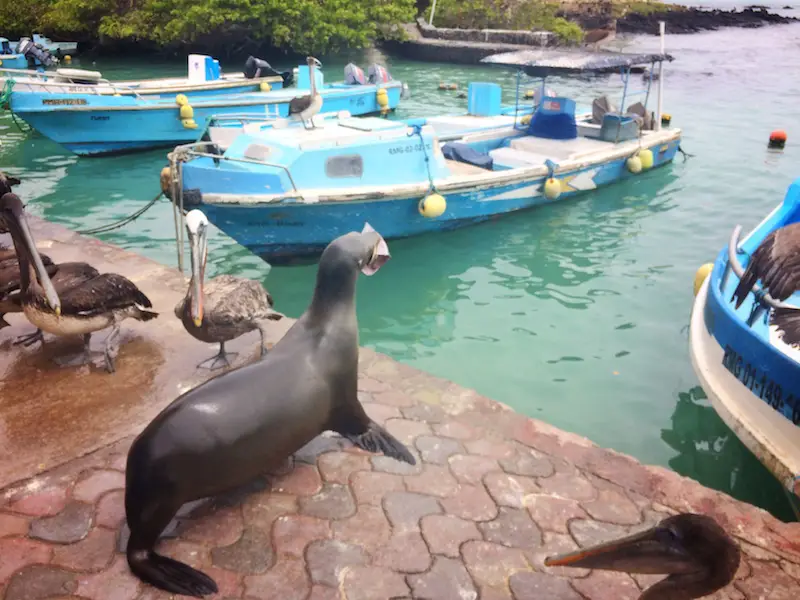 When is the best time to visit Puerto Ayora Fish Market?
Our first visit was in mid to late afternoon and, while we still saw a sea lion, pelicans and a marine iguana there wasn't too much happening.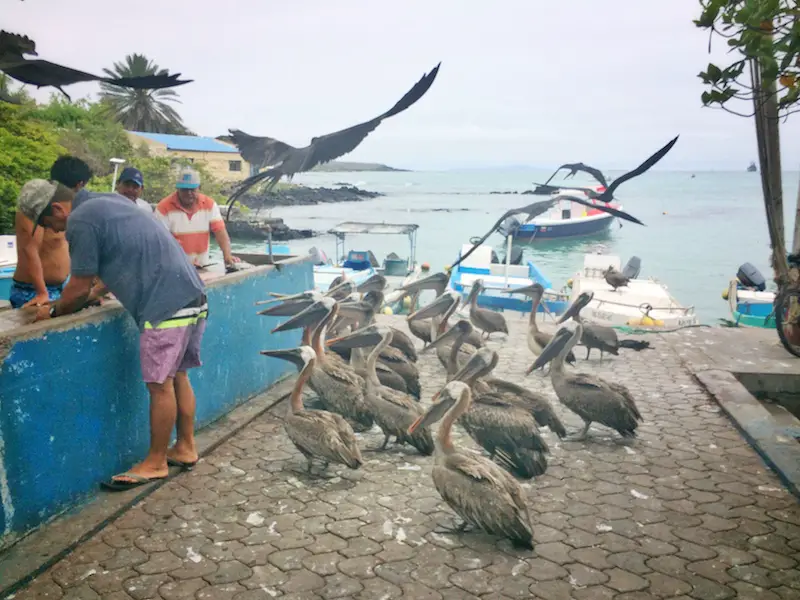 When we visited late morning it was a hive of activity.  The sellers were in action and the wildlife knew it.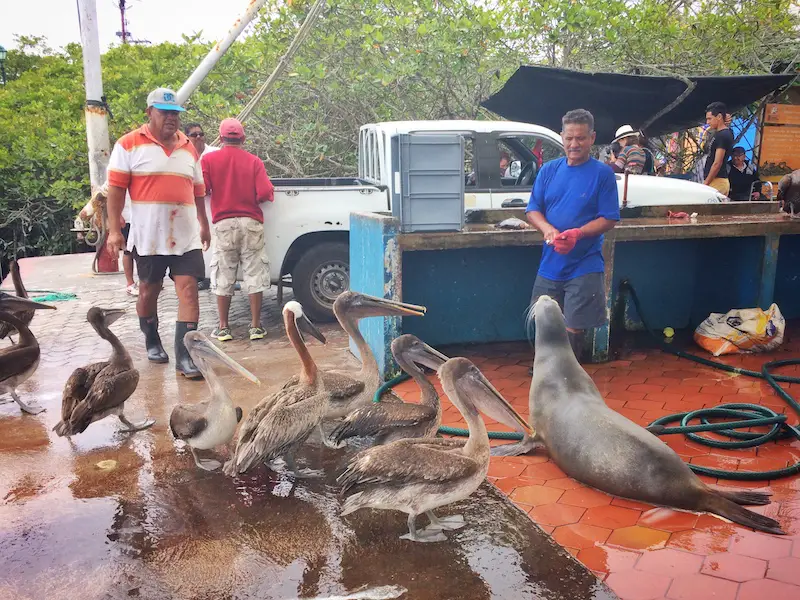 Return to our
Destinations
page for more travel inspiration.