Visit Playa Puerto Chino (San Cristobal Highlands Tour)
Some links in this post may be affiliate links. If you click on them we may make a commission from qualifying purchases at absolutely no cost to you.  Read our full Disclosure Policy here.
San Cristobal Island in the Galapagos is blessed with some truly gorgeous beaches.  Picture sand so white it hurts your eyes and water that is as clear and blue as anywhere.  The problem is that many of these beaches are only accessible on a boat with a tour.  And then there is Puerto Chino Beach.
Playa Puerto Chino is picture perfect.  Enclosed with black volcanic rocks and trees that are popular with wildlife, the beach is an excellent place to pack a picnic and relax for a while.  It's popular with locals on the weekend and holidays so for the best chance to have this place to yourself try to plan your visit during the week.
---
Want to learn more about visiting the Galapagos Islands by land? 

Read our Ultimate Guide to the Galapagos Islands.
How to Get to Puerto Chino, San Cristobal
The most common way people visit Puerto Chino beach is as part of a San Cristobal highlands tour.  While organized tours are available, it's really just as simple as hiring a taxi driver for the day.  We paid $60 for five of us and combined it with El Junco Crater Lake and the Galapaguera Tortoise Hatchery.
At the end of the day, we asked our driver to drop us off at La Loberia beach instead of our hostel to save us that hike or taxi later.  Pretty good for less than $15 per person!
Alternatively, you could hire a bike.  But be warned, to reach this beach you will have to ride up and over the highlands – both ways.  We wouldn't recommend it unless you are a serious cyclist already.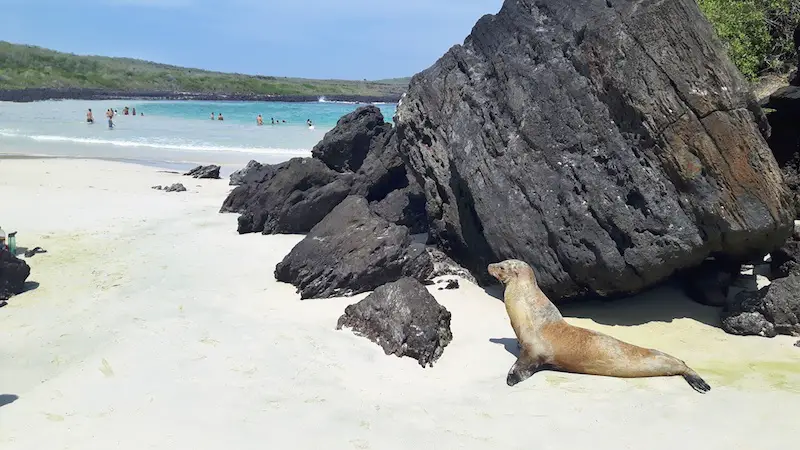 What to Expect at Playa Puerto Chino
From the parking area, you need to walk along a paved trail for about 15 minutes.  When you reach the end, a short tunnel of branches opens up to a brilliant white stretch of sand.  To be honest, I was surprised as how narrow the beach is.  After the other Galapagos beaches I guess I was expecting a long strip of sand.
Bordered on both sides by rocky cliffs, it is actually deeper than it is long.  The only shade is provided by a few trees at the back and the rocks.  We headed straight for a large rock to provide us with some shade, only to find out a sleeping sea lion had beaten us to it!
As it was Ecuadorian school holidays during our March visit, the beach was quite busy with locals enjoying playing in the waves.  The water is clear, and while there are waves, they are not huge.  The cliffs extend out into the water on either side so it's a fairly well-protected bay.  Watch for warning signs though as there can be dangerous undercurrents.
Make sure you take the time to climb onto the rocks to the right of the beach.  There is a short trail that loops the headland and it is a popular nesting area for sea birds, particularly blue-footed boobies.  We saw a couple on the rocks and fishing in the bay but we didn't get lucky on the trail.  An Australian family we met during our December visit, however, stumbled across a boobie on its nest just on the edge of the trail.
Even without the presence of adorable blue-footed boobies, the short hike was well worth the effort for the lovely view across the bay.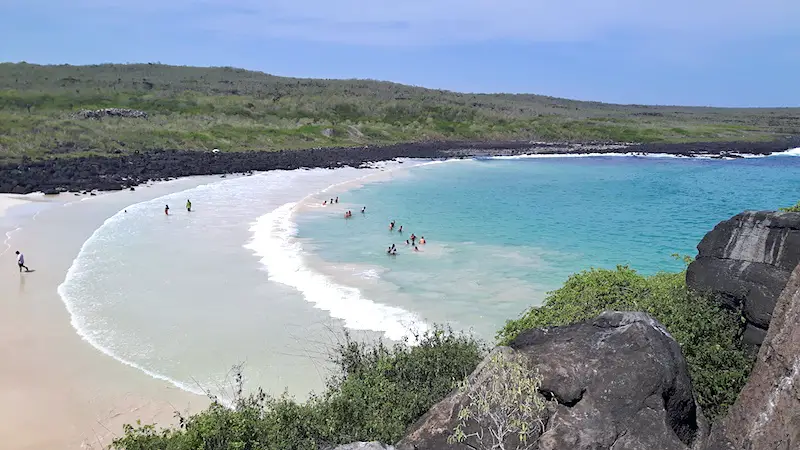 Tips for Visiting Puerto Chino Beach
There are no facilities at Playa Puerto Chino so be sure to bring everything you will need, and pack everything back out again.
Bring snacks and plenty of water.
Remember to pack reef-safe sunscreen and a hat.
Don't forget your swimsuit and towel – the water is so inviting.
Bring a camera, preferably with a zoom, in case you get lucky on the trail.
Be prepared to ask your driver to stay longer.  I was unprepared when ours gave us a time limit and didn't think to question it until it was too late!
Puerto Chino is a lovely beach to spend an hour or more and provides a good opportunity to see blue-footed boobies among other creatures.  We enjoyed our time there and would recommend it to anyone with a free day in their Galapagos schedule.
Looking for more information on the Galapagos Islands?  Get our complete Galapagos packing guide and read these posts, packed with everything we learned to help you plan the best trip to the Galapagos:
[btn text="Go Back: 17 Unforgettable Things to do in San Cristobal" tcolor=#FFF bcolor=#69d3d3 thovercolor=#fa7268 bhovercolor=#69d3d3 link="https://pastthepotholes.com/things-to-do-in-san-cristobal-galapagos/" target="_self"]
Did you find this post helpful?  Consider saving it for easy reference.
[columns] [span6]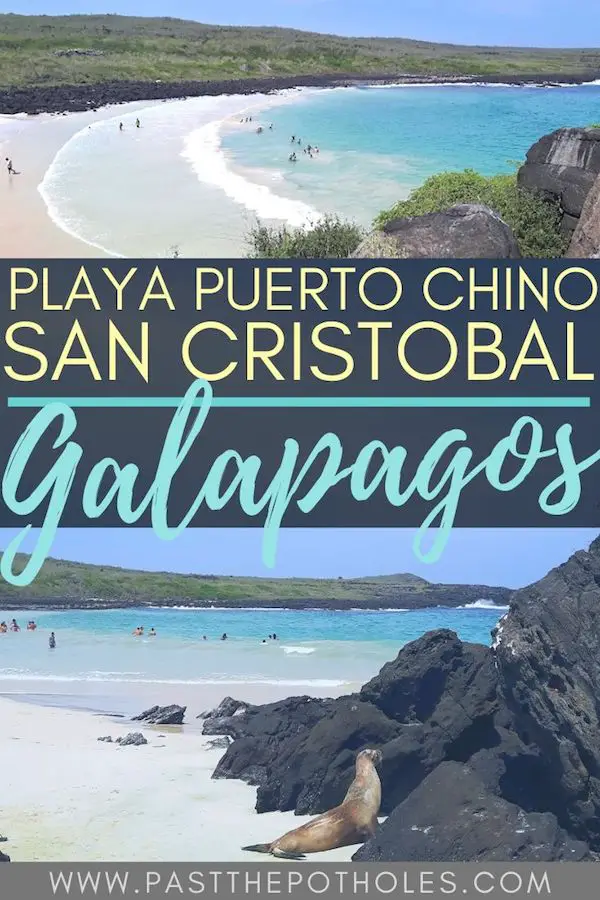 [/span6][span6]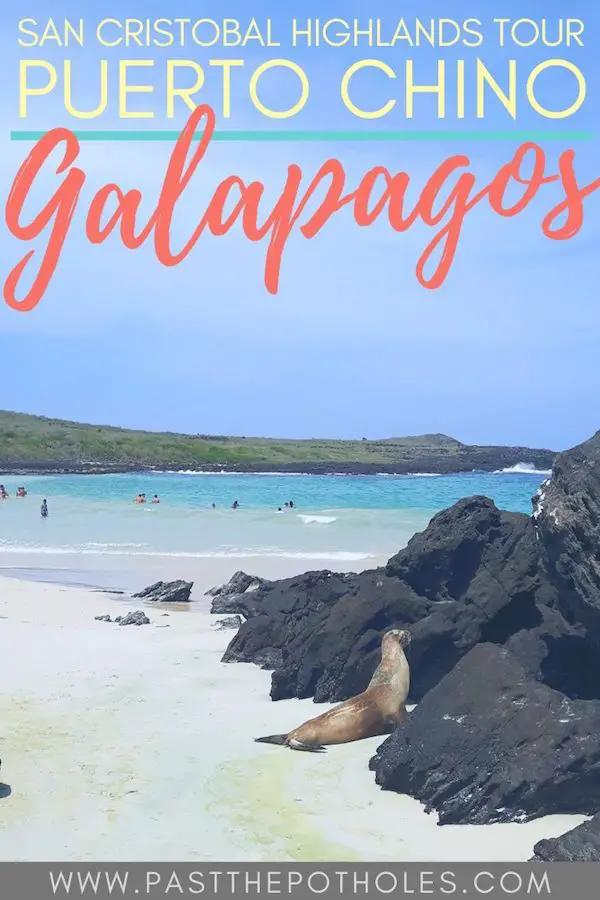 [/span6][/columns]