Quilotoa Day Trip from Quito: how to have the best experience
Some links in this post may be affiliate links. If you click on them we may make a commission from qualifying purchases at absolutely no cost to you.  Read our full Disclosure Policy here.
The mountains surrounding Quito provide for some great day tours.  We had time for one tour on our first visit to Ecuador and chose the Laguna Quilotoa day trip.
Laguna Quilotoa is a stunning emerald-coloured lake in the crater of a dormant volcano, in the heart of the Andes Mountain range.  The caldera has a diameter of 3km and is becoming a popular place to visit thanks to its beauty and the hiking options surrounding it.
We generally prefer independent travel but if you are limited in time, we really feel the Quilotoa Lake tour is the best option.  Let us tell you why!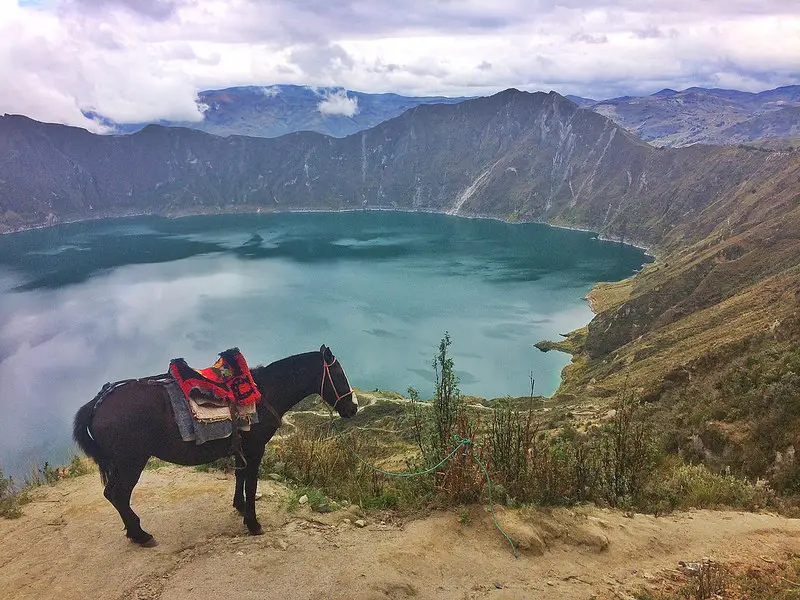 Looking for more things to do in Quito?  Check out these posts below for great ideas on places to visit and things to do in and around Quito:
[space_40]
Laguna Quilotoa Day Trip
---
The tours begin early, between 6:30 and 7 am, picking up passengers in both the Old Town and La Mariscal.  One of the downsides of the day trip from Quito is the time spent in transit.  However, the views as you are driven through the Route of Volcanoes are breathtaking and make the time fly by.
There are also a few stops built into the tour that add great value and break up the monotony.  Keep reading to find out what to expect.
We highly recommend CarpeDM tour company.  They are situated in the Old Town although strangely they are inside the Secret Garden Hostel rather than their own Casa CarpeDM hostel one block over.  If you stay in Casa CarpeDM, as we did, they offer a $5 discount on their day tours.
We used them on our second visit to Quito and found them to be organized, friendly and very helpful.  They even ran a tour below the minimum number of people so we wouldn't miss out.  Not only did it mean we got a great personalized experience, but we also had an amazing guide too.
Wander around an indigenous market
If possible, make sure you plan to join this day trip from Quito on a Thursday or Sunday.  The Andean town of Saquisilí comes alive every Thursday with a huge indigenous market.  On Sundays, Pujili takes a turn.  After stopping for the included breakfast, this is the first real stop on the day trip and the most interesting.
Unlike the very popular Otavalo market, these markets are 100% local.  There are no stalls selling tourist goods and we were the only group of foreigners walking around.
These markets attract locals from the nearby Andean communities where they can buy just about anything and everything.   There is a section for grains, produce, housewares, flowers, meat…  We even witnessed an elderly local people in traditional wear dragging sheep up the road they had just purchased from the animal section!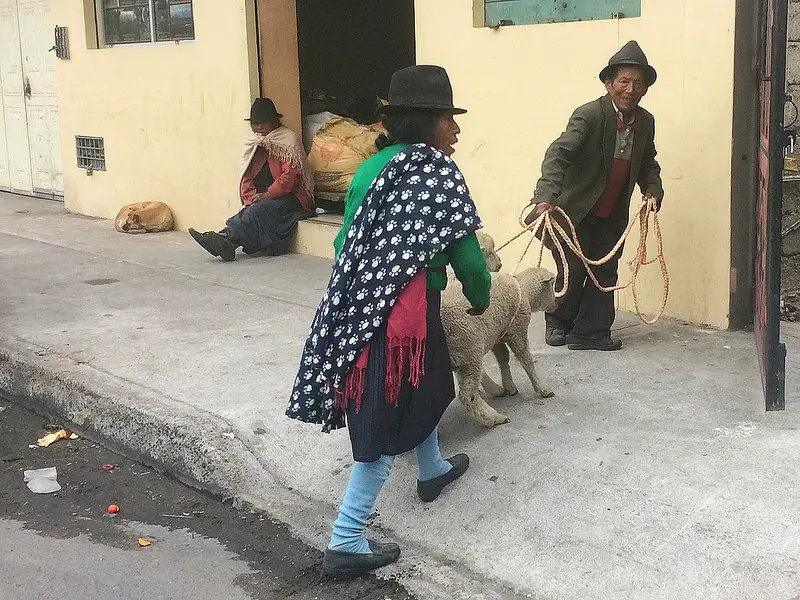 We had an opportunity to wander around and take pictures.  Many indigenous people don't like their photos to be taken so we had to be careful not to take portraits of locals.  Be sure to show respect and either take photos from a distance or ask permission before snapping any close-ups.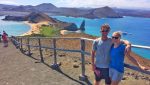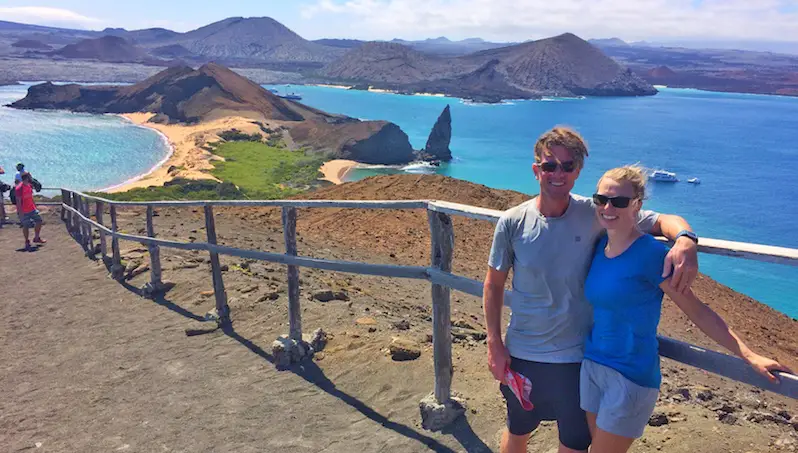 READ THIS POST:
The Ultimate Land-Based Galapagos Travel Guide
This is also a great opportunity to buy breakfast or some snacks for the road.  We bought some tortillas de maíz to try.  They cost just $1 for five and they were really tasty, despite being a little greasy.   Fruit and vegetable stands sell an amazing selection of fresh and delicious produce.
Just be careful – the prices are so cheap (and they are catering to local families) so one member of our group accidentally bought a giant bag of carrots for less than a dollar!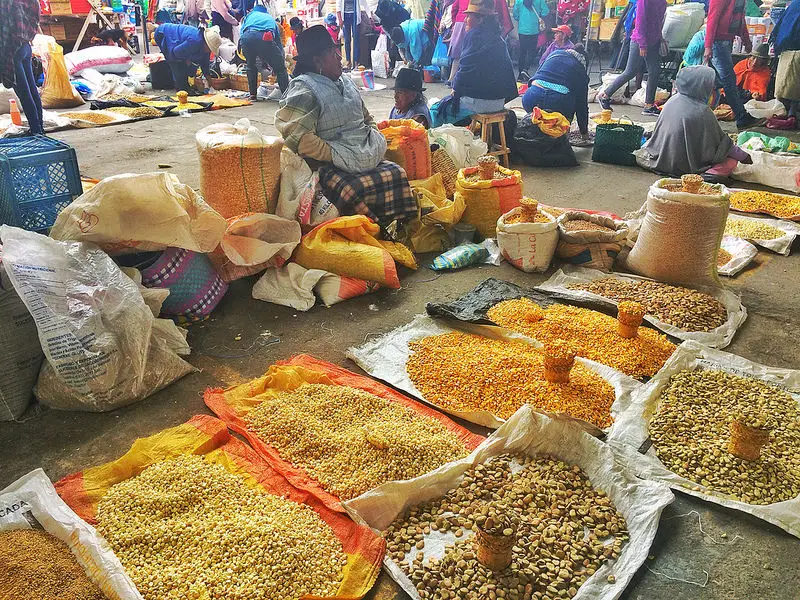 Discover an indigenous house in the Andes
Back on the bus, the next stop is a traditional house where a local indigenous family live.  While this stop felt a little too 'forced' and tourist-driven, it was still really interesting to see how they live.
Andean families cut their houses into the hillside for wind protection and build a grass roof that reaches all the way to the ground.  This house included one small bed, a cage with a few birds that they use to collect eggs and a LOT of guinea pigs or, cuys, which are a delicacy here.  The guinea pigs were roaming free all over the small one-room house and the surrounding area.  I guess they know where the food is.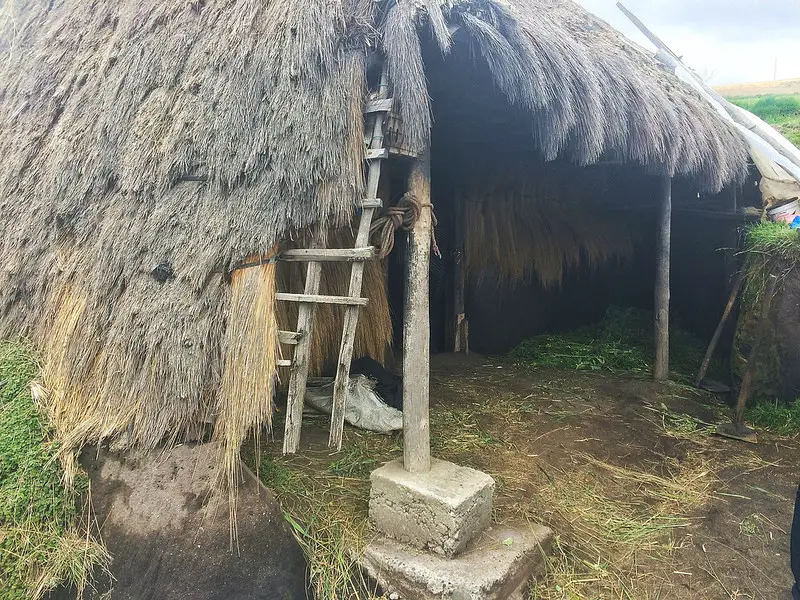 Laguna Quilotoa, Ecuador
Finally, we reached Quilotoa Crater Lake!  Due to the unique and high mineral content, this lake within the volcano's caldera is a bright emerald colour.  Despite the cloud cover, it was stunning – we can only imagine how it looks in bright sunshine!
The tour gives you two hours to explore the area however you feel.  There is a lookout platform just as you reach the edge with a trail leading around the edge of the caldera and another heading straight down to the water's edge.
The trail that loops the caldera is about 10km so, unless you are incredibly fit and basically run it, you're not going to do it in two hours.  However, walking partway around will certainly give you some amazing views.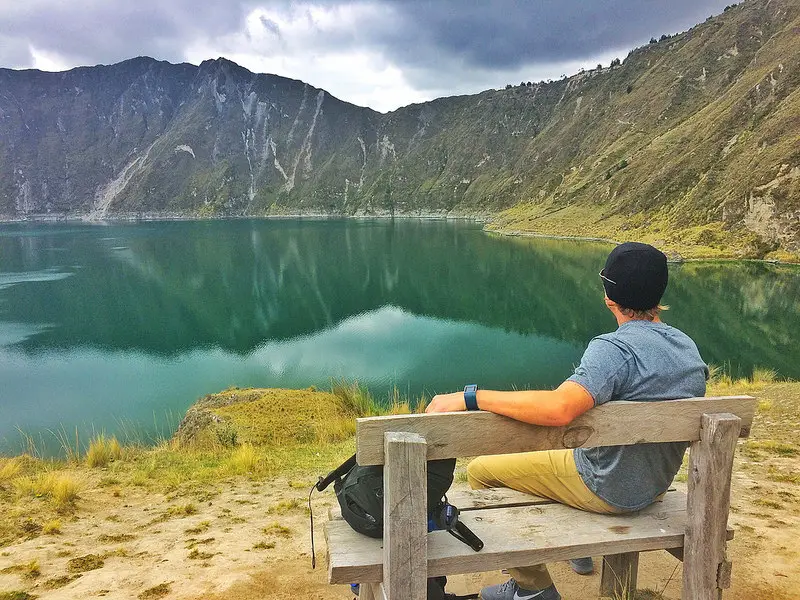 The trail down to the lake takes around 30 minutes.  At the bottom, there are kayaks to rent and a swing for pictures.  It seems everyone is trying to re-create the success of the Swing at the End of the World in Baños!  Keep in mind that the 30-minute walk down takes at least double that to hike back up.
It's a steep trail anyway, but factor in the altitude and sandy ground that has you slipping back down with each step forward, and it's a killer!  There are, however, mules that be rented for the return journey if you're not sure you can make it.
Some of our group chose to walk around the top while others descended into the crater to lake level.  Two people actually made it around the entire circumference, but they had to run most of it.  We tried to do both, heading down first and hoping to make it back up with some time spare.
We hiked down and took in the views for a little while.  The climb up was much harder than either of us anticipated.  We were huffing and puffing in no time but made it back up with 20 minutes to spare.  We managed a short walk around the crater's edge to see the views from above.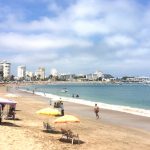 READ THIS POST:
9 Reasons we loved Salinas, Ecuador (and didn't want to leave).
Enjoy a hot traditional Ecuadorian lunch
The bus takes everyone to a nearby restaurant for an included lunch which is well-deserved and thankfully hot.   We enjoyed hot soup, a main course, dessert and fresh juice.
Marvel at the size of Toachi Canyon
The ride back to Quito is broken up with one more stop at a canyon for a few quick pictures.  By this time for us, the clouds and rain had descended so the pictures don't really show just how deep and impressive this canyon really is.
Cañon del Rio Toachi is long, wide and deep.  It's really incredible to see in person.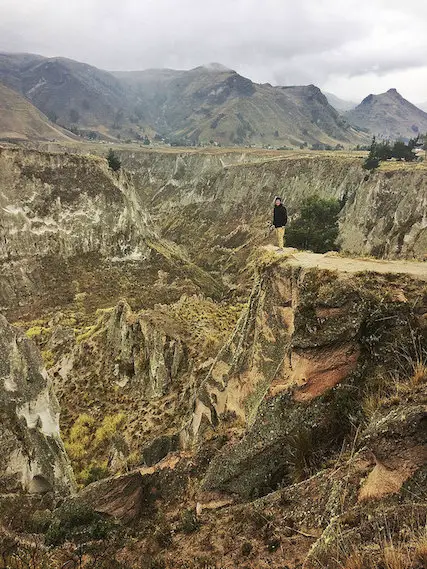 You will be dropped off in the same location as the morning pick-up shortly after 6 pm.  It's a long day but you'll really feel like you saw a piece of the 'real' Ecuador.  The Quilotoa tour manages to combine the outdoor adventure of Cotopaxi or Mindo with the culture of Otavalo.  Of all the Quito day trips, Quilotoa seems to be the best combination of nature and culture.
Quick Tips for a Day Trip from Quito to Quilotoa
Try to book the tour for Thursday or Sunday to visit the market.
Check the tour company makes a stop at an indigenous market.
Pack layers.  It was cold at the crater, but we heated up with the climb.
Bring sunscreen and a hat.  If the sun is out, it is extremely strong at high altitudes.
Pack snacks.  It's a long drive both ways with limited opportunities for purchasing food.
Bring small change.  The local family will be collecting tips, as well as the hot chocolate you will want after hiking Quilotoa.
Bring a change of clothes to leave on the bus.  If you get rained on, it'll be a long drive back to town.
Bring a rain jacket, hat and gloves.  It will be noticeably colder than in Quito.
Can you visit Quilotoa Lake without a tour?
The simple answer is yes.  There are a few options to get to Quilotoa from Quito:
The best option as far as we are concerned is to hike the Quilotoa Loop.  This popular trail can be customized in a number of ways but generally speaking, it is a multi-day hike through various remote villages.  It usually starts in or near Latacunga and ends in Quilotoa, but can be done in reverse too.  This post details the more popular options.
If you don't want to hike for days to see the lake, public transport options are available.  From Quitumbe bus station in the south of Quito, take a bus to Latacunga, then change for a bus to Quilotoa.  This is a great option if you want to spend at least one night and really have to explore the lake and hiking trails.  However, if you only have one day it really isn't a great idea.  You'd simply be spending too much time sitting on, and transferring between, buses.
Check out this video of the Laguna Quilotoa Day Trip
[kad_youtube url="https://www.youtube.com/watch?v=CB5iP4jDTJU" width=800 ]
---
We loved the Laguna Quilotoa day trip.  It was a fun day and we even made some new friends from the journey.  While it can be reached by public transport, if you only have a day we highly recommend taking a tour.  With more time, we would have loved to hike the Quilotoa Loop.  Next time…
We'd love it if you could pin this article for others to find!
[columns] [span6]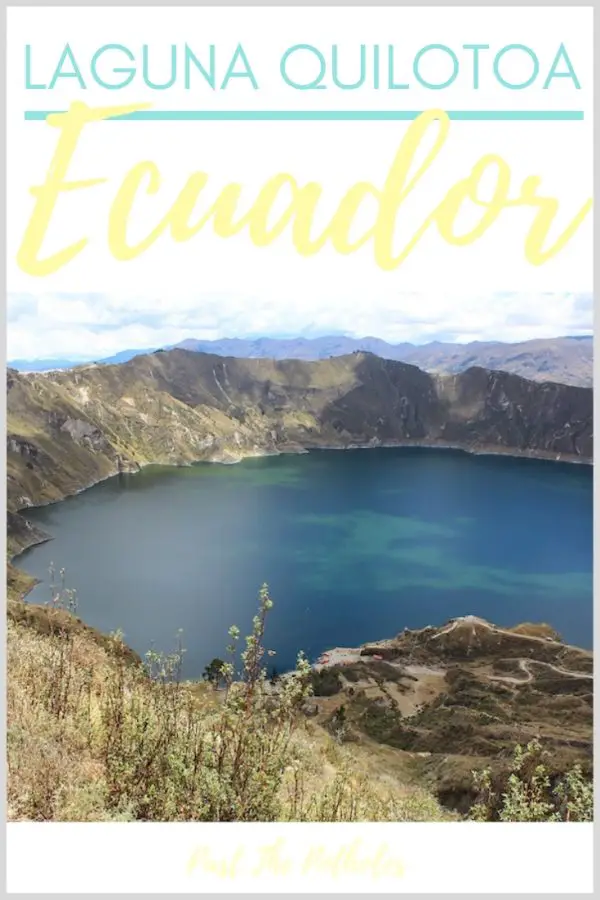 [/span6][span6]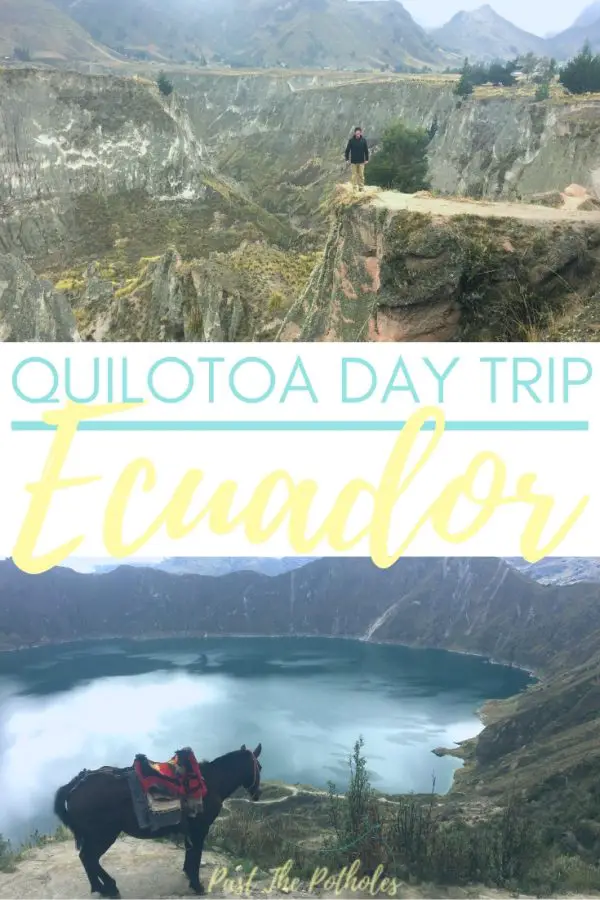 [/span6][/columns]
Find all our Ecuador posts in one place.
Find more travel inspiration on our Destinations page.
Ready to book?  Use our Travel Tools page to get the best deals.