Galapaguera: Galapagos Tortoise Breeding Centre (San Cristobal Highlands Tour)
Some links in this post may be affiliate links. If you click on them we may make a commission from qualifying purchases at absolutely no cost to you.  Read our full Disclosure Policy here.
The Galapaguera de Cerro Colorado is the tortoise breeding centre, or hatchery, in San Cristobal.  The word Galapagos comes from the old Spanish word for saddle and was the name given to the prehistoric giants.  Of the three breeding centres here and in Santa Cruz and Isabela, this one was our favourite.
The Galapaguera is a common stop on a San Cristobal highlands tour.  Visitors usually stop here along with El Junco Crater Lake and Puerto Chino beach.
How do I Get to the Galapaguera in San Cristobal?
Most of the activity in San Cristobal centres around the main town of Puerto Baquerizo Moreno.  However, spending a day on a highlands tour is a great way to see some different parts of the island.
The word tour is a little misleading here.  While there are organized tours available, you don't actually need a naturalist tour guide.  Many people simply hire a taxi driver for the day to take them on the well-worn tour route.
We hired a taxi and it worked out perfectly.  For $60, our hotel called a taxi for us and the driver took us to each stop, gave us a little information and waited for us.  Some Spanish was needed to properly communicate with him but he knew where he was driving without any conversation.  It would just be a quiet ride!
It is also possible to rent a bike to visit the Galapaguera tortoise hatchery.  There is a well-maintained bike path for much of the route.  However, to get there you have to go into the highlands and back down the other side meaning there is a challenging uphill climb in both directions.  We met a group of young, healthy looking guys at the centre who had biked.  They were regretting their choice and found a truck to take them and their bikes back to town.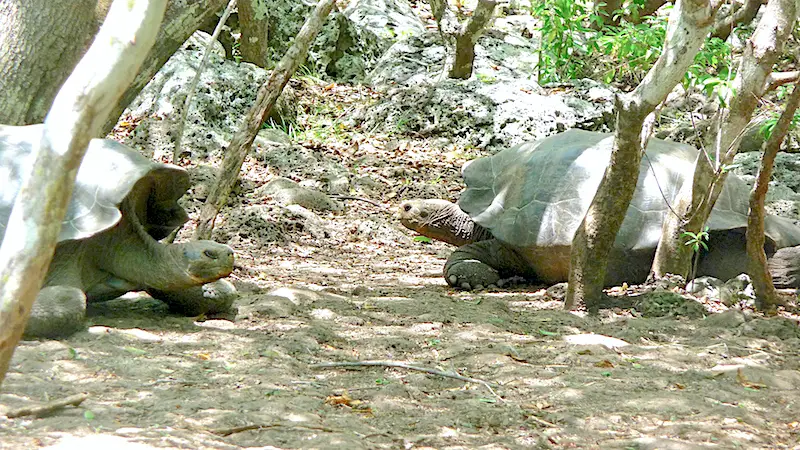 What Will I See at the Galapaguera?
Well, tortoises obviously.  When we first arrived our taxi driver parked and walked with us to the start of the trail.  There is a well-marked path that leads you in a loop throughout the property.  There was a guide by the entrance and a place to sign in.
Right at the start of the trail, a large tortoise had half buried himself under a bush, hiding from the hot sun.  However, after that, we didn't see any more tortoises as the trail worked its way up a gentle slope.  I was starting to get nervous as I had deliberately not taken my family to the tortoise ranches in Santa Cruz, which were amazing.
At the top of the hill is the breeding centre.  Tortoises are kept in covered enclosures for the first couple of years of their life for protection.  Until their shells harden they are easy prey for large birds such as frigates.  There are a number of these enclosures with babies ranging in size and then some larger open areas for the older tortoises.
The adults are allowed to roam free but, aside from the one at the start, had been elusive.  Given their freedom, it's impossible to know what you will or won't see but patience is necessary.  These guys don't go far and they like the shade.
As we began the second half of the loop trail, our luck turned.  Through the trees, we saw a group of tortoises roaming around in the shade.  A little further and we saw a few more even closer.  A small pond was just off the path and a few tortoises were cooling off on the hot day.
As we continued further, we caught sight of the largest tortoise we had seen yet making its way across the trail.
Back at the start, we stopped to use the washrooms and sit in the cool classroom there.  I could hear some rustling and discovered another tortoise strolling through the trees between the Galapaguera breeding centre and the parking lot.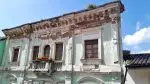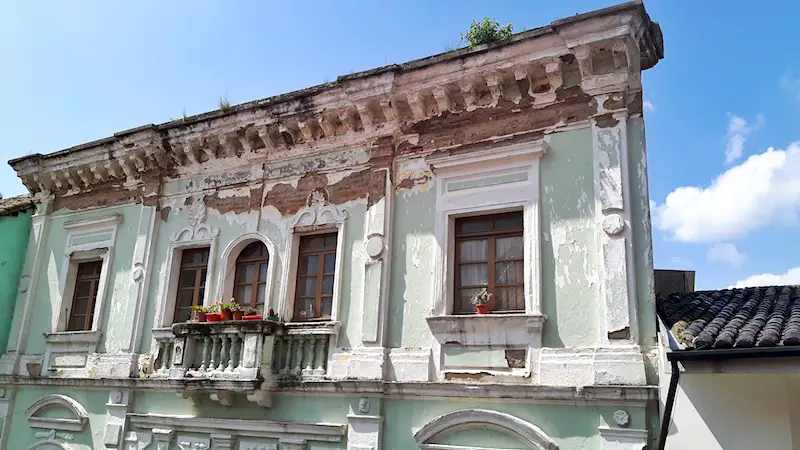 READ THIS POST:
Layover in Quito?  Discover the 9 Best Things to do in Quito.
Is the Galapaguera Worth Visiting?
During our first visit, we chose not to come here having already been to Las Primicias Tortoise Ranch in Santa Cruz.  Our second time around was the perfect opportunity to compare the two.
Our favourite tortoise experience was the tortoise ranch in Santa Cruz.  The habitat was more natural and the tortoises were larger.
However, of the three breeding centres, the Galapaguera San Cristobal was definitely the best.  This was the only one where the adults had (near) complete freedom.  The environment was more natural as you walked a rocky path through trees.
Both the Centro de Crianza in Isabela and the Charles Darwin Research Station in Santa Cruz were entirely made of enclosures as the adults there are released to other locations in the island.  However, those other two centres had more information about the tortoise life span and efforts to preserve the species.
In short, if you haven't been to a tortoise ranch in Santa Cruz then you absolutely should go here.  If you have, it will depend on just how much you love to watch these amazing creatures lumber around.
Why do we need Tortoise Breeding Centres?
Did you know that the first people to discover the Galapagos Islands, sailors and pirates, would take the giant tortoises with them on their ships?  Giant Galapagos tortoises can live for months without food or water so they were a perfect food source for sailors as the meat wouldn't spoil.
Thanks to humans back then, and more recently with habitat destruction and the introduction of invasive species such as goats and dogs, Galapagos tortoises are endangered.
The tortoises on each island are a unique species so it's not a simple matter of moving them around and letting them breed.  Eggs are carefully protected from the elements and predators and babies are kept safe until they are big enough.
---
Looking for more information about the Galapagos Islands?  Read these posts to help plan your dream vacation:
[btn text="Go Back: 17 Unforgettable Things to do in San Cristobal" tcolor=#FFF bcolor=#69d3d3 thovercolor=#fa7268 bhovercolor=#69d3d3 link="https://pastthepotholes.com/things-to-do-in-san-cristobal-galapagos/" target="_self"]
Did you find this post useful?  Pin it for safekeeping!
[columns] [span6]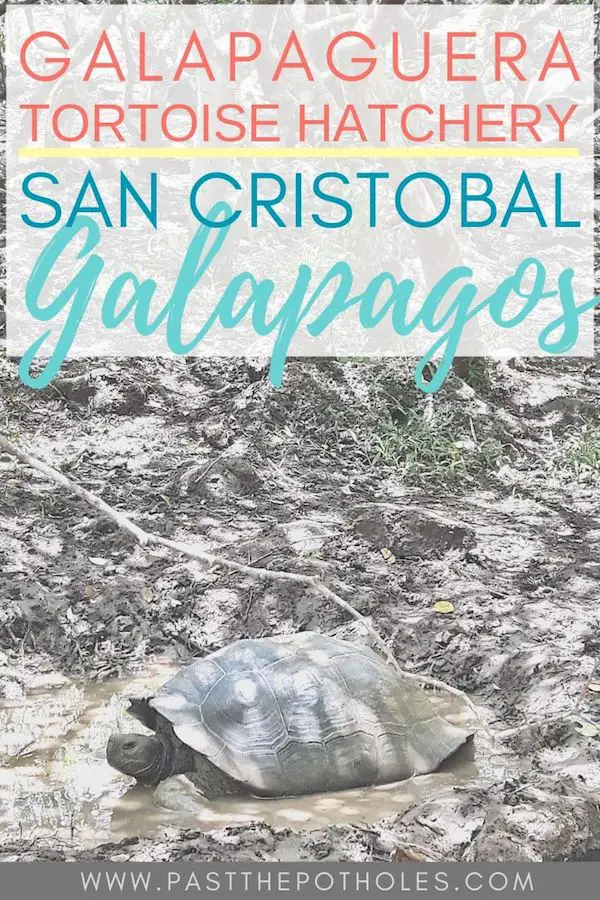 [/span6][span6]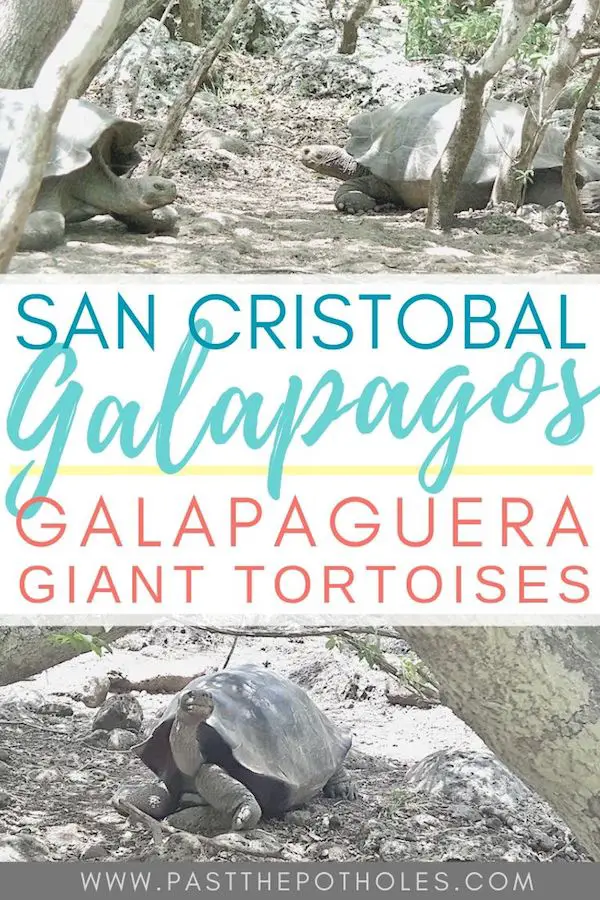 [/span6][/columns]