Cotopaxi National Park is just an hour or so south of Quito and is stunningly beautiful.  The focal point is, of course, the perfectly conical active volcano but the views in every direction are well worth the visit.  Which is just as well seeing as Cotopaxi has its own microclimate so views of the volcano can never be guaranteed.  We took a Cotopaxi tour from Quito with CarpeDM Tours and absolutely loved it!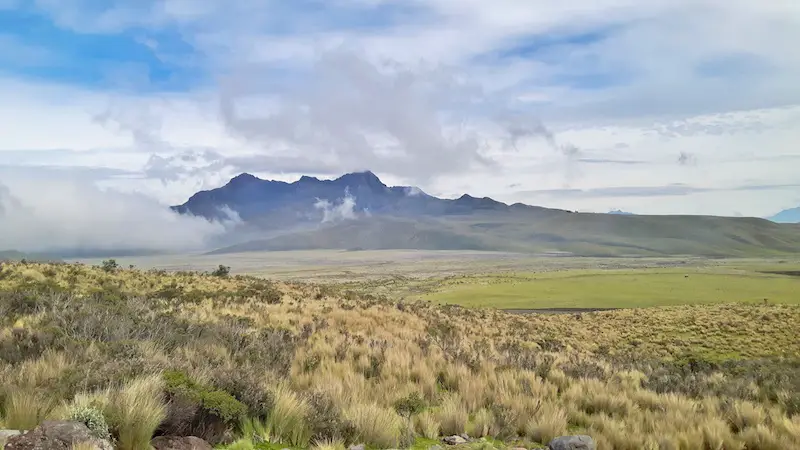 Since hearing about the hiking/biking combo tour to Cotopaxi during our first visit to Quito we had been wanting to go.  We love to hike up volcanoes and the added fun of mountain biking down sounded like a great day.  The Cotopaxi hike is fairly strenuous partly due to the steep, gravelly path, partly (mostly) due to the altitude.  However, it is relatively short so most people will be able to enjoy this day trip.
Looking for a less strenuous tour with a healthy dose of local culture?  Try the day trip to Laguna Quilotoa.
The Cotopaxi Day Trip: Hike up a Volcano
Our tour began outside the CarpeDM offices on Jose Antepara in Quito Old Town.  It was an early start at 6:30 am but the best chances of seeing Cotopaxi Volcano without the clouds are in the morning so it is necessary and worth it.  Alirio, our guide, spoke excellent English and gave us great information about Cotopaxi National Park, Quito and Ecuador in general throughout the day.
The drive to Cotopaxi from Quito takes a total of two and a half hours but is broken up with a couple of stops.  Our first stop was at a restaurant for the included breakfast, about an hour into the drive.
Full of a delicious breakfast of pancakes, fruit and eggs, and with cheap new gloves (ours hadn't made the trip this time) we were back in the car for about half an hour until we reached the entrance to Cotopaxi National Park.  Here it is necessary to register although there is no charge to enter.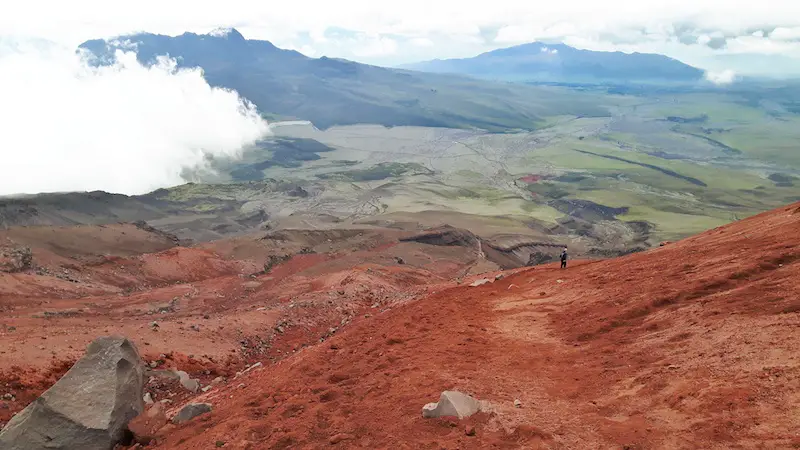 As soon as you enter the park, the scenery is incredible.  Beginning with a eucalyptus forest and changing into grassland with views of mountain peaks surrounding you, it is hard not to stop every few hundred metres for another picture.  We got lucky and had a clear view of Cotopaxi for most of the day.
We hadn't driven far into the park when an alarm could be heard over the car engine.  Our guide pulled over and opened the windows to listen better.  He told us that because the volcano is still active it is closely monitored and there is a warning system.  If the alarm sounds everyone needs to leave the park immediately.  Thankfully, after a few seconds, it stopped.  Apparently, this meant it was just a test so we continued.  If you are visiting independently and hear this sound, be sure you pay attention to it.
Hiking Cotopaxi Volcano
Cars are able to drive up the first portion of the incline and park in a designated area.  From here, we had a hike of about 45 minutes to an hour to the refuge.  Refugio José Ribas is at 4800m in altitude and offers hot drinks and food, as well as a place to stay overnight for those climbing to the summit.
There are two trail options to reach the refuge: the zigzag trail of the straight trail.  Generally speaking, it is recommended to take the zigzag trail for obvious reasons.  The straight trail is shorter but much steeper and mostly covered in a thick layer of soft dirt and volcanic ash.  Our guide did tell us, however, that sometimes if it is particularly windy they recommend this trail as it is more sheltered.  If we didn't have a windy day then I wouldn't want to be climbing when it was!
The trail is open to the elements, which are fierce at that altitude.  Even without any sun visible, sunscreen is important and you will want a hat and gloves to protect you from the biting wind.
We stopped briefly at the refuge for a coca tea and hot chocolate before continuing on to the edge of the glacier.  The ground becomes a surprisingly bright red colour from previous eruptions, the odd rock rolling past as it loosens from the ice.  Alirio pointed out the level at which the ice cap had been just a year prior.  Due to global warming, it is receding each year, and quickly.
While anyone with a car could easily hike to the refuge independently, the trail to the glacier's edge was significantly less clear.  Additionally, if you stray from the path it could be dangerous.  The climb beyond the ice is technical, requiring crampons, ice picks and a guide.  This last stretch is much shorter, only taking around 30 minutes, but also much steeper.  I'd like to blame my breathlessness on the altitude, or the view, but that might not be completely honest…
Descending the Volcano by Bike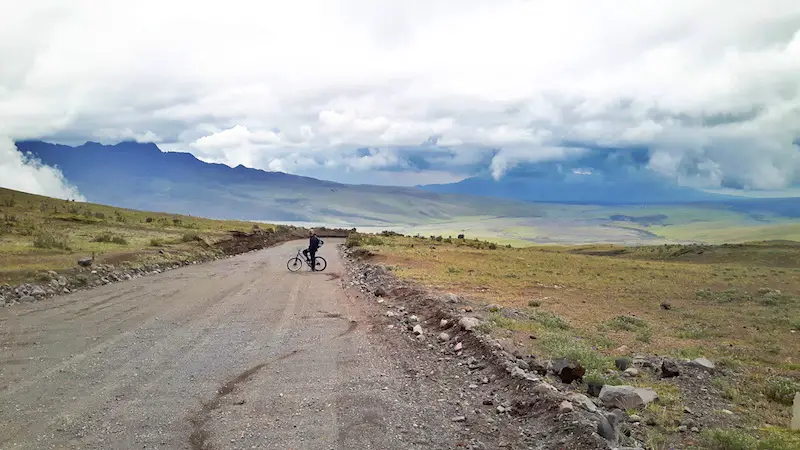 After hiking back down to the car (this time the super soft direct path was our friend and much easier on the knees), we got the bikes ready.  We put on the included helmets and had the option of elbow and knee pads too.  And then we were off.
Thankfully the bikes were in great condition with excellent hydraulic brakes.  We needed them.  It's no surprise that the road is downhill but it was also incredibly rutted and bumpy.  I rode those brakes as if my life depended on it while Terry zoomed off ahead doing tricks!
The ride was exhilarating, unique and afforded breathtaking views at every turn.  This is why we bought a GoPro!  Unfortunately, it was full of footage from our recent trip to the Amazon and the SD card was full before we had even made it up to the refuge.  Urghh!
Our guide explained to us that the bikes they use are single-speed.  As the road is all downhill you don't need gears and that made perfect sense to us.  There are, however, a couple of sections of the road when you reach the bottom where there is a slight uphill so make sure you pick up enough speed before those sections.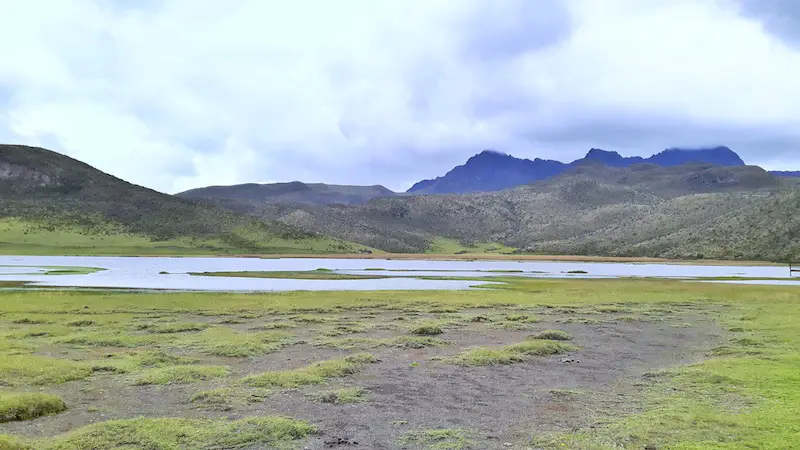 The bike ride ends at Laguna Limpiopungo which is a pretty lake worth checking out.  Nearby there is also a herd of wild horses.  It's the only other place I've seen this besides the New Forest in England.  Apparently, there is nothing stopping them from leaving but they are happy there and choose to stay.
Finishing our Cotopaxi Hike Tour
After we locked up the bikes we exited Cotopaxi National Park and returned to the same restaurant for lunch.  This was again included in the tour and just as delicious as breakfast.  The hot soup to start warmed us up perfectly after the cold temperatures of our hike and bike ride.  The main course was so filling we didn't need to buy dinner that night – which was just as well, we were too tired to go out anyway!
---
Alternatives to a Cotopaxi Day Tour
Drive yourself
If you have your own transportation, this could easily be done independently.
Public Transportation (with an Overnight Stay)
For those without a vehicle, there are a couple of options.  Public transport doesn't go into the park so you would have to get off a bus on the highway then hire a taxi or hitchhike into the park.  This could take a while and we wouldn't recommend doing it in one day but rather staying somewhere overnight.
We wish we'd had enough time to stay at The Secret Garden Cotopaxi.  They offer deals starting at $95 per person that includes 3 nights, all meals and a couple of free hikes.  You also get to wake up to views of the volcano each morning.
Climbing Cotopaxi
For those with the time and fitness, climbing Cotopaxi is a fantastic option.  For these tours, altitude acclimatization is essential – something we didn't have time for.  Don't book this tour without at least a few days around Quito, and perhaps do a couple of smaller hikes like Rucu Pichincha.  Cotopaxi climbing tours take you as far as the refuge on the first night then continues to the summit, the technical climb, around 3 am.  It is essential to do this climb at night for safety reasons.  The colder temperatures reduce the risk of avalanches and cracks in the glacier.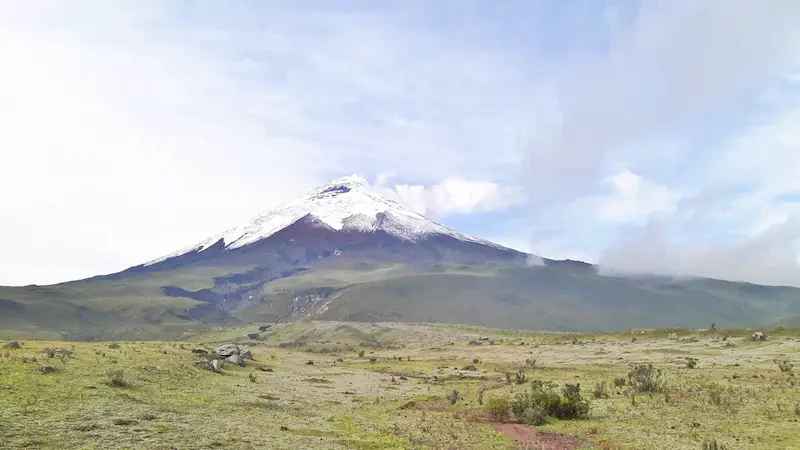 ---
Which tour company is the best?
As Ecuador has risen as a popular destination for travellers, more and more tour companies have emerged.  It can be challenging to know who to book with as it can be a major factor in how enjoyable, and safe, your day trip is.  Always check reviews online before booking and don't just go with the cheapest price.  We've used CarpeDM and Ecuatraveling for day trips from Quito and found them both to be great companies.  They both had excellent customer service with quick response times as well as providing well-run tours with modern equipment.
For our Cotopaxi day hike, we booked with CarpeDM Tours.
From the moment we walked into their office they were nothing but helpful.  They walked us through the tour description, showed us a video and answered all our questions.  This tour runs with a minimum of four people but, with only one other person booked, they agreed to run it the next day anyway.  At the last minute, the third person cancelled.  They could have cancelled the tour, I'm sure some companies would have.  Instead, we had a private tour for the day.  Amazing!
Our guide, Alirio, was great.  He had rain gear, safety gear and a hot tea for after the bike ride with him.  The bikes had been specially chosen for our heights, particularly great when you're short like me, and were in great condition.  There was even a helmet with a GoPro attachment.  If only ours hadn't become useless on the way up to the refuge.
To be clear, we paid for this tour ourselves and received nothing extra.  This post is about our experience hiking Cotopaxi and we only mention the tour company because we found them to be friendly, helpful, safe and professional.  The only discount we received was thanks to us staying at their nearby hostel, Casa CarpeDM, which we also recommend.
Here is a video from CarpeDM for their Cotopaxi tour.
Fast Facts for Cotopaxi
Altitude:  The hike begins at approximately 4600 metres (15,000 feet) and the refuge is at 4864 metres (15,953 feet).
Location: Approximately 50 km south of Quito, and 33 km northeast of Latacunga.
Safety: Cotopaxi is an active volcano.  When we first visited Ecuador in December 2017 it had only just reopened after its most recent eruption.  There is an alarm warning system throughout the park.  If it sounds continuously while you are visiting, you must leave the park immediately.  Secondly, be conscious of altitude sickness.  If you start to feel any effects (headache, dizziness,…) don't be afraid to stop climbing and even descend if you need to.  Obviously, I'm no doctor so read more about altitude sickness symptoms here.
Packing List:
Proper hiking boots or shoes
Hiking clothes in performance, sweat-wicking fabrics.  You will work up a sweat but the air temperature will be cold.
Hat and gloves (the gloves are especially important for the bike ride).
GoPro – if there is ever a day trip you want to take action video, this is it.  Shop Now!
Snacks – energy-rich snacks such as protein bars or nuts are perfect, as are chocolate bars and coca sweets.
Lots of water – this is a crucial part in preventing altitude sickness as well as replacing the liquid you sweat out.  And remember to drink it!  It's easy to forget when it's not hot.
We enjoyed every moment of our day trip to Cotopaxi from Quito.  It was definitely one of the highlights of our time in Quito.
If you found this post helpful, we would be super grateful if you could share it with others.  Pin this image!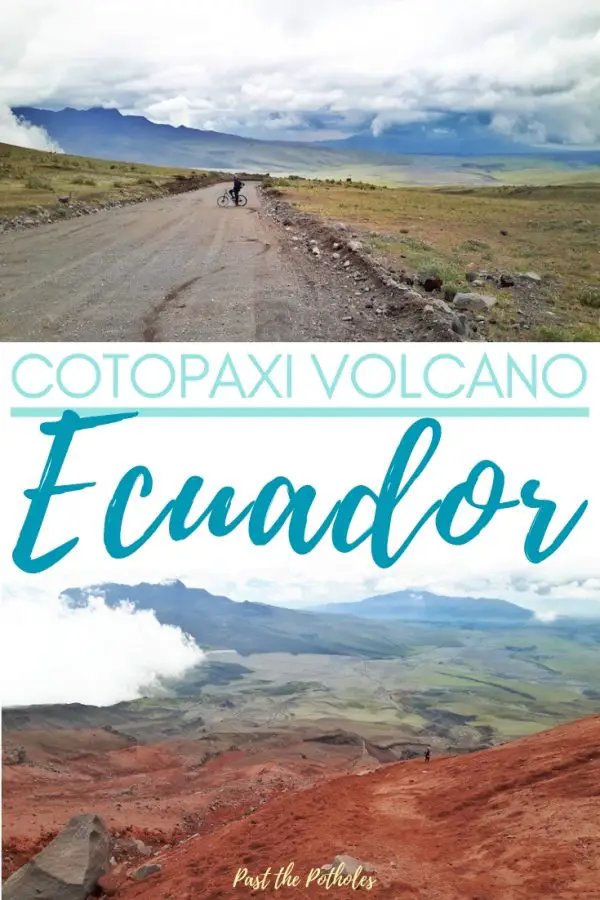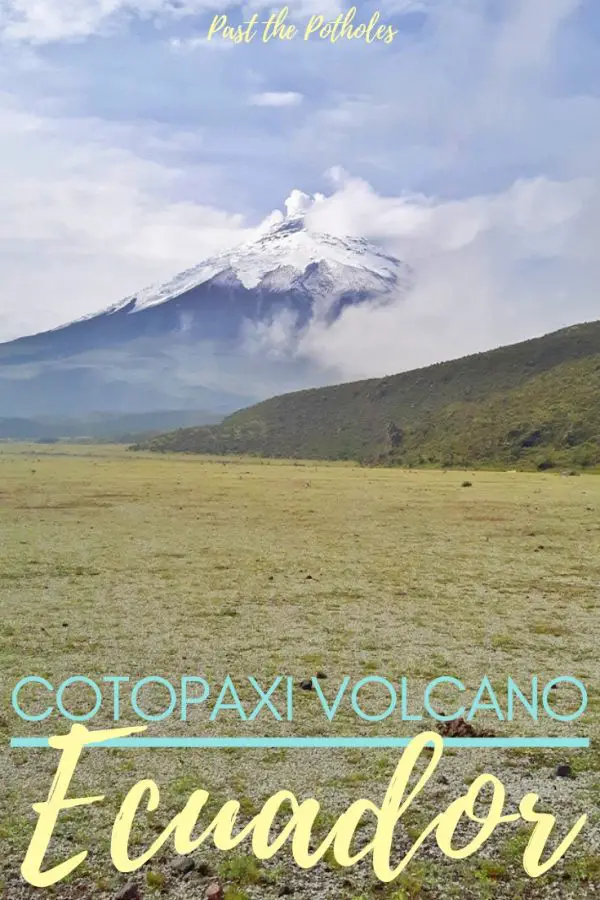 You're already in Ecuador, why not go to the Galapagos Islands?
---
For more great travel tips and advice, head to our Destinations page now.
Ready to start booking?  Use our Travel Tools page to get the best deals.