Visiting the Mitad del Mundo (Middle of the World), Ecuador
Some links in this post may be affiliate links. If you click on them we may make a commission from qualifying purchases at absolutely no cost to you.  Read our full Disclosure Policy here.
As gimmicky as it sounds (and indeed is), taking the time to visit the equator line while you are in Ecuador is almost a must do.  There are actually two sites which can both be visited easily from Quito in just half a day.
There is a museum on the originally calculated location of 0º latitude housing some Ecuadorian cultural artefacts and a bunch of gimmicks.  Nearby, a monument marks the actual location of the equator line.  Quito is a great jumping off point for both of these tourist attractions being just 26 km south.
While it is true that the 'original' equator line was miscalculated, considering that it was determined by a group of astronomers in the 1700s and found to be off by just 240 metres is pretty impressive!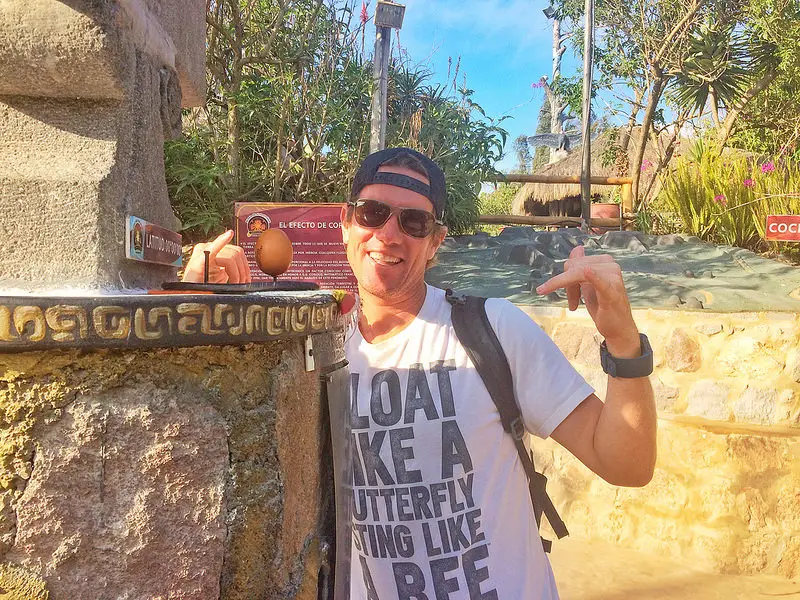 Here are some more posts you'll find helpful if you're planning a trip to Quito.  We'll show you our favourite activities as well as describe some of the best day trips from Quito.  Find lost of (hopefully) useful information in the below posts:
How to get to the Mitad del Mundo Monument and Museum
There are numerous tours that will take you to this popular spot but they cost from $20 – $100.  Some are combos of multiple sites and might be a good option if you are short on time.  However, there are definitely cheaper ways to visit the middle of the world and stand with one foot on either side of the equator line.  (We all know that's the point, right?)
Public transportation
The Mitad del Mundo sites can be reached by public transport but it's a bit of a pain.  Take a bus to Ofelia Bus Station (the starting point will, of course, depend on your exact location) then change for a bus to Mitad del Mundo.  Be sure to check with the driver that he is stopping there.  The bus will drop you at the monument and it is a short walk to the museum.
The journey should take about an hour and cost around 40¢.
Community Hostel Tour
We hadn't heard about this option until we took the free walking tour in the morning but we found it to be the best value and signed up for that afternoon.  For $10 per person, you will be taken first to the museum, then the monument.  The part that perhaps adds the best value is that the driver will drop you at the entrance to the cable car for Pichincha on the return.  If you are planning on doing this anyway, it's a $5 cab ride each way – and that is the best option.  By combining the two, the tour basically pays for itself and you'll be up the mountain in time for an amazing sunset.  Check it out here.
Hire a taxi to visit the equator line
A taxi will cost approximately $15 each way.  If there are four in your group this is a better option that the Community Hostel tour.  For three people, it will depend on whether or not you want to stop at the cable car.  For one or two people, the tour or public bus are the best options.
[space_80]
What to do at Mitad del Mundo (Middle of the World), Ecuador
---
[columns] [span6]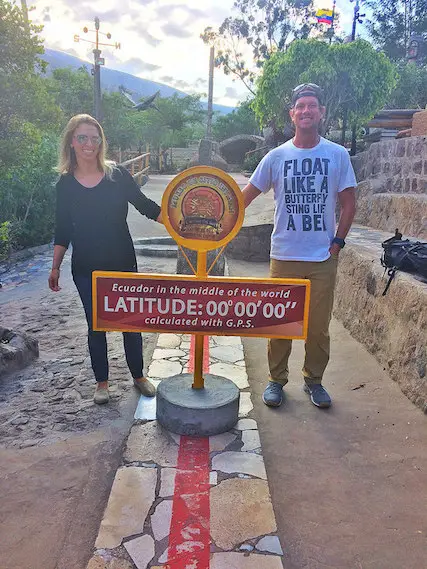 [/span6][span6]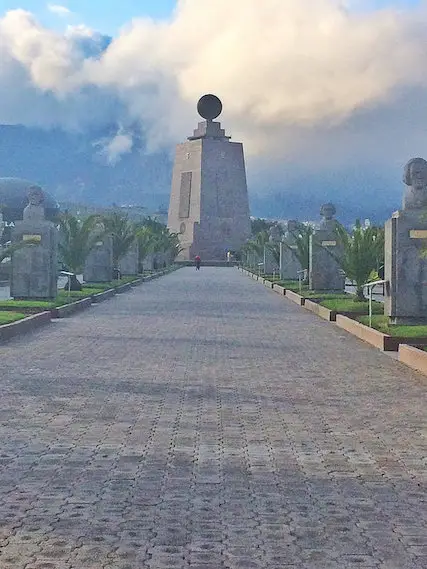 [/span6][/columns]
Intiñan Solar Museum
This quirky museum is built around an old Andean family house, which is still there to see.  It is an interesting mix of culture and history, with a side of cheesy nonsense!
Everyone is assigned a tour guide so you may have to wait a few minutes for the next group.  The tour includes a touch of history including the famous (or is it infamous?) shrunken heads.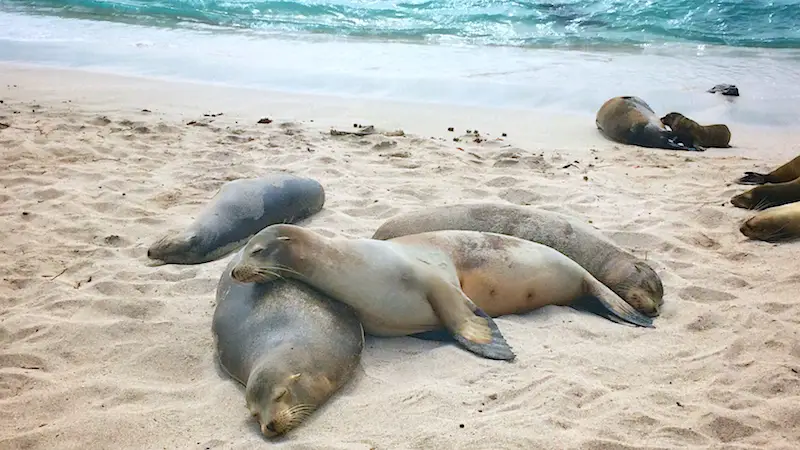 READ THIS POST:
The Biggest Galapagos Islands Travel Guide around!
It isn't long before we are her perform a few pseudo-science 'tricks' designed to illustrate the effects of being right on the equator line.  We watched water flow clockwise, anti-clockwise and straight down a drain.  We balanced an egg on a nailhead.  We closed our eyes and wobbled off the thick, red painted line.  It was silly but we had a laugh with our group.
Mitad del Mundo Monument
Just down the road is the large monument built on the corrected equator line.  Each face of the column points towards a cardinal direction set in some nice grounds.  There is a planetarium and a few other places you could visit if you fancied but the monument itself is simply a stone pillar.  As we could see from outside the gates, we chose not to pay the entrance fee for this one.

[space_80]
Should you go to the Mitad del Mundo while in Quito, Ecuador?
I'm torn on this one.  Having been, it is clearly not the best Ecuador has to offer.  But there is something about it that is just so unique, you just kind of have to experience it.  At least, if you have the time.  By doing the Community Hostel tour, it perfectly fits with a free walking tour in the morning and doesn't waste a whole day.
With a whole day, I would wholeheartedly recommend either Cotopaxi volcano hiking tour for adventure lovers, or the Laguna Quilotoa tour for those wanting to mix in a little culture.
If you'd prefer a tour that combines the Mitad del Mundo with some other area sights such as the TeleferiQo or the Pululahua Crater, consider these:
Did you find this post helpful?  Pin this!
[columns] [span6]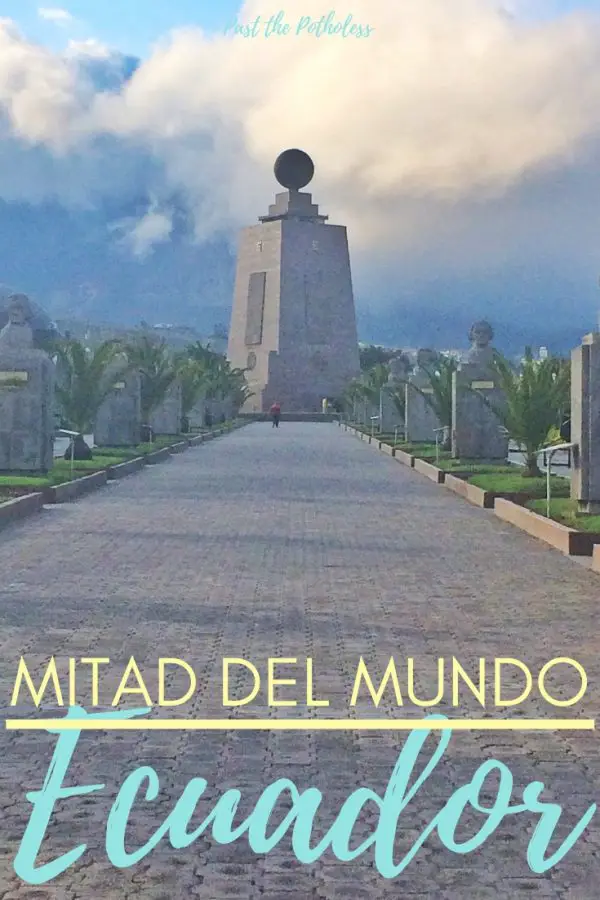 [/span6][span6]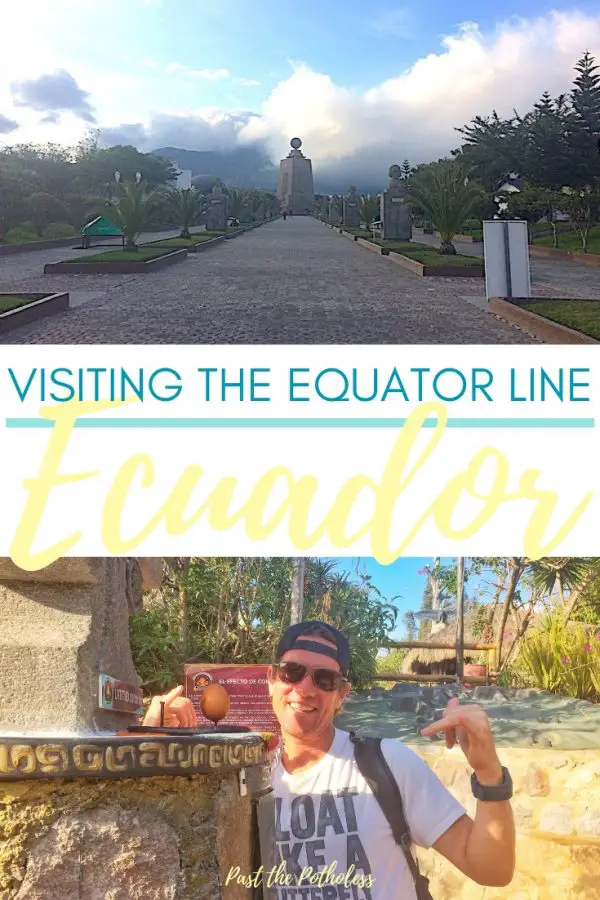 [/span6][/columns]
---
Find more great travel inspiration on our Destinations page.
Ready to book?  Use our Travel Tools page to get the best deals.