Planning a trip to the Galapagos Islands?  Chances are good you'll be starting and/or ending your visit on Santa Cruz Island.  So you're probably wondering what there is to do on Isla Santa Cruz, Galapagos.  The answer is LOTS!!
This is the closest island to the larger of the two airports in the Galapagos and most of the tourism is centred here.  This makes it a great island if you plan to explore the Galapagos Islands independently and on a budget.
Many visitors are in Santa Cruz either before or after their cruise and, if so, Puerto Ayora is definitely worth a few extra days before or after.

If you are looking to visit the Galagos on a budget, this post is for you!  There are so many things to do on the island that don't require shelling out thousands of dollars.
We spent 6 nights In Puerto Ayora, the island's main town, and found many awesome things to do in Santa Cruz, Galapagos Islands without needing a guide or much money!
Things to do in Santa Cruz, Galapagos
This post will serve as a round up, or list, of many of the popular things to do on Santa Cruz Island.  Click on the links for more information about each individual activity to help you plan your trip.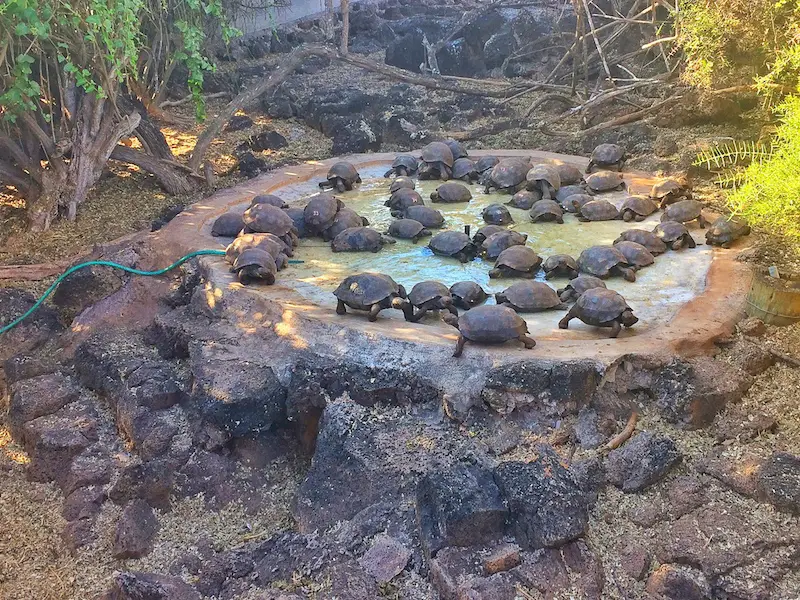 With a visit to the Charles Darwin Research Station you will discover about the history and conservation efforts for the giant tortoise after which the islands are named.  There are also a couple of bonus beaches great for snorkelling and wildlife watching.  Learn all you need to know here!
Enjoy dinner and happy hour in Los Kioskos
Whether you are hoping to save money or just find an awesome evening atmosphere, you will want to head to Charles Binford Ave in the evening.  Find out why you should skip the waterfront and eat at Los Kioskos instead here!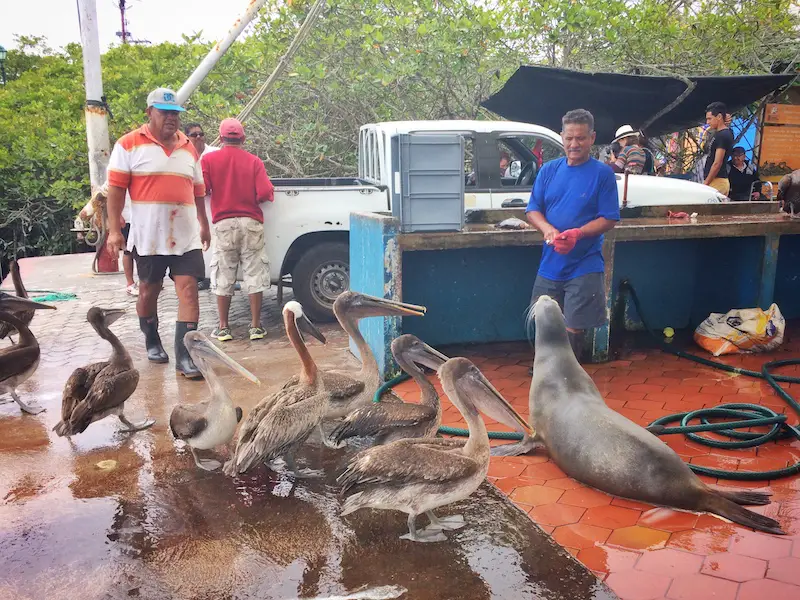 If you do just one thing in Puerto Ayora, do this!  We loved it so much we kept going back when we had a spare few minutes.  Read about it here.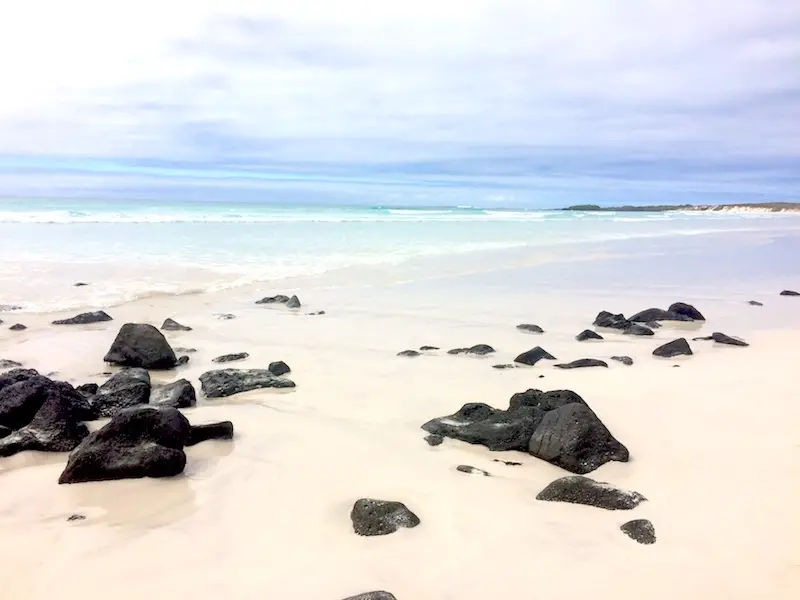 Have you ever seen an absolutely perfect beach?  Tortuga Bay just might be it.  Whether you are looking for relaxation, nature or activities, this beach has you covered. Find out all you need to know now.
Rent a kayak and explore the bay
Playa Mansa was the main spot for kayak rentals but there are other places too.  The going rate was $10/hour.  Get out further than the swimmers and see the life below through the clear waters.
Walk amongst giants at a Giant Galapagos Tortoise Reserve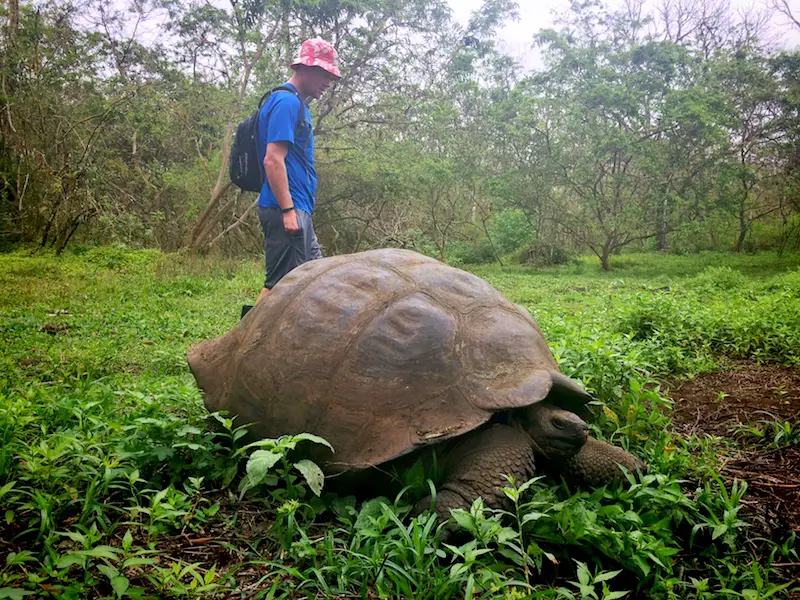 Did you know the Galapagos Islands were named after the giant tortoises found here?  It's near impossible to visit the islands and not go to a reserve to watch them roam wild in the highlands.  Find the information you need to plan your trip here.

The Galapagos Islands, and Santa Cruz, are volcanic.  As lava flowed down the mountainside it cooled and created tunnels all over the island.  Learn the best way to explore these tunnels now.
Look into the Earth at Los Gemelos

As you drive in from the airport, catch a glimpse of the two giant sinkholes either side of the road.  If you want a closer look, or to hike around the top, take a taxi or rent a bike.  A perfect trip to combine with the Giant Tortoise Reserve and lava tunnels.
Hike up Cerro Crocker
Get some exercise and take on the highest point on the island.  Hiring a taxi is the easiest way to get here.  Read this post for details about the hike.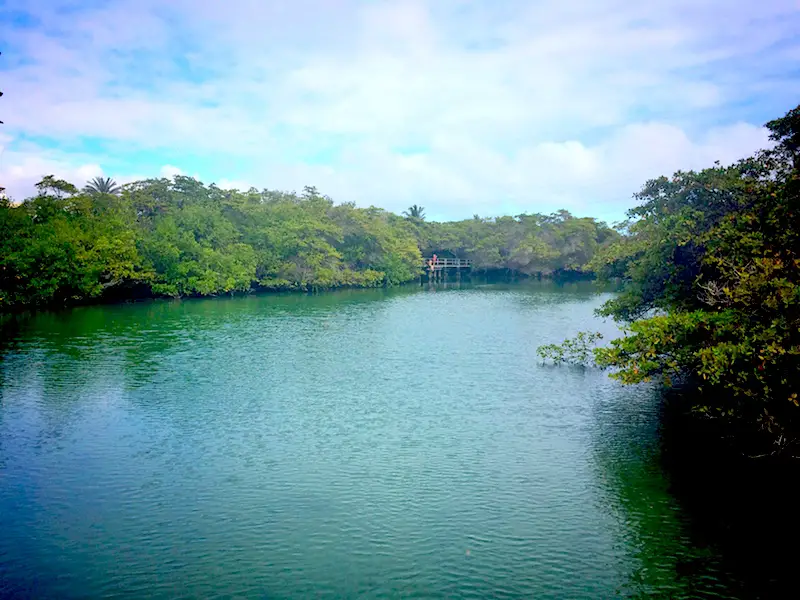 This peaceful lagoon just behind the harbour in Puerto Ayora is a perfect spot for a break.  Take a packed lunch and avoid the crowds for a bit in the mangroves.  Read more here.
Surf in the Galapagos Islands
There are a few spots to surf in Santa Cruz, Galapagos.  The most accessible is Playa Brava in Tortuga Bay.  Board rentals are available in town so you will have to carry it out to the beach.
Search for flamingos at Playa Garrapatero
If you're looking for a beach a little further from the crowds, try El Garrapatero.  This is known to sometimes host pink flamingos too!  A taxi will be needed for this though.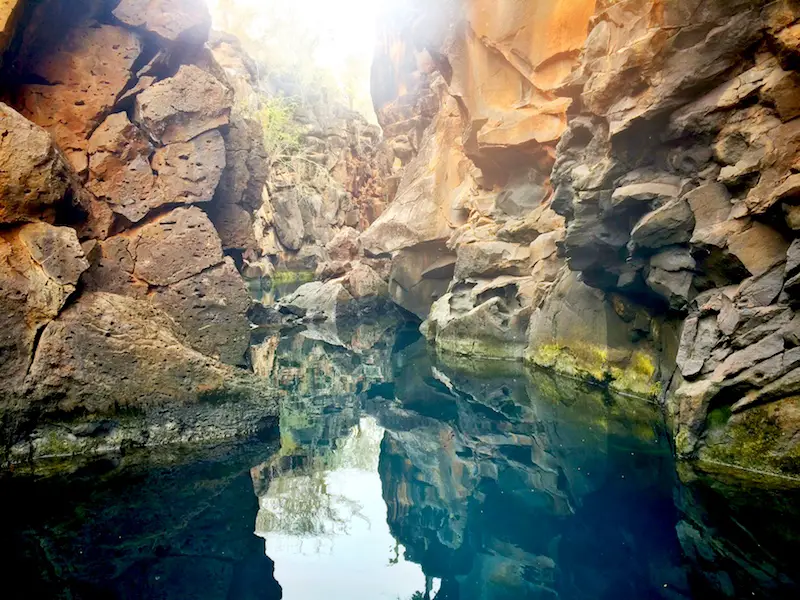 This crevice in lava rock makes for some interesting swimming in the clearest waters.  Discover how to get there and what to expect here.
Scuba dive in some of the most biodiverse waters in the world
CEDAM International, which in their own words is "a unique, not-for-profit organization dedicated to the preservation and conservation of the marine environment", named the Galapagos ocean waters as one of the Seven Underwater Wonders of the World.  Gordon Rocks is one of the absolute best dives easily accessible as a day tour from Puerto Ayora.
Explore the island on a bike
Bike rentals are easy to come by in Puerto Ayora and are a great way to see the island without having to spend a lot on taxis.  There is a dedicated bicycle lane from town towards the highlands that makes exploring safe and easy.  Just remember to pack a rain jacket and be prepared for some uphill peddling!
Take one of the many day trips from Santa Cruz, Galapagos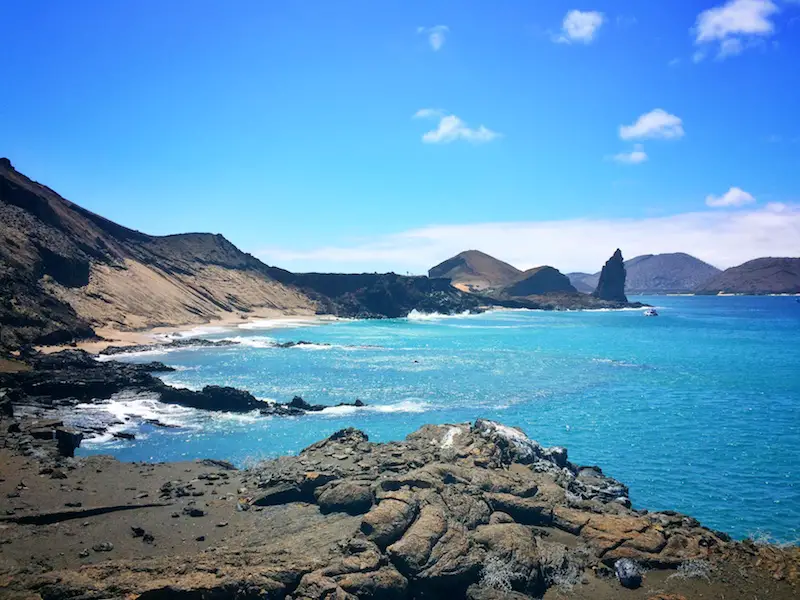 As the hub of tourism for the Galapagos Islands, Puerto Ayora in Santa Cruz is the best place to book a day tour.  We loved our day trip to Bartolome Island which included a hike and snorkel.  However, there are so many to choose from it just depends on your budget, what you hope to see/do and what's available.  Stop in at any of the tour providers and ask lots of questions.  Be sure to shop around for prices though, no two people seem to pay the same price!
Save this article for later, pin it now!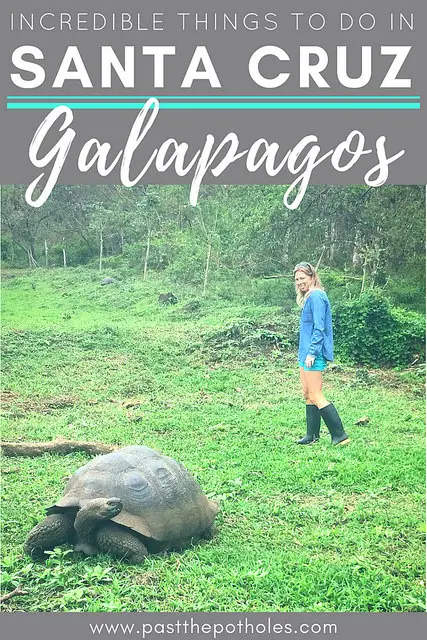 Check out more amazing travel destination now!