11 Reasons to visit Isla Isabela, Galapagos – independent travel guide
Some links in this post may be affiliate links. If you click on them we may make a commission from qualifying purchases at absolutely no cost to you.  Read our full Disclosure Policy here.
When people think of the Galapagos Islands, they usually think of a once-in-a-lifetime, spending all my savings, expensive cruise.  I know I did.  However, this remote island chain belonging to Ecuador is actually surprisingly easy, and cheap, to explore independently if you know how.  Isla Isabela is one of the accessible islands for visitors.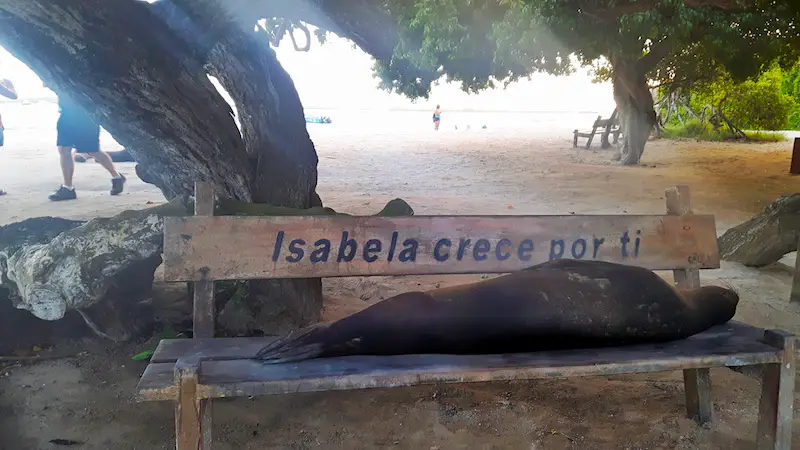 There are three main islands for independent visitors and we were lucky enough to spend time on each of them.  Most tours begin in Santa Cruz and San Cristobal also has its own airport, but fewer people make it to Isabela. Let our guide to Isla Isabela, Galapagos Islands' largest and most biodiverse land mass, show you how.
When we first visited the Galapagos Islands, we chose to skip Isabela Island in favour of spending more time in Santa Cruz and San Cristobal.  In my research, I honestly didn't find any good reason to go.  I read of a volcano hike and a walk/bike to the Wall of Tears.  Literally, a wall.  I knew people highly recommended the island but I just couldn't figure out why we should make the extra effort to get there.

As it turns out, we should have made the effort.  Everyone we met during our 11 days on the islands told us how Isabela Island is their favourite.  While we loved both of those islands, and how much time we had on each, I always regretted not making it to Isabela.
This year, we got our chance as my family visited us in Salinas, Ecuador and we took them to the Galapagos Islands. I made sure to get us to Isla Isabela this time!
Looking for more information about the Galapagos Islands?  Read our Ultimate Guide for Galapagos Travel now.  Alternatively, find information on other islands as well as activities and tours worth doing in the posts below:

Why should you fit Isabela Island into your Galapagos Itinerary?
Sure, you can see sea lions, marine iguanas and thousands of birds on other islands.  Sure, you can visit beautiful beaches on other islands. You can even get better food for cheaper prices and have more day trips available in other places. So why does everyone insist that when you go to the Galapagos Isla Isabela needs to make the cut?
Isabela Island is the largest island and yet has a very small human population. The wildlife populations are huge.  This means there is much more space for amazing nature and wildlife experiences.  It is one of the youngest islands in the Galapagos chain and, made of 6 volcanoes, one of the most volcanically active places on earth.
There is also something just so much more 'tropical island' about Isabela.  When we first arrived on Santa Cruz we couldn't believe how built up it was but Isla Isabela is how you imagine a remote island to be.  The small town with dusty streets follows the line of a gorgeous white-sand beach.  The wildlife outnumbers the humans and various creatures can be spotted EVERWHERE. 
Within seconds of stepping off the ferry, we saw sea lions, pelicans, baby sharks and penguins right off the dock!  Everyone's favourite Galapagos island?  Isabela.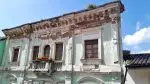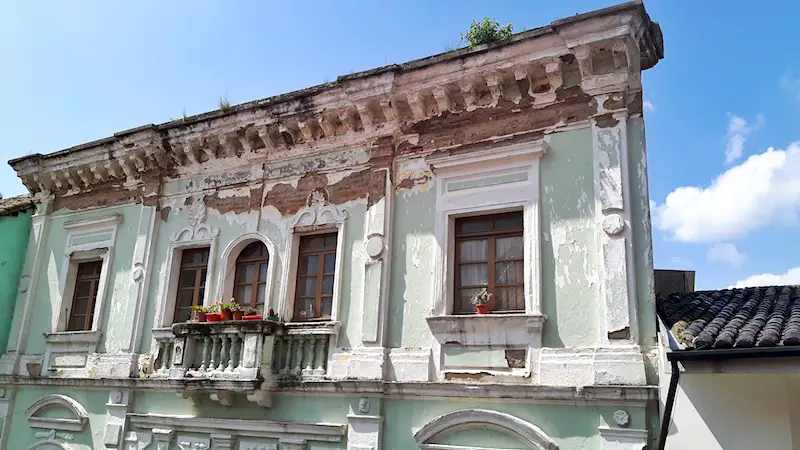 READ THIS POST:
How to get to Isla Isabela, Galapagos
While it is the largest island in the archipelago, it isn't home to either of the two airports. This means that it can only be reached by speedboat ferry from Santa Cruz to Isabela.  Well, that is unless you've got the cash, and nerves, to charter a small puddle jumper airplane.  These ferries cost between $25 and $30 depending on how busy they are and who you ask. We managed to bargain for $25 each with discounts for seniors and children.
Ferries leave Santa Cruz for Isabela twice a day at 7 am and 2 pm.  We took the morning ferry and had to be at the dock for 6:30 am to check in and get our bags inspected.   Security is strict between islands as the national park works hard to prevent cross-contamination between ecosystems.  There is a security check of your bags and most likely your shoes before you take a water taxi out to the actual ferry.  Keep 50¢ handy to pay for the water taxi.  Apparently, they can't just include this in the ticket price…
We are not morning people so 6:30 am didn't get us too excited.  Just for fun, we had some time issues (our watches reset themselves to mainland Ecuador time – 1 hour later) so our collective alarms went off at 4:30 am local time.  It wasn't until we were about on the street that Terry vocalized what he'd been wondering for a while: if we were sure it was 6 am?  We weren't and it wasn't.
We won't mention that the morning ferry back to Santa Cruz leaves at 6 am…
There are no ferries between Isabela and San Cristobal.  You will need to take the morning ferry to Santa Cruz before the afternoon sailing to San Cristobal, as we did, or stay overnight in Santa Cruz.  We had over 4 hours in Santa Cruz between ferries which is plenty of time to visit the fish market, Charles Darwin Interpretation Centre or take a water taxi across to Las Grietas.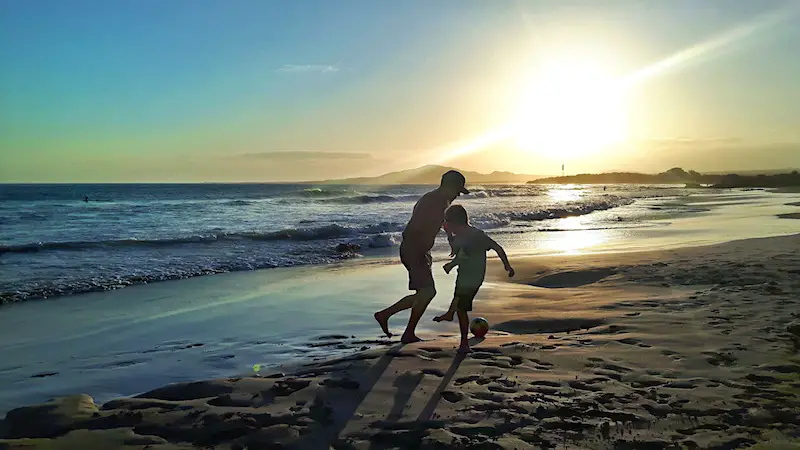 Where to stay on Isla Isabela
There is really only one town on the island called Puerto Villamil so all accommodations are found around here. Despite being a small town with sandy streets, there is a surprising number of options.  Hotels in Isabela vary greatly in quality but don't expect 5 stars anywhere.  If you desperately want to stay oceanfront, Isabela is the island to do it.  
We stayed in Hostel Jeniffer and couldn't have been happier (unless it had been oceanfront). The staff was incredibly friendly and helpful, the place was kept spotlessly clean and there is a well-equipped kitchen with indoor and outdoor seating areas.  It is just a couple of blocks from the main street and the beach.  Hostel Jeniffer is booked through AirBnB and they have a number of room options from doubles to family rooms that can hold 5 people.  If you don't already use AirBnB, use this link to sign up for AirBnB and get $45CDN off your first adventure.
If we could have afforded oceanfront (it's tough with 5 people!) we would have loved to stay at Drake Inn. It is close to the flamingo lagoons and right across the street from the beach. Guests rave about the fabulous service and views, and enjoy the included breakfast too.  Check prices and availability now.
With a little more cash to splurge, Cormorant Beach Guesthouse looks amazing. We actually oohed and aahed over this place while walking along the beach, commenting on how amazing it looked. There are just a few rooms so it's peaceful and private while having your room look directly onto the beach cannot be beaten. Add an included breakfast and it's a fantastic option for a couple.  Check reviews and availability now.
Where to eat in Puerto Villamil
This is not a place for fine dining or excellent deals. Our accommodation had a kitchen and while the local grocery stores aren't well stocked, eating in is a great option.  If nothing else, it allows you to make a quick breakfast and a lunch-to-go so you can get out to explore quicker and only have to worry about dinner.
However, there is a row of restaurants along the main road in town that offer a set menu for $8. You will get a starter, main course, dessert and a juice for that price so it's not a bad deal at all. The specials change each day but expect to have up to 5 choices. The juice and dessert will likely be something fresh and local and main dishes usually include fresh seafood options, chicken or pasta.
We ate at Encanto de la Pepa. The food was pretty good and our server (who I think is the owner) was very sweet. They seemed to have the largest, and most enticing, selections on their menu board and we weren't disappointed.

Things to do in Isabela, Galapagos
---
There are fewer free things to do in Isla Isabela than San Cristobal or Santa Cruz, but those that are available are well worth doing – some more than once!  The common day tours are also worth the money.  
The Ultimate list of Free Isabela Tourist Spots
Observe the marine life at the Main Dock
Honestly, our favourite activity was probably hanging out at the small dock beside the ferry dock.  From there, for free and with no guide or special equipment, we saw marine iguanas, sea lions, pelicans, boobies, penguins, eagle rays and baby sharks. 
Snorkel at Concha de la Perla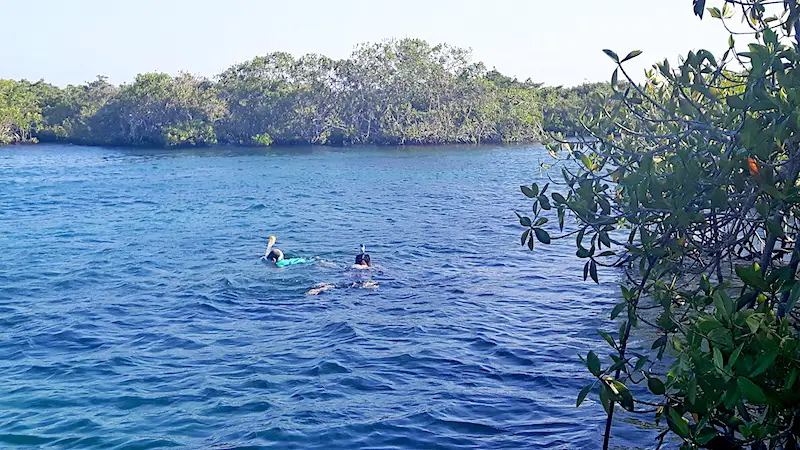 This is a great snorkelling spot that is very close to the dock and completely free.  One of Terry's favourite Galapagos experiences is when a sea lion decided to play with him underwater here.  We also saw turtles and penguins and others talk about seeing much more.  However, it is probably the busiest tourist spot in Isabela and can get quite busy.  It is also popular with local kids to play and jump off the dock.  Avoid mid-afternoon if you can.
Learn about the giant tortoise at the Centro de Crianza (Tortoise Breeding Centre)
Just west of town is a huge Giant Galapagos Tortoise breeding centre that is free to enter. You will see tortoises from the tiniest babies to middle-aged giants. There is also a small interactive information hut that is worth a look as well as a cafe and small store.  We visited on a Sunday, however, so these were closed.
Walk the boardwalk at the Flamingo Lagoons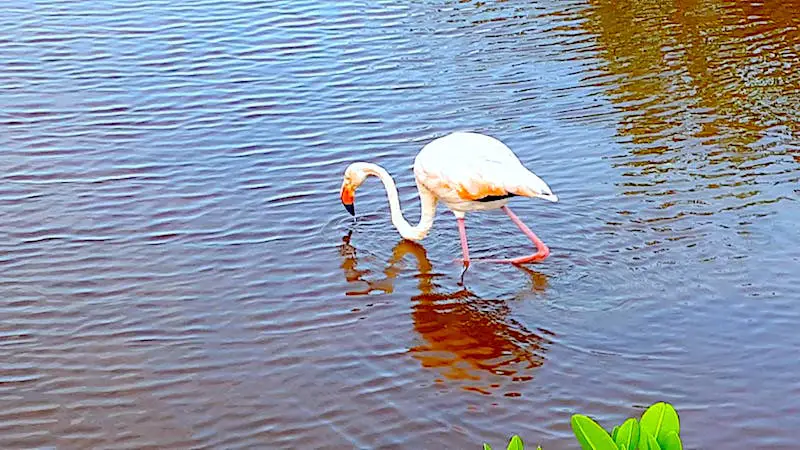 Between the beach and tortoise centre is a walking trail that leads through a series of lagoons filled with pink flamingoes. Bikes are not allowed along this trail but they can be locked up at the breeding centre. This is a great chance to see these incredible birds up close. The wooden boardwalk was also a popular place for marine iguanas when we visited.
Rent a bike to the Wall of Tears (Muro de las Lágrimas)
The history of Isabela is an interesting one. At one time it held a penal colony where the worst criminals, and the cruellest guards, were sent.  As an arbitrary punishment, inmates were forced to build a wall out of chunks of coral.  A popular thing to do in Isabela Island is to hike or bike to the wall.  We highly recommend renting bikes.  It's a long way and there's not much shade!
Surf the Galapagos waves
There is great surfing on all of the main islands in the Galapagos but Isabela is best set up for beginners.  Visit Galapagos Bike and Surf for rentals or lessons.  With the beach being so close to town, this is the only island where you won't have to carry your board long distances or require a vehicle.  It is also the only island where we saw lessons being advertised.  If you prefer, SUP rentals are also available.
Explore the trail to the Wall of Tears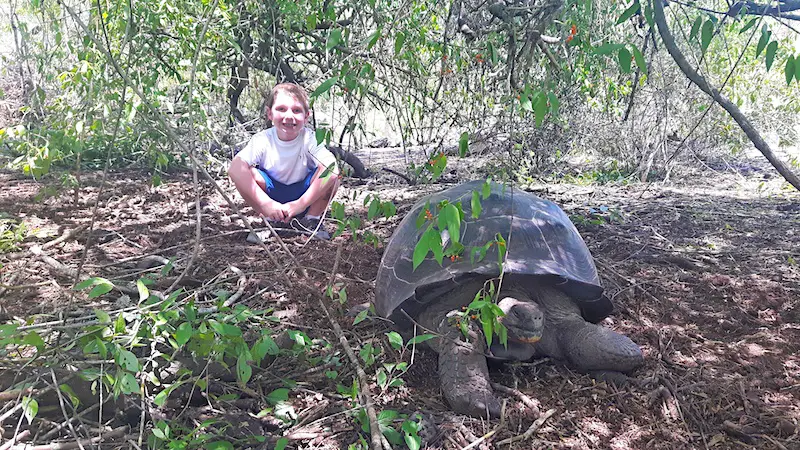 While the Wall of Tears represents an interesting history, it is ultimately just a wall.  However, the trail to get there is well worth the time. We rented bikes from town but you could take a taxi to the checkpoint and walk the rest of the way. Along the trail, there are a few lagoons, small beaches, a lava tunnel and wild giant tortoises.
Relax on Playa Puerto Villamil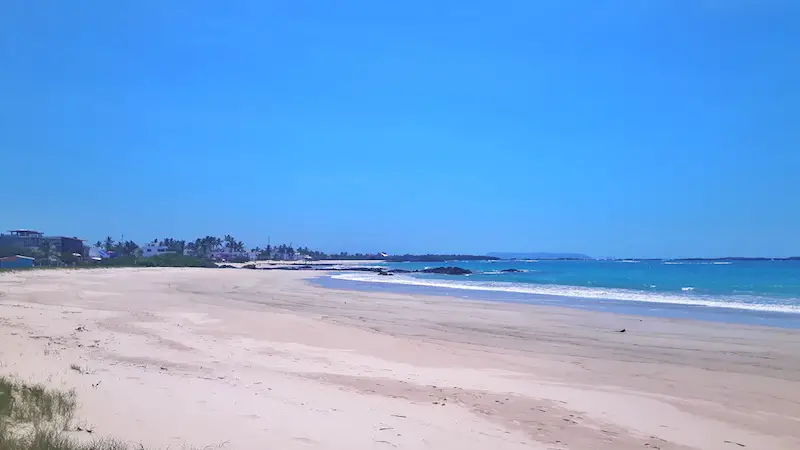 One amazing feature that only Isabela Island can boast is an incredible beach right in town.  Playa Puerto Villamil extends for around 3km and is made of white powdery sand and clear turquoise water.  Marine iguanas are all over the rocks and we even watched two huge rays play in the waves by the shore.  While this isn't a common spot to see sea lions, the odd one is likely to pop up in the waves occasionally.  The beaches in Isabela are a great place to relax after an early morning tour, however, there is little to no shade available to pack a hat and plenty of sun screen.
Make sure you head to the beach for at least one sunset during your stay.  It's a popular thing to do and for good reason.  The beach bar at the far end (attached to a not-so-well-rated hostel) has tables, chairs and hammocks to relax and enjoy the scenery with a drink.
The best Day Tours from Isabela, Galapagos Islands
Los Tuneles
Los Tuneles Isabela day tour is probably one of the most popular tours in all of the Galapagos Islands.  A boat takes you along the coast to a landscape characterized by bizarre lava formations and tunnels that provide shelter for an abundance of sea life.  The tour includes a hike and a chance to snorkel with sea lions, turtles, sharks, rays, sea horses among innumerable fish species.  We ultimately decided not to do this tour.  In part, because we had an 8-year-old with us and it would be a long day, it part because we had already seen practically everything advertised in the 360º tour in San Cristobal.  Had we not done that tour, we would have paid for this one without a doubt.  If you've done this tour, let us know how it was!
I don't think anyone has ever been disappointed with this tour.  It's a full day tour and is pricey though ranging from $120-140 depending on the company, season and your bargaining powers.
Las Tintoreras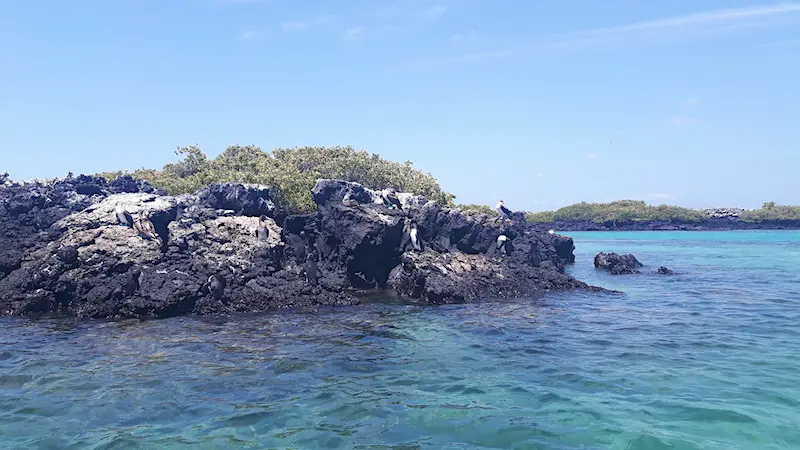 This is another incredibly popular tour.  It only takes a half day with morning and afternoon departures so it is perfect if time is limited.  It's probably also a better option for kids as there is less time on the boat.  Las Tintoreras is a collection of rocky islets just off the town dock.  Despite how close they are, it is impossible to visit without a naturalist guide. 
This tour also includes a walk and snorkel with the chance to see many of the same creatures as Los Tuneles, just perhaps not in such abundance and not as many varieties.  Las Tintoreras is, however, as close to a sure thing to see penguins as it gets.  As penguins were top of our list (this is the only island of the 3 to see penguins), we decided on this tour over Los Tuneles.
The Tintoreras tour takes about 3 hours and only costs $40.  It's a fantastic budget option.
Sierra Negra Hike
This tour is a popular option for those wanting to see a different side of the Galapagos.  The Sierra Negra hike takes visitors inland to summit the only accessible volcano in Isabela.  It's around a 16km round trip so a decent level of fitness is required but it can give you amazing views of the island – if the weather cooperates. The unique landscapes of the huge crater are well worth the effort but pack lots of water and snacks.  The heat can be extreme.
Scuba diving Tours
Just like all the Galapagos Islands, Isabela is an amazing place to go diving.  There are numerous operators in town that can take you to various dive sites.  The four main sites are Isla Tortuga, La Viuda, 4 Hermanos and Roca Union.  There are others but they can only be reached by live-aboard dive boats. 

Get insured before you go!
You're spending a lot of money on your trip to the Galapagos Islands so spend just a little more and get proper travel insurance.  We use and recommend World Nomads Insurance.  They are perfect for a trip like this as they cover a lot of adventure activities other companies might not.  Travel and medical expenses are covered, and we had a great experience when we needed to make a claim last year.
That wraps up our guide to visiting Isla Isabela independently.  We loved our time on this island and you will too!  What questions do you still have?
If you loved this guide, consider pinning it for others to find it too!
[columns] [span6]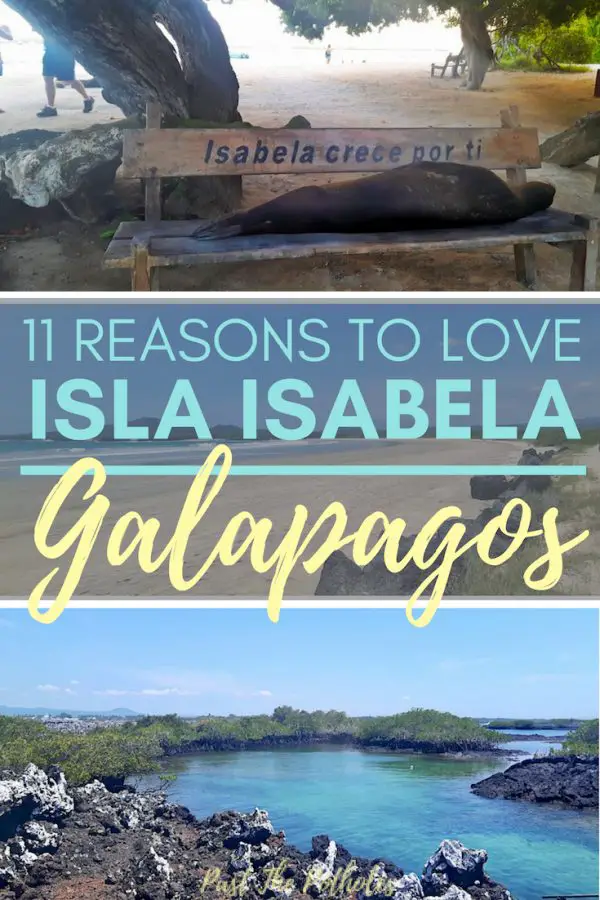 [/span6][span6]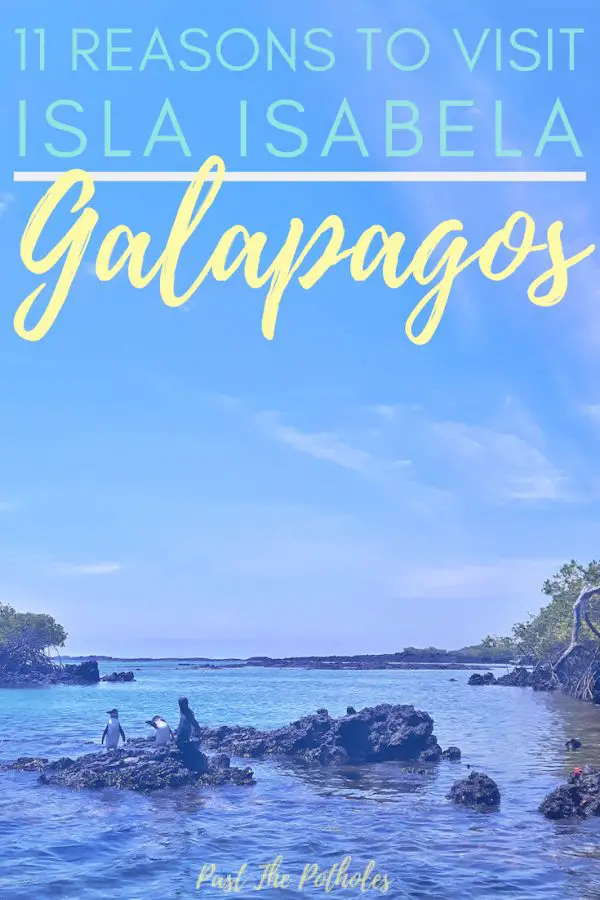 [/span6][/columns]
---
Return to our Destinations page for more travel inspiration.
Ready to book?  Use our Travel Tools page to get the best deals.