Snorkeling in Las Grietas, Galapagos: Why it's worth a visit
Some links in this post may be affiliate links. If you click on them we may make a commission from qualifying purchases at absolutely no cost to you.  Read our full Disclosure Policy here.
If you are looking to do some snorkeling in the Galapagos (and you should!), there are limitless options.  Probably the most unique happens to be just a short distance from Puerto Ayora in Santa Cruz and can easily be done independently.
Las Grietas, Galapagos is so close to town that it only takes a few hours to visit so can easily be combined with other activities the same day.
---
Want more Galapagos Islands travel planning tips?  Get our monster Galapagos travel guide to kick off your planning and our Essential Packing Guide to plan what to bring.  For more detailed information on each island, check out these posts below:
Las Grietas, Santa Cruz
Las Grietas is a fissure in lava rocks that has created a series of narrow crevices filled with crystal clear water.  One of our favourite things to do in Puerto Ayora was snorkelling in Las Grietas.
Santa Cruz is where most people begin their island adventure so it is an excellent addition to anyone's Galapagos itinerary.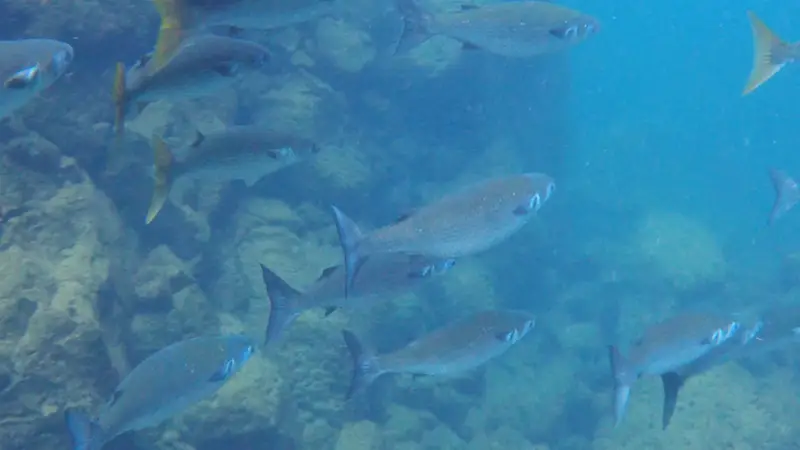 As far as snorkelling goes, it's not the most exciting.  The mix of fresh and salt water means there isn't a tonne of life below the surface.  We did see schools of rather large fish but that's about it.
However, it was definitely the clearest water we came across and coupled with the jagged lava rocks on both sides, it really made for some interesting sights.  It was also probably the warmest water we found in the Galapagos Islands.  NOTE: don't take this to mean it was warm, but it was the only place I went in without a wetsuit and didn't come out blue!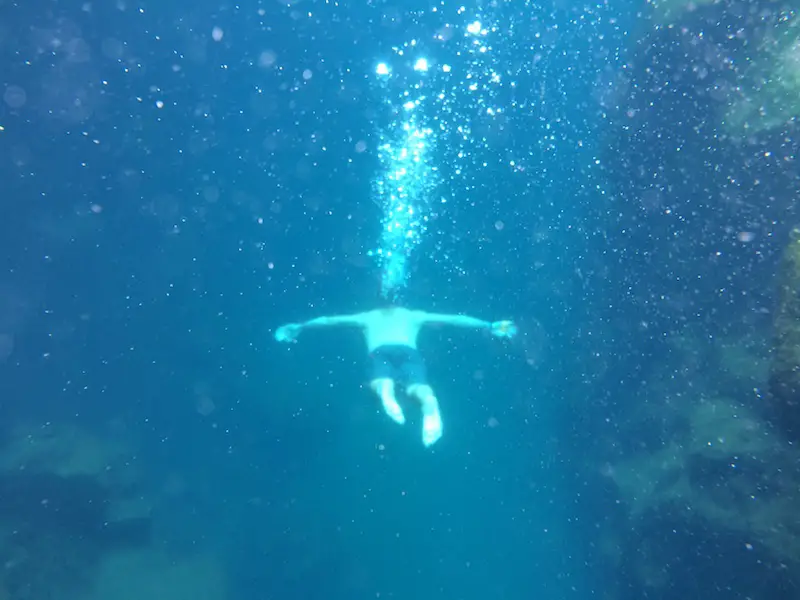 If you're not one for snorkelling this would be just as great without the mask and keeping your head above the surface.  The brave even jump off some of the rocks!
How to Get to Las Grietas, Galapagos Islands
Go to the main pier in Puerto Ayora and walk to one of the jetties to the right.  From here, water taxis run constantly across the harbour for 80¢.  You will be dropped off by the Angermeyer Waterfront Inn and from there follow a clearly marked path.
I hadn't had any luck finding out how to return from Las Grietas and had read some reports on having to call for a water taxi from a hotel to get back to town.  Asking the taxi driver (or is it captain?), we discovered that there are always water taxis waiting just offshore and will come straight to the dock when you appear and wave them over.  Couldn't be easier!
Along the Trail
Close to the start of the trail is Playa de los Alemanes (Germans' Beach).  This is a great spot to relax for a while on the return journey.  It also happens to be a popular marine iguana nesting area.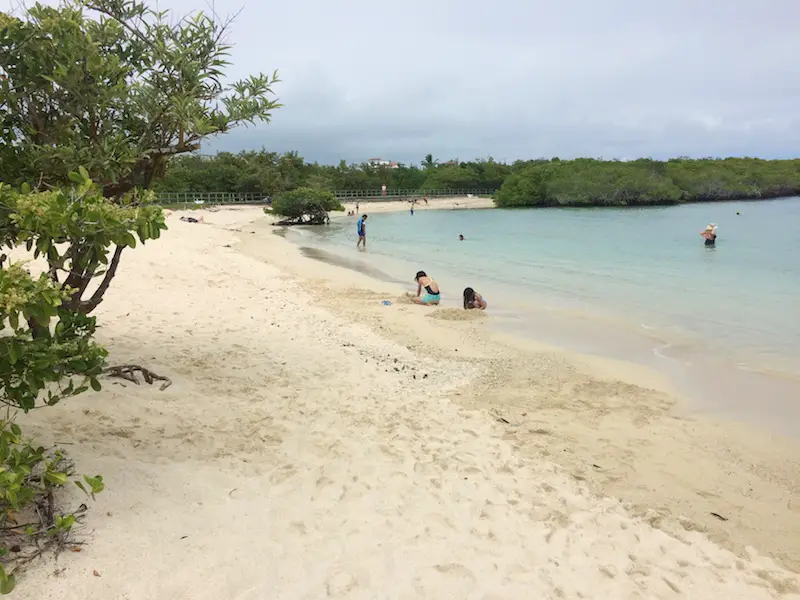 The trail winds its way along lava rocks and between the endemic Opuntia cacti.  We managed just fine in flip flops but it would be a good idea to have proper closed-toe shoes as the lava rocks are sharp and uneven.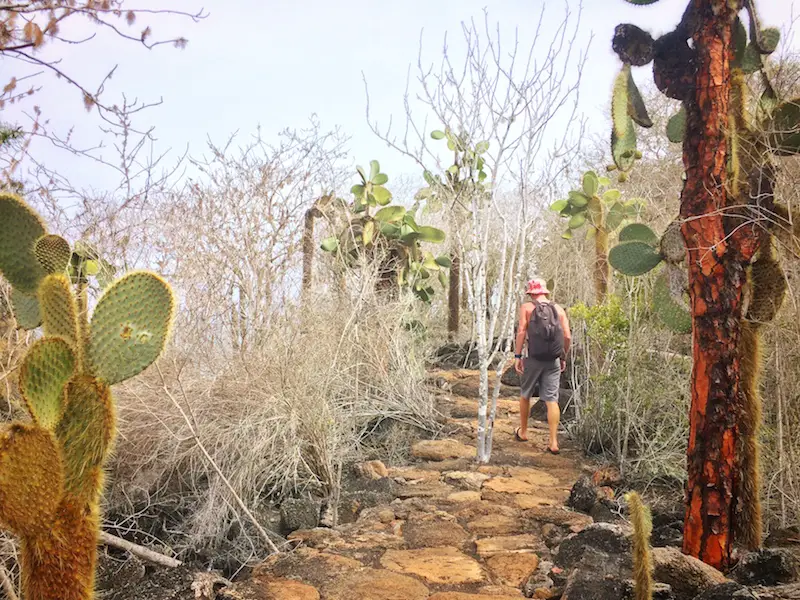 You will hike past a salt mine, a place where salt is harvested from seawater.  Basically, water is trapped when the tide comes in and left to evaporate in shallow pools.  The salt left behind is collected.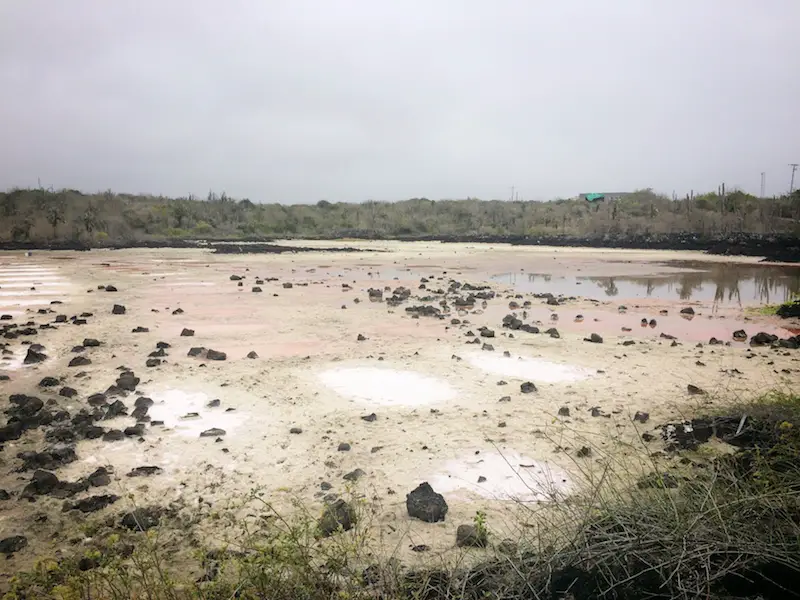 When we went, a man was on the trail with snorkelling gear for rent.  He appeared to only have two sets so I wouldn't take the chance he will be there.  Rent equipment from in town if you don't have your own.
There is a short hiking trail near Las Grietas that takes you through cactus fields to a lookout point with a great view across the bay.  It is worth the short detour.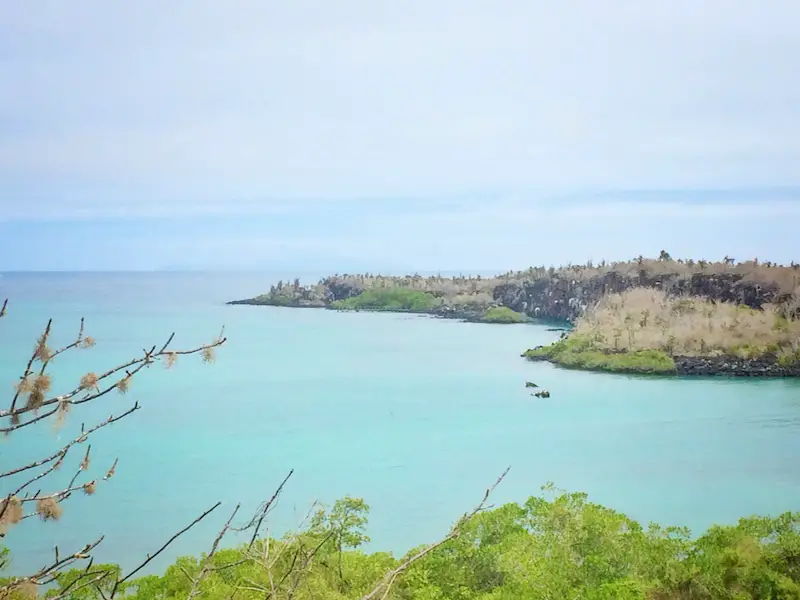 Snorkelling in Las Grietas, Galapagos
As you reach Las Grietas there is a platform to view it from above.  This is well worth the extra few steps as it gives a great perspective of the fact that this waterhole is just a giant crack between massive walls of lava rock!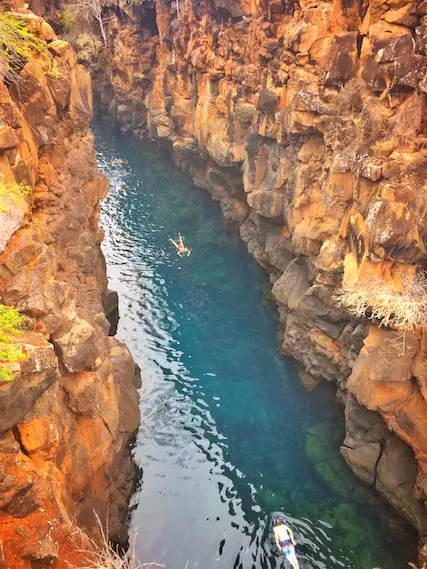 We were a bit disappointed by just how busy it was when we arrived.  Due to a cold, rainy morning, we had abandoned our plan to arrive first thing before the crowds.
The deck platform to enter the water was full of people milling around, getting in and coming out smiling and shivering.  However, once you get in and swim a little further away from the entrance it really doesn't seem crowded.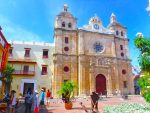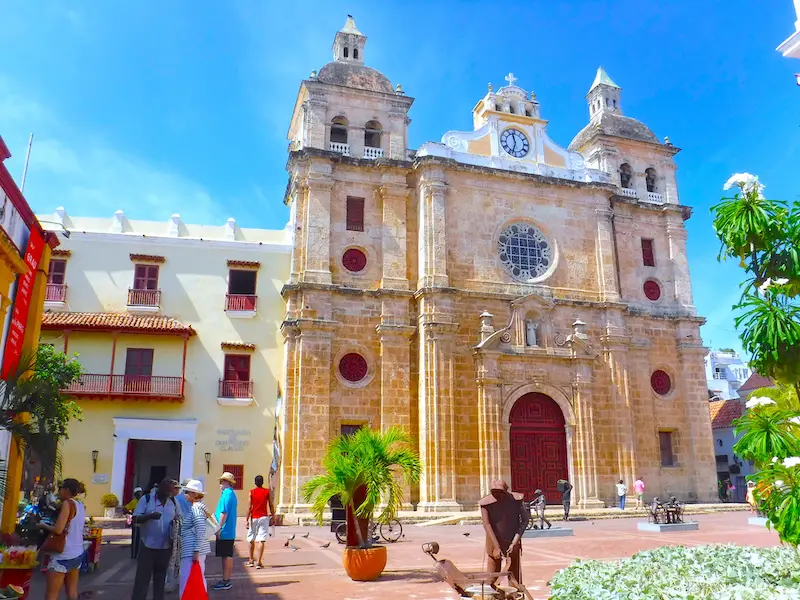 READ THIS POST:
Combine Ecuador with Colombia:  Find the Best Places to Visit
What can you expect to see at Las Grietas?
There are a series of three pools and based on previous reviews I had read, I was excited to get beyond the first and explore.  To be honest, however, the first was really the best.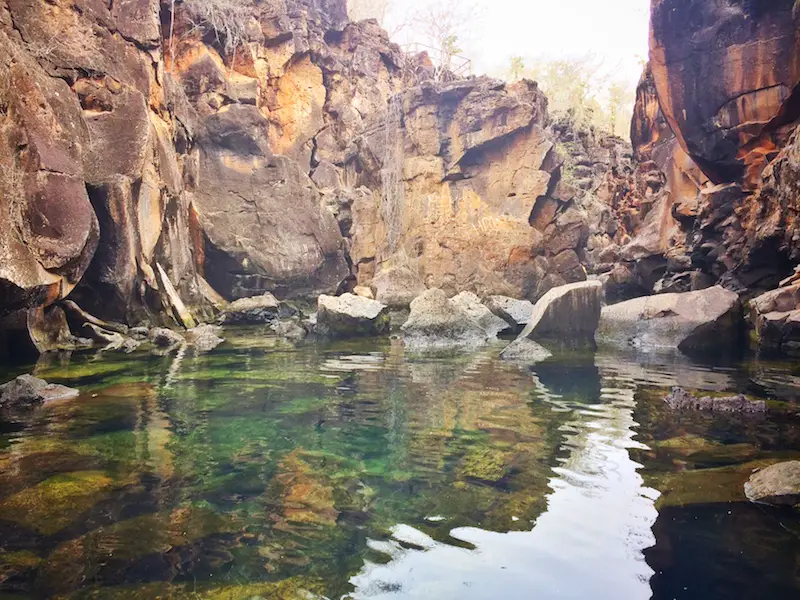 In the second and third pool, the fish definitely got larger and more plentiful.  They also got closer as the water was shallower.  For some, this is a positive but personally, I was happier in the first pool.  Something about fish around my feet just freaks me out!!
Is it worth visiting Las Grietas?
If you have a really tight schedule in Puerto Ayora then perhaps this one might not make the top of your list.  However, it only takes a couple of hours for the entire trip and it is definitely worth the time to visit!
While there isn't a ton of life in Las Grietas, the water is so clear and blue that looking at the rock formations, the fish and even each other underwater is still a really cool experience.  Learn more about snorkelling in the Galapagos here.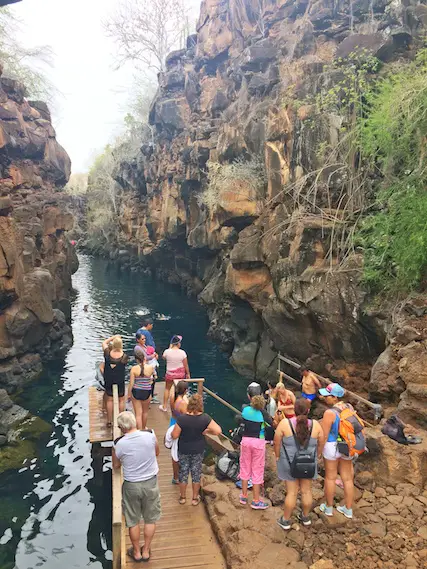 At just $1.60 total for the round trip water taxi, it is also one of the cheapest things to do in Puerto Ayora, Santa Cruz.
Have you been to Las Grietas?  How did you find it?  Comment below!
Return to our Santa Cruz Travel Guide now.
Do yourself (and others) a favour and save this on Pinterest!
[columns] [span6]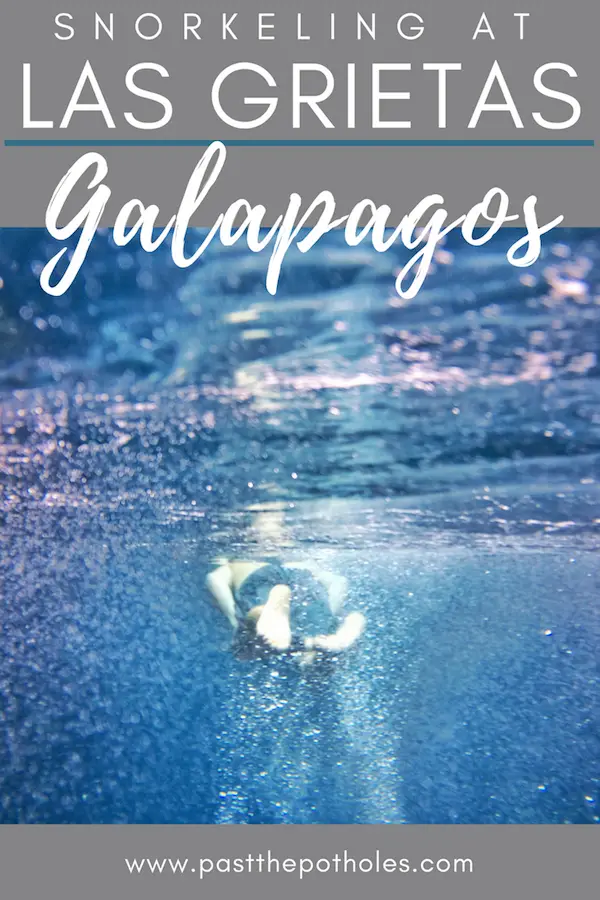 [/span6][span6]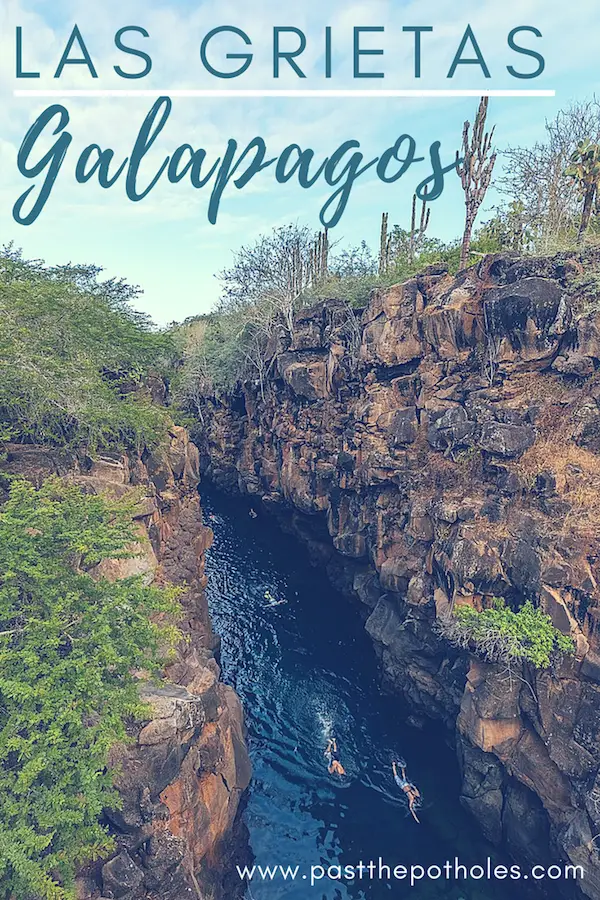 [/span6][/columns]
Return to our
Destinations
page for more travel inspiration.